Without a doubt, New England Patriots' Head Coach Bill Belichick is my favorite current NFL coach.  (My favorite of all time is Don Shula, I'm also a big fan of Mike Shanahan.)
I think that one can make a pretty darn good argument that Belichick is the best Head Coach in NFL history.  He's won 73% of his games at New England.  SEVENTY THREE PERCENT!  WOW!  He is a 6 time Super Bowl Champion, 4 as a Head Coach.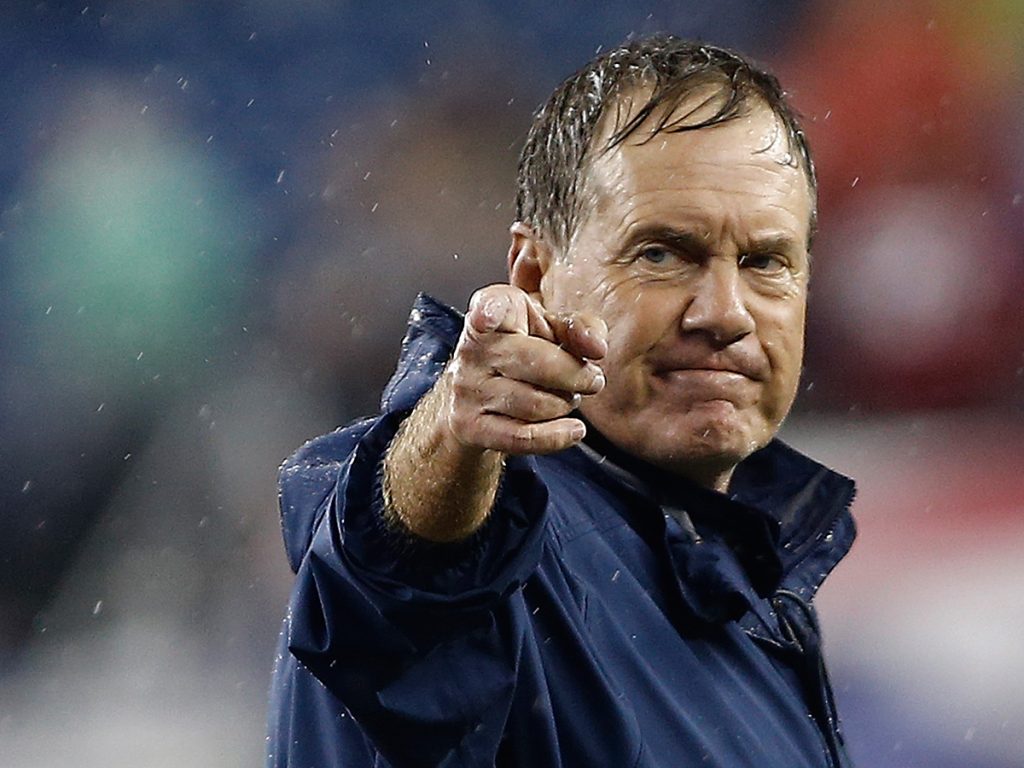 Alex Kirby, a writer and football mind I have always enjoyed reading, has compiled a whopping treasure trove of information on Belichick, and put it all together in a new book called  The Big Book of Belichick: His Thoughts on Strategy, Fundamentals & History.
From Kirby, "When Bill Belichick talks, smart people listen. This book contains Belichick's own words on topics like two point conversion strategy, preparing for Peyton Manning, and what he looks for when evaluating each player on the field. Belichick has spent a lifetime in the NFL, and as a result has a perspective on the game and its greatest competitors that few can match. Learn what he has to say about the history of the game and those who built the foundation of the modern NFL."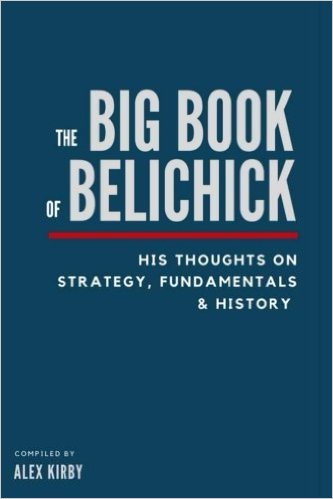 What I really like about this book is how it has been organized.  Kirby sent me an advanced copy, and I can't put the thing down.  There are 8 chapters, but don't be fooled that this book is short.  Most chapters are broken in to sections.  For instance, the chapter on "Teaching and Fundamentals" has 7 sections and is 53 pages alone.  Some of those sections are: Defensive Backs, Linebackers, Running Backs, etc.
This compilation by Kirby gets in to the mind of Belichick like no other book of Belichick that I've read.  The reason I say that is because he has organized it in such a way that there is no fluff.  It's simply questions and answers.  No extra information, no boring background about his elementary school days!
Hundreds of questions that Belichick has been asked over a long period of time are answered by Belichick.  This book is like one long press conference!  So, it reveals how he thinks and why he thinks about so many different topics.
I'm a big Special Teams guy, I love Special teams!  So, I'll be honest, I turned right to that section and read the entire section in about 45 minutes.  It is intriguing to read about his philosophy on Special Teams, and get the kind of insight he gives to questions like:
Q: How much emphasis is placed on creating big plays in special teams when you go into a season and how much do those plays swing the momentum either for or against a team?
Q: Are kickers different from other players in that they're not really building up to the season; they're already game ready? Just wondering how impressive that field goal was last night, even though it was in mid-August.
Q: Why have coaches gone to the decision where a separate player has to be a long snapper as opposed to training someone else on the team to take that role?
Q: In defending a play like yesterday's when the punter dropped the ball and ran for 16 yards, what is the fundamental coaching technique for those players so that can be avoided?
Another favorite part of my book is the chapter called "Strategy and Situations."  Kirby has picked out some great topics in this area that will help any coach think more critically about certain situations.  For instance, this one about the Hail Mary.
Q: In regards to the finish Thursday night between Green Bay and Detroit, I was wondering if there is any kind of strategy to the Hail Mary pass or do you just kind of throw it up?
Belichick: "I think it's not an overly strategic play. You want to get the ball into the end zone and you want to get people around it. However you orchestrate that, I mean you don't want to throw it short and you don't want to throw it out. It's got to come down in the area of a guy to go up and get it or if he can't get it, you can't out jump the team and go out and get the ball, you have players hopefully in the end zone so that if it's tipped they have a chance to catch it before it hits the ground."  He then goes on to explain how they protect it, how they practice it, and more.
I highly suggest this book for the coach who likes to read about strategy and philosophy.  That's exactly what Kirby provides.  It is meat and potatoes if you're in to that kind of thing, which I really am in to.  It's why I wrote my book "Building Championship-Caliber Football Programs."  It gets inside the minds of 108 State Champion Head Football Coaches.  Kirby does the same thing here with the greatest football coach of all time!  Get it here.