I firmly believe that in the game of football the only way to get better is by looking back!  If you want to improve your team, take time this offseason looking back at your film.  Specifically, as it applies to Special Teams, take a long look at each of your units by breaking down film of each of them, and taking notes.  If you want to take it a step further, and you didn't do Special Teams stats during the season, do those now as well.
Here is how to evaluate your Special Teams in the offseason.
Kickoff Team
Where did your opponent start on average?
What kind of changes need to be made to your scheme to help minimize return yards next year?
How was your onside kick percentage and what can you do to make that better next year?
Who made the most tackles?  And why did he make the most?  Scheme or athlete?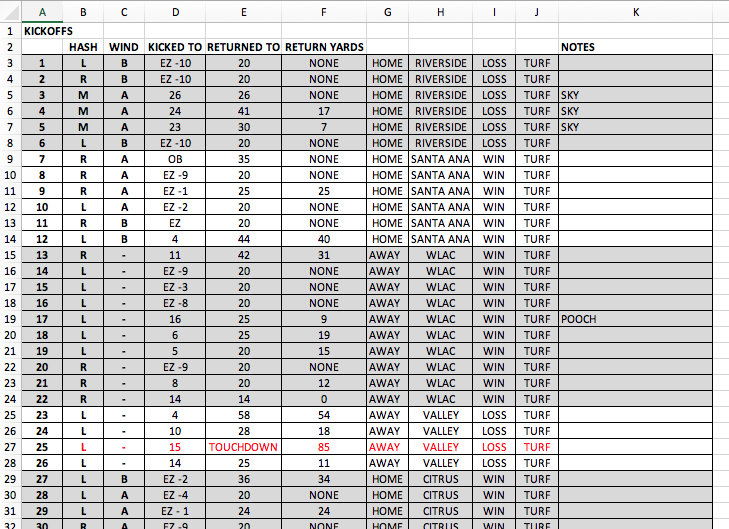 Kick Return Team
What was your average start when the ball was kicked off to you?
What was your best return? (Meaning the highest average yards per return.)
What was your worst return? (Meaning the lowest average yards per return.)
How many onside kicks did you allow?  What needs to happen to secure the ball more?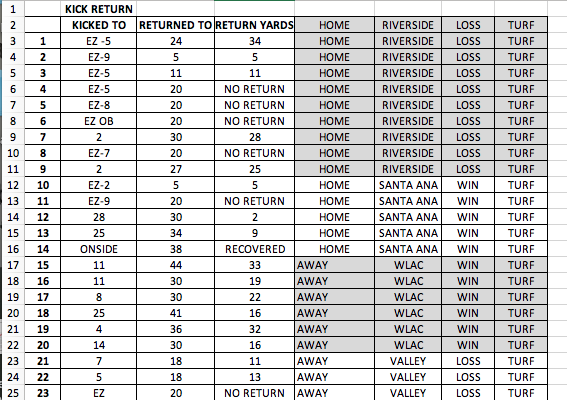 Punt team
What was the gross punt average?  (This is how far the ball was kicked from the line of scrimmage to where it was caught?)
How many yards did you allow per punt return?  (From the point the returner caught the ball, to where he was tackled.)
What was the net punt average?  (This is the average punt once you factor in the return yards.  For instance, if the average punt was 40 yards, and the average return was 5 yards, then that means the average net punt yardage was 35 yards.)
Why did your punt team allow so many return yards?  Is it scheme?  Is it the kick?  Is it personnel?
What fakes worked well, and did not work at all?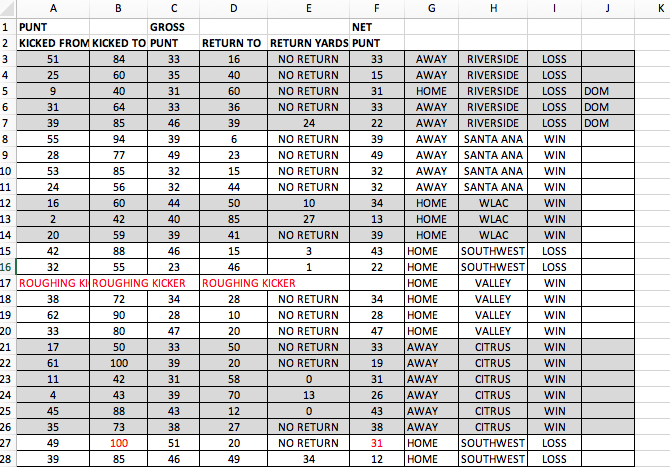 Punt Return
How many return yards per punt did you get?
If you did not get many return yards per punt, was this because of your schemes, or was it a personnel issue?
How many balls were not caught?  I'm a firm believer in catching as many balls as you can. You need to work hard to get your returner in the perfect spot.
Did you have any fakes that worked real well?
Any turnovers on Punt Return?  Fumbles?  Why did those happen?
Subscribe to our mailing list
PAT/FG
What was the percentage?
Watch every missed PAT/FG.  Determine why these kicks were missed.  Was it a bad or slow snap?  Were the mechanics good?
Did you have any blocked?  If so, watch every one of those to make a determination why they were blocked.  Scheme?  Personnel?
Did any of your fakes work well that you want to keep in the playbook?  Any that you should take out?
PAT/FG BLOCK
Did you block any PAT/FGs?  If so, why did you block them?  Scheme?  Personnel?
If you did not block any, why not?
Did you allow any successful fakes?  If so, how did those happen?
Chris Fore has his Masters degree in Athletic Administration, is a Certified Athletic Administrator and serves as an Adjunct Professor in the M.S. Physical Education –  Sports Management program at Azusa Pacific University. He was recently appointed as the President of the California Coaches Association.  He runs Eight Laces Consulting where he specializes in helping coaches nationwide in their job search process.  Fore was named to the Hudl Top 100 in 2017, and the Top 5 Best High School Football Coaches to follow on Twitter by MaxPreps in 2016.  Follow him!