Contact Coach Fore by email at chris@eightlaces dot org.  Follow him on Twitter @coachfore.
Chris Fore is a Special Education English teacher and Varsity Special Teams Coordinator in Southern California.  He also serves part time as an Adjunct Professor at Azusa Pacific University in their Masters of Physical Education program.  He has coached high school football for 16 years (8 as a Head Varsity Coach), and has been an Athletic Director for 6.  Fore has a Master's Degree in Coaching and Athletic Administration, and has earned the Certified Athletic Administrator distinction from the National Interscholastic Athletic Administrators Association.  He has served on the California Interscholastic Federation – Southern Section Football Coach's Advisory Committee, and currently serves as a Board Member for the California Coaches Association.
Fore writes a weekly column called "Coaches Corner" for Max Preps, America's #1 source for high school sports.  Coaches Choice published his first book: Building Championship Caliber Football Programs in 2013.  He interviewed more than 100 coaches from forty two states who won a State Championship in football in 2011; then compiled the ten most common characteristics of championship football programs.  Fore self-published his second work: An Insider's Guide To Scoring Your Next Coaching Job.  His third book is currently in the editing phase with Coaches Choice; it is about the Shield Punt in football.
He has also published several manuals that have helped coaches in building their programs, and navigate the job search process:  Outside The Lines Manual For Football Coaches, Outside The Lines Manual for Athletic Directors, the Shield Punt E Clinic, and An Insider's Guide To Scoring Your Next Coaching Job.  You can find each of these items at EightLaces.org.
Fore has written articles for national magazines such as National Interscholastic Athletic Administrators Association, and Coach and Athletic Director.  He has also been featured in articles on some of football's best websites: Football Scoop, X and O Labs,  Coach XO, My CoachBook and more.  Fore has been a guest on High School Football America's radio show, as well as Fox Sports AM 570 Los Angeles, San Diego's Mighty 1090 Trending Now with Kevin Acee, and has also appeared multiple times on FootballCoachingPodcast.com.
Fore's business, Eight Laces Consulting, has been instrumental in helping coaches navigate the employment process.  65% of his clients are at the high school level, 30% at the collegiate level, and the rest are junior high.  He consults coaches nationwide on their job search, and has helped schools place coaches.
Because of his strong background, training and experience in high school athletics, and specifically football, Coach Fore has been called as an expert witness in several different lawsuits regarding concussions, equipment, and athletic eligibility.
Chris married Christine in 2004, and they have three elementary aged children.  The Fores reside in Apple Valley, California.
Updated – December 2016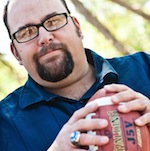 He married Christine in 2004, and they have three beautiful children: Nate (10) and Taylor (8), and Josiah (5).
–       Updated December 2016