My Special Teams Resources: Articles, Books, Videos, Podcasts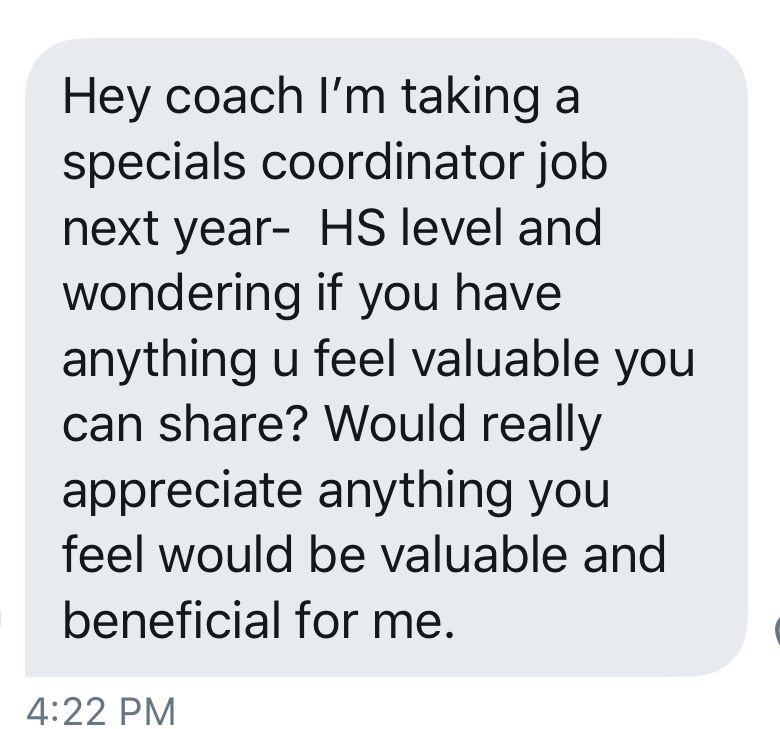 I love me some Special Teams!
I coordinated the Special Teams all 8 years that I was a Head Coach, that's how much I love me some Special Teams!  I think that my love affair started with Special Teams during my second year of coaching, way back in 1995, when the Head Coach I worked for with the Fallbrook High School JV team said "Dude, you're really good at coaching this kickoff team, why don't you coach all of our Special Teams?"
I was both young enough, and dumb enough to say "Sure Coach!"  Years later (I didn't coach while in college) in 2002 while coaching varsity for the second year, my Head Coach there saw that I really enjoyed coaching a few Special Teams in 2001, so he asked me to be the Special Teams Coordinator.  That was my first time doing it at the Varsity level, and I was a Special Teams Coordinator every year after that until I "retired" from coaching after the 2017 season to go into administration.
That 2017 season was my first year coaching at the Junior College level.  I was the Special Teams Coordinator at Victor Valley College in Victorville; I literally live two doors down from the college so it was a very cool job to have.  I answered the Head Coach's email.  "Hey Fore, I'd like to talk special teams with you."  I thought I was just going over there to do some consulting, helping out the Head Coach with some things in the offseason.  He had picked my brain before on the shield punt, 5 years earlier.  After 3 hours of chatting with him, he asked me to be his Special Teams Coordinator, and I said yes!
Anyhow, that's a little about my journey in the Special Teams world.
Below you will find: Articles I've Written, Podcasts I've done about Special Teams, You Tube Videos and Resources for Sale!  There is a LOT of information here to help Special Teams Coaches!  Bookmark it.  This is a pretty exhaustive resource for coaches: you'll see my favorite tricky little 2 point play during a PAT, to how to best block the Shield Punt to my favorite kick return!
Around this time of year I get quite a few emails and messages on social media that go something like this: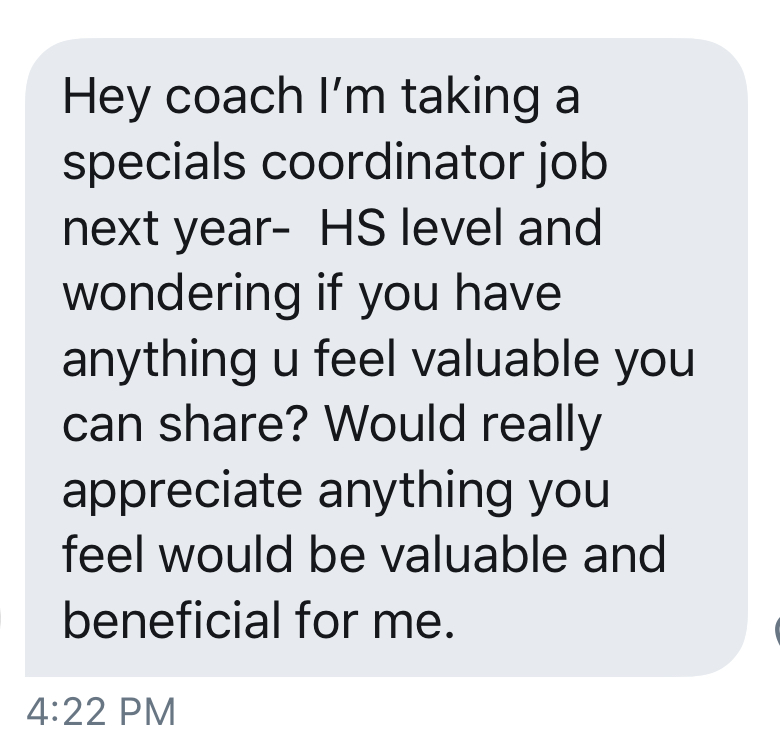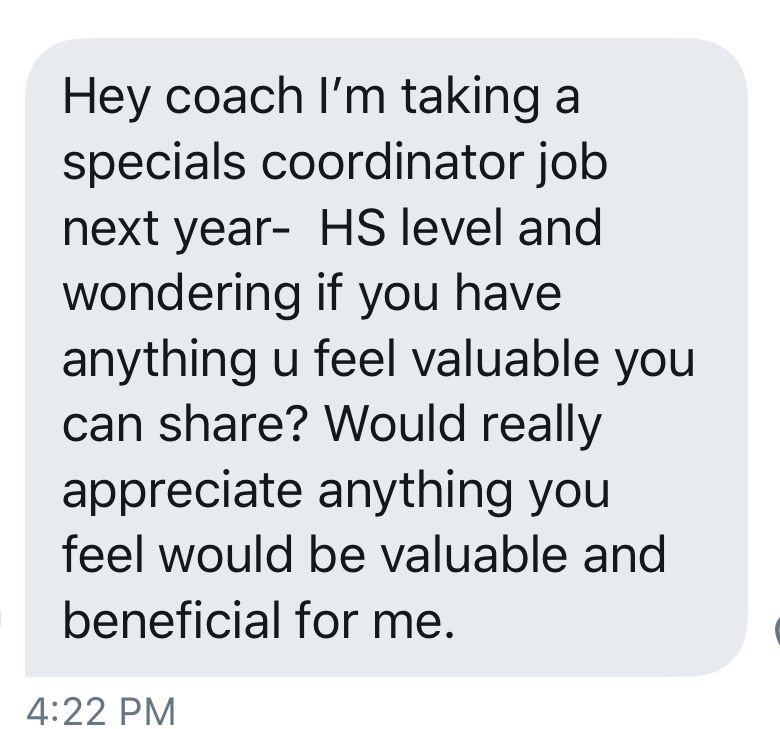 I have written a lot about #specialteams, and I've said a lot on my podcasts, other folks podcasts, have written a book on the Shield Punt, put together a manual with 28 kick and punt returns/blocks and more.
So, I thought that I would put everything I've done Special Teams wise into one place to help refer coaches to!
Hope this helps!
Articles I've Written For Other Sites
X and O Labs: The Efficiency of the Shield Punt
MaxPreps: Running the Bad Snap Drill
MaxPreps: Unconventional Kickoffs
MaxPreps: Avoiding Four Common Penalties on Field Goal Block
My YouTube Videos
KICK RETURN: Attacking the Middle of the Field on Kickoff
KICKOFF: Don't Overrun the Returner
KICKOFF: Utilizing the Pooch Kick
KICKOFF RETURN: Being Ferocious on Kick Return
PAT: Tap Tap – Surprise Two Point Play
PUNT: Shield Punt is Physical and Aggressive
PUNT: Being the Punt Returner Vs The Shield Punt
PUNT; Shield Punt: Getting Down the Field With the Front Line Seven
PUNT: Most Dangerous Man To Block The Shield Punt
PUNT: One Reason Why I Love The Shield Punt
PUNT: Two Minutes of Shield Punt Clips From One Season
PUNT: USC Blocks Utah State's Shield Punt
PUNT RETURN: Double Team the Punt Gunners
Resources for Sale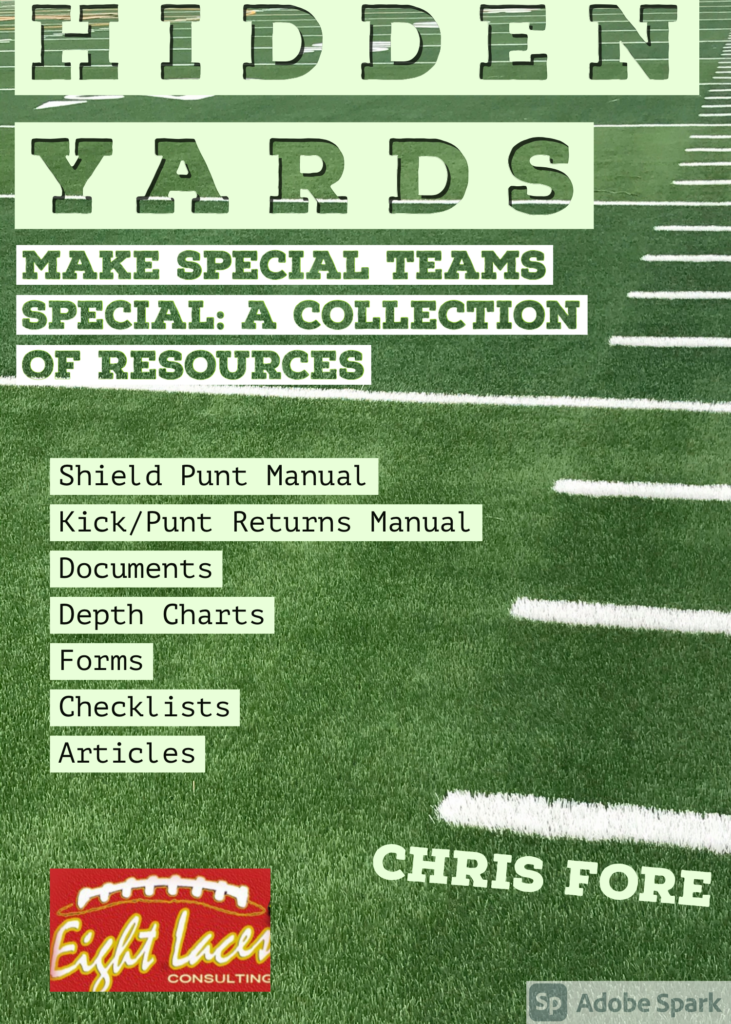 Shield Punt Hard Copy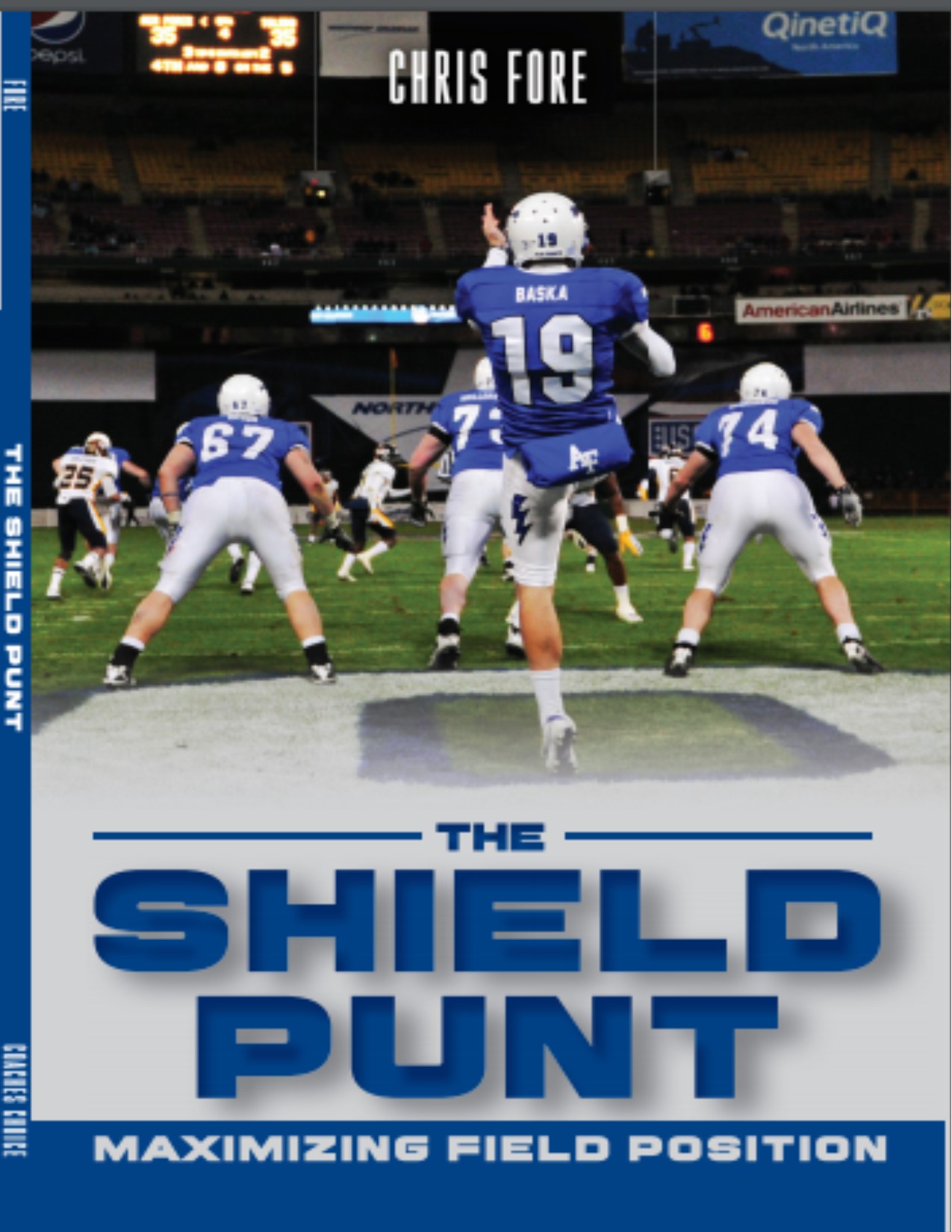 Shield Punt PDF – instant download
Kick Return Clinic Talk Power Point: Man vs. Zone Schemes – Stealing Yards Any Way You Can
Double Right – An Electric Kickoff Return Scheme – 38 minute clinic on this powerful Kick Return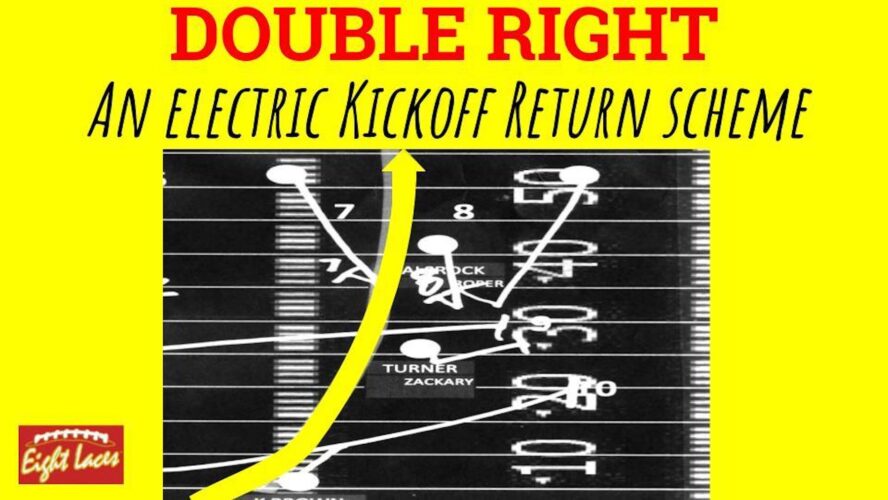 Kick and Punt Returns Manual  – 28 Kick and Punt Returns and Blocks – comes in PDF and Power Point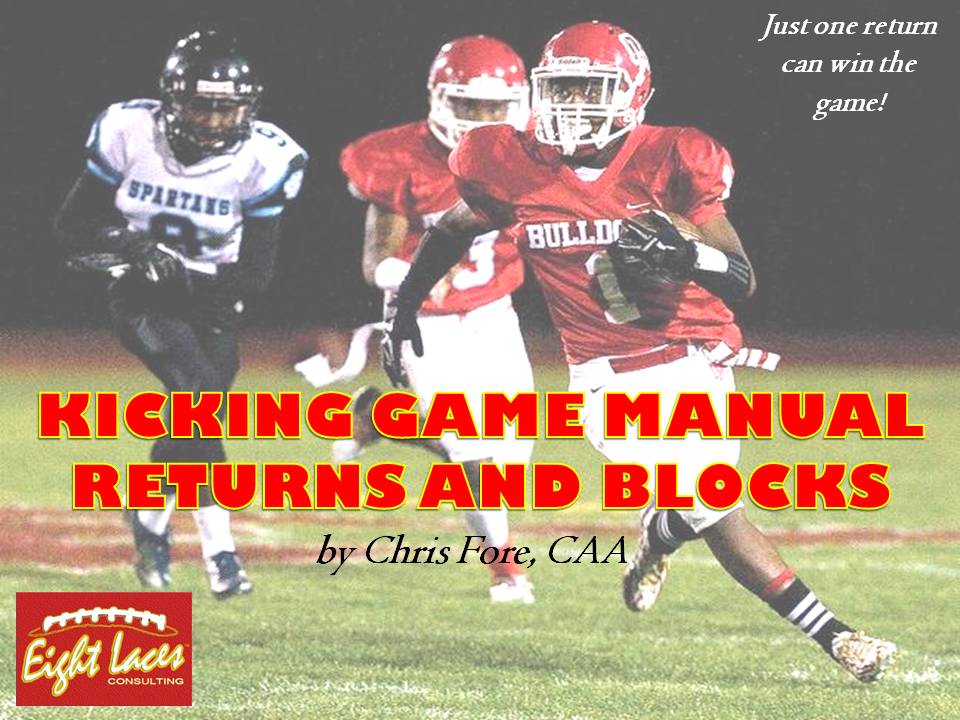 MY PODCAST
Episode 4 – Special Teams Organization Part 1 
Episode 6 – Special Teams Part 2: Checklists, In Season Prep, Motivation and More
Episode 15 – Special Teams Q/A: Questions From Listeners 
Episode 16 – 10 Commandments of an Effective Kickoff Team; Fore talks about a horrible special teams play that sealed the deal for the Chiefs in their win over the Chargers
Episode 32 – Special Teams Philosophy and Game Planning with Chris Summers
Episode 45 – 8 Misunderstood Special Teams Scenarios
Appearance on Other Podcasts
Hudl Podcast: Chris Fore on Special Teams
Culture Coordinator: Episode 012 with Chris Fore
Coaches Corner, Volume 80: Chris Fore, Shield Punt
Football Coaching Podcast – 6 Special Teams You Should Be Using: Chris Fore's Shield Punt