MY QB PROJECT – EVALUATING EVERY THROW FROM ONE SEASON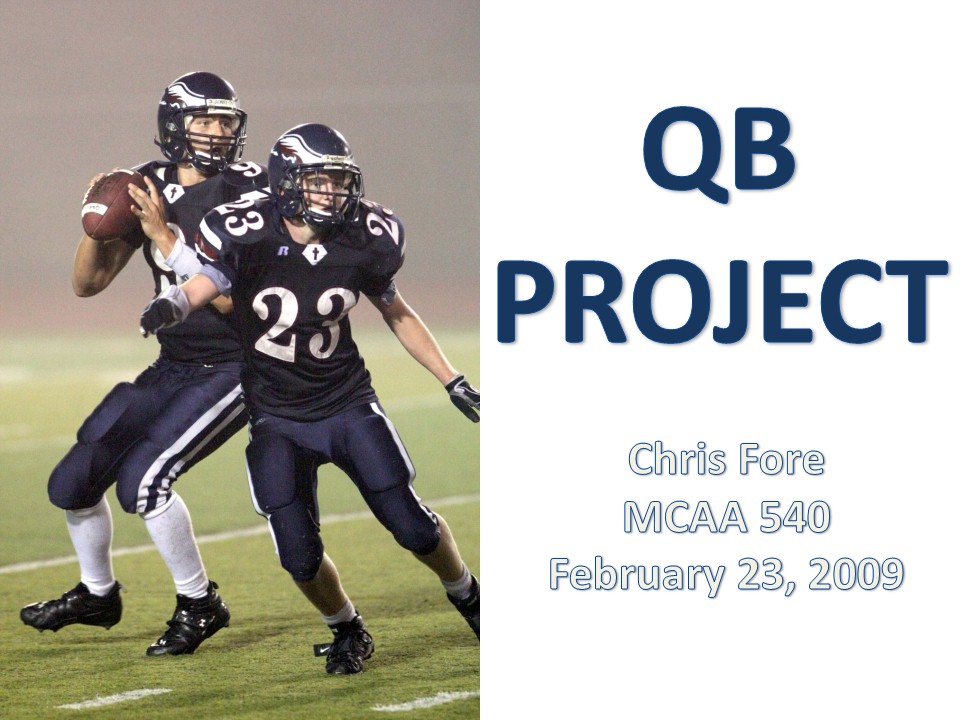 This is my absolute favorite project from my Masters degree in Athletic Administration.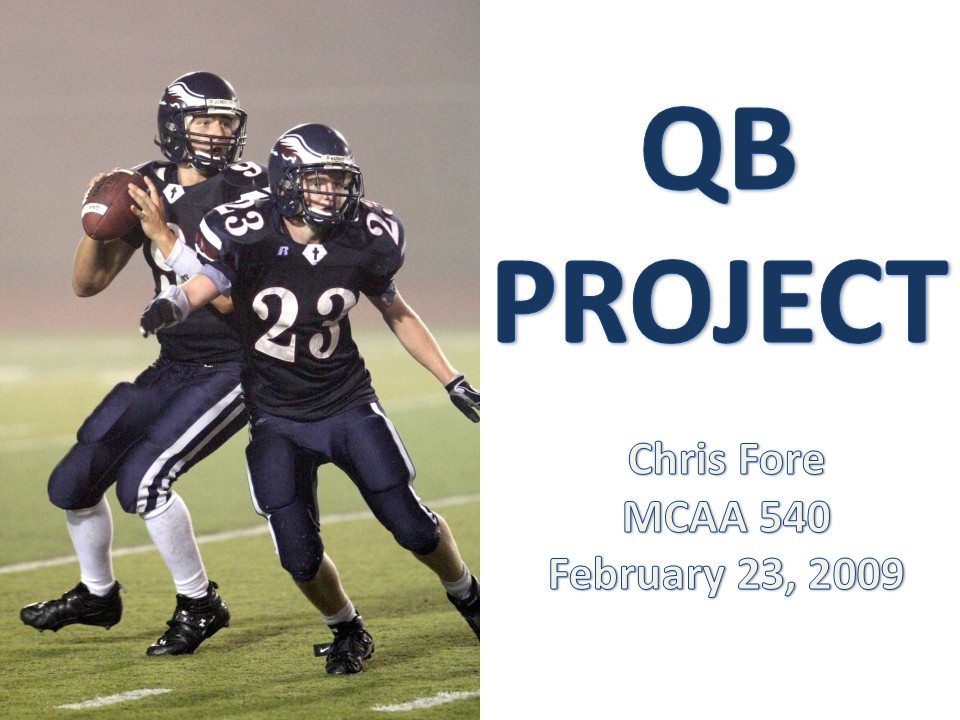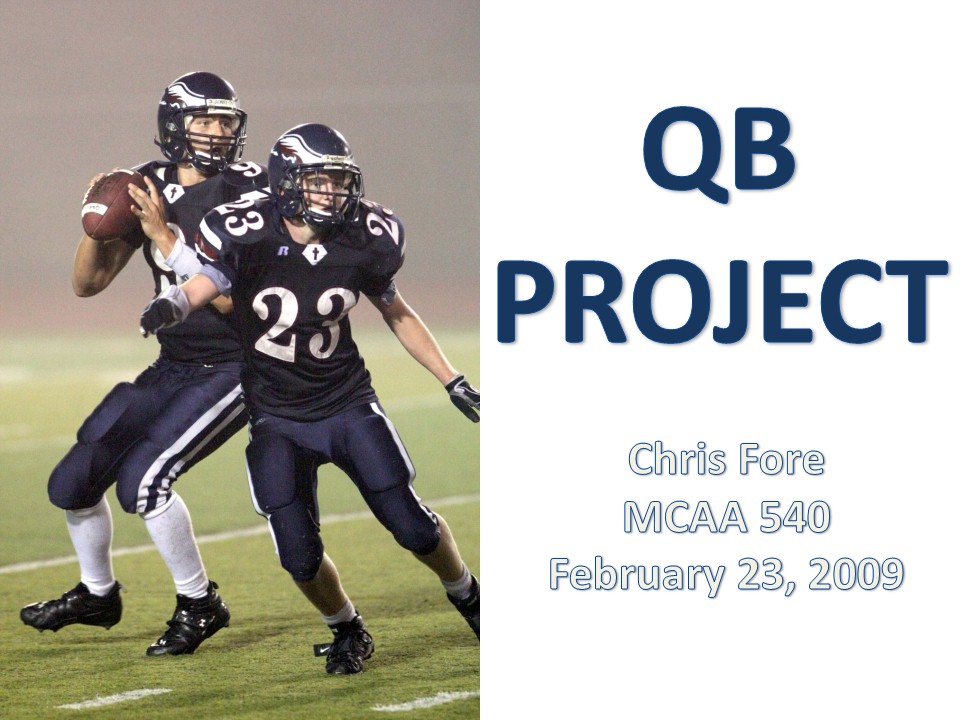 I thought I would share it with you, as it would be a GREAT thing for you to consider doing right now this time of year, if you haven't already. I learned a LOT from this project to make us a better football team.  I had never done anything this comprehensive before.  With the advent of Hudl, this sort of thing becomes a LOT easier!
Enjoy!
(I haven't edited this at all from when I turned it in back in February of 2009.)
My project for this Master's class is called the "QB Project."  This project is based on the passing game of our football team this past season (2008).  This was my tenth year of coaching football, my sixth as a head coach running this offense.  This was the worst passing game that I have had in the last six years.  So, the problem I had to solve (we had to solve a problem for this project by using technology in a way we never had before) was our passing game and its efficiency. 
 The goal of this project was to analyze every pass thrown this year in an effort to determine why our passing game was so poor.  I used the Landro play analyzer and Microsoft Excel to complete this project.
Our stats this year read: 26 completions of 92 attempts; 346 yards; 4 touchdowns and 7 interceptions.  (This was for 8 games only as my quarterback was ineligible for the first game based on a transfer rule and hurt for another game.)  We had a first year varsity quarterback this year, a junior.  It was his second year playing the position but first year at the varsity level.  We run the double wing.  Our passing offense is based on play action meaning that our fakes must be great.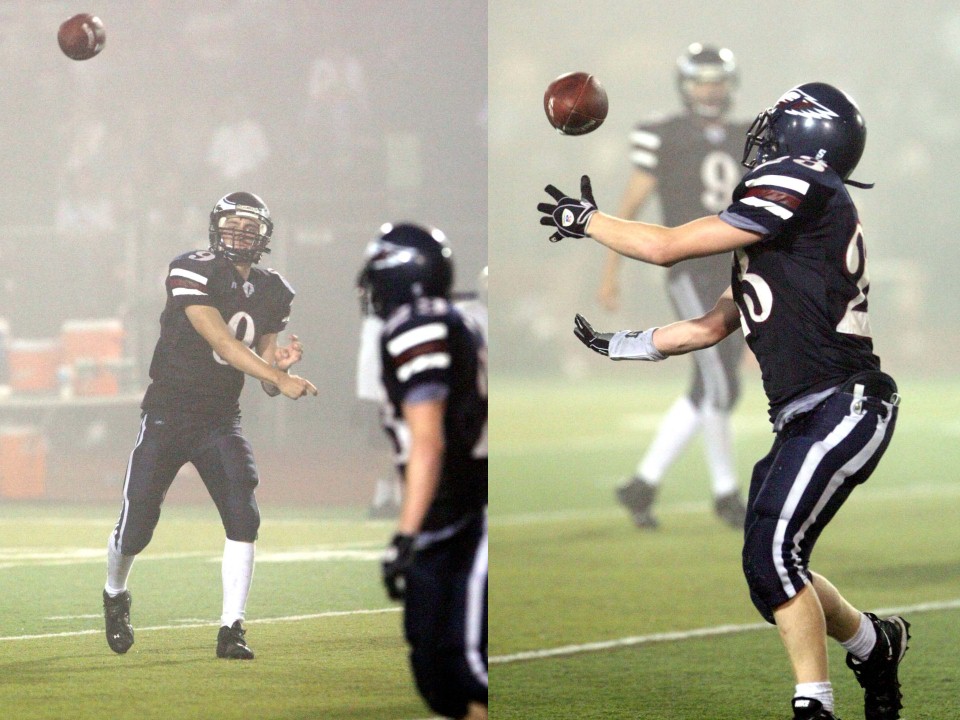 Our passing efficiency starts first and foremost with our play action pass.  That means that our quarterback's first priority is to fake the running play by simulating a hand off to one of three running backs.  Hopefully this play action will freeze the defense, which will allow for our receivers to get open easier.  Because our passing game was not very efficient this year, we faced more blitzes and man to man coverage as the season developed.
Teams started daring us to throw the football.  They didn't respect our passing game at all. Ultimately, this put more pressure on our offense.  Teams were able to kind of "pin their ears back" and come after us.  This project has definitely helped me to come up with some solutions as to why our passing game was so poor, which created this situation for us.
For this project, I created an Excel Spreadsheet with 9 columns.  The columns are:
V. Brethren Christian
FORMATION
PLAY
PASS ZONE
INTENDED
RESULT
PRESSURE
DROP
NOTES
1
Over Right
Strong Flood
Medium Right
Z
Completion/12 yd
N
N
Way to stay in the pocket.
2
Aces Right
Z Out, Y Post
Deep Middle
Y
Incomplete
N
N
Need to throw earlier.
3
Base Left
Strong Waggle
Medium Right
Y
Incomplete
N
Y
Step in to throw.
4
Base Right Y Loose
Strong Pass Z Out
Short Right
Z
Completion/2 yd
N
N
5
Base Left
X Stop
Deep Right
X
Incomplete
N
N
Didn't step into throw.
6
Base Right
King X Stop Hook/Ladder
Medium Right
X
Completion/11 yd
N
N
7
Base Right
Strong Pass
Medium Right
Y
Incomplete
N
Y
8
Tight Right
Sap Strong Pass WX Switch
Sack
Sack
Sack
Sack
Sack
Can't get sacked here.  Throw it away.
9
Base Left
Strong Waggle
Medium Right
Y
Completion/5 yd
N
N
Way to move and find the target.
10
Base Left
X Stop
Medium Right
X
Incomplete
Y
N
Don't get deep enough;throw off back foot.
11
Base Left Y Loose
Y Stop
Deep Left
Y
Completion/26 yd
N
N
Step to target.
12
Base Left
Jet Weak Pass Z Flare
Short Right
Z
Incomplete
N
N
Step to target.
13
Base Left
X Stop
Medium Right
X
Completion/5 yd
N
N
Step to target.
14
Base Right
X Stop
Medium Left
X
Incomplete
Y
Y
Lose a lot of velocity by not stepping.
15
Base Right
Strong Pass
Medium Right
?
Incomplete
Y
N
16
Over Right
Strong Flood Y Post
Deep Middle
Y
Completion/10
Y
N
Poor footwork
7/15/71/0/0
Number of play, Formation, Play called, Pass Zone, Intended Receiver, Result, Pressure, Drop, and Notes.
I will briefly explain what I was looking for in each category.
Number of play – represents the number of times we passed the ball in each game.
Formation – represents the name of the Formation that we used.
Play – represents the name of the Play that we called.
Pass Zone – represents the Passing Zone that my QB threw too.  For example – deep right, short left.
Intended Receiver – represents the receiver that my QB threw the ball to.
Result – represents the result of the pass – complete, incomplete, interception or sack
Pressure – represents whether or not the QB was under pressure when he threw the football.
Drop – represents whether or not our receiver dropped the ball that was thrown to him.
Notes – Any notes that I wanted to write about the play.  I used this column to write stuff about either the quarterback, his decision making, the play of the offensive line or receivers, etc.
I created this excel document and printed out 8 of them – one for every game that my starting QB played in.  Next, I used our Landro Play Analyzer to break down every pass that he threw this season.  I did this one game at a time, one throw at a time.  As I watched the play, I filled in the excel spreadsheet with my pencil.  Next, I took my rough drafts and inputted everything into the computer spreadsheet.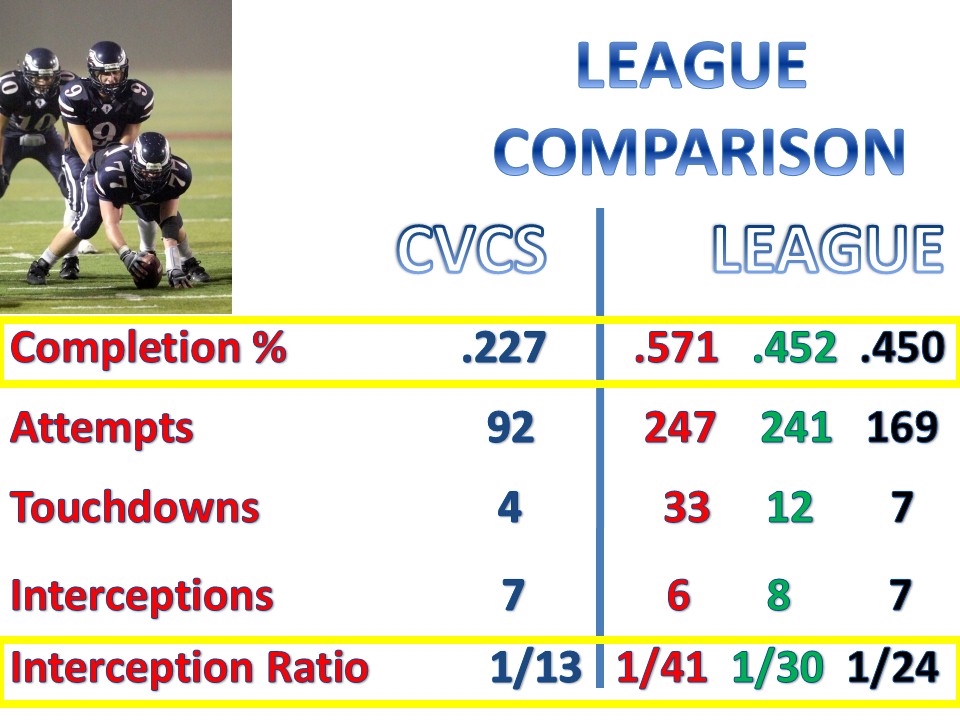 On the Landro Play Analyzer, there were many steps that I had to take to make this project possible for me.
The first thing that I had to do was to record the game onto Landro.  This was already done for me as I did it throughout the season.  It was the first thing that I would do after each game – either Sunday or Monday morning.  Each week, I broke down the film into either offensive, defensive or special teams plays.  This was done in "real time" as I watched the game.
The next thing to do on the Landro was to identify each play.  Again, this happened during this past season. Either myself or an assistant would label every play with two things – our formation and the play.  For this project, I had to go back on the Landro and insert information that I did not use during the season.  This was a time consuming task but it definitely helped in the end.
I know that I would not have learned as much about our passing game if I had not used the technology in this way.  There were some conclusions that I was able to come to that I don't think I would have seen if not for the use of this technology, and more specifically, this project.
The conclusions that I came to based on this project: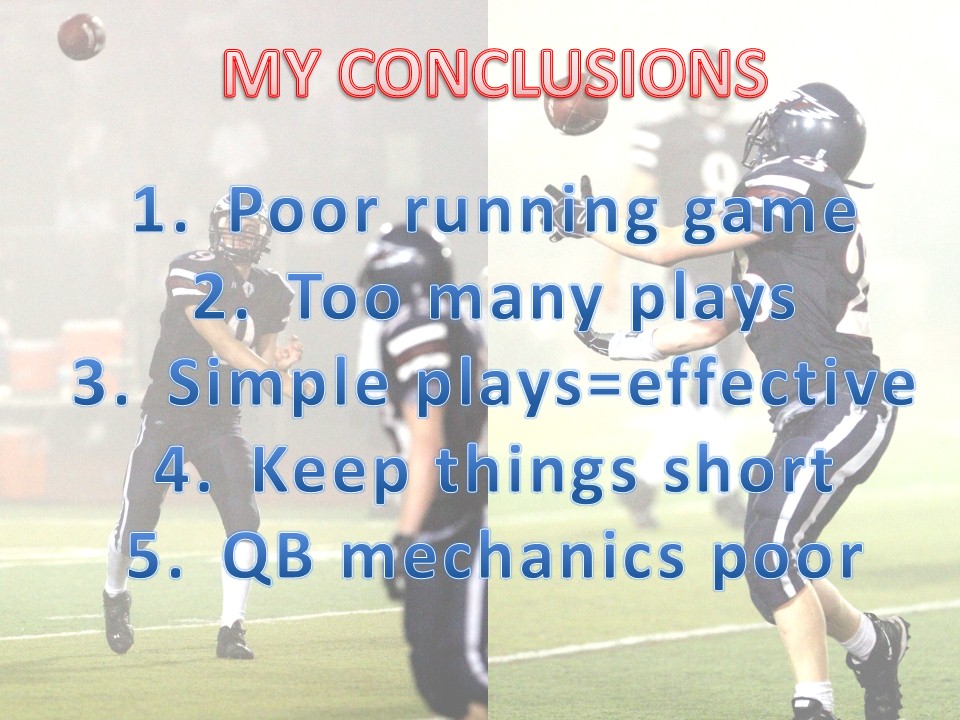 Our running game really never threatened anybody; this definitely put more pressure on our passing game.
I think that we had too many passing plays and/or variations. I count that we ran 31 different passing plays in these 8 games.  We never really became very good at any of them.
The play that has always been my "bread and butter" was horrible for us this year: 2 of 16 with 2 interceptions and 2 sacks.  This play is our most basic passing play, the staple of our play action passing game.  Since it didn't do well, it is no wonder that the rest of our passing game sputtered.
The simplest pass in our arsenal – a curl pattern – was 3 of 4.  I think that we need to run that pattern more next year.
Our short yardage stuff that doesn't really go with our play action passing game worked the best this year – the quick stops, quick flare routes, etc.
Our QB's mechanics need a sufficient amount of work!  He stepped "in the bucket" for a majority of the year instead of at his target.  This caused the ball to float in the air too long.  He lost a lot of velocity on the ball because of his poor footwork.