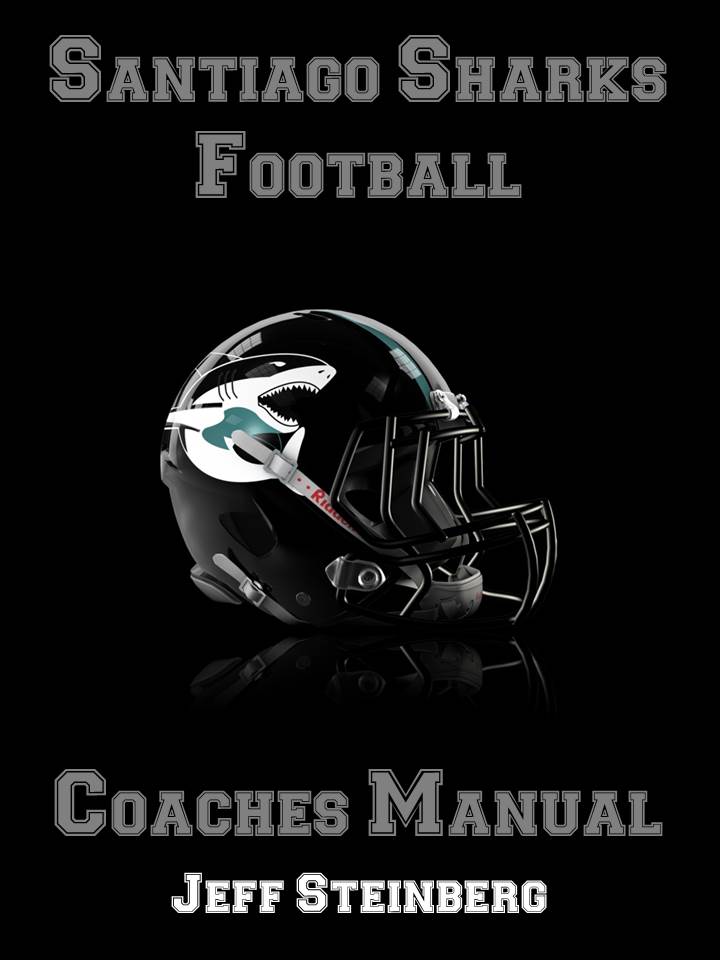 My Outside The Lines Coaching Manual has been a very popular tool for coaches nationwide. It's 100 forms and templates for coaches to use.  Many coaches have been asking, and demanding something JUST LIKE THIS!  A philosophical, "how to" manual.  Not just forms and templates, but the real nuts and bolts of HOW to run a year dynamite year round football program.  This is exactly what we are proud to provide for you now, in partnership with Coach Jeff Steinberg, a coach from California who has won more than 100 games, a rare feat!
Are you looking for a road map to success written by someone who has been there and done that?
Are you a new head football coach, prospective head football coach, or perhaps a veteran head coach looking to change things up in your program?
Do you need help developing YOUR overall philosophy for running your program?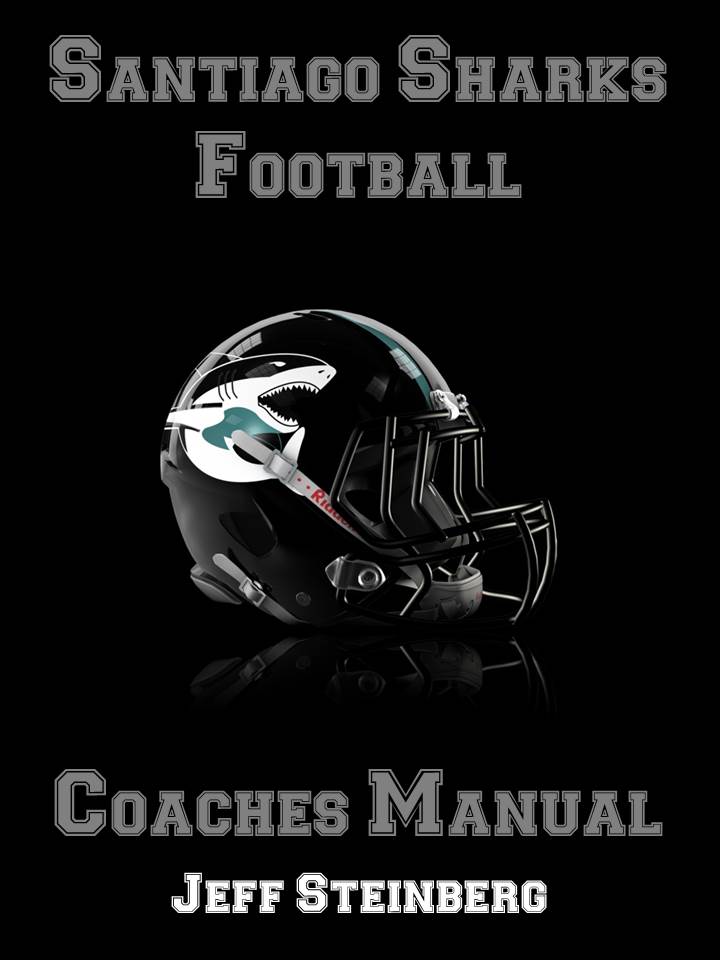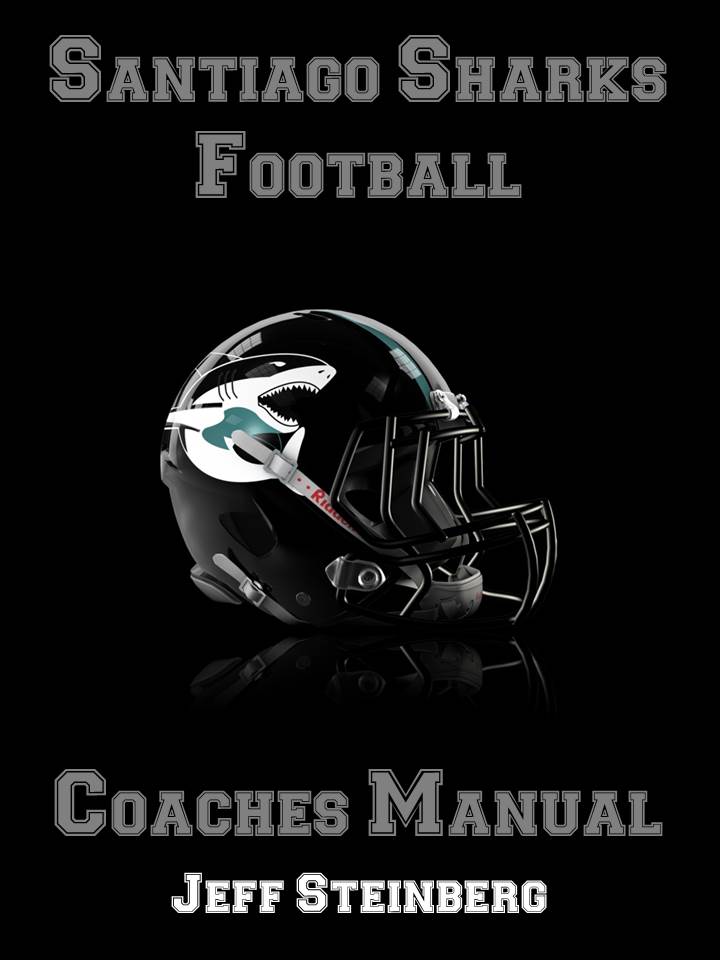 REGULAR PRICE IS $14.  
INTRODUCTORY SALE PRICE OF ONLY $10 UNTIL MAY 1.  
This RAISING THE BAR Coaching Manual is for YOU!
This coaching manual, available exclusively right here at Eight Laces, is an instantly downloadable PDF document (97 pages) that includes the following:
(*This manual not available in USB format, just downloadable PDF)
1.  Coach Steinberg's Coaching Manual (see contents below)
2.  "Maximizing Your Program Powerpoint"
3.  FREE BONUS MATERIAL – Coach Steinberg's 2013 Santiago Football Year Round Calendar
CONTENTS OF COACH STEINBERG'S COACHING MANUAL                                                                                                                                  SANTIAGO SHARKS FOOTBALL MISSION STATEMENT & VISION                                                                                                                                                  TAKE CARE OF IT – OUR CORE PHILOSOPHIES                                                                                                                                                                                                     THE ROLE OF THE COACH                                                                                                                                                                                                                  EXPECTATION OF ASSISTANT COACHES 8
EXCELLING AT WHAT YOU DO
DRESS FOR SUCCESS DURING THE SEASON & THE OFF SEASON
PROFESSIONAL DEVELOPMENT
STRENGTH TRAINING
PARENT MEETINGS
FOOTBALL OFFICE
COACHES RESPONSIBILITIES & PROGRAM GOALS
HEAD COACH ORGANIZATIONAL TIME LINE
PHILOSOPHY OF PRACTICE
SOME GREAT POINTS OF EMPHASIS ON TEAMWORK
COACHES RESPONSIBILITIES DURING THE SEASON
GAME PLAN PREPARATION
PLAYER PREPARATION
PLAYER PERFORMANCE EVALUATION
IN SEASON DUTIES
TEACHING PROGRESSIONS
OFFENSE – QUARTERBACKS
OFFENSE – RUNNING BACKS
OFFENSE – RECEIVERS
OFFENSE – OFFENSIVE LINE
DEFENSE – DEFENSIVE BACKS
DEFENSE – LINEBACKERS
DEFENSE – DEFENSIVE LINE
DESIGNING & IMPLEMENTING EFFECTIVE DRILLS
WORKING WITH YOUR PLAYERS
WORKING WITH EACH OTHER
WEEKLY COACHES PREPARATION SCHEDULE
WEEKLY PRACTICE SCHEDULE
SHARKS FOOTBALL COACHING ASSIGNMENTS MATRIX
POSITION RESPONSIBILITIES
ASSISTANT COACHES SPRING & SUMMER FOOTBALL RESPONSIBILITIES
PRACTICE GUIDELINES
POSITION COACHES POST SEASON REPORT
POSITION COACH SEASON END PLAYER EVALUATION FORM
MANAGERS/COACHES GAME DAY CHECKLIST
PLAYER'S GAME DAY CHECKLIST
SANTIAGO FOOTBALL GRADE CHECK
SANTIAGO FOOTBALL PERSONAL & TEAM GOAL SETTING FORM
SAMPLE LETTER TO FACULTY
WEEKLY THEMES
THE SANTIAGO SHARKS WAY
SHARKS FOOTBALL OUTLINE TO SUCCESS
REGULAR PRICE IS $14.  
INTRODUCTORY SALE PRICE OF ONLY $10 UNTIL MAY 1.  
ABOUT COACH JEFF STEINBERG
Coach Steinberg has been the Head Football Coach at Corona Santiago since 2009.  He became the 3rd Head Coach in the history of the school following successful stints at A.B. Miller High School in Fontana, CA and Burroughs High School in Ridgecrest, CA.
At each of his schools Coach Steinberg implemented a hurry up no huddle spread offense that saw tremendous results.  Jeff has been able to revitalize 3 different programs to lead them to 11 playoff appearances.  Additionally Coach Steinberg's teams have earned 5 league titles, 3 quarter final appearances (01, 07, 08), a semi final appearance (04), a California Interscholastic Federation Final in 2003 and a California Interscholastic Federation Championship in 2005.
While at Burroughs Coach Steinberg turned around a struggling program and led them to 6 straight playoff appearances, 4 league titles, a CIF Final in 2003 and a CIF Championship in 2005.  During the 2005 season Jeff became the winningest football coach in the history of Burroughs High School during his tenure.  He had the opportunity to coach Parade All American Anthony Celestine who broke the state record for receiving in 2003 (2053 Yards), State Passing Leader, Quarterback Karsten Sween in 2004 (4,345 yards passing/ 46 TD passes/ 7 INT's) and Southern Section Receiving Leader Hayo Carpenter in 2005 (111 Receptions, 1780 Yards).  Jeff was honored as the Desert Sky League Coach of the Year in 2003 & 2005.  He was CIF Southern Section Coach of the Year in 2005.  Additionally, he was the Sierra Sands Unified School District Employee of the Year at Burroughs for the 2003/04 school year.  During 2005 Coach Steinberg was honored by the Ridgecrest Chamber of Commerce as Volunteer of the Year primarily for his efforts in establishing a peer mentor program called the Burro Buddies (as featured in the L.A. Times on April 10/05).
Following Burroughs High School a similar program of excellence on and off the field was implemented at A.B. Miller High School.  Jeff implemented his spread no huddle offense at A.B. Miller High School which saw the Rebels average over 400 yards of offense per game & 36 points per game during the 2007 season.  Quarterback A.J. Springer broke every passing record at the school & led the county in several categories namely total yards per game (330) and passing percentage (70%).  He was among the top 5 in the state for total yards offense.  During the 2008 season the Rebels had the most wins in the history of the school going 11-1
During Coach Steinberg's 1st 4 seasons at Santiago High School he was able to assist over 20 athletes in gaining athletic scholarships in both NCAA & NAIA schools across the country.  In 2011 Jeff Steinberg went over the century mark for career wins as a head coach in the state of California (110-62 career record).
Coach Steinberg and his wife Jocelyn have 3 daughters and a son.