By which method do you hire assistant coaches the MOST?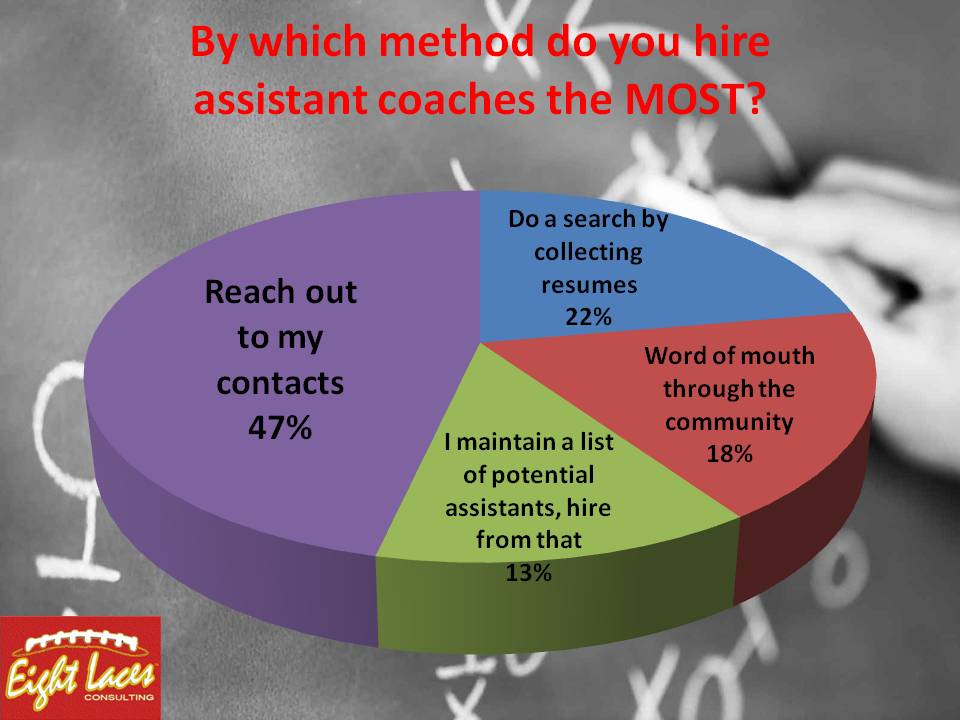 In April, 2015 I surveyed 183 Head Coaches from all over America. 98% of the coaches are were in the high school ranks.  96% of the respondents were Head Football Coaches.  Even though most were Head High School Football Coaches, I really believe that the results of this survey would be just about the same no matter which level you are at, and no matter which sport you are coaching.
The "2015 Eight Laces Consulting Assistant Coach Survey" asked Head Coaches 10 questions.  I will be sharing the results of this survey right here at CoachFore.org in a series of articles.
Eight Laces Consulting helps coaches nationwide with their job search process.  I was really interested in hearing from Head Coaches on their hiring process, and their mindset through not only that hiring process, but also the firing process.
Read some of the posts on this survey here:
103 Ways Every Assistant Can Help Improve Their Program
114 Ways Assistant Coaches Can BEST Help The Head Coach
The MOST Important Thing A Head Coach Looks For In An Assistant
By which method do you hire assistant coaches the MOST?
One of the areas that I was interested in hearing from Head Coaches about what this one: how do you hire your assistants.
Head coaches were given one of four possibilities as an answer:
1.  Do a search by collecting resumes
2.  Word of mouth through the community
3.  I maintain a list of potential assistants, and then hire from that list
4.  I reach out to my contacts for a prospective assistant
The results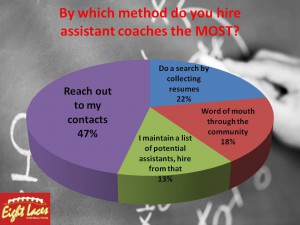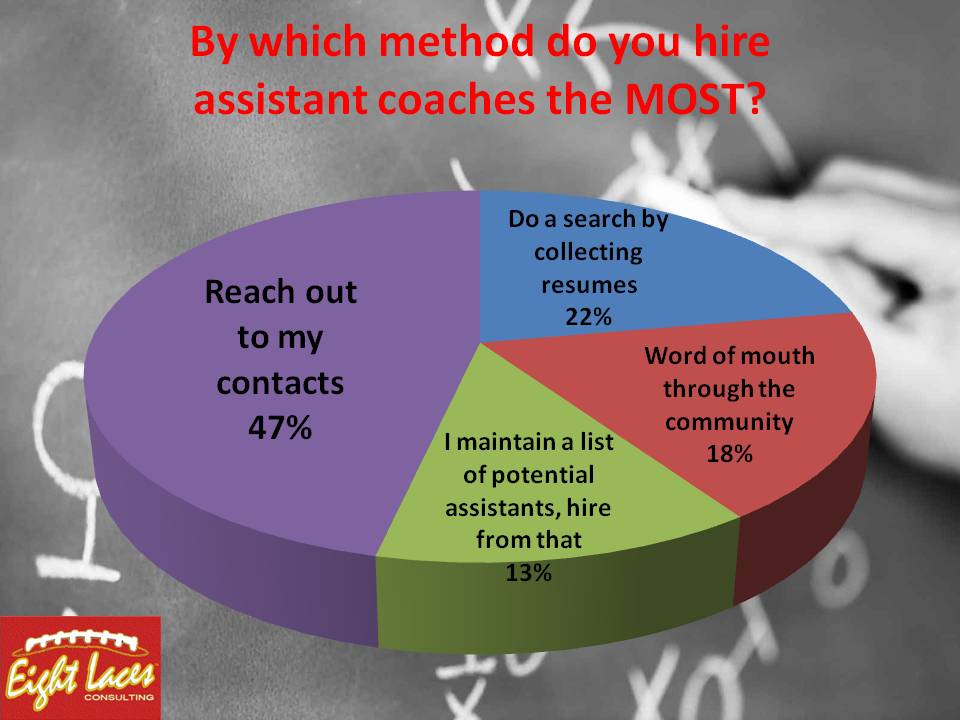 I was a Head Coach for 8 years, and I would say that I would have answered this with "maintaining a list of potential coaches."  Even now as an assistant, I have a list for when I become a Head Coach again, if that happens.  I have a list of the guys I would want to bring in to be on my staff. That's a key part of being a Head Coach, and filling your staff.
Some guys fly by the seat of their pants with this, and you can tell because they have a high staff turnover, and not very good staffs from 9th-12th grades.  Others are well planned out, and you can tell that too.
Takeaways from assistants from this question are:
1.  Maintain good relationships with coaches you coach with, and coaches you coach against
2.  Do a good job of networking to get to know a lot of coaches.  Get involved in your local and state coach associations.
3.  Almost 1 in 4 Head Coaches hire right from a "cold search."  This means that they are hiring from resumes, from guys they might not know.  Make sure that you have a great resume ready to go!  Even if a Head Coach is reaching out to his contacts, and you are a contact of his contact, you'll need a great looking resume!
4.  Be a good person!  You're not going to move up the coaching ladder being a jerk!  Be a good person that others speak well of, and think well of.  This way you'll be recommended to a Head Coach for a job in the future!
Coach Fore is the owner of Eight Laces Consulting.   Their mission is:  To prepare coaches to be hired for the job of their dreams, and to provide coaches and athletic directors with dynamite resources to become even more successful in their fields.