CHAMPIONS LOCKER ROOM: New Jersey State Champ = Long Branch High
This is the second episode of the CHAMPIONS LOCKER ROOM of the 2017 season.
You can read the first episode of the 2017 season here, Pennsylvania 6A State Champ.  You can read past CHAMPIONS LOCKER ROOM State Champion profiles in my Article Library.
Congratulations to Coach Dan George and his staff for winning the New Jersey Central Group 4 State Championship.  They beat Freehold Boro in OT by a score of 43-42!  They allowed just 3 points in the two playoff games before that, pretty nice!
Thank you to Coach George for taking time to answer some questions about his State Champion Long Branch High School team.
How long have you been the Head Coach at Long Branch? 
How long have you been a Head Coach altogether? 
What does your football program do differently from other programs in your league, conference, state that helped you win a State Championship?
We practice 6:30am, M-Th all summer before we start camp.
What do you consider to be the most important aspect of your state championship? 
Team Character, down 14 points in the 4th quarter before tying it up and winning in overtime.
What is one piece of advice that you would give to a coach wanting to win a state championship? 
It takes a tremendous amount of time all year around, be patient and grind everyday.
Take extra time to make sure the best athletes in your school are playing, I do not believe you can win a state title without 2 and 3 sport athletes.
What kind of defense did you run? 
 4-2-5
Which of the Special Teams was most valuable this year, and why?
We set the tone physically and ended up with great field position.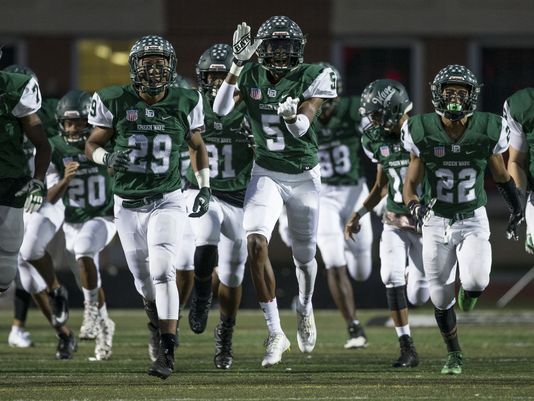 Do you incorporate some type of character development program within your football program? 
Yes
We have a motivational speaker every year and use it as a motto for the year.
What is the number one obstacle you face in building a Championship caliber football program in your community? 
Who do you consider to be your main mentor in this profession and what about that coach do you try to emulate in your program? 
My father, being mentally & physically tough. Make sure my coaches and myself evaluated and always give great feed back to the player and team.
Coach Fore has been studying State Champions since the 2011 season when he interviewed more than 100 head coaches from 106 different states. He took ALL of their answers to 3 questions, and created the Top 10 Characteristics of State Champion football programs. He then wrote a book called Building Championship-Caliber Football Programs. You can purchase this book on Amazon.