Chris Claiborne: USC, NFL Veteran is the new Head Football Coach at Calabassas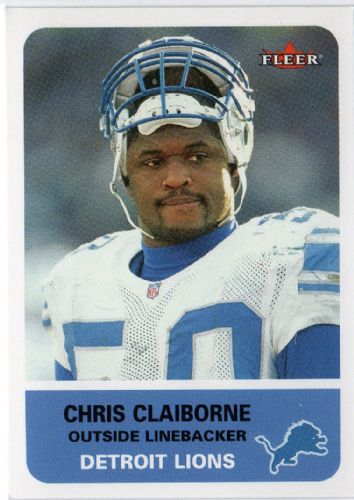 I had the chance to chop it up with Chris Claiborne about his first head coaching job, his coaching philosophy, the 7 on 7 culture and more.  I love talking with coaches, I love writing and sharing that information with others.  I learned a few great things from this discussion, thank you Coach!
Chris Claiborne was an All State Running Back AND Linebacker at JW North High School in Riverside, California.  He was a two sport athlete, also lettered in basketball.  He graduated in 1996, and then moved on to star at the University of Southern California.  He was a First Team All American as a senior, and also won the Butkus Award (USC's first and only to win this).
He was a First Round (9th overall) Draft Pick in 1999, and played for the Lions from 1999 to 2002.  He went on to play for the Rams, Vikings and Giants until 2006.
Fore: You just got your first head gig, how are you feeling Coach?
Claiborne: Excited, excited, excited, excited!!!!
You get an opportunity as a coach to effect someone for 8 years, from frosh year of high school to college, you can have an influence on one of the greatest times in a person's life.  That is what inspires me.
Fore: Tell me how you got in to coaching.
Claiborne:  I retired from the NFL, and then was kind of trying to figure things out, what is next in life?
I was out at a restaurant in town, and a dad recognized me.  He asked me if I trained kids.  I had never done that but said I would be happy to.  So I started doing that one on one, and then he started bringing a family member, and then they brought a few more guys, a few more guys.
It started firing me up for the game again.  When you first are retired, you're kind of in a fog.  You're tired.  You don't know what to do.  But that right there, that got me going.
Fore:  How did you start coaching high school kids?
Claiborne: I started a 7 on 7 team in called the Frat Boys. We had some tremendous players. Sua Cravens, Daren Carington, Justin Strong, Andrew Ellfers, Daren Andrews and more guys.  Went to Vegas and really got the bug out there.  When I first got Sua Cravens, he was the #1 OLB in the state.  He was outstanding.  He was great for his teammates.  His light shined on others because everyone was coming to see him, but then all these other kids got attention.
I also came to learn about academics at that time because a few kids could not sign, they weren't eligible. After that I always made it a policy to not have kids play 7 on 7 who weren't eligible for college.  Academics first.
Fore: How will you treat 7 on 7 with your own team, now that you're a Head Coach?
I told the coaching staff that we are going to let kids play where they want to play for 7 on 7.  When we get back in January we will give them a calendar, and let them know what their responsibilities are.  Some kids can become a superstar during 7 on 7, especially the corner.  We will monitor where the kids are.  We will still have them during the week to work with them.  They will see us quite a bit.
You being 7 on 7 famous don't make you football famous.  Just cause you're a stud on 7 on, don't mean you can hit, don't mean you can fill.
I believe that high school coaches will start doing 7 on 7 more and more, and that will make club teams null and void in the future.
Fore: When did you first get a job coaching on a campus?
(Claiborne talked through his coaching timeline)
2010 – 2011:  Started at Corona High with John Randall as the Defensive Coordinator; we went to the playoffs that first year.  We got our butts whopped by Chino Hills. I was able to form great relationships with those kids.  It gave me perspective though, it's not about me, its about them the kids. We took them as far as they could go, that group of kids.  As far as they could go in the playoffs, and that's okay.   The kids were excited to go to the playoffs, they were just happy to be there.
2011 – 2012: Diamond Ranch – Defensive Coordinator
2012 – 2013: Corona High Defensive Coordinator
2013: Oaks Christian Linebackers Coach
2014 – 2015: Went to Calabasas High School to be the Defensive Coordinator; won a CIF Championship
2016: Interned with the Cleveland Browns.  Kept learning the game at a high level, you never know enough.  There is really no certain "perfect" defense, it's how you call it and how you teach it.
2017: Long Beach Poly Defensive Coordinator
Fore: How did you end up at Long Beach Poly as the Defensive Coordinator?
Claiborne: Willy Mc Ginnest needed me to go and coach his nephew.  So I did.  It was a great opportunity there.  I was being prepped as a head coach because I was filling in for AP (Head Coach Antonio Pierce) making sure everything was running during the week when he was gone.
I was being prepped to be a Head Coach, and I didn't even really know it at the time.
I wanted that challenge of coaching in Division 1.  I got it!  We played one of the greatest teams ever in Mater Dei. They whooped us. Props to those guys.  But we did a good job with the defense at Poly.
One thing I've learned about coaching, it's not about you.
The biggest challenge for me is being able to get the things I knew in my head and being able to teach that stuff to the kids.   It doesn't matter what I know. What matters is what the kids know.  I know so much about the game, that doesn't matter.  It's all about them.
Learn who the players are. When you start to understand a person, it gives you a better understanding of how they learn.  The key for me was trying to figure out how to filter my knowledge for high school level.
______________________________________________
   Want more articles like this?  Want specials from Eight Laces Consulting?  Subscribe to our mailing list.  I hate spam, you hate spam. We agree!  Won't be more than 4 emails per month. 
Fore: A lot of NFL guys or high level D1 guys retire, then try to coach, but aren't around the game long. They have a hard time adapting to coaching the game.  They have a PhD in football, but can't actually teach the game like you need to teach it to high school kids.  But you've stuck to it.  How have you made that transition from the NFL to coaching teenagers?
Claiborne:  The best thing I did was I started training six year olds.  I had to break things down to teach him how to do the things I wanted him to do.  Then I had three 9 years olds I was teaching. I had to teach those guys how to play, help them progress.
People want kids to do what they did right away.  That's not how it works.  How do you expect a kid to do something in a short amount of time just like I did, with 22 years of experience, to do?
I'm going to still be the coach who coaches the scout team.  Because no matter what defense I'm running week to week, it's still about feet, hands, how I'm fitting up. All of those things are the same. I want to teach the younger kids consistently, constantly I want to teach those guys what I teach.
Coach every kid like they don't know nothing, that's what I tell my coaches.
Fore: So, how did you end up at Calabasas as the Head Football Coach?
Got a phone call from Calabasas to see if I was interested when Casey went to Alemany.  I guess that I was recommended by some people in the community there.  It came at the right time.  I was tested at the D1 level, we did pretty good down there. The kids did a great job coming together as a defense.
Look, kids get coaches hired and fired.
Fore: I saw on Twitter last night that you're bringing in some big names to coach with you?  
Claiborne: I'm bringing in coaches, not names.  I care about their xs and os.  I get to sit on the board and talk football with some great coaches.
Mike Jones is my offensive coordinator, I've gained respect and admiration for him for years watching him coach.  He was at Upland for 10 years, and was the OC at Diamond Ranch.  I've coached against him on the 7 on 7 circuit and knew when I had the chance, that was the first guy I called.  So that's what I did.
I don't want nobody with me who doesn't want to be a head coach one year.  We need to challenge each other.  We need to get better every day. It's all about the kids.  We are bringing in good coaches.
RB: Mike Pittman @MPittman_Sr (11 years NFL)
Safeties: Brian Wilson @FrshYelGrizzly (Nebraska)
Corners: Eric King (Wake Forest, 6 years NFL)
WR: Curtis Conway @CurtisConway80, T. J. Houshmandzadeh (both former NFLers)
OC: Mike Jones; QBs: Renee Medina
Fore: So, what's the next step?
Claiborne:  Four days a week in the weight room, getting after it.  We are going to hit that hard.  To win state, you're going to half to go through somebody in the IE. You can't play soft football.  We are going to gear up for a state run.
Going to get out on the field, to get the kids running around on the field running our system.  The coaches are excited!
Chris Fore has his Masters degree in Athletic Administration, is a Certified Athletic Administrator and serves as an Adjunct Professor in the M.S. Physical Education –  Sports Management program at Azusa Pacific University.  He is a speaker with the Glazier Clinics, and a Coaches Choice author.  Coach Fore runs Eight Laces Consulting where he specializes in helping coaches nationwide in their job search process.  He also serves on the California Coaches Association Board of Representatives, and the Southern California Football Coaches Association.