Game Day Special Teams Checklist – 10 Things To Look For Before Kickoff
During my last year of coaching football, I was the Special Teams Coordinator at Victor Valley College here in Southern California.  Prior to that, I was the Special Teams Coordinator at Sultana High School, and Oak Hills High School before that; both in Hesperia, California. 
So, the last 5 years of my 17 year coaching career, all I did was coach Special Teams which proved very advantageous for our success at each of these stops! 
For instance, our 2016 team at Sultana was just 3-7, but we beat our opponent in EVERY Special Teams statistic imaginable.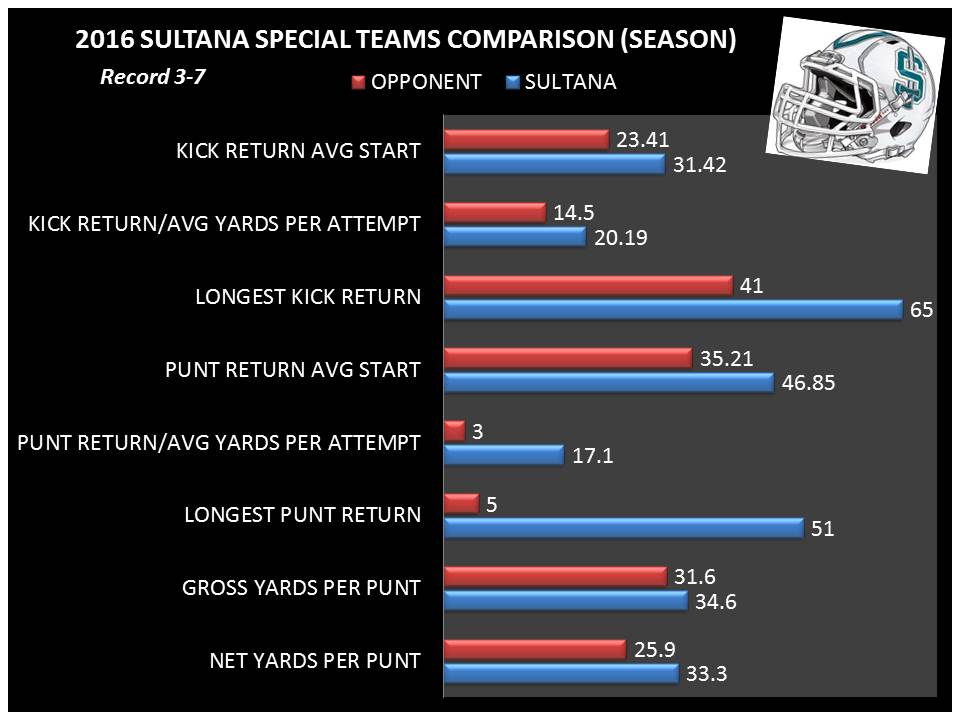 At the junior college, we were a .500 team.  We finished 1-4 in conference play, and finished 5th out of 6 teams.  Yet our Special Teams was ranked #3 in our conference!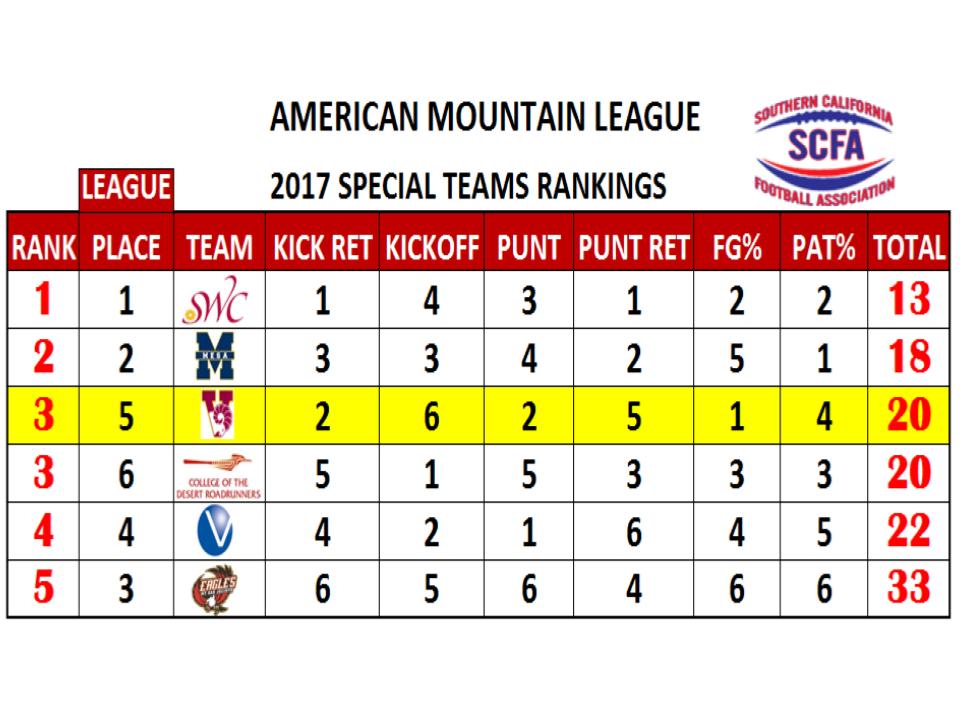 And finally, look at what our Special Teams units did at Oak Hills during my first year as the Special Teams Coordinator there!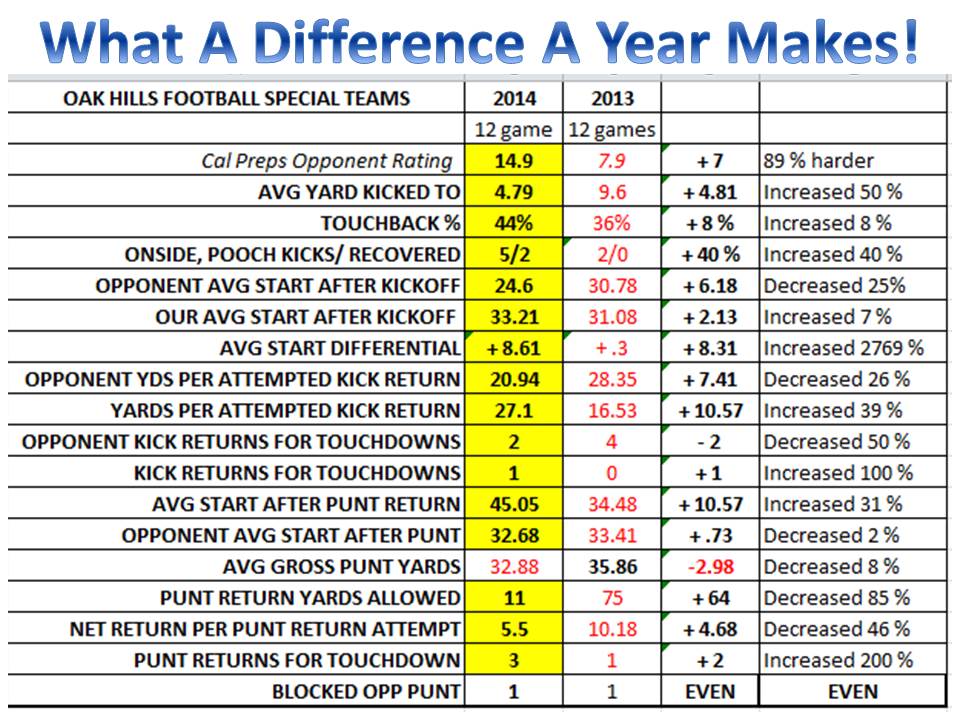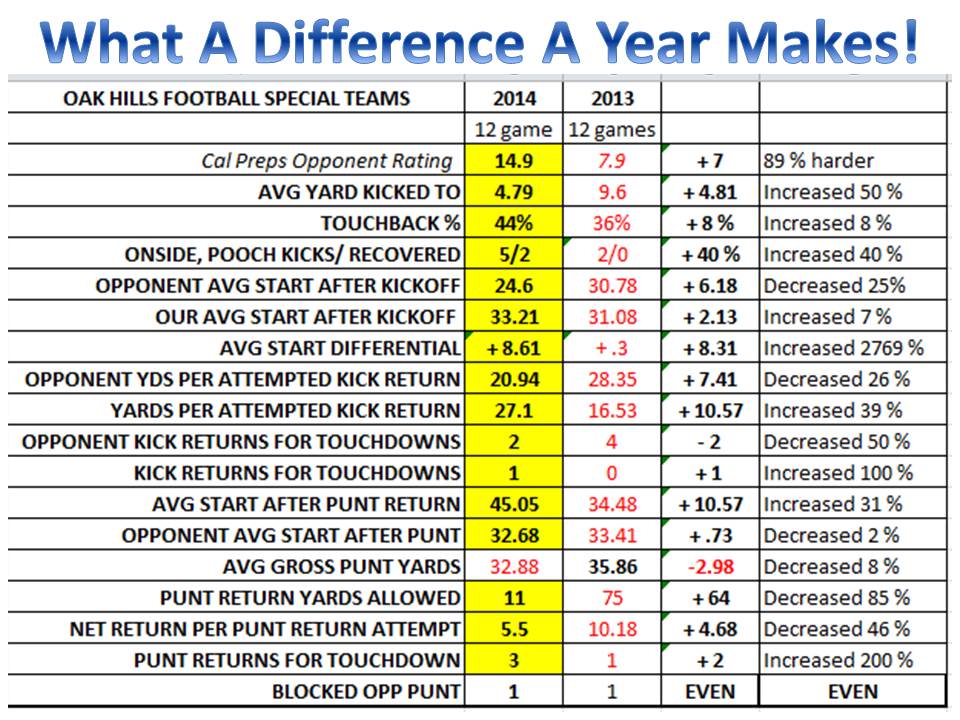 I share those stats for a few reasons! 
One, because I'm darn proud of them! I'm proud of being able to make a significant difference as a Special Teams Coordinator!  
Two, if you're not analyzing your special teams like this, you're not doing a very good job as a Special Teams Coordinator or Head Coach.  It's funny that "analytics" are starting to become this buzzword in football the last two years. Some of us have been using analytics since the 1990s!  And others who coached before that used them long before the 90s! Maybe they're used in different ways now, but as far as Special Teams is concerned, you've got to break this stuff down on an annual basis as a means to evaluate your Special Teams.  
Three, I share these stats because I think that they help to prove that having a dedicated Special Teams Coordinator will pay big dividends for your program!  As someone who could JUST focus on Special Teams, as the Coordinator, I think that brought our squads more success than others who just parse it out to different coaches on the staff. 
Let's face it: if you're the Defensive Coordinator, and also in charge of punt return, you're probably not going to spend much time on punt return during the week. Likewise if you're the running backs coach in charge of kick return. Your time, attention to detail and film investment is going to go into your running backs first and foremost!  Special Teams becomes an afterthought for many programs simply because of how they are managed. (Mainly I'm talking about the high school level here.)
This brings me to the point of this article: a Special Teams game night checklist.  Since Special Teams was all I was coaching the last 5 seasons, I was able to really focus on this checklist on game night.  Where a position coach is worried about and focused on his group during game night, I was able to spend quite a bit of time on this checklist once my specialists were dialed in. 
I spent a lot of time just sitting on the bench before games.  Most of the staff had no idea why, they thought I was just being lazy!  Fact is, I was working through this checklist without being too overt about it.  Taking notes, taking mental notes, and physical notes on my play sheet!
Spending some time on the night of the game will most definitely help you in managing the ebb and flow of the Special Teams scenarios during game night.
1. Condition of the field
– wet, dry, damp, any holes around anywhere, slippery
How will the field conditions change what you're wanting to do tonight?  Now, most of the time these days we are on Field Turf, and we don't need to consider poor field conditions too much.  BUT, field conditions can play a BIG part on Special Teams. So, spend some time walking the field. How is the condition of the field around the plant spot for your kicker on PATs, you know that area right around the 10 yard line.  How about around the places you want to kickoff from tonight? How about the areas you might want to onside kick to? Maybe you need to change part of your plan for tonight depending on the conditions of the field.  
2. Weather conditions to consider
– rain, damp, cold
I spent the 2014 season at Oak Hills High School, which is very close to the top of the Cajon Pass along the 15 freeway.  If you know the area, you know that the wind whips through there something FIERCE! We had some real doozies there where you can hardly even punt the football.  Like nights where I would just tell our Head Coach, if we punt while going this way coach, we won't have more than a 15 yard kick! So, game time weather conditions might change up what you want to do for the night.  
3. Which way is the wind going, and how does this influence your plan
?
Will you have the wind at your back during the first or second half?  Maybe you have a fake punt in your plan, but in the first half, you're going against a pretty tough head wind.  Can your kid make that throw against the wind? Maybe you have the wind at your back during the second half. How will this influence your decisions to either kick a field goal or try to convert a fourth down?  Do you know how many yards this wind will add to your kids' best effort? Is the wind going to affect your long snapper? If so, do you need to move the punter up a yard? Wind plays a huge factor sometimes! Think through these issues. 
4. Find their place kicker by #
When you start your film breakdown, make sure to write down the numbers of your opponent's specialists, and then have those numbers on your play card for Friday night.  Find those guys as soon as you can on game night! 
When you find their place kicker, how does he look?  Maybe he sustained an injury during the week and isn't playing?  How will this affect your game plan? Your placement of your kick returners?  Who is the backup kicker, do you even know? If he is dressed out, watch him. How does the wind affect his kick placement tonight?  
How is his field goal kicking looking?  How far out is he good from tonight? Write it down so you don't have to think when the time comes.  Don't forget to account for the 7 yards from the ball to the kick point too!  
5. Find their punter by #
When you find their punter, how does he look?  Maybe he sustained an injury during the week and isn't playing?  How will this affect your game plan? Your placement of your punt returners?  Who is the backup punter, do you even know? If he is dressed out, watch him. How does the wind affect his kick placement tonight?  Take note of his average kick distance tonight. Does it match what you charted out all week? This can play a huge role in how you set your punt returner! 
CHECK OUT MY ARTICLE LIBRARY ON MANY MORE SPECIAL TEAMS ARTICLES
A Dynamic Kickoff Return Scheme
How USC Pulled Off A Tremendous Fake Punt Return For A Touchdown
The 10 Commandments of an Effective Kickoff Team
The 10 Commandments for your Punt Team
How To Successfully Fake A Punt 
6. Find their long snapper by #
Same things as above.  Is he dressed out? How do his long snaps look?  Same guys long snapping for punts and field goals?  
7. Find their holder by #
Is he dressed out?  Do you see him practicing throws at all?  If he is, is he a regular QB? Or are they working on a fake of some kind?  
8. Find their kickoff and punt returner/s by #
Who is returning kicks and punts before the game?  Same guys that you're expecting based on your scouting and preparation?  Do they look healthy? Any injuries that these kids might have sustained during the practice week?  Are they limping at all? Favoring one side of their body or another? How are they catching the kicks/punts?  Same way you saw them in your film prep?
9. Find the players not playing tonight
– are any of them on your list of Special Teams players?
I made a crucial mistake during my first year as a Head Coach, and I learned a lot and made a change that I've held onto as a Head Coach ever since.  Our star running back who was responsible for about 60% of our wing t offense was injured and not playing. Like most kids do, I had him out there in his jersey and sweat pants during pregame.  So, right away their Head Coach comes out and says "40 isn't playing huh?" Then, he went over, got his team together, and informed them, to which totally energized their team as they started hooting and hollering.  Ever since, I don't have my players wear their jerseys unless they are covered up, and I have my injured guys just sit on the bench during pregame. Sure, the opponent can still figure it out by looking at your entire team dressed out, but now I don't make it so easy for them! 
So, take note of the injured guys who aren't playing.  Cross reference this against your notes on your play card of their specialists.  
For instance, maybe #10 is on crutches.  You look at your card and see that he is their leading tackler on kickoff, the guy you are double teaming. Now, you can change that double team assignment, free up a kid perhaps.  Or maybe #10 is their long snapper. Maybe you can call for that punt to be blocked a little more liberally now because you know their backup is NOT very good, and floats the ball back.  
If you liked this article, you might think about purchasing my newly released Kick Return Game Clinic powerpoint and handout.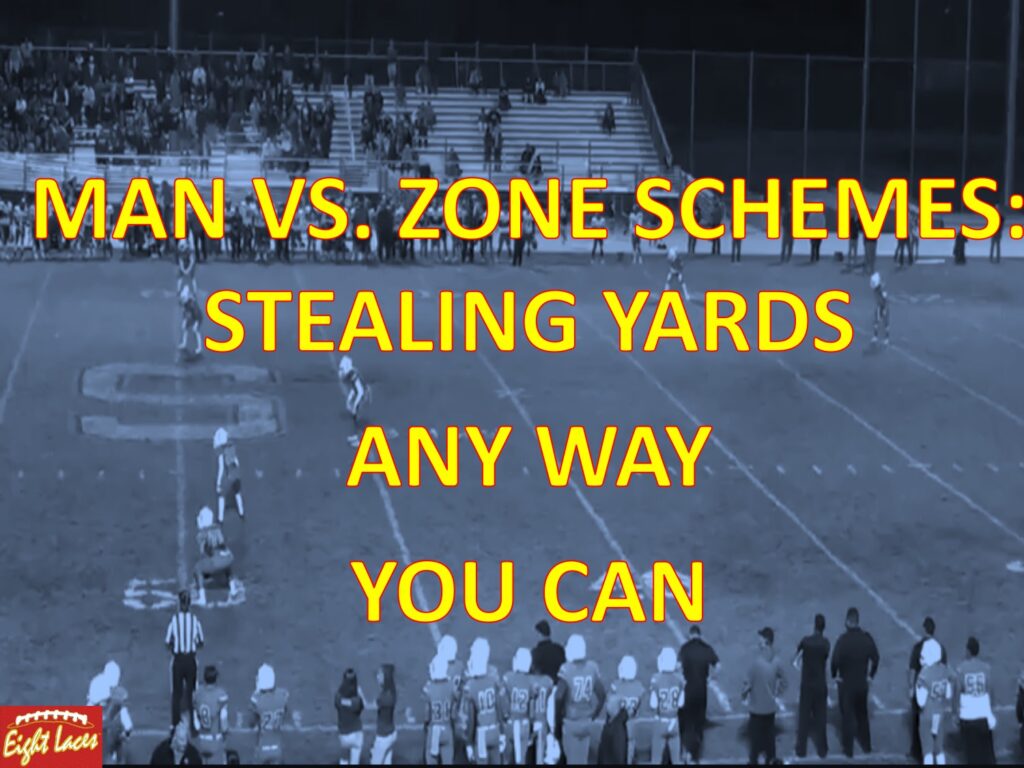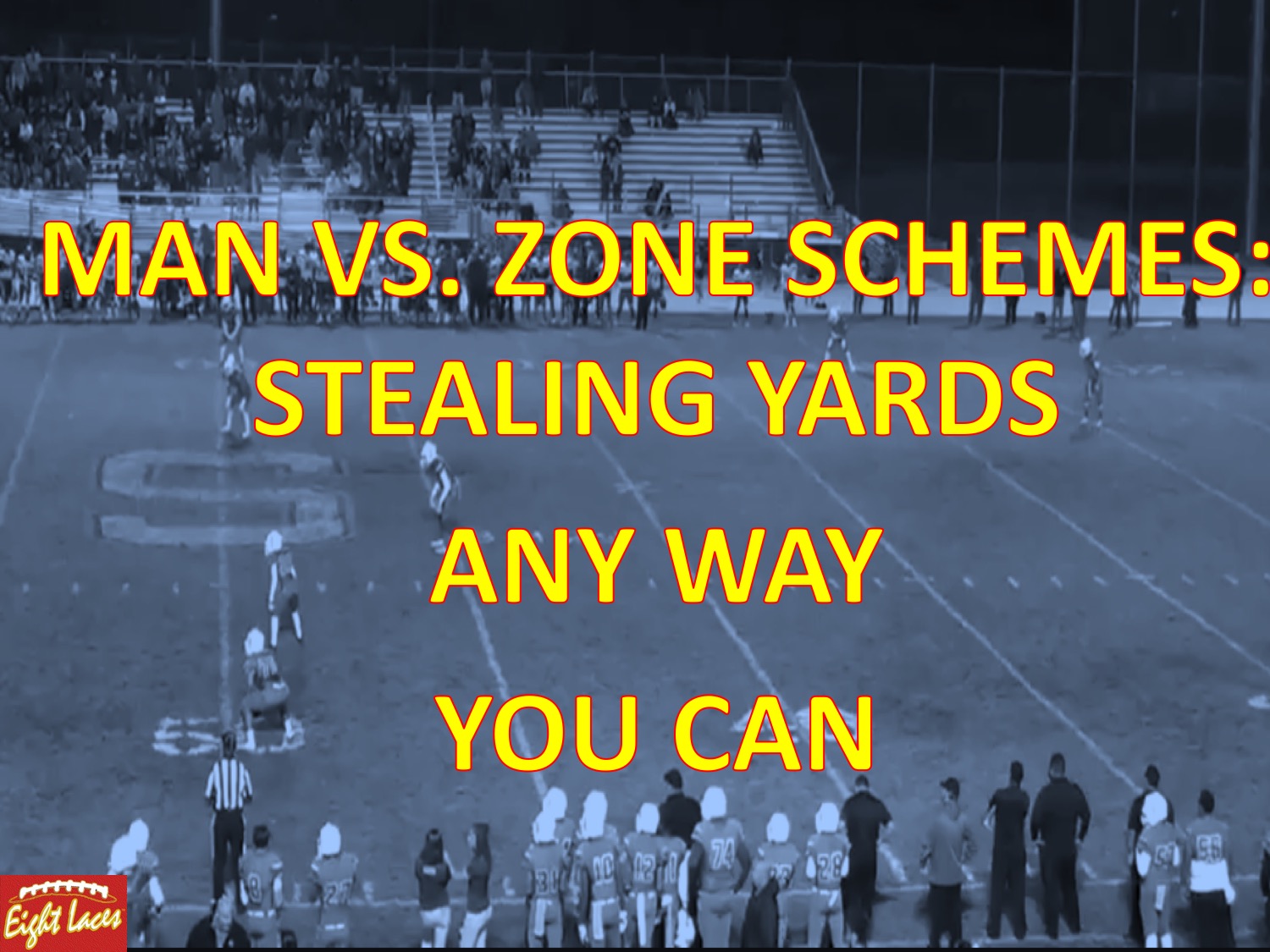 Chris Fore has his Masters degree in Athletic Administration, is a Certified Athletic Administrator and serves as an Adjunct Professor in the M.S. Physical Education –  Sports Management program at Azusa Pacific University. He serves as the President of the California Coaches Association.  Fore also runs Eight Laces Consulting which specializes in helping coaches nationwide in their job search process.  Fore has been named to the Hudl Top 100 Coaches, and the Top 5 Best High School Football Coaches to follow on Twitter by MaxPreps.  Follow him!
Fore is also the author of the Shield Punt book!