"Culture beats talent if your culture is really strong."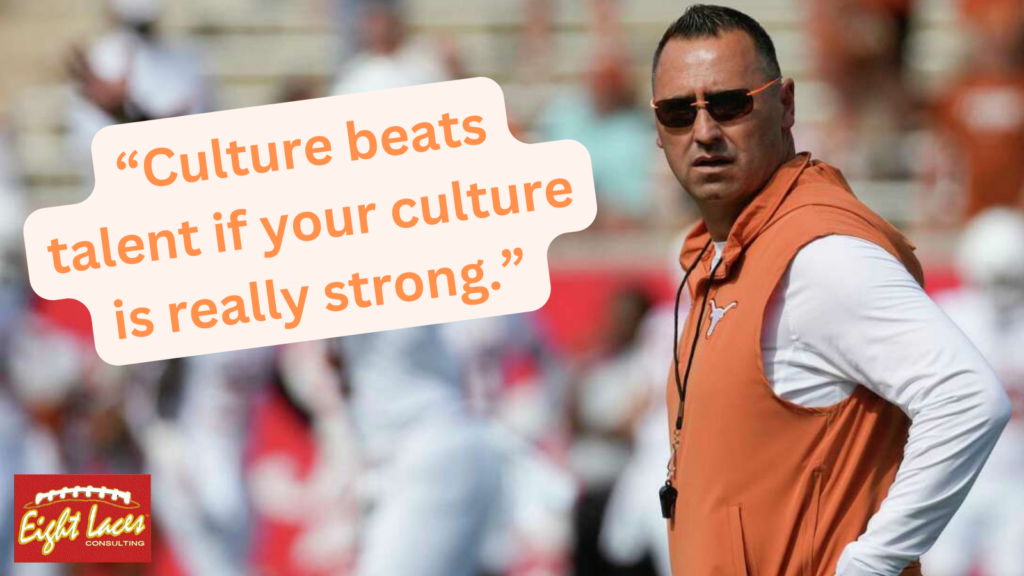 Early tonight I was scrolling through Twitter/X, and I came across one of THE most profound sound bytes on culture that I have heard recently. That's one reason I love Twitter/X: the gold that is out there for someone like me who loves football, and leadership, etc.
It was from a press conference with the Head Football Coach of the University of Texas Longhorns program, Steve Sarkisian.
Reporter: "You talk a lot about 'culture' being one of the reasons for success this season.  Can you define it for me? What is on your list?  What is it?"
Here is Coach Sark's GOLDEN response, typed up here, and in a video below.
The first thing about culture, culture is organic. It's not a sign up in your building, it's not a t-shirt you wear, it's not breaking the team down by saying culture on three. 
I think culture is organic. It manifests itself with the relationships you build.  I think that there are things that we talk to in our culture that are of the utmost importance. 
Commitment is really important to our culture. 
Discipline is really important to our culture.
Accountability is very important to our culture. 
Mental and physical toughness are very important to our culture. 
Love is very important to our culture. 
Vulnerability is very important to our culture.
Transparency is really important to our culture. 
So that's just to name a few.  But I can't just say those things. We have to live those things, and then we have to have teachable moments along the way: 
 To celebrate the guys who are doing those things 
 To point out when maybe we are not, and maybe how we can fix it. 
And how can we correlate that?  Because who you are some of the time is who you are all the time.   And so if you want to be a disciplined football team when you take the field each weekend you have to be disciplined when you're off the field. 
How are we in school, how are we in community service? 
All of it all adds up to that becomes your culture. Because that is who you are, that is how you go about everyday in life. 
For example, when we have a team meeting I have the same three guys that early on made sure the team room was clean, there's no Gatorade bottles there's no tape, there's no trash. A couple of those guys were Roshan Johnson and Bijan Robinson. 
Well that elevated to, when those guys were gone, the running back room was the one that cleaned up the team room. Till now, when we break a team meeting, everybody looks around. And so it has grown from two guys to more. When we go to movies before ball games on Friday night, everybody chirps up "Pick up your trash." So I know those sound like little things, but in the end those things are really big things to me because that's the way we're thinking all of the time, and if we're doing those little things, and that's why I say to celebrate the small victories, I really celebrate that stuff, because those actions and that behavior leads to the big victories. 
It leads to 1st and Goal on the 5 and your defense needs to get four stops. It leads to 3rd and 12 backed, up on the road, and you convert a first down. 
It leads to those guys counting on one another, because they are doing the right things on a daily basis. And we are not perfect, and I don't expect our guys to be perfect. But if they can be coachable on and off the field, if they can learn from one another, then we will continue to grow. And our culture will learn to grow. But it takes being vulnerable, it takes being transparent with one another, it takes getting to know one another so you can have some empathy for what a guy is going through, not just on the field but off the field.  Where he came from, what is going on in his life, we have to share those things. 
In the summer we do a lot of culture stuff work every Wednesday morning. Now, Friday night I do a culture exercise, it's the last thing I do, before we go to the hotel or go to the plane. We do a lot in that way. Culture beats talent if your culture is really strong. Culture and talent together is a pretty powerful force, and that's something that we have tried to create here.
Chris Fore has his Masters degree in Athletic Administration, is a Certified Athletic Administrator and currently works as a Principal in Southern California (yes, he went to the "dark side" after 17 years of coaching!)  He served as the President of the California Coaches Association for 3 years.  Fore is the CEO of Eight Laces Consulting which specializes in helping coaches nationwide in their job search process.  Fore has been named to the Hudl Top 100 Coaches, and the Top 5 Best High School Football Coaches to follow on Twitter by MaxPreps.  Follow him!
PS – Fore's latest book, The Head Coach Blueprint, has been an Amazon "Hot New Release" several weeks in a row!