This is the fourth part in a series about THE MENTAL APPROACH.
See Part 1 here.  See Part 2 here.  See Part 3 here.
I received a Masters' (or is it Master's, I always forget) of Arts in Coaching and Athletic Administration from Concordia University back in 2010.  I learned a ton.  It was a great program.  I would do it over in a heartbeat.  There is nothing quite like sitting in class on Monday night, talking with great coaches from all over Southern California, and then applying those very concepts the next day or that week in your program!
I strongly believe that the most important thing that I took away from the degree was my Sports Psychology class with Dr. Tammen.  He is one of the best professors I've had at any level of college.  He has a lot of knowledge for coaches to learn from, and is passionate about the field of Sports Psychology!  You can read here about some of this work.  Class wasn't your typical "class."  It was more like just going in to a room, and talking about how we can be better coaches through the use of different psychological approaches.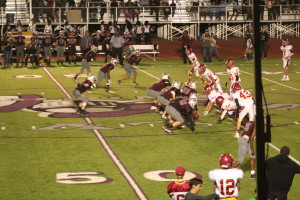 The most important part of the most important course for me personally was in the area of self-confidence for athletes.  Without a doubt, I believe that a team with high self-confidence will perform better than a team with low self-confidence.  If there is an "edge" that I want to have while coaching football, it is in the area of self-confidence. The importance of self-confidence for success in sports has been well documented in various sport settings (Feltz, 1994; Mahoney & Avener, 1977; Woodman & Hardy, 2003). 
In 2004 my football team was 10-2-1; earning the most wins in school history (35 years) at the time. (It has since been eclipsed.)  Our team was very confident.  We were ranked #1 in our Division for about 6 weeks out of the year, and our record was 8-0-1 as we came to the league championship game in the last week of the season.  We were playing our school's rival in Week 10 for the League Championship!  It doesn't get much better than that right?!
Our self-confidence and, our self –efficacy was very, very high.  Bandura's (Beattie, Hardy, Woodman, 2004) theory defines self-efficacy as a person's judgment of his/her capability to organize and execute courses of action required to attain a certain type of performance. We walked onto the field knowing that we would win, that the team across the sidelines had absolutely no chance of winning the football game. 
Fast forward a few years, to 2009, and I learned what it was like to be on the other sideline!  Our team was 0-10.  (This was a different school than where I was in 2004 with the 10-2-1 team.)  It was just the opposite!  We walked on to most fields knowing we didn't stand much of a chance.  One reason was that we were down to about 14 healthy football players entering league play.
The textbook for this class was Sport Psychology for Coaches (Burton/Raedke 2008).  They defined self confidence as: an accumulation of one's unique achievements across many different tasks and situations, couple with preparation for the upcoming event, which enables one to develop specific expectations of achieving future success.
In coaching laymen terms, this means that an athlete or team will develop a mental approach to their game based on their experiences. 
So, how does all of this apply to YOUR football program?  If your team is going to develop a mental approach to next season based on their experiences, what will there mental approach be?  When you lost 70-0, it's tough to just forget that, no matter how hard you try.  And vice versa is true.  When you win that big, it is hard to forget. Those experiences help pave the way for the mental approach your team is going to take.  This is why we see teams at all level of all sports "get hot" at certain times.  We see these teams go through incredible stretches where they just CANNOT lose.  I remember watching the 1998 San Diego Padres, my favorite team, having this kind of season.  They won 98 games!!!   They were hot.  And I remember Tony Gwynn talking about how they just knew that they would be able to roll in to the stadium and get the win.
What can YOU do this off season to help the mental approach of your athletes next year?
Sources
Feltz, D.L. (1994). Collective efficacy in sport. Journal of Sport & Exercise Psychology,
Mahoney, M.J., & Avener, M. (1977). Psychology of the elite athlete: An exploratory study.  Cognitive Therapy and Research
Woodman, T., & Hardy, L. (2003). The relative impact of cognitive anxiety and self-confidence upon sport performance: A meta-analysis. Journal of Sport Sciences.