LEADERSHIP LESSONS FROM #1 FOOTBALL TEAM IN NEVADA – BISHOP GORMAN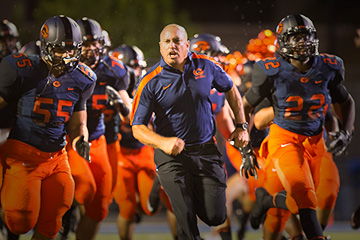 I set out on a journey last January to learn from the best of the best.  I wrote a book about the 2011 State Champions that is currently in production with Coaches Choice.
I interviewed more than 100 coaches about their State Champion success.   I'm continuing to gather information from State Champion Football Coaches.
Bishop Gorman High School from Las Vegas finished the season with a 13-1 record, and ranked #1 in the entire state!  
This was their FOURTH State Championship in a row!
Their Head Coach is Tony Sanchez; he was kind enough to give me some insight and opinions about his football program at Bishop Gorman, and what has helped to lead to his success!
1. What is one piece of advice that you would give to a coach who wants to win a state championship and or raise their program to the level of yours?
The best advice I can give, is to stay true to who you are as a coach. Know your weakness and get better at them, know your strengths and get better at them. I think that discipline is key within the entirety of the program starting with the coaches to the players and constantly challenging your program to get better. Whether it be with a harder schedule or challenging assistants etc. whatever it may be continue to grow.
2. What kind of offense did you run?
3. What kind of defense did you run?
We are a 4-3 defense but will run a lot of 3-4 as well. Multiple defensive fronts, helps us to adjust to the type of offense we see.
4. Which special team of yours was the most valuable to you this year and why?
This year we had some special kids who could take it the distance, and did on our kick return and punt return team. It really gave us an advantage, even when they didn't get the ball, team's were kicking away from them, so it gave us really good field position.
5. Do you incorporate some type of character development program within your football program? If so, what program do you use?
We don't have a specific program that we use. We hold our kids and coaches accountable in everything they do. Not only in the classroom but within the community as well.
6. Do you incorporate some type of leadership development program within your football program? If so, what program do you use?
Really we Just ask that our seniors really take on the leadership role as a group. They have to lead in a way that will make their fellow team mates follow them. They have to, and are demanded to lead by example.
7. What is the number one obstacle you face in building a Championship caliber football program in your community?
Getting the players , parents and administration to all buy in and believe in what we are doing. We have been so fortunate here at Gorman to have such a great support staff.
8. Who do you consider to be your main mentor in this profession and what about that coach do you try to emulate in your program?
There have been so many mentors and great people who I have had the privilege to meet along the way and still continue to do so. I try to take something away from every person that I've worked with or have been coached by whether that be a good thing or bad thing there has always been something positive that has come out of it.
9. What do you believe that your program does differently than the other teams in your league, conference and or state that allows your program to have such tremendous success?
I'm not sure what the other teams do or how they go about it and we have a lot of great programs that it's obvious that they are doing a great job. We just concentrate on getting our selves better at everything we do. Coaches are being constantly evaluated along with the players. We spend a lot of time on the little things and how to fix them both on the field and off.
10. What do you consider to have been the single most important thing about your successful season this past year?