LEADERSHIP LESSONS FROM #1 FOOTBALL TEAM IN NORTH CAROLINA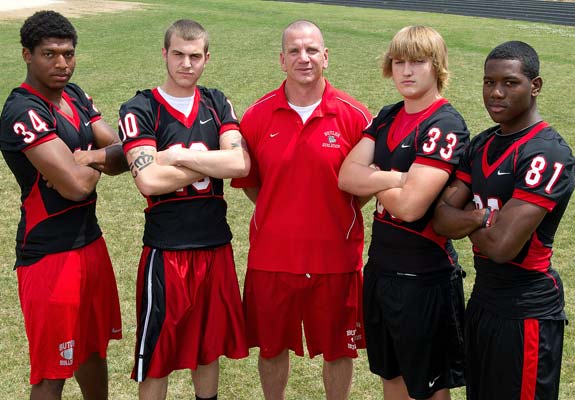 I set out on a journey last January to learn from the best of the best.  I wrote a book about the 2011 State Champions that is currently in production with Coaches Choice.
I interviewed more than 100 coaches about their State Champion success.   I'm continuing to gather information from State Champion Football Coaches from the 2012 season
Butler High School from Matthews  finished the season with a perfect 15-0 record, and ranked #1 in the entire state of North Carolina!  They were ranked 7th nationally.  
Their Head Coach is Brian Hales; he was kind enough to give me some insight and opinions about his football program at Butler HS, and what has helped to lead to his success!
Maxpreps Xcellent 25 Rank: 9
1. What is one piece of advice that you would give to a coach who wants to win a state championship and or raise their program to the level of yours?
Practice competition at all times, especially in the weight room in the off-season.
2. What kind of offense did you run?
3. What kind of defense did you run?
4. Which special team of yours was the most valuable to you this year and why?
Kickoff coverage. We averaged more than 45 pts/game and this unit was on the field most often and was key to setting us up with great field position all year.
5. Do you incorporate some type of character development program within your football program? If so, what program do you use?
We don't do anything specifically.
6. Do you incorporate some type of leadership development program within your football program? If so, what program do you use?
We split the team up into smaller teams for the offseason. The kids on each team vote on captains for those teams. Then those captains become the nominees for team captains the following season.
7. What is the number one obstacle you face in building a Championship caliber football program in your community?
Entitlement. We have had a very successful program over an extended period of times. Lately we are getting families in that just feel like it happens magically and that they don't have to put in the work.
8. Who do you consider to be your main mentor in this profession and what about that coach do you try to emulate in your program?
Steve Shaughnessy, our defensive coordinator. His attention to details. He spends an incredible amount of time watching film and preparing detailed scouting reports for our kids.
9. What do you believe that your program does differently than the other teams in your league, conference and or state that allows your program to have such tremendous success?
The competition that is bred in the offseason.
10. What do you consider to have been the single most important thing about your successful season this past year?