CHAIN OF COMMAND PART 3 – Communicating What The COC Is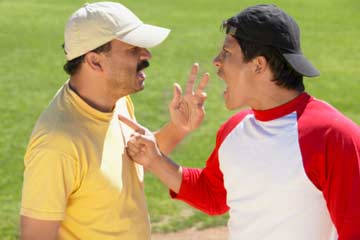 This is the 3rd and final part of my Chain of Command Series.  You can find Part 1 here, and Part 2 here.
Is there anything more frustrating for a coach than to be walking off of the field of play after a loss, and being approached by an aggressive, and upset parent or parents because of a decision that you made during the course of the game? 
I will NEVER forget an incident after a Friday night football game at St. Margarets  (San Juan Capistrano, CA).   We were having a horrible season, I think we were 0-7 at the time, and St. Margarets was 7-0, and actually went on to win a State Championship that year.  So, you can guess what kind of game it was!  You're right: a blowout!
I had a kid decide during the game that he didn't want to play defense, only offense!  That did NOT go over very well with me.   I did not like that approach very much!  I'm a big believer in TEAM FIRST!  Deny your own ambition for the cause of the team.  This kid was a pretty selfish kid, and was tired of getting ran over on defense, so he said that his knee was hurting on defense, but he could still play offense.  This is ridiculous.
He was a running back, which means he would be cutting on that knee, and taking hits.  After a short dialogue with this student-athlete, I benched him for the rest of the game.  Who was waiting for me right next to exit from the field to the locker room?  You guessed it, his parents!
For the last few days we have been discussing the concept of a Chain of Command in your Athletic Department.  I believe there are three main components to making the Chain of Command strong and effective.  The first is that your superiors must have "buy in" and support your philosophy, and what you are trying to accomplish through your Chain of Command.  Secondly, you must publicize this Chain of Command to your stakeholders.
The third and final component of the Chain of Command that I strongly believe in is that you must communicate not only WHAT the Chain of Command is, but HOW to use it. 
Student-Athletes and more importantly, their parents, need to be told how to use the Chain of Command.  Specifically, they must be told what is on the table to discuss, and what is NOT on the table to discuss.  They must be told WHEN and when NOT to speak with coaches, etc.  Just developing your Chain of Command is not enough, you must explain it.  Just putting it on paper, without proper definitions and explanations will not serve your Athletic Department in the best way possible.
I have developed a few guidelines for student-athletes and parents to follow.  In cooperation with your Coaching Staff, I believe that these guidelines will help them do their job.
Things Coaches are NOT Expected to Discuss with Parents
1. PLAYING TIME: It is the philosophy of the Athletic Department that a coach does not have to defend or discuss issues of playing time with a parent. The coaches are the only ones who are at every practice and see every repetition along with every action and reaction. Playing time is a professional coaching evaluation of ability, attitude and behavior and is awarded according to the opinion of those who have the most experience with the athletes and what is in the best interest of the team and not the individual. At the Varsity level the best players displaying the correct behaviors play. We do not hold any obligation to make sure that every player gets a set amount of playing time. It is not a policy of the athletic department to discriminate against an athlete's grade level, but individual coaches do have the right to set their teams how they see fit.
2. STRATEGY or PREPARATION: It is the philosophy of the Athletic Department that a coach does not have to defend or discuss game strategy or practice and preparation philosophy with a parent. Again, this is subjective and based on the professional experiences and opinions of the coaching staff that are paid to research, scout, learn, and prepare for their seasons of sport.
I haven't met a coach that didn't love these two guidelines.  You need to publish these guidelines right next to your Chain of Command so that parents understand not only who to talk to, but WHAT to talk about, or NOT talk about.  This is key to communication within your Athletic Department.  As long as your Coaching Staff stands by these two guidelines, they will remain strong and respected by your Athletic community.