5 Leadership Lessons from Super Bowl Champions Buccaneers
If you've been reading my blog for any period of time, you know that I love LEADERSHIP LESSONS!  You can see my archive of what I've written about here.
I recently watched the NFL Network's America's Game about the 2002 Tampa Bay Buccaneers.
Here are 5 Leadership Lessons I learned through this 1 hour documentary on these Super Bowl Champions!
1.  HAVE A PLAN
"The Bucs was nothing before Tony got there. He put the pyramid right in front of us and said this is how we are going to do it.  We realized that if everybody has their gaps and is responsible for what they need to be responsible for, we could win, we could win."                    – Explained Defensive Star Warren Sapp
The first Leadership Lesson here is HAVE A PLAN!  Your troops need a battle plan; your chefs need a recipe.
People are silently looking to be led!  Lead them!!!  It's obvious by Sapp's comments here that the previous regime simply didn't have a plan.  You can tell by how he basically said that everyone had a job to do, and we knew it would work.  So basic.  So simple.  So hard to really teach and lead if you can't get your players to buy in to this philosophy.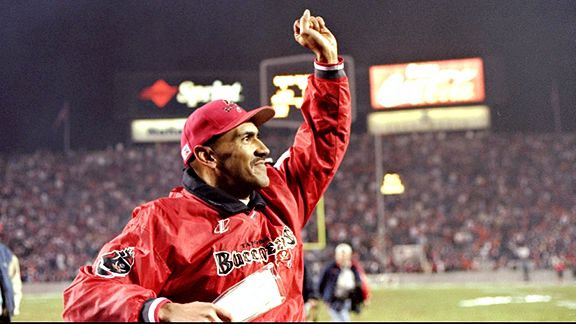 2.  EVEN GREAT, PHENOMENAL, SUPER COACHES GET FIRED! WRONG PLACE, WRONG TIME
Tony Dungy was hired in 1996 to turn around a traditionally poor football program in the Tampa Bay Buccaneers.   And he did turn that program around.  He took them to the playoffs four times and won their division in 1999.
However, he didn't take them to the Promiseland – the Lombardi Trophy.
Now listen, Tony Dungy is one heck of a coach!  He was the first coach to beat all 32 NFL teams, an interesting feat indeed.  It shows me he is a consistent winner.  He won the illustrious Lombardi Trophy in 2007 while with the Indianapolis Colts.  But he was fired in January of 2002; he was the only head coach in Bucs' history to have a winning record!
He was fired for a reason: couldn't get them over the hump.  "He let the offense relax too much," said defensive captain Warren Sapp.
Defensive back John Lynch said "It always felt like the offense wasn't held to the same standards we were held too, and there was tension."
Their new head coach Jon Gruden did.  It's interesting to note that the Bucs won the Trophy the first year after Dungy was fired.
3. DIFFERENT STROKES FOR DIFFERENT FOLKS
What is your coaching philosophy in the area of demeanor?  Are you a player's coach?  Are you a hardened military commander?  Are you a guy that yells to motivate?  Motivate with fear or with love?  If you don't know who you are as a coach, don't become a head coach until you know that!
We spoke about how successful Tony Dungy has been as a coach in The League.  However, he failed in Florida because he wasn't tough enough.  There was a quote from the documentary that explained his demeanor very well:
"Where Dungy was a pat on the shoulder pads, Gruden was a kick in the pants."  Tony is a calm and cool and reflected man.  He is known for being a strong man of Christian faith.  He isn't a yeller and he isn't a screamer.  This approach simply didn't work with the group in Tampa Bay; it did in Indianapolis.
Gruden came in, and he WAS a yeller and a screamer.  Sapp told a story about how when he would walk by Tony in the complex Tony would say "Hello Warren."  But when he walked by Gruden, the rough and tumble coach would growl at him and say "I'm going to kick your ass at practice today Sapp."  And Sapp loved it.  He was motivated by Gruden.
4.  CALL YOUR TEAM TO A HIGHER LEVEL
The Buccaneers had a really great defense under Tony Dungy.  And that carried over to Gruden.  In fact, this Super Bowl team led the NFL in fewest points allowed, most interceptions, and total defense.
One reason they became even better under Gruden was because he challenged them.  He called them to a higher level.
"I keep hearing how good this defense is.  If you are such a great defense, why don't you score on defense?  If you are so good, catch the ball, intercept it and run it back for a touchdown!  If you want to win a Super Bowl, you have to dominate and score 9 tds.                        – Head Coach Jon Gruden
Both Sapp and Lynch said that this challenge from Gruden focused their defense.  They referred to the "Gruden challenge" many times on the practice field and in the games.  Sapp explained that they were offended at first.  "Here this guy walks in here and says we aren't good enough?!  Okay, NOW watch us play Coach!"
Talk to a team like you want them to be.  Issue challenges.
I once called a kid "Kicker" in my class and around campus for two years before he finally decided to play football!  He was a great soccer player, with a strong leg.  Had NO faith he could come out and kick a football effectively enough to help a team.  But he became the starting kicker!  And he played about half of the snaps at DB.  Why?  Because I saw something in this kid and started talking to him like a football player!  I'll never forget the day he came in to my office and said "Coach, stop calling me Kicker.  Start calling me a football player.  I'm going to play!"
Remember to praise the heck out of that team when they meet the challenge!  Watch how Gruden did it.
5.  POUND THE ROCK!
The theme for the 2002 Super Bowl Champions was "POUND THE ROCK."
Line Coach Rod Marinelli told his charges during Training Camp to POUND THE ROCK.  He was talking about wearing down the opponent.  It soon became a theme with the linemen, then with the entire team.
Gruden seized the moment and had an eighty pound slab of granite brought in to the locker room as a visual aid.  Have you used any visual aids?  Read about one I used my first year as a head coach.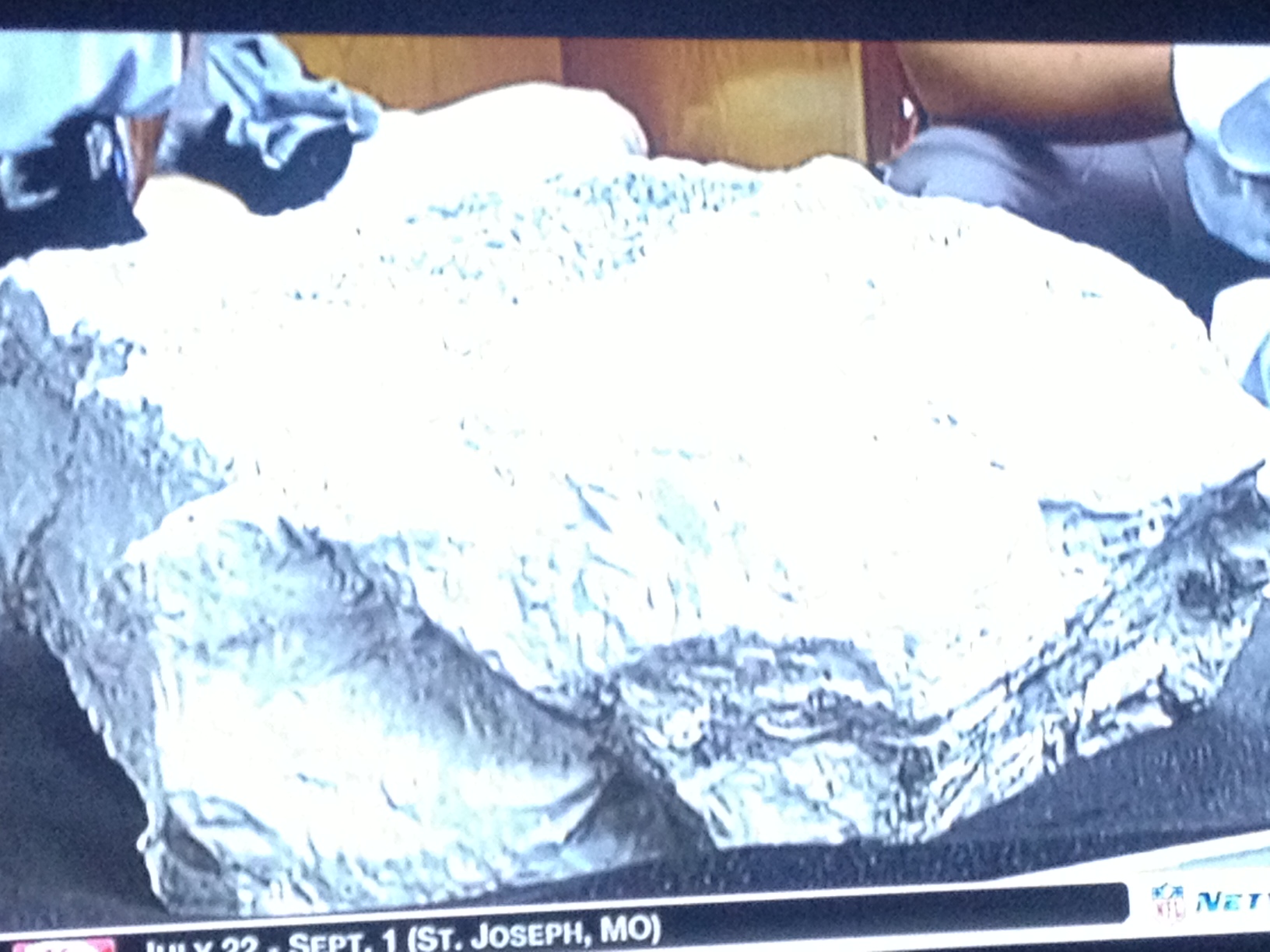 It's a long season.  You need to keep your team focused with a year-long theme.  I've chosen a theme each and every year as a Head Coach.  I put that on all of our t-shirts, have posters made, etc.  Most of you do the same thing I'm sure.
"The Rock is the opponent basically.  Visualize yourself holding on to a hammer and taking the best swings you can at that rock to try to crack your oppenet.  That is what Pound The Rock is all about right there.  Head Coach Jon Gruden
Safety John Lynch: "If you keep pounding that rock, pounding that rock, eventually it's going to bust.   At first it's not going to feel like it's going to bust.  But particularly if you come together as a unit, it's going to bust.  That became our rallying cry that year."
Do you have a theme this year yet?  If not, find one!