Reaching Your Rising 9th Graders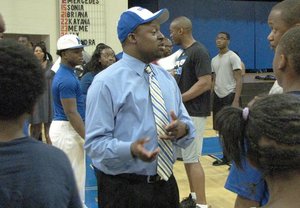 Another guest post today. This one by Terrance Banks.  He is the Head Football Coach of the Newton Rams (Covington, GA). Check him out on twitter here.
(Have a guest post? Send your idea to Coach Fore at coach@coachfore.org)
 Like every football coach in America, in a perfect world we have control over our 7th and 8th grade football programs. No matter whether they play at either in the park system or the middle school that directly feeds us. However, I like many Head Coaches don't have just one middle school that feeds them or an eighth grade program that I have control over. However, there is no doubt that these young men are the life line to our programs maintaining success.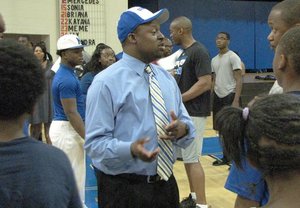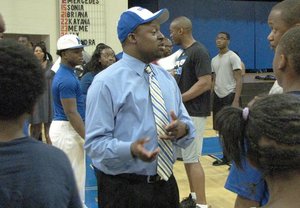 I have two-part approach to getting information to our rising ninth graders that we would like to join our football program. It includes three things to entice and spread the word about your program is about. First a little background on our school. We have three high schools in our county and five middle schools. We draw students from 4 of the middle schools. One feeds us 90%, the others 50%, 20% and 15%, respectively.
First, if you are a HC and don't have Coach Fore's Outside the Lines Manual as a part of your collection, buy it now!  I mail home to every eight grader who played middle school football that I know will be coming to my school a letter. The Outside The Lines Manual has two samples; revise them and use them for yourself. It explains the basics of my program; I tell the parents my graduation rate, the number of kids who have gotten scholarships, our record or successes as a HC.
I also send them this (Newton Rams 8th grade info) flyer highlighting: weight room, summer workouts, booster club meeting, etc. This is your chance to tell them whatever it is that you need those parents to know.   If you don't have a website where parents can get info and reminders that is fine.  I also send them a www.remind.com number, where parents can get texts from me to keep them updated on everything coming up in the program.
Of course, I also contact all 4 schools and make time to go visit each of the middle schools; I take each kid the three items that I have sent home as well. Our football program numbers have increased each year. Make sure whatever you do, you have a plan to make sure you touch base with your rising ninth grade football players, they are what keep your program going.