103 Ways Every Assistant Can Help Improve Their Program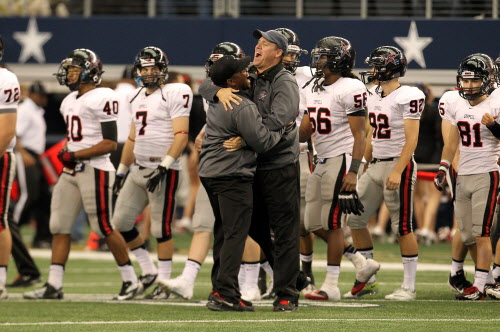 In April, 2015 I surveyed 183 Head Coaches from all over America. 98% of the coaches are were in the high school ranks.  96% of the respondents were Head Football Coaches.  Even though most were Head High School Football Coaches, I really believe that the results of this survey would be just about the same no matter which level you are at, and no matter which sport you are coaching.
Take a look at one part of this research here: 114 Ways Assistant Coaches Can BEST Help The Head Coach.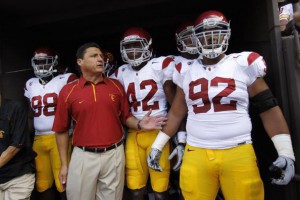 And here is another article from this research: The MOST Important Thing A Head Coach Looks For In An Assistant
One of the questions was: What is the best way for an assistant to help the overall PROGRAM?  Here is the list of 103 Ways Every Assistant Can Help Improve Their Program!
Be the link between the head coach and players
To model the head coaches vision and goals
Coach technique.
Having a learning and development mindset
Promote the program to the public, parents, and student-athletes.
Believe in what we do. Have a strong desire to get better. Lower level coaches keep the kids coming back.
Not cause me more work – he is suppose to make my life easier.
Has a positive infectious encouraging approach to everything we do.
Do their job. Don't be a spectator
Be a people person
Support final decisions we make as a staff.
Be loyal to the bitter end.
Give me input regarding training sessions and game day adjustments
Make the program better than it was before he arrived.
Strive to make every day a "Game Changer" day for himself on a personal basis and on a professional one as well. Be a leader when the situation demands it. Going through the motions just because you are not the "Head Guy" will not get it for me.
Be diverse
Participation and excitement
Understanding the students within the program and enthusiastically motivate them
Constantly find ways to improve our program. I want my coaches to bring in new ideas even if it is different from what is currently taught.
Be accountable and reliable
Be a student of the game, program, etc…
Be consistent with his/her effort and always communicate directly to me about all things.
Be an advocate for the program. There is always a lot of behind the scenes planning, preparation and dedication that goes into running a successful program. The best way that an assistant can help the overall program is to let people know that the coaching staff is doing everything they can to make the program successful.
Be on the same page publicly and challenge ideas privately. Disagree but commit.
Work ethic
Don't be afraid to work!
Become an expert at your position and side of the ball.
Commitment to the off-season: – Contributing to off-season strength and conditioning program – Helping staff with professional development – Helping player with off-season individual development – Helping with fundraising
Promote our program and be positive.
Support each other…support other sports
Work hard and stay loyal
Have a voice, take constructive criticism, be involved and committed year round!
Loyalty
Go above and beyond assigned duties
Be a good role model for the players
Takes initiative & doesn't waste time
Work hard at their position/job.
Someone whose character reflects the values and standards of the team culture on and off the pitch.
Who they are is a bigger help or hindrance to the program, than what they know.
Bring another perspective and new ideas. Help in some one-on-one discussions with players to help get strategy across
Build relationships. This game is about building relationships and helping student-athletes find the best version of themselves. I believe that happens through having a good relationship with your players and genuinely caring about them.
Invest in our boys with their total person in mind. Obviously they need to do a good job developing their football skills, but more important than that is for all of our coaches to help these boys navigate the process of becoming young men. If we win a ton of football games but are turning out graduates that don't have a clue as to what it means to be a real man then we've wasted our time and our opportunity to make a real difference.
Look for ways to contribute to the program other than your assigned duties. Understand what needs to be done in the off-season, pre-season, pre-game and have the initiative to get things done before being told/asked do something. Find something and make it yours- do something better than anyone else on the staff.
Support team philosophy
Do the dirty work. Laundry mowing etc
Be around year round
Have a work ethic
Be flexible and willing to anything to help the kids. From calling the offense to picking up pizza
Look for work outside direct realm of responsibility.
Be prepared
Buy into program and be able to accept the system
Create personal relationships with players to help the HC with motivation and life issues that face players
Be great with people
Be positive when talking about the program. Live our message as a program daily.
Be a reliable and confident extension of the head coach and the overall program goals.
Be all in, high energy and commit to getting better everyday.
Show players you care about them and coach the kids up on every play in practices and games. Get to know each player on a personal level and build trust. We are in this profession for the kids and the players need to see that everyday. Building these relationships will make our program better.
Integrate in to the life and culture of school year round.
Be there every day that they are asked to be there.
The best way for an assistant to help the overall program is dedication to the actual program. Cannot have personal motives.
By helping to change the culture. Again by being loyal to me and pushing the program and my vision
Being involved in practice. Coming alongside athletes that need extra work
Find an area off the field to help develop.
Be all in. Finding that balance between wanting to advance their own careers and being all in on being an assistant.
The assistant coach must share and believe in the head coaches ideology and philosophy when working with players, administration and parents.
Is he making himself better in the off season?
By coaching with passion with an ability to motivate players
Offer ideas that are outside the box but then going 100% with the head coaches final decision
Be all in…Dedicate their time to every aspect, youth, practice, games, prep.
Buy into program and work for same goal without caring who gets credit
Be available to the players and be an ambassador for your program.
The best way for them to help is by towing the rope in the same direction. Follow the philosophy of the head coach and stuck to it
To be fully prepared ever day.
Be willing to grow. Attend clinics and never stop learning the game.
Be totally committed
Understand and believe in the HC philosophy
Be a difference maker at practice. Motivate & push kids in every detail
Add value, don't be an observer
Continue to improve
Stay involved year round
Logistics
To work on their craft. I want my assistants to be the head coach of their position group. I also need them to be involved so they are establishing relationships with the players
Lead by example
Making sure to build up the whole student, not just teach skills
Share the same vision as me! One vision!
To be available when needed… that is hard to do
Buy in a a sell the culture and scheme
Put in quality time with kids in and out of season
Be all-in
Year round interest in the overall well being of your athletes
Be accountable in all that you do.
Help through communicating with kids, community and parents. Utilizing social media and helping with fundraising.
Be available and attend everything the program is involved in.
Keep the kids first
Effort
Being available when not coaching other sports, and willing to take on new responsibilities as the program evolves.
Be loyal to the vision of the head coach and always coach positively
The best way for an assistant to help the overall program is to provide positive influence and moral for the student-athletes.
Be honest with strengths and weaknesses. Ask for help. Don't be intimidated by head coach. Don't seek credit.
Learn their craft and buying into the staff philosophy
By doing the right thing at the right time & handling themselves with class.
Program above self
Willingness to take on any responsibility.
Chris Fore is a veteran Head Football Coach and Athletic Director in Southern California.  He is the author of several publications including An Insider's Guide To Scoring Your Next Coaching Job, and runs Eight Laces Consulting.  The mission of Eight Laces is "To prepare coaches to be hired for the job of their dreams, and to provide coaches and athletic directors with dynamite resources to become even more successful in their fields."