Real Life Lessons – Everyone Does NOT Get A Trophy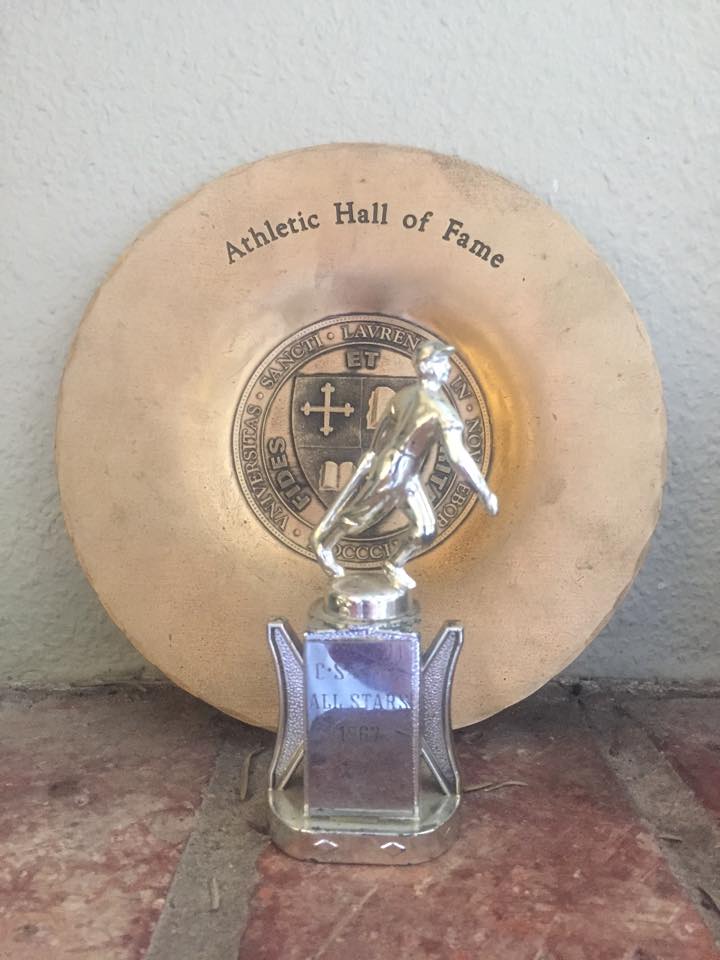 We all have "old coach buddies," right? This was written by an old coach buddy of mine, Mark Przybylak, in response to an article he read about How Participation Trophies Are Making Kids Soft.  He's an OUTSTANDING hitting coach from Orange County, California.  I haven't seen many coaches out there running camps for kids who are TRULY in it for the kids like Coach P.  Coach Przybylak (priz-buh-lack) wrote something here that I just LOVED, and wanted to share.  Thanks Coach! 
It's about time someone brings forth the truth!!!
I run a youth baseball program for kids ages 6 thru 12 years old called ProKids Baseball Academy, and during the first morning of each of my camps I ask my players "how many trophies you have?" They all shoot their hands up in the air shouting out numbers!!! I always begin asking questions of the 6 year olds first who seem to average about 5 trophies apiece, then the 7's who average about 8-10, then the 8's who are now nearing 20!!
I am truly blown away at not only the number of trophies, ribbons and medals that kids now a day are receiving in recreational sports ...but also the SIZE of the trophies that are being given to these youngsters for merely showing up!! Some of these "participation trophies" range up to two feet tall!!!
Then I quiet them down and begin to share with them my personal story about receiving my very first trophy…
Over the multitude of trophies that I received over the 57 years that I've been alive, there are only 2 that I still choose to hold on to and keep near to my heart. They both sit proudly displayed on my mantle piece above the fireplace in the living room of my home. This may sound strange to sime of you younger folks, when I share with you that I received my very first trophy when I was 9 years old for making my Little League All Star team.
Until then, my trophy shelf was empty. It wasn't that I was a bad athlete, in fact I was usually one of the first, if not the first kid picked in gym class sports or pick up games in school as well as "sand lot games" in the neighborhood. But… in order to receive a trophy, you had to compete well enough to finish in FIRST PLACE!!! That's it!! No runner up trophy!!! And absolutely no "participation" trophy …EVER!!!
There was a specific "episode" that happened when I was 8 years old that changed my life and my perspective on being a "true competitor" …forever! It took place during the last week of playing in the Cheektowaga South Side Little League baseball back during the summer of 1968. The 8 & 9 year old All Star Teams held try outs. Yes… We actually had to try out in front of all the coaches in order to make our team. This way no one slid in "under the radar." …(no political choices)!! Unfortunately, after three days of trying out …I was notified that I failed to make the team.
Now had I made it …I would have been one of only two 8 year olds to make this All Star roster. All the rest of the players chosen were 9 years old, except for my next door neighbor and close friend Jimmy. Jimmy's dad was the Manager of the All Star team and his 9 year old brother Richie, who was a great SS was on the team as well. I knew that Jimmy was good enough to make this team, so I take nothing away from him …but I just knew in my heart of hearts that I belonged there with him as well. Heck! Since we lived next door to one another, we constantly played catch …and "running bases" …and "Three Fly's In" non stop with each other across the worn out grass of our front yards on a daily basis! How could they possibly separate the three "amigo's" …but they did!!!
I remember sadly sliding my glove back on to the handlebars of my bike, and making the slow bike ride journey home, with eyes full of crocodile tears after receiving the bad news from our coach that… "I did not make the team."
My dad had just returned home from a hard days work, and was sitting at the kitchen table finishing up dinner when I walked into the house. From a distance he sensed that something was wrong with me by the way I acted. My body language and tear stained cheeks seemed to give it away. And so he asked… "What happened?" I slowly approached him and dropped my chin to my chest as I exclaimed "I got cut!" …and began to sob. Dad studied me for a moment and let me cry, and then he reached over and drew me near and shared words of wisdom that will forever resonate in my heart.
He said… "Son, I can see how upset you are, and I know just how much this hurts, especially knowing how much you enjoy playing the game of baseball. I also know that it must be real hard for you to see your two buddies from next door on the team, and you standing on the outside looking in. So I'm gunna allow you to feel sad just for a little bit more, …but then soon I want to challenge you, and im going to ask you to make one of two choices.
Option #1: You can continue to be sad and mad …and choose to continue to dwell on the "unfairness" that you feel …and point fingers …and make up excuses as to why you feel its unfair that you were left off this team.
Or…Option #2: You can make the decision now to use your "mad" to fuel your ambition to work harder and get better …so that there is never a doubt in anyone's mind when it comes to choosing who plays on next years team …and the next!
So, although it would have been very easy for me to remain in my hurt, but after a few long hours spent reflecting on what my dad challenged me to do, I made the hard concious decision to chose option #2 …to work harder …and get better!!
Today, on my mantle piece back home above my fireplace proudly sits a 4″ inch tall silver trophy made of solid metal. …my very first! …which has the following inscription written on it "CSSML ALL STAR – 1967" …it was the trophy from the following 9 year old season.
I did it! I made the team!!! ..and as a result I have never looked back at that episode with remorse since!
Today, as I reflect back after reading the article attached to this story, I can say with total conviction that my Dads honest message and challenge to me was one of the most valuable, life changing lessons he has ever taught me! He could have jumped on the bandwagon with a handful of other disappointed parents, pointing fingers, making excuses and throwing around all sorts of accusations …the way a child reacts.
But instead, he took the "high road!" and spoke the truth! For that, I am forever grateful!
Since that conversation took place way back in 1968, I have not only earned hundreds of awards ribbons and trophies, some of which have the inscriptions… First Place, All Star, All League, All State, MVP, Player of the Year, and Prep All American Honors, but it also continued on beyond my athletic career and into my business career with many awards for Salesman of the Year Awards and promotions!!!
The only way that made these accolades come to life was …taking "to heart" the truth of my dads challenge …to work harder and get better!
It's only through the grace of God, that I was also able remain healthy enough to attend College on scholarship, having a total of 13 Universities to choose from, as well as having the opportunity of possibly participating in two College sports, one being Football and the other Baseball.
Oh, I did mentioned earlier that there are two trophies that sit atop my mantle piece above my fireplace, one being my very first trophy that I earned from the story I just shared with you.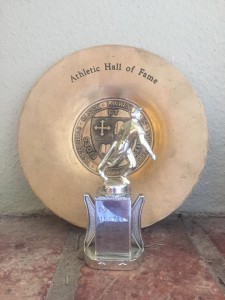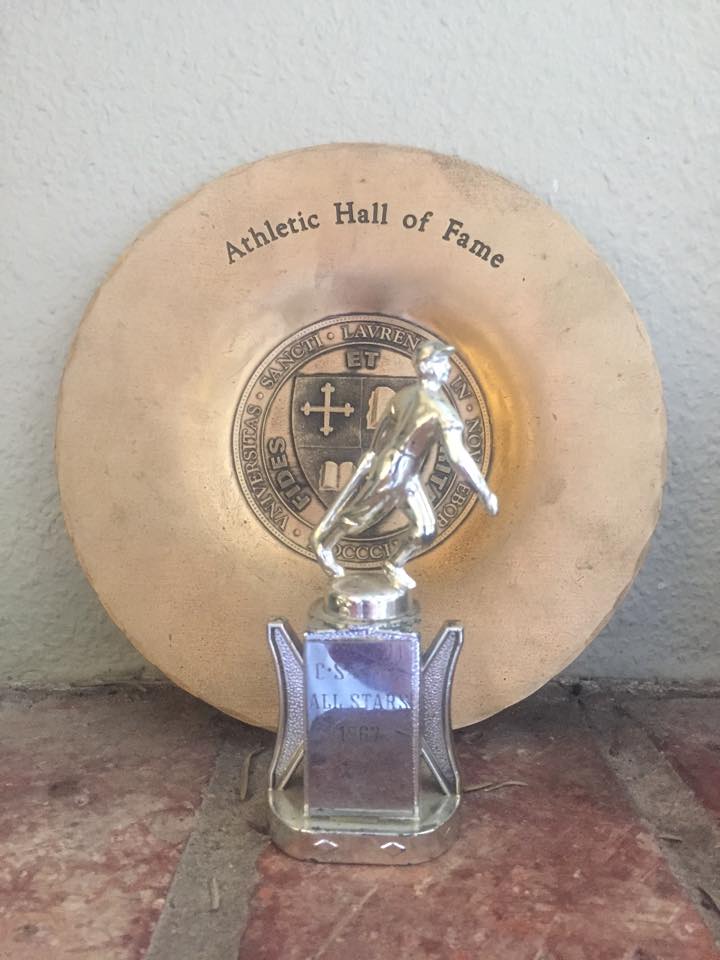 The second trophy… is actually the very last trophy I ever received for participating as an athlete as well. Funny, I was honored to receive it just a few years ago. It totally took me by surprise. It's not much bigger than my original trophy that stands a proud four inches tall. Heck! This one is only a mere six inches round. It's a plate …and it's made of bronze. I received it as a member of the Saint Lawrence University Football Team. On it is simply inscribed the following words… "Athletic Hall of Fame"
…Thanks Dad!
No truer words ever spoken… "Work Hard… Get Better!!"
Go get 'em!!!