I Will Let My Sons Play Football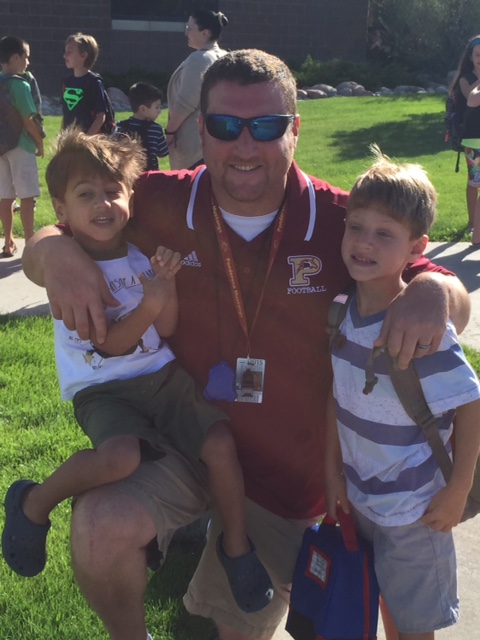 This is a guest post by Jaron Cohen, the Head Varsity Football Coach at Ponderosa High School in Parker, Colorado.  I love it!! Enjoy!
Coach Cohen has been a teacher and coach for the past 13 years.  He entered Marist as a Linebacker until a neck injury discovered after his freshman year ending his playing days.  Upon leaving Marist with a B.A. in History and Secondary Education, Coach Cohen completed his graduate work at Springfield College (MA), earning a Masters in Educational Studies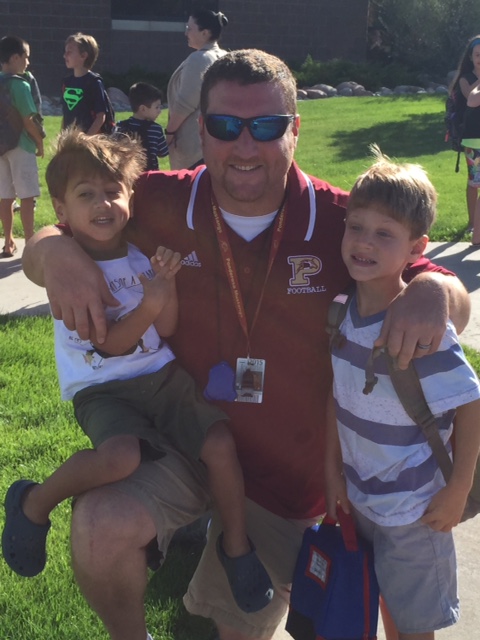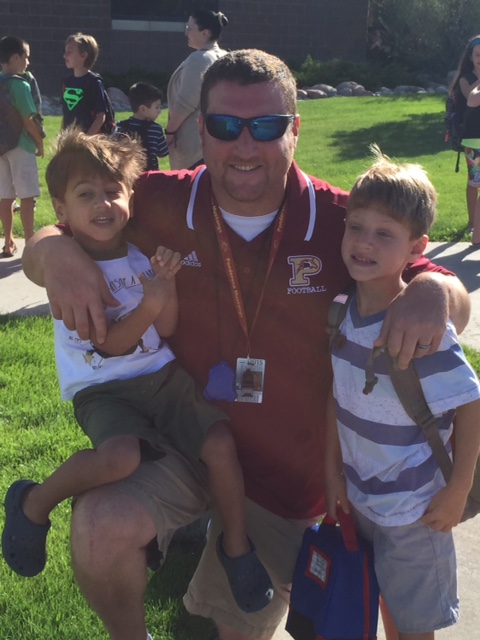 Recently, the sport of football has been under attack. It seems like every day there is another report of a player having been found to have CTE post-mortem, numbers declining rapidly amongst youth football, and players, both current and former, suggesting they are dealing with injuries from playing that impact their quality of life. I have several roles of which I am proud of: teacher, coach, husband, son, brother, uncle, and father. The one that takes priority over all is my children, specifically my two sons, Henry (age 5) and Leo (age 3). I believe that a parent's primary role is to keep their kids safe and many arguments are being made that allowing one's son to play football is akin to irresponsible parenting due to the inherent dangers of the sport. However, I believe that the media is NOT taking into account all the changes that have been made to make football safer.
What I take issue with is the attacks on football that make the uneducated reader believe that there have been no significant changes with respect to player safety over the past decade. Recently, I read a journalist suggest a plan for making the game safer, and he didn't take into account all the changes that have already been implemented that have made player safety the first priority. I have been around the sport as either a player or coach for the past 30 years, and can firmly state that our game is safer and will continue to become a sport that will thrive in the future.
Everyone's main concern is Traumatic Brain Injuries, and research is showing that the main culprit in these injuries are sub-concussive hits. Sub-concussive hits are the repeated blows that a player takes in practice, and these are the main concern of coaches. The tragedy of Tyler Sash dying at age 27 and found to have CTE and other younger athletes having CTE are a legitimate concern, but I think that many protocols are being put in place to hopefully lessen the risk of obtaining TBI through sub-concussive hits. Three major changes have occurred with respect to making football safer and something I will allow my sons to participate in if they choose to. I can only speak to what we do at Ponderosa, but I know that most coaches care most about player safety and have made modifications with respect to: Tackling Technique and Drills, Contact Time, and Coaches Education on Concussions.
TACKLING TECHNIQUE AND DRILLS
When I first was introduced to the sport, in 1985, there was very little specific talk about "keeping your head out of the play", however if you were to attend a Ponderosa practice, that is a phrase that is used repeatedly. The Seattle Seahawks have released a series of instructional tackling videos based on rugby technique which is based on using the shoulder and never striking with the head. There are also several new items on the market that use tackling rings, dummies, etc to practice tackling without having to make contact with another player.
At Ponderosa, we do tackling drills in T shirts and shorts, trying to teach our players not to use their helmet. Players may get a false sense of bravado when equipped with a helmet, so in our spring activities we will practice tackling without equipment to try to build muscle memory of not using one's head when making a tackle. When I first started coaching (2000), we did countless full contact drills to teach tackling, however that simply is not the case anymore. Drills such as the "Nutcracker" and "Bull in the Ring" (which I did as a Pop Warner player" are not used anymore.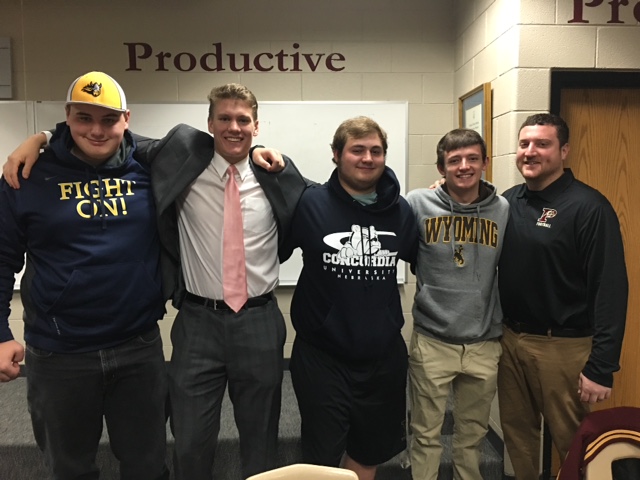 CONTACT TIME
In an effort to limit sub-concussive hits, the amount of contact time throughout a week is now restricted, either through state mandates or suggestions on best practices from organizations like USA Football. When I played, the first week of practice always was Two-A-Days, both sessions in full pads, which equated to approximately 5 hours of full contact practice a day. In Colorado, we are now only allowed to have a Two-A-Day in the following manner: First practice may be full equipment, however the second one may only be an hour long and the only equipment players may wear is helmets. When I got my first head coaching job, I took pride in taking the team to a preseason camp where we had 4-A-Days for 3 days, with 3 sessions in full pads, which equated to six hours of full contact practice.
I now look back on that method as having value for team-building, conditioning, and toughness, however I would never run a day like that again with the new knowledge I have. During a season, most states have limits on total contact time during a week (example could be 90 minutes preseason, 75 minutes first half of season, 60 minutes last half of season). Coaches are learning ways to teach fundamentals and skills without having to continuously have their players in full contact situations, and it has proven to be a great way to keep players ready for the grind of a season. When I began coaching, there were very few days where we didn't have players fully dressed and some form of "live" team session during the practice.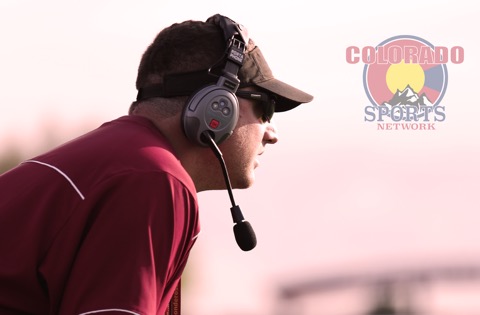 COACHES EDUCATION
Coaches are now required in most states to pass a Concussion Module, that educates our staff on the signs, symptoms, and dangers of concussions. In Colorado, we must view the seminar by the NFHS and after watching, all our staff knows not only how to diagnose a suspected concussion, but the protocol for dealing with this injury. Perhaps the most important change is that coaches understand that a concussion is not a "you got your bell rung" and to "shake it off", but a brain injury that needs to be addressed immediately. The mantra of this seminar, and one that is used by our staff, is "When in Doubt, Sit Them Out". Coaches no longer question a player's toughness if he says he took a blow to the head, but immediately pull the player from the contest and have the Athletic Trainer and appropriate medical personnel evaluate the player.
Also, coaches are very intentional with letting players know that any symptoms of a concussion need to be relayed to the staff or Athletic Trainer immediately, and that reporting the symptoms is a badge of honor, not trying to play through it. Our staff has a team meeting in which we are very clear to players on the symptoms of concussions and the necessity to let us know if any symptoms are present. Our players know that a concussion is a serious injury and they will not be disparaged if they report one, no matter the game situation. This is perhaps the biggest change from when I first was playing- that players know they are not showing weakness if taking themselves out of a practice or contest, but rather making the right decision.
These reasons are the player safety changes that are being implemented all across the country. I encourage all parents who are hesitant to let their son play to find out if the coaching staff conducts their program in accordance with these guidelines. Coaches are taking the lead in making football safer, and as a parent first and foremost, I will let my sons play if they desire.