CHAMPIONS LOCKER ROOM: Ohio DII State Champ – La Salle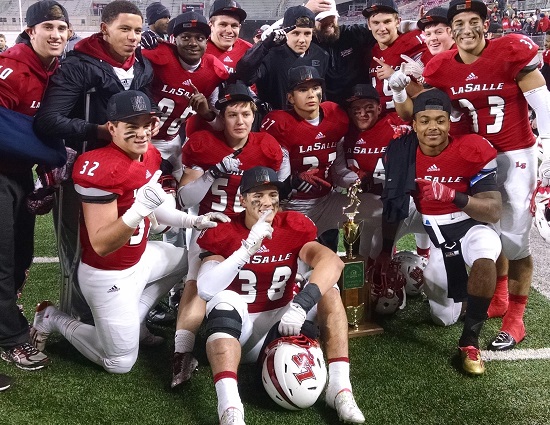 The 2015 CHAMPIONS LOCKER SERIES presents Ohio DII State Champ – La Salle, from Cincinnati.
La Salle, led by Head Coach Jim Hilvert, beat Perry High School (Massillon) 42-0 in the Championship game.   They finished the 2015 season 13-2, and ranked #11 in the entire Nation according to MaxPreps.  In 2014, they finished as the #1 team in Ohio, and 6th in the Nation.
What does your football program do differently from other programs in your league, conference, state that helped you win a State Championship?
I believe the one thing that we do differently is focusing on leadership skills/team chemistry. During camp we went to Higher Ground (3 days/2 nights). During the time we were there we focused on team chemistry and leadership.
During off season we had DOG SOLDIER WEEK in which the kids get pushed mentally and physically. During Dog SOLDIERS they work in teams of 2-4. Working in teams forces them to work together.
During the season we had chapel every
Thursday
. During chapel players would clear the air with teammates, encourage teammates, and talk about if they reached their weekly goals. Coaches would also address the team on certain subjects such as Brotherhood, What football meant to them, and What the LaSalle football family meant to them. Players would also talk about what they are going through personally or where they came from.
We also had DAD JERSEY CEREMONY for SENIORS, SENIOR LETTERS to MOMS, and SENIOR BONFIRE.
What do you consider to be the most important aspect of your state championship?
 How a team of 93 players and 15 coaches can come from different backgrounds and are able to put their egos to side to come together for a common goal. How this team was about the guy next to them. This team was selfless. We learned from our losses and became closer as a team. This team did consistently did the uncommon things to make themselves great.
What is one piece of advice that you would give to a coach wanting to win a state championship?
Embrace the grind and be smart on how you practice during the year. Remember it is a long year.
What kind of offense did you run?
Defense-4-2-5
What kind of defense did you run?
Offense-Up-Tempo Spread offense utilizing multiple of formations.
Which of the Special Teams was most valuable this year, and why?
Special Teams-Our Punt team was very good because we changed field position or pinned offenses deep in their own territory.
Do you incorporate some type of character development program within your football program? If so, what program do you use? 
1. We also used SportsLeaders. Chris Willertz from SportsLeaders  did a great job with the team.
What is the number one obstacle you face in building a Championship caliber football program in your community?
Biggest obstacle- Complacency because we won a State Championship in 2014. The other obstacle was everybody thought it was going to be easy because we returned some key players from 2014.
Who do you consider to be your main mentor in this profession and what about that coach do you try to emulate in your program?
First, I believe you have to be yourself because kids can see through fakes. A man who has played a big influence on me is  my dad. He taught me what hard work, dedication, character, toughness, trust, determination, and being personable is all about when dealing with day to day life. I believe in the coaching you take a little bit from the coaches and players that you dealt with during your journeyl. Some of the names are John Ohmer, Brian Rock, Larry Edlund, Dick Selcer, Rod Huber, Dan Fleming, Mike Grote, Paul Frey, Joe Shonefeld, Vince Suriano, Greg Bailie, Troy Everhart, Steve Sheehan, and PJ Volker.
Thank you Coach Hilvert for participating in the CHAMPIONS LOCKER ROOM Series, and congratulations to your team!
2015 Champions Locker Room Series
California 2AA State Champ – Del Oro
Ohio DIV State Champ DIV – Bishop Hartley
Texas 3A-II State Champ – Waskom High School
Idaho 3A State Champ – Emmett High School
California 3A State Champ – Rancho Bernardo
Oklahoma 3A State Champ – Heritage Hall
California's Division 5 AA State Champ: Mater Dei Catholic High School
Alabama's 7A State Champ – McGill-Toolen Catholic School
Alabama's 4A State Champ – Leeds High School
Coach Fore is the author of several books and manuals that have helped coaches in building their programs, and the job search process: Building Championship Caliber Football Programs, Outside The Lines Manual For Football Coaches, Outside The Lines Manual for Athletic Directors, the Shield Punt E Clinic, and An Insider's Guide To Scoring Your Next Coaching Job.  You can find each of these items at EightLaces.