Your Coaching Portfolio: 5 Mistakes Coaches Make
Since my consulting business, Eight Laces Consulting, helps coaches with the job search process, I often get asked to look over a coach's portfolio.  Coaches use portfolios to explain what their program would look like to a prospective employer.  Usually, a portfolio is used by Head Coaches.  They send it with the resume, cover letter and letters of recommendation to the search committee, athletic director or principal in hopes of securing an interview.
I defer a lot of portfolio questions I get to Bill Vasko of TheCoachingPortfolio.com.  Coach Vasko has a great tool with that website that does a fine job of assisting coaches get organized.  Check him out!
Most portfolios I've seen over the last 3 years look the same.  Most that I saw during 6 years as an Athletic Director looked the same.  Coaches aren't showing much imagination with their portfolios, which is a shame, because in some cases they can really help you stand out.
Case in point: last year in So Cal (can't be specific because of confidentiality), there was a large school, with a rich tradition of football, who was making a change in their Head Coach.  A friend of mine was on the search committee.  I talked with him about the process to learn more about what their committee looked at, and how they evaluated the candidates.  Did the portfolios matter?  The resumes?  The cover letters?  Yes, yes and yes!!  The search committee was looking for the best candidate possible.
It was what I call a "paper hire."   This type of hire is one where the school is truly hiring from screening candidates on paper.  As you know, many times schools already know who they are going to hire when they start the process.  Or at least they have a good idea.
My friend told me "There was a Coach from Texas who had an OUTSTANDING portfolio.  It was not like any of the others, it definitely caught our attention.  It was appealing to the eye, it was colorful, it was personal.  We got to know him.  We came to understand who and what he was about.  It was more than just your typical 'Here is my practice schedule, here is my offensive philosophy.'  We were very bored with some of the portfolios, and some were from great football coaches.  But his was impressive, so we interviewed him."
At the end of the day, that coach didn't get the job.  For a variety of reasons, the committee chose another candidate, but that coach got in the interview room, from out of state, because of his portfolio.
Last Spring my "dream job" opened up.  That is at Fallbrook High School in San Diego County. I was raised in Fallbrook, graduated from there, started my coaching career there and my folks still live there.  So, I sat down and spent about 5 hours creating my portfolio to send to them.  Unfortunately, the district would only transfer in two years on the pay scale since I've only taught for two years with a credential.  So, I had to withdraw my application.  You can see the portfolio I created here Fore Portfolio.  (I've also put some of those pages below in this post.)  I made it on power point, then saved it as a PDF.  That was a VERY simple way to create a great portfolio, and easy send it off as a PDF.
Here are 5 mistakes that I see coaches make on their portfolios.
1.  They are boring
The ones that are all black and wide, created in just a word document, those are boring.  That's my opinion, and please don't be offended if you've sent me yours, I was honest with you, always am!  You've got to add some color, some pictures to your portfolios to capture the attention and imagination of the reader.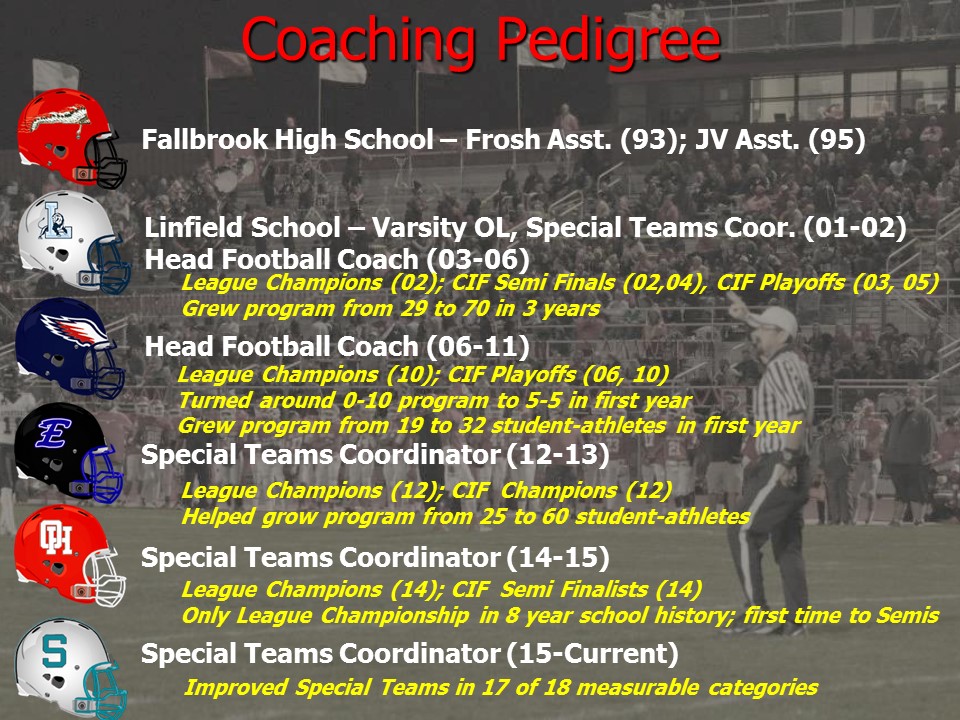 If it has too much football, it can be boring and or to the reader.  If your resume is boring, it won't be read or evaluated as well as it should.
Add some pizzazz coaches.  Trust me, it will help the eyes to stay on the portfolio.
2.  They are unorganized
I see a lot of bad organization in portfolios.  Make sure that there is a good flow to your portfolio.  Spend time to make sure there is a rhyme and reason to what you are putting together.  You can't go practice plan, game day call sheet, parent meeting, uniform collection, spring football calendar.  This example is all over the place.  Start with January, and walk them through a year in your portfolio.  That would be a good way to organize your documents.
See the pages below, that's how I organized each section of my portfolio.
Make sure to have a table of contents.  Again, this will help the reader to better understand your portfolio, and it will encourage them to read it.  You want their eyes to stay on your portfolio.  An organized one will quickly lose the attention of the reader.
3.  Too much philosophy
Keep this in mind: the readers of your portfolio might get bored very quickly with reading about your philosophy of offense.  I've seen portfolios with an 8 page philosohpy of offense.  Folks, nobody is going to read that.  I got bored with it 1.5 pages in, and I'm a "football junkie!"
Yes, you need to explain your philosophy.  You need to express what you believe about all three phases of the game.  You need to lay out your thoughts about discipline, and fundraising, and parent outreach and monitoring grades, and practice management, and hiring coaches, and . . .. and  . . .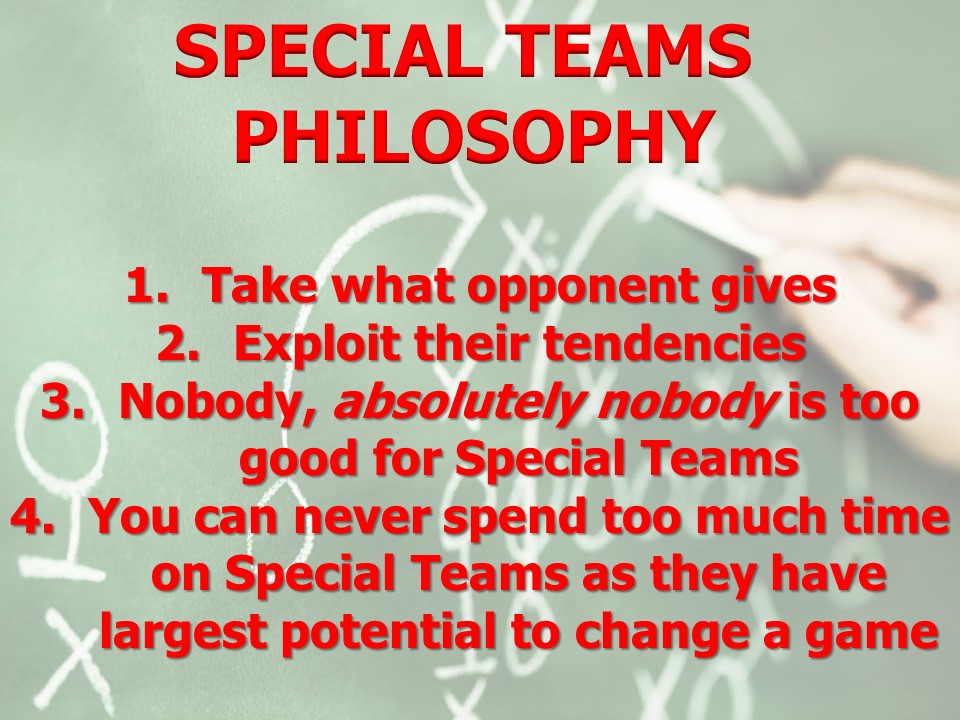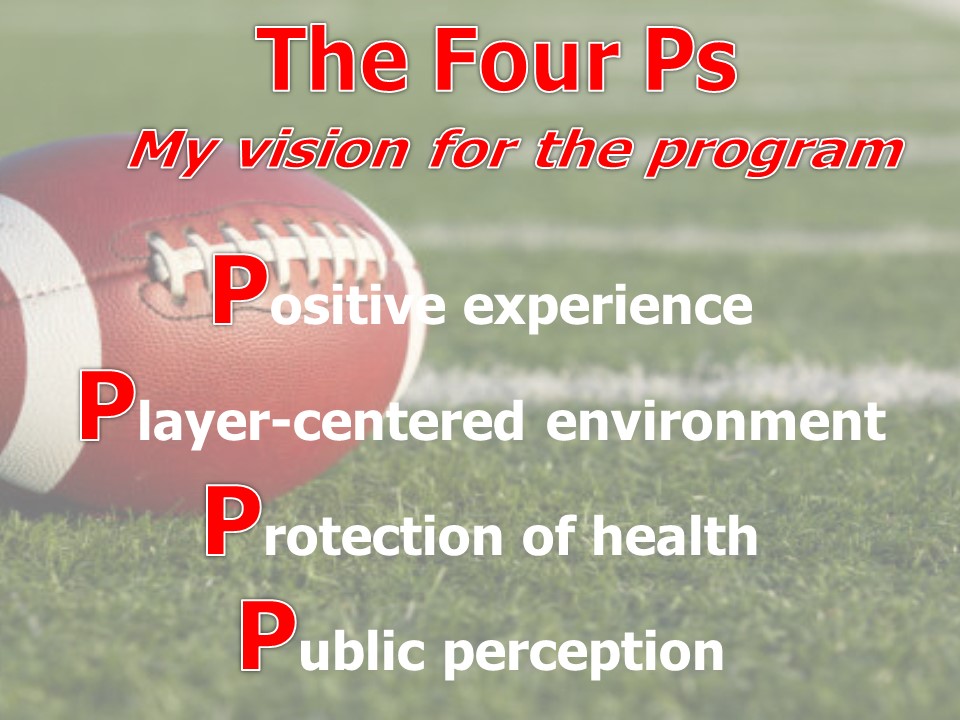 Just be careful with too much philosophical information, and not enough real, practical insight that will intrigue the reader.
Remember what my friend said about that portfolio?  "We got to know him."  If it's just all philosophy, they won't really get to know you.
4.  Too much stuff
100 pages, probably too much.  You need to give them a great taste and flavor for you as a coach.  But don't give them a how to fun a football program from A-Z book.  Again, it won't be read.  You don't want them to be overwhelmed when they open the package.  You want the reader to actually read it.  And if it is too big, and too long, it won't be read.
Many coaches will add their playbook to their portfolio.  Not needed.  Take 5-7 plays out of your playbook, as examples of how you are organized with your playbook, etc.  You don't need to add your 150 page playbook to the portfolio.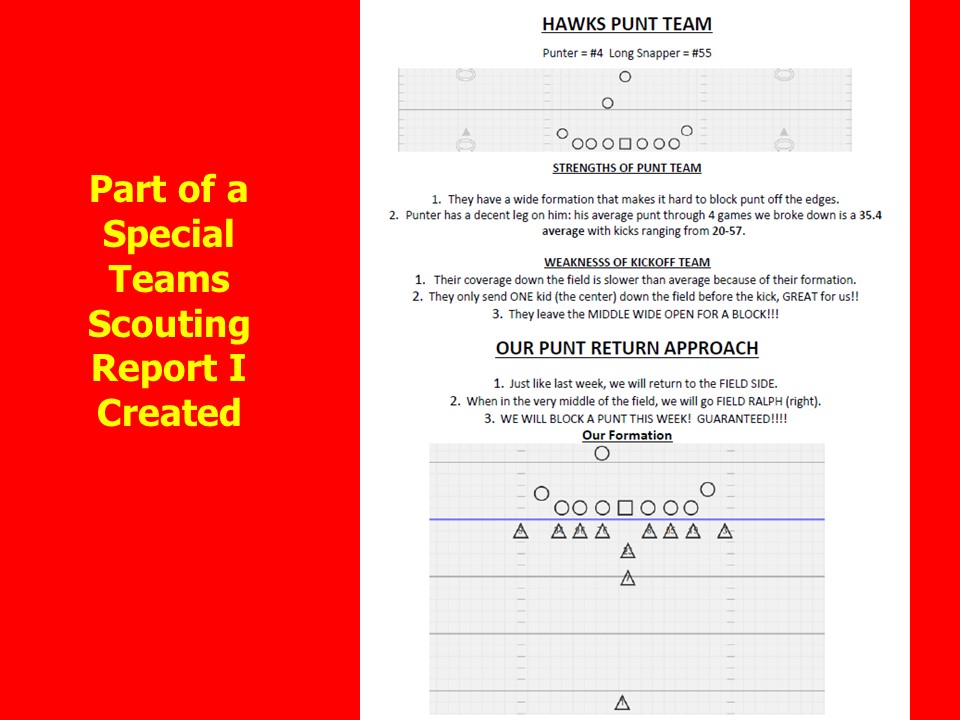 5.  Not enough stuff
I've had coaches send me a "portfolio" with just 10 pages.  That isn't quite long enough.  Might as well not send anything if that is all that you have.  Honestly.  It is a delicate balance.  I know I just said in the last point that you don't want to have too much stuff!  Again, you have to find the balance.  And there is no answer.  You can't say "You need 82 pages, that's the perfect length."
The danger in sending a portfolio with only 10-15 pages is that it will simply look like you are not prepared, and that you don't have the tools to run a comprehensive football program.
If you have never been a Head Coach, and need some great documents for your portfolio, check out my Outside The Lines Manual.  It contains 106 forms, templates and more that every Head Football Coach needs.
Here are a few more sample pages from my own portfolio.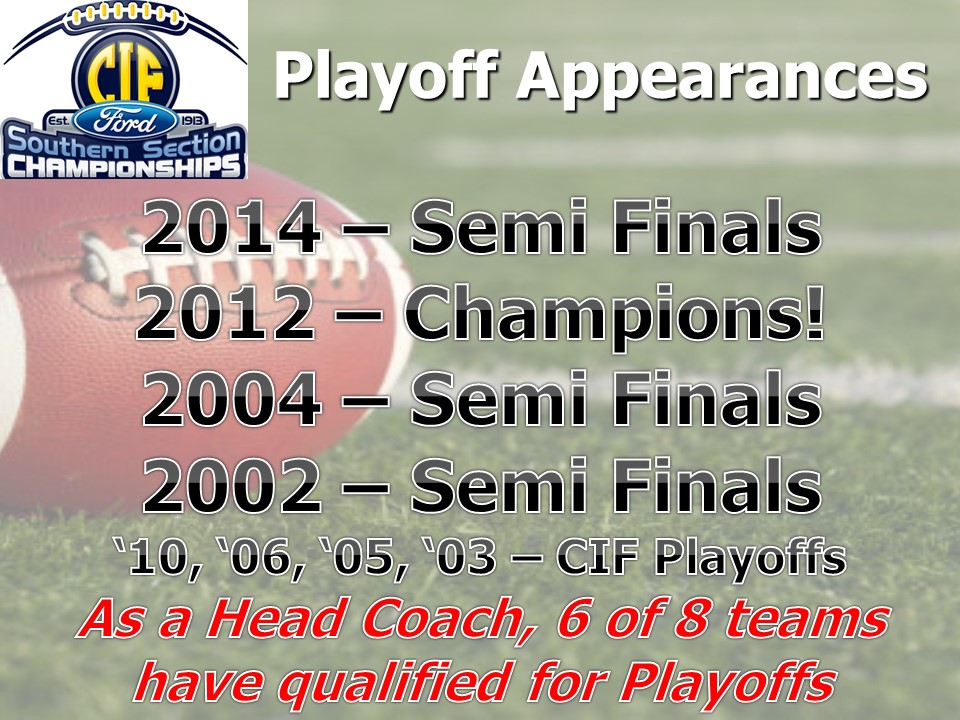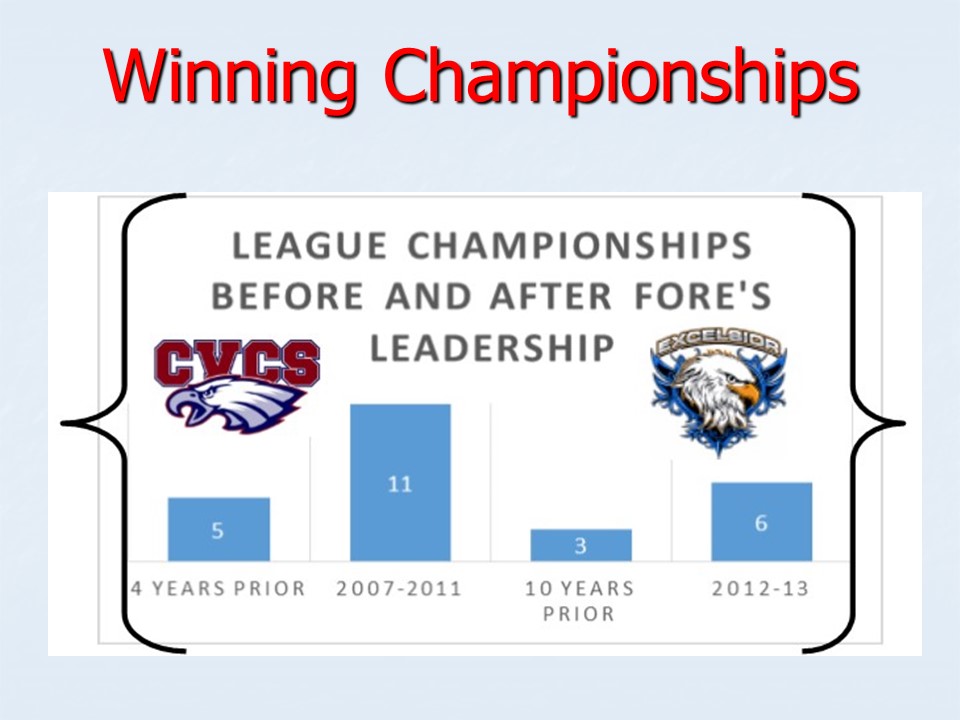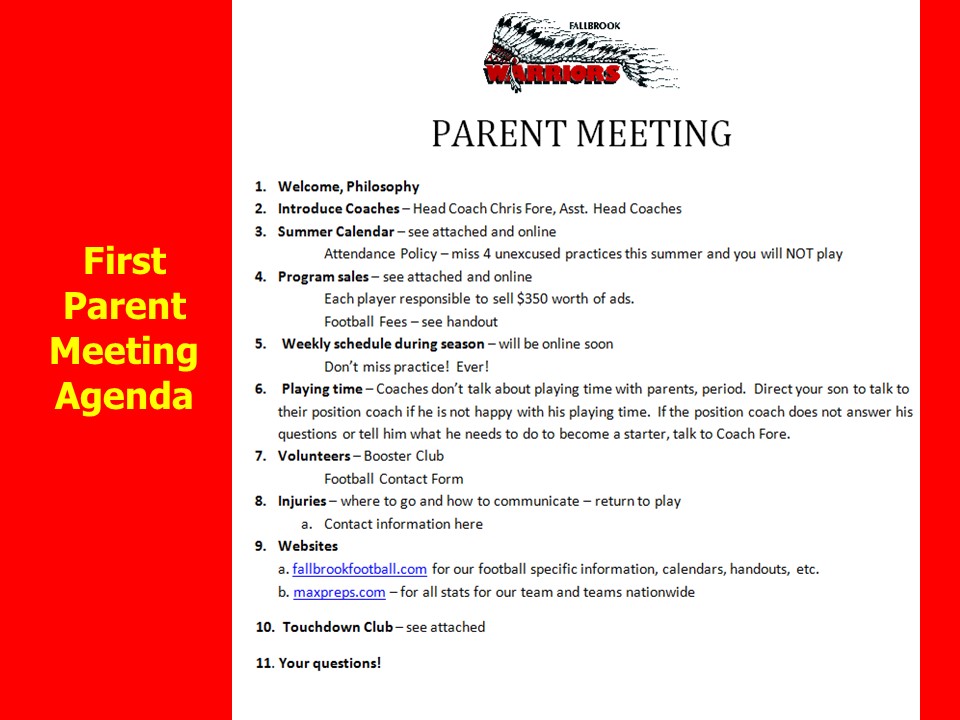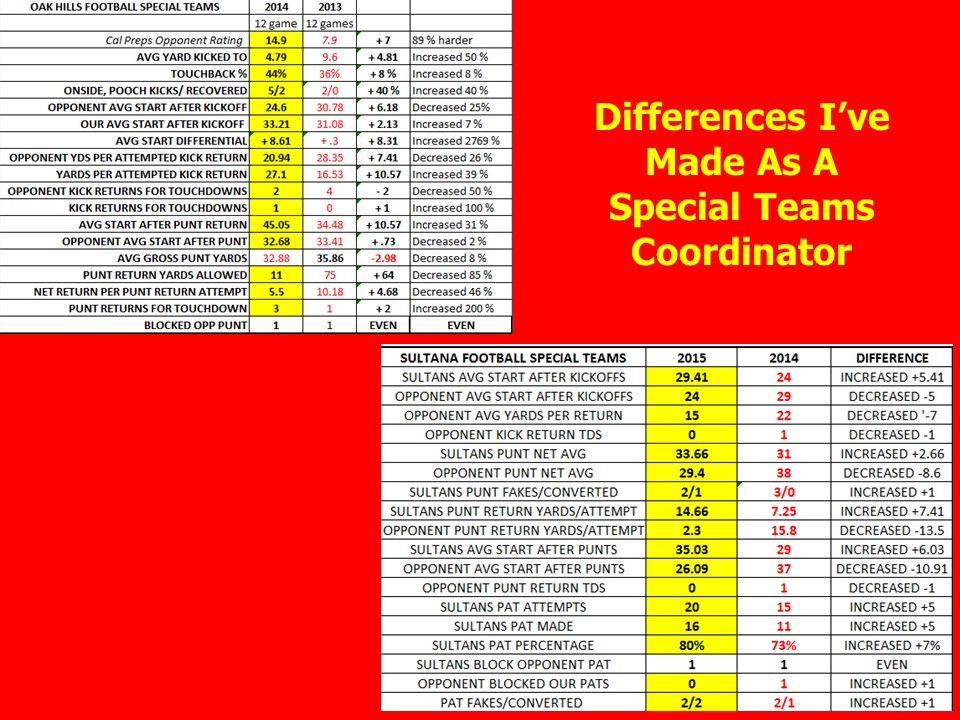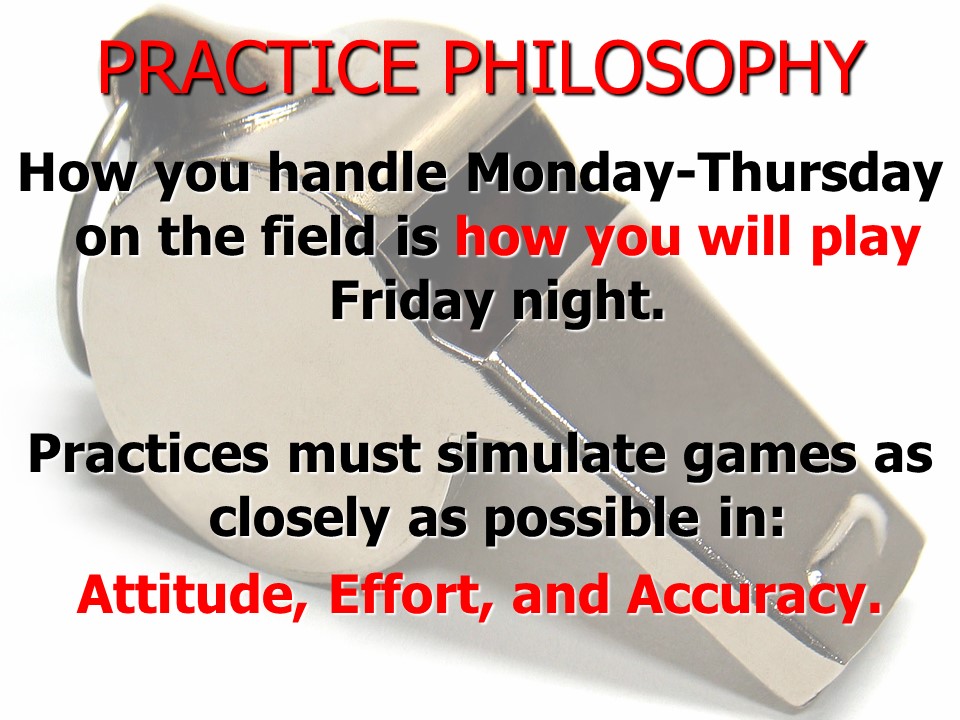 Chris Fore has his Masters degree in Athletic Administration, is a Certified Athletic Administrator and is on the California Coaches Association Board of Representatives.  He is a speaker with the Glazier Clinics, and a Coaches Choice author.  Coach Fore runs Eight Laces Consulting where he specializes in helping coaches nationwide in their job search process.