Bosco Football Program Organizational Management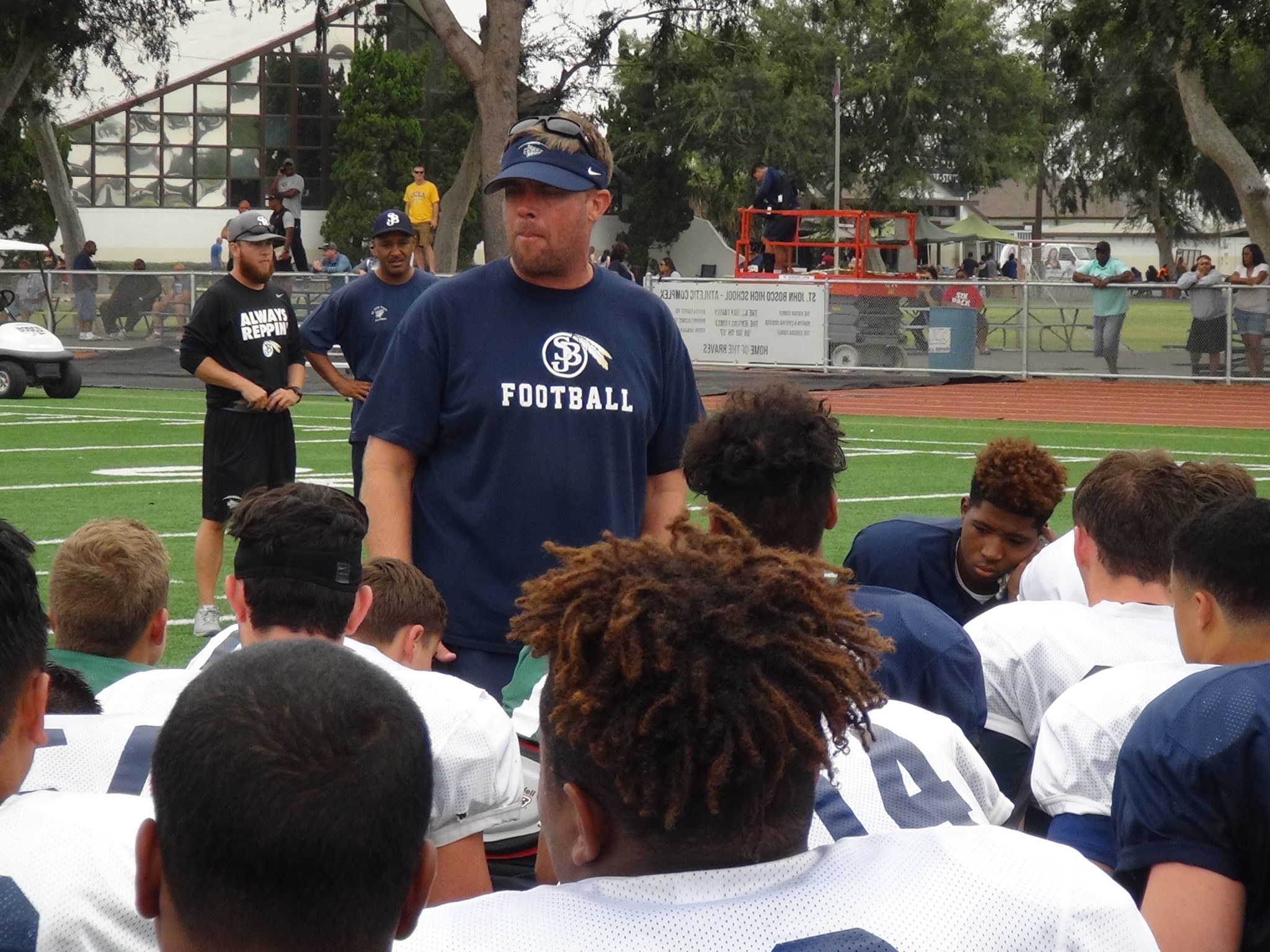 Imagine a program moving from being ranked #2782 in the Nation to #1 in just eight seasons. From #218 in California to #1. How does that happen?
Jason Negro inherited a good St. John Bosco football team.  But not a great one, most certainly not the program they are now.  In fact, in 2009, the year before he got there, they were ranked #773 nationally, and #90 in California (according to MaxPreps).  Fast forward just four years, to 2013, and he launched them all the way to the #1 ranking in America and California.  Not too shabby!  In 2016, they finished the year as the top ranked team in California, and #2 in the Nation.
Coach Negro came to Bosco, a private Catholic school from Trabuco Hills, a public school in Southern California.  He was at Trabuco for seven years.  So, he brings a unique perspective to program building: having had 7 years in both the public and private sectors.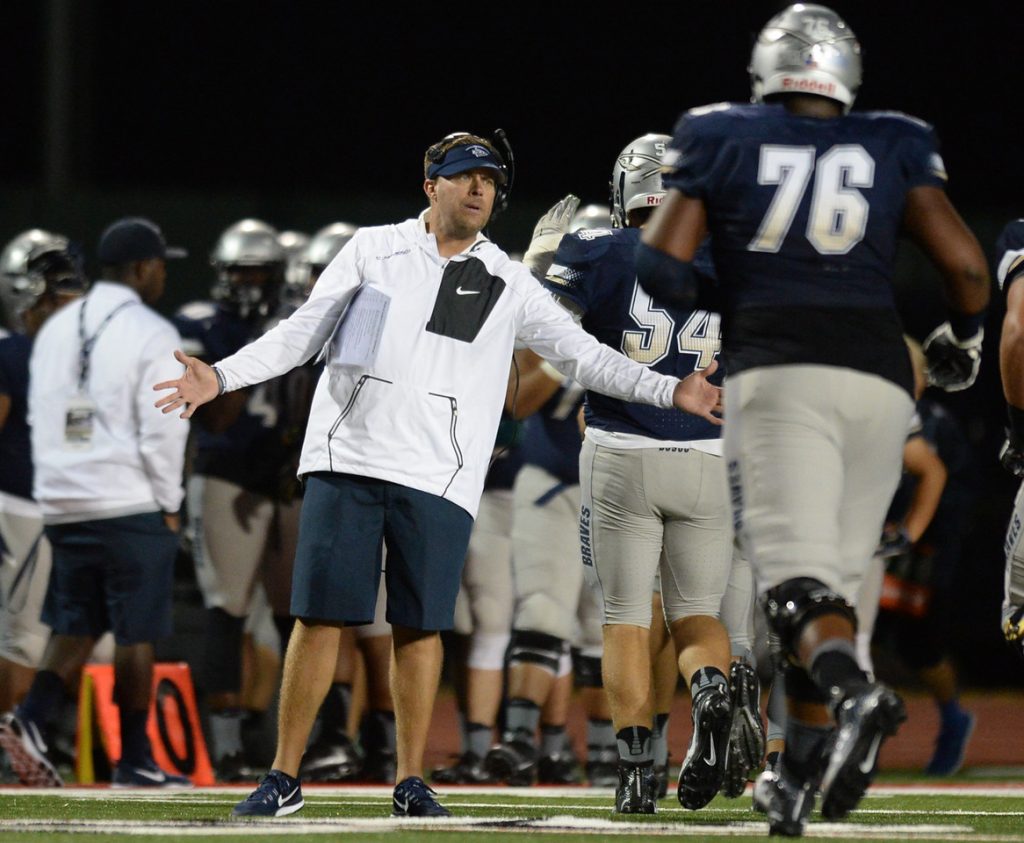 He recently spoke at the Southern California Football Coaches Association clinic about program development.  And I thought it was a tremendous talk.  He really took us behind the scenes of that program.  The criticism of Bosco football is "anybody can win with all of those athletes."  That's why I started with what I started with: being ranked #773 the year before Negro took over.  There is not a doubt that his vision and ability has driven that program to where it is today.  And guess what happens when you win?  If you build it, they will come.
He started the talk discussing how people just want to call plays nowadays.  And I agree with that.  Many coaches don't want to actually put in the work that it really takes to win football games.  You've got to build a culture, and that is what he's done at Boscot.  They are 850 students strong, all boys.  And 85% of them play sports.  Nice culture to be in the middle of.  Obviously, a school culture there that lends itself to good football.
The following is an outline of this talk.
Why do I Coach?
It is important to remember that these are people, not just schemes.

This can never be ignored.

You must have a commitment to teach, to inspire.

To develop people.

Throughout your career, you'll be presented with situations that supercede traditional xs and os.  Situations that a clinic can't prepare you for. When difficult things happen, you need to thrive.

I'm a competitor and I love to win and hate to lose!  We always try to win.
Getting Started – Building A Champion
Develop A Philosophy
It takes the entire school.  The admin, the coaches, the alumni, staff, students, etc.  They are all a part of it.  Building a champion embodies a commitment from all aspects.
Mission of the program is to provide an inspirational and highly enthusiastic environment for each and every student-athlete at St. John Bosco High School.

Emphasize the importance and development of fundamentals and teach what is necessary for a positive experience in football and life.

Be proud to be a brave
Critical Areas For Program Development
Willingness to change and improve as a coach

Steal when you have a chance from experts – I've stolen a lot from Coach White (Edison Head Coach for 38 years), Bob Johnson (Mission Viejo State Champion Head Coach), etc.  It's good when we all share together.

Surround yourself with quality people, those that are better than you. My coordinators are both better x and o guys than me.  

Give your program a shot in the arm every now and then. Got this idea from Steve Bogan at South Hills.  He heard Steve at a clinic say that you're going to have to do something different so that the program doesn't get "stale."  Maybe it's a uniform change, a helmet change, how you practice, music at practice, etc.

Continue to get better. You've always got to get better.

Battling giants – schedule up – don't be afraid to schedule "up."  You've got to be creative with scheduling, play better competition to get your own program better.

Solicit community involvement

Yearly staff and self evaluation

Have realistic expectations

Develop athletes with a year round approach.  Got to get kids bigger, faster and stronger.  He spoke about starting back on 1/9/17, after winning the State Championship on 12/17/16.  "We didn't really even have time to reflect and enjoy 2016.  But it is what it is."

Appearance of your facilities, your program, etc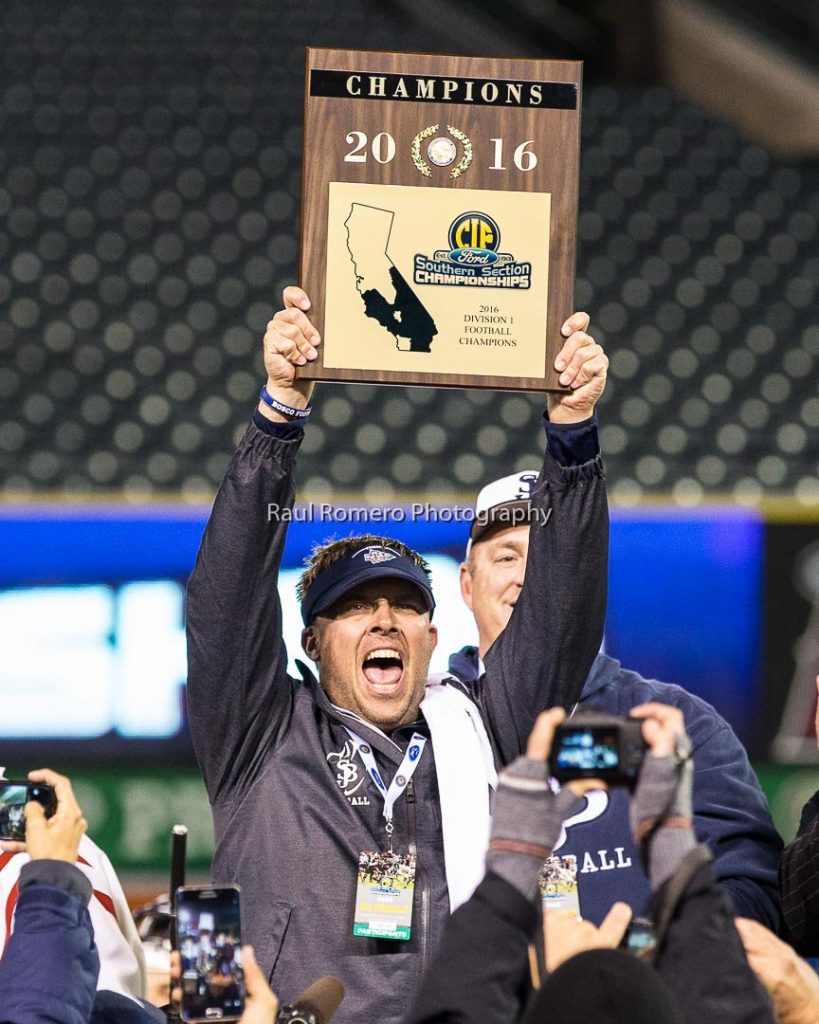 Winter Months
Season wrap up
Self evaluation
Staff evaluation
Banquet
Design your new game plan for the upcoming season
Spring months
Administrative logistics
Foundational skills – lifting/speed
Multiple sports – they lift just as much as football only guys.  At Bosco, we have 7 periods – athletes are all in a lifting period, instead of a traditional PE class.  Since 85% of our kids play sports, they all lift.  The football only guys also workout after school.
Player relationship building
Solidify coaching staff.
Summer Months
Finalize the season game plan
Practice, lifting, competition
Player evaluation
Coaches retreat
Fall Months
Execution of game plan
Regular season
Playoffs
Championships
Practice Organization – In Season
Have an organized plan and stick to it.

Like a classroom you need to be prepared before you get on the field.  

Communicate with staff and know their availibility

Have the field and drills set up so you can be efficient as possible

Break your practice segments into as "game like" situations as possible

Map out your practice locations for your coaches so there is little wasted time

Use detailed practice plans and hold each coach accountable to the drills and times on the plan

Use daily scripts for inside run, 7 on 7, team drills – In Spring, it's Bosco vs. Bosco – no play cards

Provide script cards for the scout team coaches that are clearly understood by coaches and players

Set practice times and stick to them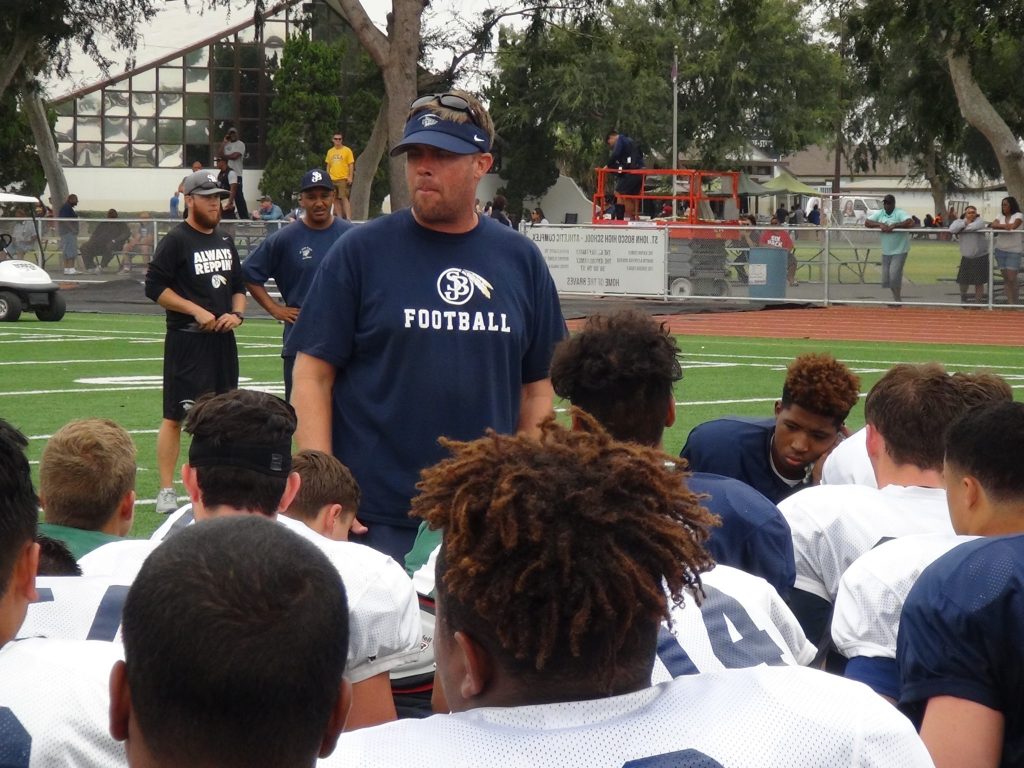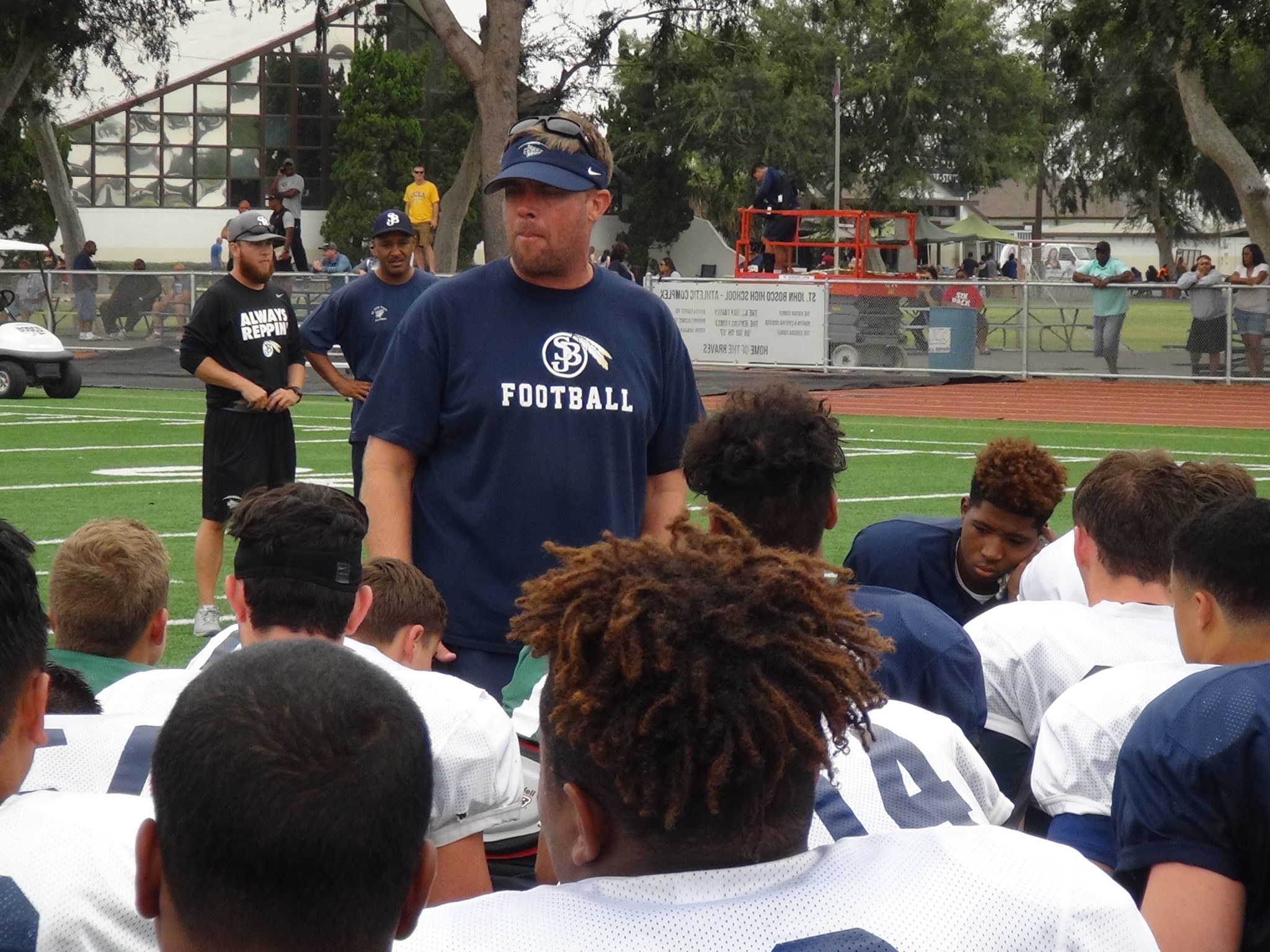 The Game Week
Saturday – day after the game: 7:30 am – 3:00 pm
Coaches only, no interaction with the players
Athletes come in for treatment if they need it – Athletic Trainer puts together an injury report for me
Film exchange is complete and all games from the night before are shared before 8 am. (The Trinity League shares every film of the season; they all send their games to each other as the season progresses)
Staff discussions – overview of last night's game
Assess injuries – what do we need to do adjust for next week
Break down and grade each player from last night's game
Each side of the ball watches one opponent together – this is important get on the same page with the language you're using
Begin film break down
Start computer breakdown via Hudl
All coaches complete work today
Sunday: 10:00 am – 2:00 pm
Staff discussion – what do we need to do in order to win this game?
Flush out deas as to what we think we need to do
Assess player injuries – establish new depth charts – plan for the injured guy NOT to play
Begin game planning for next opponent
Complete film cut ups for players
Create scouting reports – generated from computer analysis
Draw script cards
Create practice scripts
Coordinators present game plan to the HC
Monday: 2:50 – 6:15 pm
Dress:  Helmets/shoulder pads/shorts
Weightroom workout – lift 4 days a week – as hard as we can
Monring workout – squats/legs
Team film session – watch Friday night's game – we are a two platoon team – separate by O/D
Scouting Report intro to the players
Heavy insertion day
All special teams – 25/30 minutes of special teams every day
Light conditioning if we need it – we don't condition much because we practice very fast
250-340 – Weight Room
350 Dynamic warm up
400 – 615 – Field
Tuesday: 2:50 – 6:15 pm
Dress: Full gear – for all players – even the injured ones
Weight room – power clean
Team Meetings – watch Monday's practice on film
Ball security and tackling is big on Tuesdays
Heaviest contact day of the week
Special Teams – Kickoff Return, Punt Return, PAT/FG Block
Wednesday: 2:00 – 5:45 pm
Dress: Full gear
Weight room – upper body
Watch Tuesday film
Refine the game plan
Special Teams – Kickoff, Punt, PAT/FG
Special Teams situations – onsides, hands, etc.
3rd and 4th down situations – Offense/Defense
Thursday 700-750 am
Dress: Gym clothes
50 minute walk thru practice
Offense against air
Defense does a fit drill
Use a game like script – problem plays, gadget plays, 2 pt plays, etc.
After school with the Varsity only players
Weight room
Special Teams film
O/D has their final film session
Then go to the JV or frosh game, whichever team is home
Friday
Check attendance at school
Meet with the Athletic Director to go over game management
Laminate play sheets
Ensure equipment is ready
Confirm bus departure
Team mass in the Chapel
Team meal
Player testing (on the game plan/scouting report)
Final preparations
Game time
Chris Fore has coached high school football in Southern California for 16 years.  Fore has his Masters degree in Athletic Administration, is a Certified Athletic Administrator and is on the California Coaches Association Board of Representatives.  He is a speaker with the Glazier Clinics, and a Coaches Choice author.  Coach Fore runs Eight Laces Consulting where he specializes in helping coaches nationwide in their job search process.  Fore also teaches in the Masters of Physical Education program at Azusa Pacific University.