AFCA Convention: Building A Program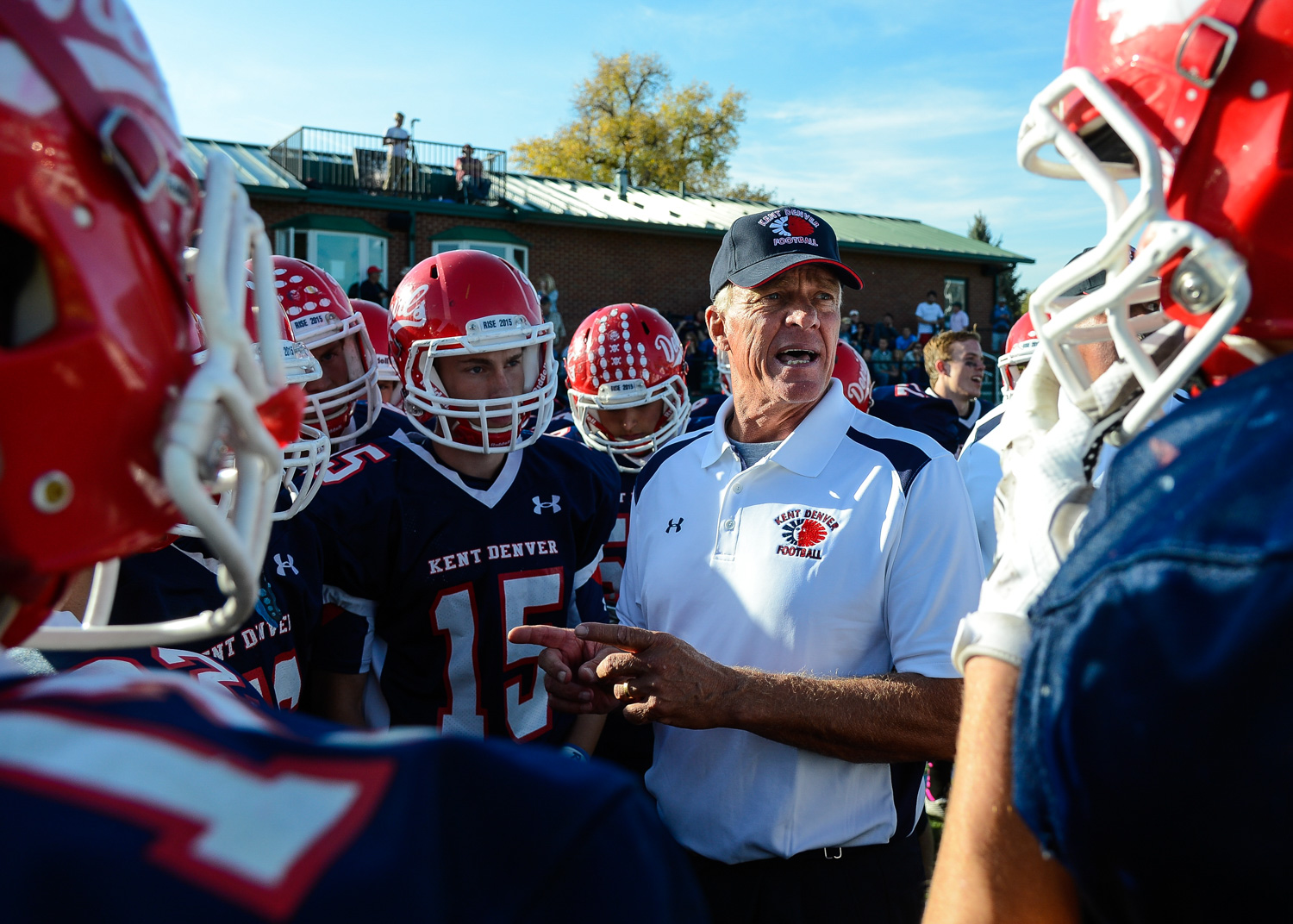 Building and Maintaining A Competitive Program by Scott Yates, the winningest coach in Colorado high school football history. He is the Head Football Coach at Kent Denver High School.  After the 2016 season, he was a whopping 315-76!
2016 was his 36th season in football.  He coached for one year at Arizona State.  He said that he regretted not staying at the college level for 15 minutes.  "I was watching the Super Bowl, eating nachos on the couch, and two coaches I was with at ASU were there on the sidelines coaching in the pinnacle of this sport.  That's the only time I looked back and second guessed going back to high school."
Building a Culture of Accountability
He told a story of a baseball coach speaking at a clinic with a home plate hung around his neck.  That baseball coach explained that "home plate is 17 inches for a 5 year old, a high school player, a college player, a minor leaguer and even a pro."  He said that the lesson was that they aren't going to change the width of home plate for you just because you are in the Major Leagues, and can't throw strikes.  "Accountability has to be the same for EVERYONE in the program, everyone is accountable to the same rules and philosophy.  Nobody is treated differently."
Uncommon
"We want our guys to be uncommon."
The Kent Denver Football team will not be left to the timid nor the weak.  We are uncommon.  Forged by adversity, work ethic and a brotherhood that is compelled to succeed on and off the field.  Uncompromising determination and dedication is our foundation.  Standing tall, accountable to each other and our community.  We will prepare with intense focus and compete every day, every play to become champions.  We will never settle for mediocrity.  We are Sun Devil Football.
Expectations For The Program
I thought this was really, really great.  When he tells the parents and players what the first expectation of the program is, and it is something that he does every year, he starts with:
 You can expect me to build great young men, it all starts with me!
We will be a team with great conditioning.
I will hire Assistant Coaches who: are loyal, have energy, are all in, and ones who will question me.
He explained that Head Coaches need to give their Assistant Coaches autonomy.  "Do not be a dictator.  The Assistant Coaches are more important than you are Head Coaches."  
4.  Enthusiasm is important.  "If you don't have enthusiasm, get out. It all starts with the Head Coach.  If I come out to the field, and am lethargic, then my Assistant Coaches will be like that.  And then guess what happens?  The kids are lethargic.  That can't happen." 
5.  Senior Leadership.  All seniors become captains the day after their last game as a junior.  "If I have 18 guys who have been lifting all year, at 6 am, in the cold and dark Colorado mornings, think about 4th and 1.  If I have 18 guys who have been doing that, and you only have 8 guys who have been doing that, then I have critical mass.  Guess who is going to win 4th and 1?"
Critical mass of seniors working at a high level (he held up his hand high above his head) will mean that the freshmen and the sophomores will raise their level (he raised his other hand up to the one that was high).
"This is being uncommon for us."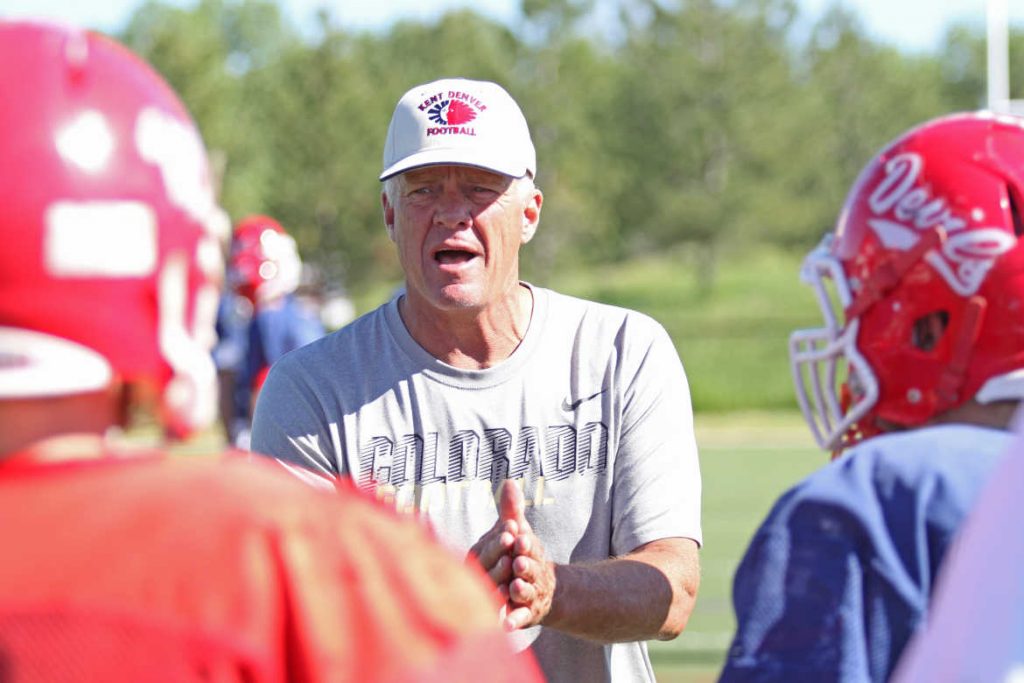 On Preparation
He told a story about legend Head Coach Bud Wilkinson.  Coach Wilkinson had a 40+ game winning streak.  At the time, it was the longest winning streak in college football.  But he would be so nervous the day before the game.  He would "work himself up" by studying the positives of that team they were going to play.  "Even a 1-7 team, he would find that kid who could beat them, and he would stress about that kid, and tell his kids how great that one kid was, and how that one kid might just give them fits."  He would simply find the best in his opponent.  And hew would hold up that team on a pedestal when he spoke to his own team.  "So, I follow that mentality.  I try hard to put every single team on a pedestal until they prove me wrong."
A Wrinkle
"Find a little wrinkle every year for your program.   Maybe it is a new helmet, maybe a new uniform, maybe a new series of plays.  Something that the kids will like, that will motivate them.  Change something up.  This year, forus, it was a new set of plays.  It was a 'change of pace' offense.  We would change the tempo of the game.  It might be right after we went 3 and out the series before, or maybe something we went in to down in the red zone. "
Great Young Men
"Challenge your players to be great young men.  If they become great young men, then they will be great football players."
Two Most Important Words A Coach Can Use
"My fault."
"Be the man and own your mistakes. Put on your big boy pants. You better take care of those boys in the darkest moments. 'My fault.'  Its going to be a lot easier for your players to take ownership if they see their football coach taking ownership."
Chris Fore has his Masters degree in Athletic Administration, is a Certified Athletic Administrator and serves as an Adjunct Professor in the M.S. Physical Education –  Sports Management program at Azusa Pacific University.  He is a speaker with the Glazier Clinics, and a Coaches Choice author.  Coach Fore runs Eight Laces Consulting where he specializes in helping coaches nationwide in their job search process.  He also serves on the California Coaches Association Board of Representative