17 Ways To Make Your Program Better in '17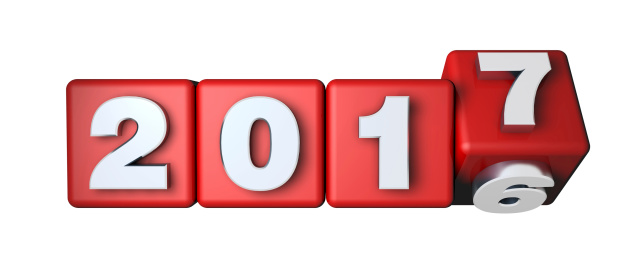 It's that time of year.  The New Year.  People are taking an inventory of their lives.  Some are making "resolutions," a word we only hear in January.
And the good head football coaches across the land are doing the same thing.  Or, they have recently done that when their 2016 season ended.
I have been surveying State Champion programs since December of 2011.  I'm intrigued by what makes programs great.  You can read insight from dozens of head coaches in my Champions Locker Room series here.
Here are 17 things your program can work on before August 1 to get better in 2017.
Solidify your coaching staff – From John Snyder, Head Football Coach at Mater Dei Catholic in San Diego.  "In my opinion, it is impossible to sustain a great program without having great men involved. A head coach is only as strong as his staff and I am truly lucky to have an incredible group of men to work with."  I wholeheartedly agree.  A great head coach has a staff that gels well together, has one heartbeat, is on the same page, and is growing together.  Making your coaching staff great will make your program better.
Increase the work ethic – When I surveyed more than 100 State Champion Head Coaches from the 2011 season, and wrote a book about their top 10 answers, work ethic was one of the top 3 answers.  (Won't spoil it by telling you if it was 1, 2 or 3.)  Find a great athletic program, you're going to find one with a great work ethic!  No days off mentality from the top down will make your program better.
Calendar organization – Spend time now organzing your year round calendar.  Help your folks know when to take a vacation, and when to plan those dentist appointments.  Highly successful organizations are highly organized on the calendar.  You should be able to tell your kids and parents what October will look like by the end of January.  Schedule those pregame meals, the leave time for your bus trips, etc. etc.  Those games aren't changing, for the most part.  Organize your program now, to alleviate headaches later.
Playbook organization – Some just read that and said "that's old school, we don't use a playbook."  Then how do you teach it to the new coaches?  To the new kids?  Every single person learns differently.  In my opinion, you need a hard copy playbook to teach your staff and your kids for optimum organization.  The best programs are highly organized with their philosophy and their organization of systems.  Heard a good one recently: are you a coach with plays scratched out on scrap paper, unorganized all over the place?  Or do you have a system that is organized and teachable?
Community outreach – Reaching out to your community will help your program get better in 2017.  Building community in your football community by getting the outside community involved as a support system is a must.  The community around your program is either: all in, they kind of know about you, or are all out.  How is it in your program?  Find a highly successful football program that is not involved in the community; you'll be hard pressed to find that.
Recruit the hallways – Make your program better in 2017 by increasing the number of kids in your program.  This helps to create depth.  This helps to create more athleticism.  This helps to get more people involved in your program.
Improve communication – Spend this offseason communicating better with your program than you did last year.  This means something a little different for every program.  Maybe you, as the Head Coach, needs to give up a little control in order to get more people involved to help you with communication.  Perhaps your program needs to get more involved with online communication, or social media.  What steps can your program take to improve communication?
Raise more funds than last year  – Let's face it: fundraising in 2017 is like never before. There seem to be more and more fundraising demands on all athletic programs these days.  But part of running a great football program is having money to support all of the little things.  Go find the best programs in your state, I doubt they are poor.  Money is needed for SO many aspects of championship football programs.  Take care of your coaching staff, take care of your players, take care of your admin, take care of your volunteers.  It all takes money.
Learn from others – I had a TREMENDOUS football program bring me in last year for a Special Teams clinic for their staff, a top 10 program in the nation.  I was blown away by the leadership of the Head Coach during this time.  He sat in the front row, took the most notes, and asked the most questions.  The best football coaches are constantly learning, constantly pushing their staffs to become better during clinic season and beyond.  Make your program better this offseason by becoming a better football coach by increasing your knowledge.
Develop leadership in your players – If you aren't teaching leadership, you're not going to have great student leaders in the Fall, period.  I get so tired of coaches complaining that their kids aren't leaders.  Then when I ask what the coach did to build leaders, they say "nothing."  Coaches, the level of leadership among your players in the Fall has everything to do with what YOU pour in to them in the Spring.  Read about my Player Committee here.
Do a better job promoting your kids to college – Want to know why some kids are transferring out?  There might be a perception that you don't do anything to get them "out."  Perception is reality.  What can you do to better help your kids get to college, which in turn will make your program better overall, in 2017?
Complete a top to bottom program evaluation – What do the frosh football players think of your program?  Have you asked them?  Have you asked that frosh or JV coach who quit why they quit, and really analyzed that?  Evaluating your program via written evaluation of all of your players and coaches WILL make your program better!  See some ways I do this with surveys here.
Hire more coaches on campus  – This might be out of your hands, it might not.  But the spring is the time to collaborate with your principal to try to get more coaches on campus to make your program better.
Get stronger – A no brainer, self explanatory!  Don't fool yourselves though.  Just because your kids are working out doesn't mean they are getting stronger!  Track them.  Help them set goals.  Measure them again in 8 weeks.  The best programs around your area do this.  The average ones just "get their lift in."
Get faster – See above!
Build team chemistry – From Head Coach Brad Burchfield who won a State Championship in Ohio in both 2015 and 2016.  "I think that the more everyone cares, the harder everyone is willing to play.  Things are invariably going to get really tough during a season and that care is what enables us to 'keep going.'  When that care doesn't exist, its easy for people to not try as hard; easy for everyone to say, even if its just for a second, "well maybe this just isn't that important."  
Write down 1-3 of these things – Stop reading website, stop reading books, stop going to clinics if you aren't going to implement anything!  The 17th thing to do is to IMPLEMENT, IMPLEMENT, IMPLEMENT!  
Check out Fore's book about BUILDING CHAMPIONSHIP-CALIBER FOOTBALL PROGRAMS.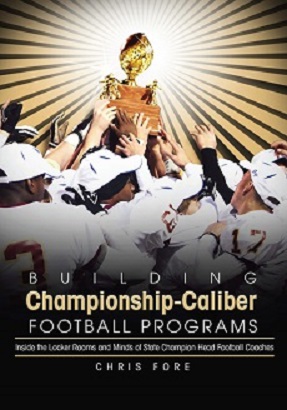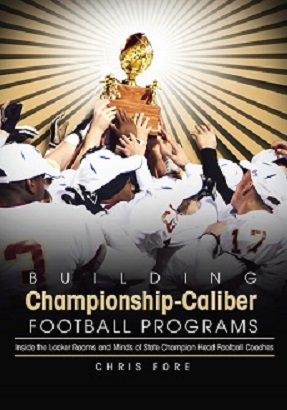 Chris Fore has his Masters degree in Athletic Administration, is a Certified Athletic Administrator and serves as an Adjunct Professor in the M.S. Physical Education –  Sports Management program at Azusa Pacific University.  He is a speaker with the Glazier Clinics, and a Coaches Choice author.  Coach Fore runs Eight Laces Consulting where he specializes in helping coaches nationwide in their job search process.  He also serves on the California Coaches Association Board of Representatives.