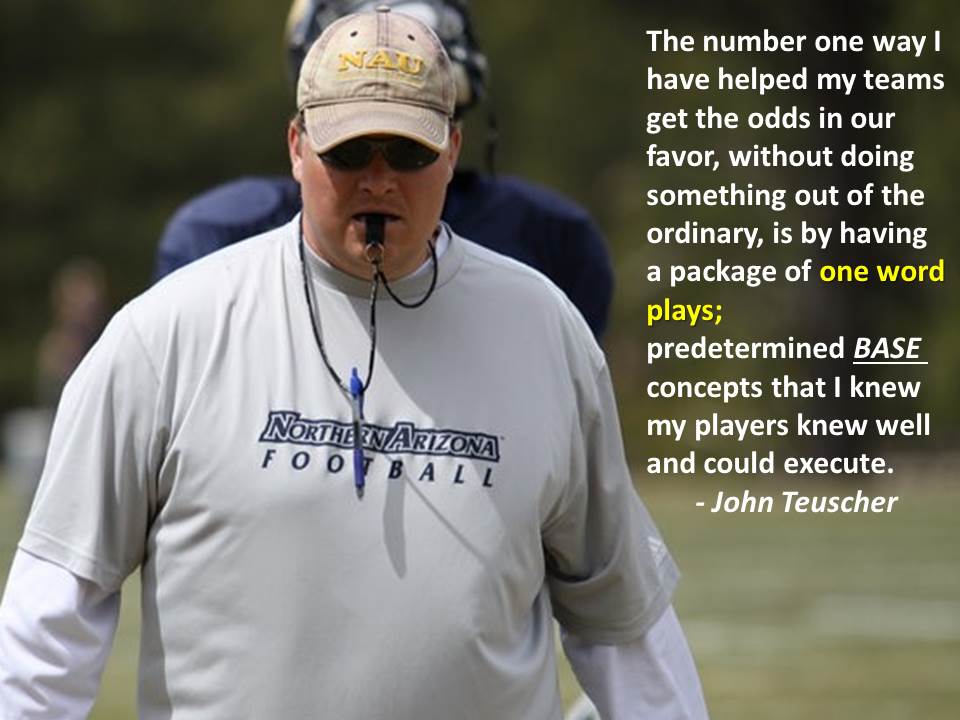 This is a guest post by John Teuscher, an Assistant Football Coach at Victor Valley College (Victorville, CA).  Follow him on twitter.  I coach with him at VVC, and he was sharing this concept of "One word plays" with me.  Loved the concept of how he does it, and so I asked him to share it with my audience. Coach Teuscher is a tremendous offensive mind who has had stints at in the Pac-12, Mountain West and the Big Sky; he has also been a Head Football Coach at the high school level.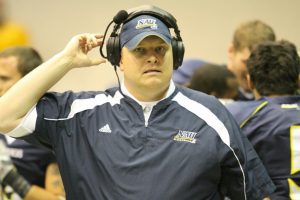 At this point in the season there are no secrets; we have all played, the film is out there, and coaches talk. This is the point in the year that most of us are evaluating what our players CAN do and what they CAN'T do.  At this point many coaches start tinkering with their package: "Maybe if we added this…" or "What does our Offensive Line block best," etc. are questions being asked in offensive staff meetings across America.
May I offer your staff a simple solution? Nothing.  Don't do anything new; just do the things you do, and your players know well, and do them faster!
I know that there are some who love tempo and playing as fast as you can all the time, there are others who dislike it or are scared about the preceded downsides like wearing your own defense out.  In my opinion there is always room to have a few things up your sleeve that the defense will have trouble dealing with and allow you to gain an advantage.
The number one way I have helped my teams get the odds in our favor, without doing something out of the ordinary, is by having a package of one word plays; predetermined BASE concepts that I knew my players knew well and could execute.
We have seen situations where the defense was misaligned and/or the Defensive Coordinator wasn't able to get a call in allowing us to run our Day 1 plays against a team that wasn't ready for our best plays, not often in football your get to run your best play(s) against a team that isn't ready.
Coaches, here is the best part: this idea will work with any offense regardless of your offensive philosophy.
Maybe you are a Wing-T team and the Buck Sweep is your play, or an option team, and inside veer is what you do, or maybe you are 21 personnel team that runs power.  The point is, look at what your players know and run the best, give it one word that tells the offense everything they need to know and run it. That's it!  During the course of the game you can signal that call or calls in, your QB lets the players know, they get lined up and run the play as soon as the officials let them.
Let me provide a few examples from my past that will help you understand this concept better.  In 2014 I was the Head Coach at Copper Hills High School in West Jordan, Utah.  We were in a building phase and had trouble with size and protecting our QB. We were good at sprint out pass to our 3 man snag concept; it was the play we ran the best and most effectively.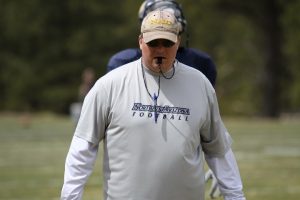 We took this one word play idea and gave it a try, and it was a concept I know helped us generate offense and scoring opportunities. In our traditional verbiage to get sprint out 3-man snag to the right we needed to say/signal "Trips Right Rodeo Texaco."  We decided to take all of that and just say "Thunder" to run that play to the right, and "Lightening" to run it to the left. Thunder and Lightening were used as a mental hook to help the players remember we were trying to play fast; we still had the ability in our normal offensive flow to call "Trips Rodeo Texaco" if we wanted as well.
Thunder told our players everything they needed to know, formation was Trips Rt, protection was Rodeo, and the route was Texaco.  Our players loved it! They knew they had something they knew well that the opponent wasn't going to be ready for.
More than one time in 2014 we started a drive and I told the players we were going to run Thunder/Lightening back and forth down the field. We caused opponents issues. We ran it coming of the sidelines, in the middle of drives, and on big 3rd downs or in the Red Zone any place we needed a little spark.
Later in the year we added "UCLA" and "Bruin."  We learned the one word play concept from then UCLA Offensive Coordinator Noel Mazzone.  "UCLA" was zone to the left with swing screen attached. "Bruin" was zone to the right with the swing screen.  "UCLA" or "Bruin" told our guys everything, and as I am sure you figured out the "R" in Bruin and the "L" in UCLA told our players the direction the play was going.
In 2016 I was fortunate to be the Offensive Coordinator at Timpview High School in Provo, Utah, one of the best high school football traditions around. We had a very talented team and we decided that we were going to push the envelope as much as we could and play as FAST as we possibly could. We studied what the best teams were doing and decided to take our one word play game to the next level.
We took a little bit different spin and rather than running plays to the right or left our words meant field or boundary. Anytime we wanted to align with 3×1 with the 3 receivers to the field we used a college teams in the state of Texas; the actual school determined the actual play we would run. We had Texas, A&M, Baylor, and Tech. All of those schools have a traditional hand signal so we just used that. Anytime we called a school from Texas the players new exactly how to line up, 3×1 to the field. Texas is big so we will align to the big part of the field.
Lets take a look at our "Texas" play. This play is traditional spread zone read to the weak side with a fast screen attached to the backside of the play. This play is literally Day 1 install in our offense. Our signaler would simply hold up the Hook 'Em Horns signal and the QB would hold it up and start yelling.  Our players aligned in 3×1 to the field, the play we ran was always inside zone to toward the boundary. Our center started out making a directional call but after a week or so the offensive line knew the direction they were going. The wide receivers were blocking a screen to our #2 receiver.
The thing that we thought was really cool about this idea was that we didn't need two words to get the play called both directions. Our players knew that when they hear "Texas" they aligned 3×1 to the field and ran inside zone to the weak side/into the boundary with a fast screen to the three receiver side. Now we could literally call one play and get exactly what we wanted regardless of hash. Calling "Texas" accomplished the same thing on the Right or Left hash, the players knew how to align based off position on the field. As I said earlier we also ran A&M (3×1 to field, stretch to boundary, with a pop pass RPO), Baylor (3×1 to field, play action shot), Tech (3×1 to field,  our base 3×1 pass concept).  Our Texas school package became a huge part of our offense and ALL the plays were installed on our first day of fall camp.
Look out for Part 2 to this series next week!  Coach will discuss the questions you need to ask about running one word plays!