College Head Coach Screening Rubric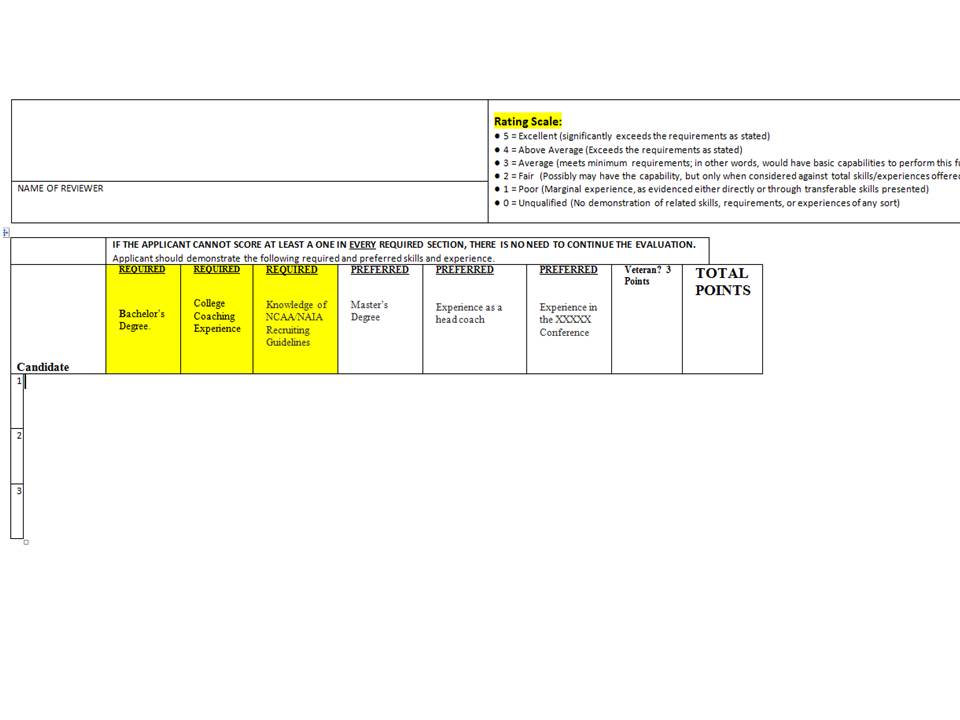 If you have ever wondered what goes in to the "paper screening" that schools (both high school and college) use to evaluate potential employees, including coaches, here is a rubric/form that is currently being used for an NAIA Head Football Coach search.
You will see that they have a simple set of three "required" qualifications, and three "preferred" qualifications. (Click on the picture to see a more clear picture.)
Required are a bachelor's degree, college coaching experience and knowledge of NCAA/NAIA recruiting guidelines.  Preferred are a master's degree, head coaching experience and experience coaching in their specific conference.
The rating scale that they use for these six different qualifications is:
5 = Excellent (significantly exceeds the requirements as stated)
4 = Above Average (Exceeds the requirements as stated)
3 = Average (meets minimum requirements; in other words, would have basic capabilities to perform this function)
2 = Fair (Possibly may have the capability, but only when considered against total skills/experiences offered)
1 = Poor (Marginal experience, as evidenced either directly or through transferable skills presented)
0 = Unqualified (No demonstration of related skills, requirements, or experiences of any sort)
So, the evaluator, or evaluation team assigns a numerical value to each of the categories.  For instance, if you have college coaching experience, the team will assign either a 1, 2, 3, 4 or 5 to that column.  I'm not sure how these folks will decide between 1, which is "poor" or 5, which is "excellent."  Will they use the length of time you've been in the college game?  Or will they use the quality of football you coached to determine the difference between "excellent" and "poor."
I've seen this type of grid give 3 points for being a head coach, 2 points for being a coordinator, and 1 point for being a position coach for instance.  This one is pretty basic as they are just evaluating those 6 categories.  Notice they give a bonus of 3 points if you're a veteran; I like that!
Anyhow, I just wanted to share this so that those who don't understand the method some schools use can see what some schools use to evaluate coaches on paper.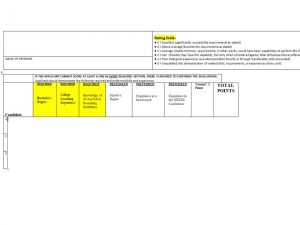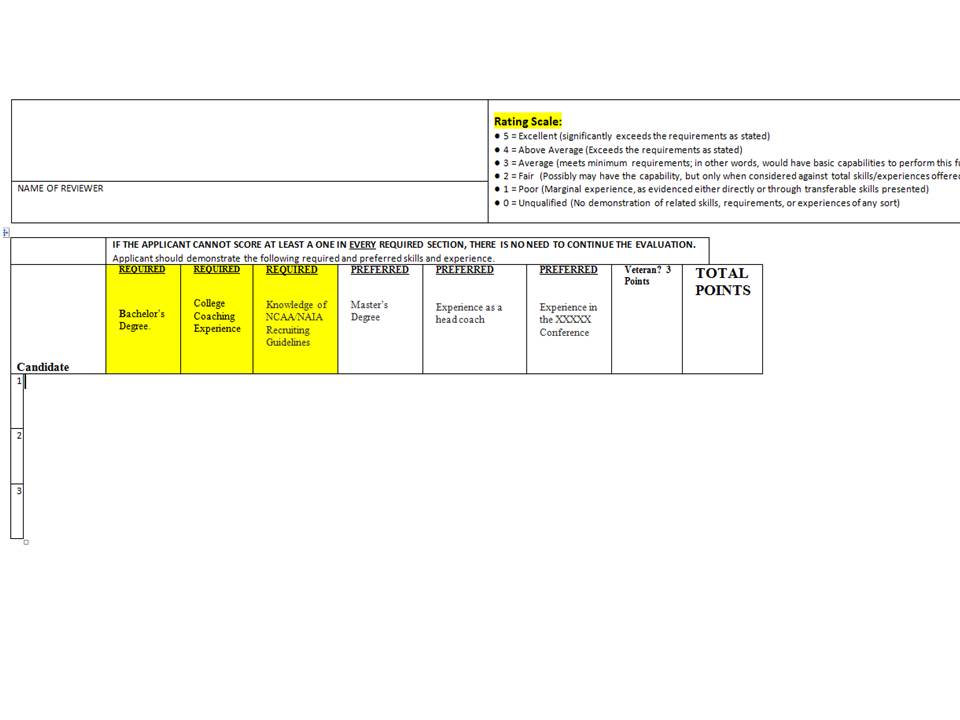 Like this type of article?  Join our email list!  I promise not to spam you, we hate that! No more than 4-6 emails per month!  And each one will contain a discount to Eight Laces Consulting.
Chris Fore has his Masters degree in Athletic Administration, is a Certified Athletic Administrator and serves as an Adjunct Professor in the M.S. Physical Education –  Sports Management program at Azusa Pacific University.  He is a speaker with the Glazier Clinics, and a Coaches Choice author.  Coach Fore runs Eight Laces Consulting where he specializes in helping coaches nationwide in their job search process.