9 Keys To Reaching Out To A College Coach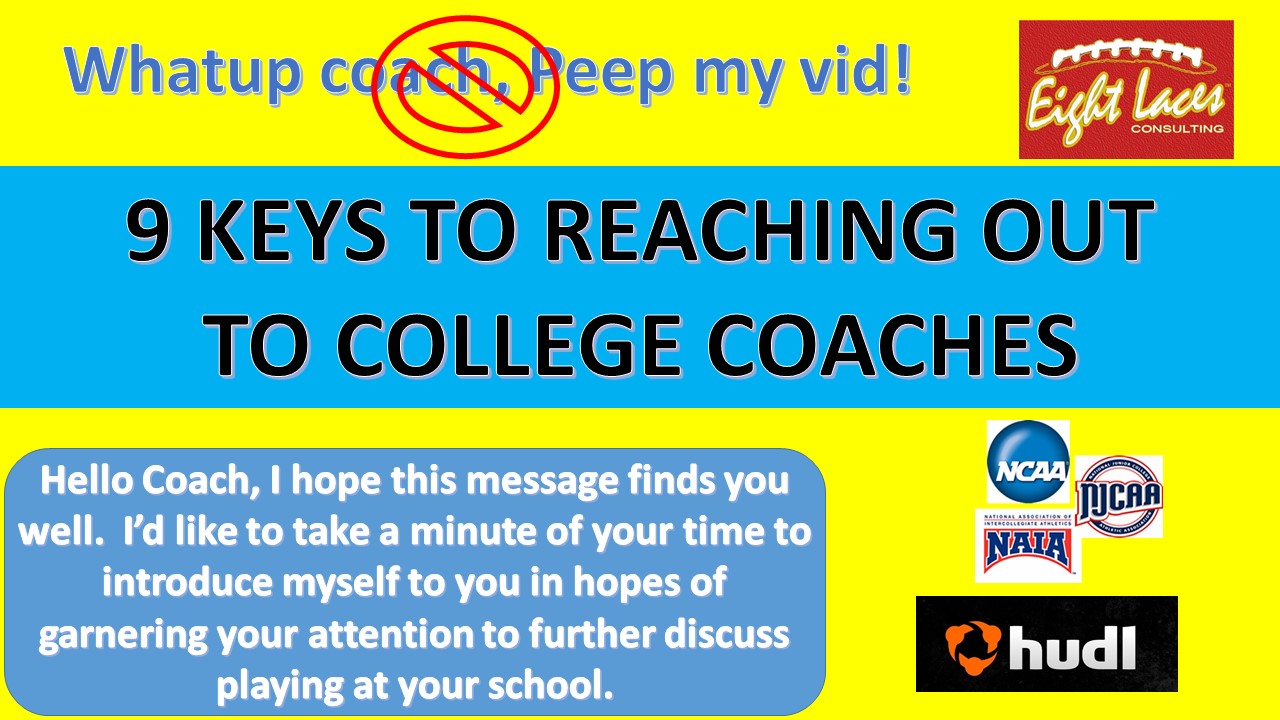 I had quite the experience as a Junior College Football Coach here in Southern California last year!  It was a great experience, and I highly suggest that if you're thinking about making that move, do it when you have the opportunity to do so.
I was approached by the Head Coach in February (2017) about joining his staff as the Special Teams Coordinator.  After 16 years of coaching high school, I wasn't looking for a new opportunity at the JC level, I kinda thought that ship had sailed years ago. But alas, I found myself coaching at the next level.
On Twitter, I changed my bio to "Junior College Coach," and within a few days I started to receive DMs in my open DM box.
And boy, what a MESS most of them were over the course of the last year.  
I had approximately 250 players reach out to me.  Out of that many players reaching out to me, less than two dozen messages and highlight videos were any good.  
Here are 6 mistakes players made reaching out to a Junior College coach.
#1.  "Your school has a lot to offer me, and I feel that I would be a great fit there."  
This statement was absurd for 100% of these student-athletes to write.  I didn't have the name of the Junior College that I was working at anywhere on my bio. So, they were just copying and pasting, or just trying to write that pick up line to sound good.  
Invariably, I would always ask: What school do I coach at?  NOT ONE PLAYER who wrote something like that knew what school I was at. 100% of the student-athletes who wrote something like "It would be a real pleasure to suit out for your school" or "Your school is in the exact place I want to live" or "I would come in and start immediately" knew ABSOLUTELY NOTHING about the school I was at.
So, then I would say "You probably shouldn't tell a coach that his school is a great fit for you, or that his school has a lot to offer without knowing the school that you're referring to."
#2.  The kid would argue back.  Don't argue with a coach you're trying to get recruited by!
It is not incredibly smart to argue with a potential recruiter.  Look, I was just trying to give some friendly advice. When I would say "You probably shouldn't make that statement if you don't know where I coach," the player would come back with something "Why u tryna tell me how do my job?"  Or "What u sayin?"
Do you think they are going to keep you on their radar if you're arguing with them in some of your first encounters?
Which brings me to my next point:
#3.  Use real words when you're talking to a college coach.
He is not your buddy.  You aren't texting your homie.  You are communicating with a professional.  You are on a job interview, even in your DMs.  Why in the world are you talking to a college coach like you are boys?  
I get it, some of them will try to be your boy. But that's down the road, not in your first few lines of communication with this stranger.  Be professional in how you communicate. Use real words. Make sense. Proof read your messages. You want to come across as someone who will take academics seriously. 
#4.  Don't start your DM with "Peep my film" or "Watch dis Coach."
Introduce yourself.  My best guess is that about 20% of the DMs I got from perspective student-athletes started with an introduction of name, where they are from, what position they play, some accolades about their career and why they want to play college football.
The other 80 were a quick phrase with a link.  And about 10-15% just sent a link, nothing more.  Then they followed up in an hour with something like "Did you watch?"  Or "Wat u think?"
Now that we have communication out of the way, let's talk about your highlight videos.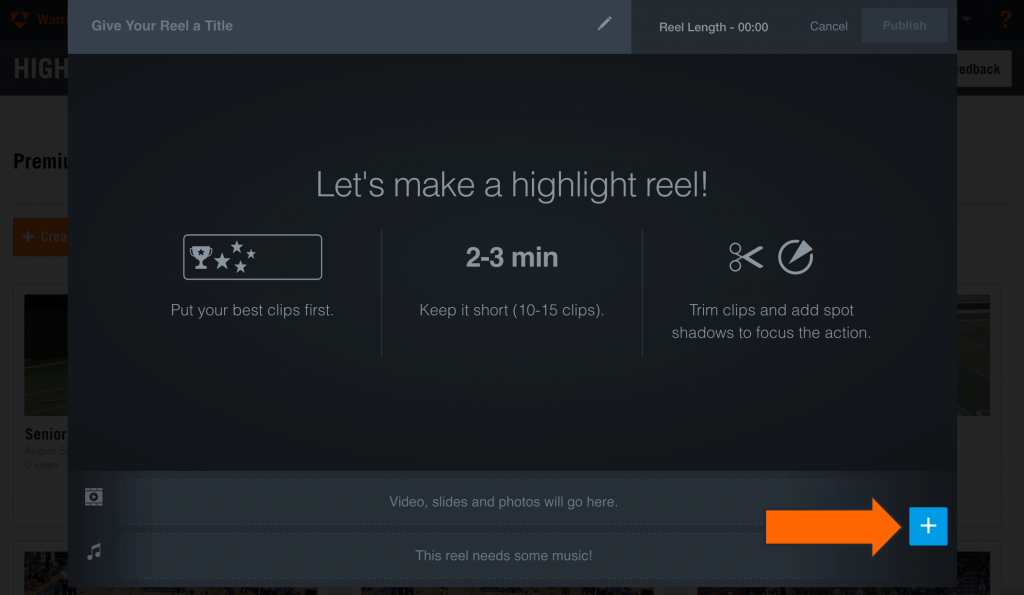 Wow . . . . . . . .highlight videos are "interesting."
#5.  Your film has got to POP in the first 15-20 seconds!
Some of the videos out there are absolutely hurting your chances to be seen by a college coach.  I was coaching at a very average, lesser known JC in So Cal. Not a Top 20 JC n the State and most definitely not a high caliber FCS or FBS Division 1 school.  I can't imagine the volume of film those coaches get. I have spoken to many college coaches over the years, and I've discussed the loads and loads of film they get.  It's overwhelming these days. Just being a little JC coach, it would get overwhelming.
When there are 5 messages in my box in a day (major schools have 100), and I want to watch them all, among everything else I'm doing with my real job, and my family, etc.  I've got a very short window to evaluate players. So, when you're first dozen plays are from Spring football or a scrimmage, I'm usually going to press delete. Because it tells me that you probably don't have anything better.
Your first 5-7 plays need to be the

ABSOLUTE BEST PLAYS OF YOUR CAREER!
You have 15-20 seconds to get the attention of college coaches.  That's it.
If you are a receiver, please stop with the 5 yard stop catch and get tackled play.   It doesn't show anything to a coach outside of the fact that you can catch the football.  You didn't make the first guy miss, you went down easy. That play just hurt your film.
If you are a running back, erase the four yard gain where you didn't do anything special. You didn't show a burst of speed, you didn't show strength or escapability. You were tackled at four yards. That play just hurt your film.  
If you are an offensive lineman, remove the play where you had a great first punch, but then got beat by a great second effort of your opponent. That play just hurt your film.
If you are a defensive back, who simply made a tackle on a pitch run play your way because the wide receiver forgot to block you, think hard about how you made that tackle.  Because I saw this happen on a video, and he corner actually got ran over. Yes, he made the tackle, but a smaller running back ran right over him, and basically tripped over the kid.  That play just hurt his film.
Most student-athletes think that a touchdown is a highlight play.  This is not true. Just because you were wide open on a play due to miscommunication on the defense doesn't mean that you ran a great route, or that you were fast.  Sometimes it means that the Safety tripped. Or that the Corner and Safety weren't on the same page. It's not necessarily a highlight for you.
Players, think critically about your first 10 plays.  Again, they need to be the best ten plays in your entire career!!  Even if some of them were from last year, that doesn't matter. They just need to grab the attention QUICK!!
#6.  Show your diversity as an athlete
I've seen these films that are literally 15 minutes long.  The kid just had every play he was in on offense on the highlight film.  But I have NO clue if he plays Special Teams. I know the recruiting meetings I was in (very few of them compared to major programs who have one a day) the Head Coach would always ask: What else can he do?  
If you're not THE best player in your league, you better be able to do some other things on the football field, meaning play Special Teams.  So, if you cover kicks or do a great job on a return team, make sure to highlight those things on your film as well.
#7.  Don't bag on your high school coach
If I was interested in a kid, I would always ask for the contact information for his Head Coach.  75% of the time, players made serious errors here by saying something negative and sometimes even disparaging about their Head Coach.  

"I'm not giving you that information because he don't do nothing for us."
"Why you want dat?  I don't like him."
"Nah, my coach a punk."
Those are three statements kids made right back to me when I asked for information about their Head Coach.  Needless to say, I simply erased those messages, and didn't do anything further with those kids.
I don't care what you think about your high school coach.  That really doesn't matter to a college recruiter. At some point, they will probably need to speak to your coach.  If your coach is a bum, don't say it. If he doesn't do anything for recruiting at your school, don't say it. Don't sweat those things.  Just give the coach what he is asking for, which is usually your head coach's name and phone number or email. Don't let your personal feelings for the man interfere with the recruiting process.
#8.  Use this as a blueprint when reaching out to a college coach
YOUR NAME
YOUR HS GRAD DATE
SCHOOL
CITY, STATE
YOUR CELL PHONE
YOUR EMAIL
YOUR HEAD COACH'S NAME
YOUR HEAD COACH'S PHONE NUMBER
YOUR POSITION
YOUR JERSEY NUMBER
YOUR HEIGHT/WEIGHT
YOUR 40 SPEED
YOUR STRENGTH NUMBERS (Bench, Squat, Clean)
OTHER SPORTS YOU HAVE LETTERED IN
YOUR GPA
YOUR CLASS RANK
YOUR TESTING SCORES
YOUR POST SEASON AWARDS
YOUR DESIRED MAJOR IN COLLEGE
#9.  Your Highlight Film Should: 
HIGHLIGHT/CIRCLE/FLAME YOURSELF EARLY SO COACH CAN FIND YOU QUICKLY
FIRST 10 PLAYS = BEST PLAYS OF YOUR CAREER, PERIOD!
FIRST 10 PLAYS = YOU NEED TO ABSOLUTELY JUMP OFF THE SCREEN
FIRST 10 PLAYS = NEED TO SHOW THAT YOU ARE THE BEST ATHLETE ON THE FIELD
FIRST 10 PLAYS = NEED TO CONVINCE THE COACH TO KEEP WATCHING
NEXT 10 PLAYS = SHOW DIVERSITY
We know you're a great receiver from the first 10 plays, but what else can you do?
COACHES ARE ASKING THESE THINGS:
ARE YOU AN ATHLETE?
ARE YOU FAST?
CAN YOU BLOCK?
CAN YOUTACKLE?
CAN YOU PLAY TO THE WHISTLE?
DO YOU PLAY HARD?
ARE YOU QUICK?
ARE YOU TOUGH?
ARE YOU SMART?
CAN YOU DO MORE THAN ONE THING?
DOES HE GET UP AFTER BEING KNOCKED DOWN?
DOES HE CARE ABOUT THE TEAM?
WHAT HAPPENS WHEN THE BALL GOES THE OTHER WAY?
Chris Fore has his Masters degree in Athletic Administration, is a Certified Athletic Administrator and serves as an Adjunct Professor in the M.S. Physical Education –  Sports Management program at Azusa Pacific University. He runs Eight Laces Consulting where he specializes in helping coaches nationwide in their job search process.  Fore was named to the Hudl Top 100 in 2017, and the Top 5 Best High School Football Coaches to follow on Twitter by MaxPreps in 2016.  Follow him!