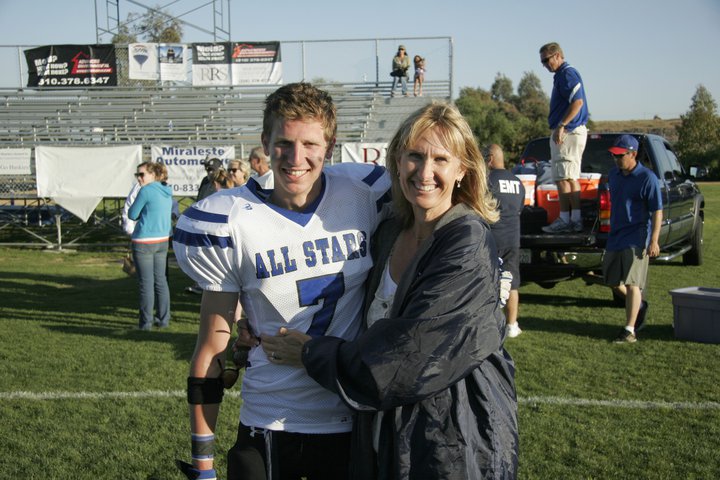 In honor of all of the very hard-working mothers out there (including my own mom Cindy, my beautiful wife Christine and my mother-in-law Laura) I thought I would share something I've done a few times for the Football Moms in our community.
We called it FOOTBALL 101 FOR MOMS!  Sometimes we called it FOOTBALL MOM'S NIGHT OUT.  Either way, the idea was to get them all in a room to teach them the basics of the game.  Afterwards, they would usually go out for dinner or do something fun together.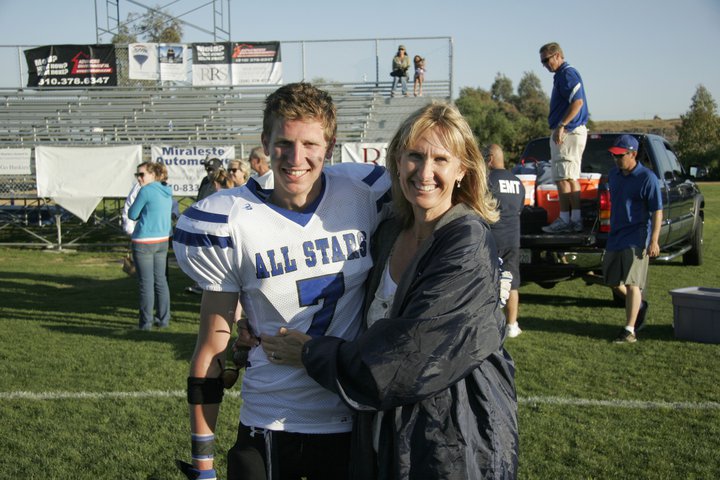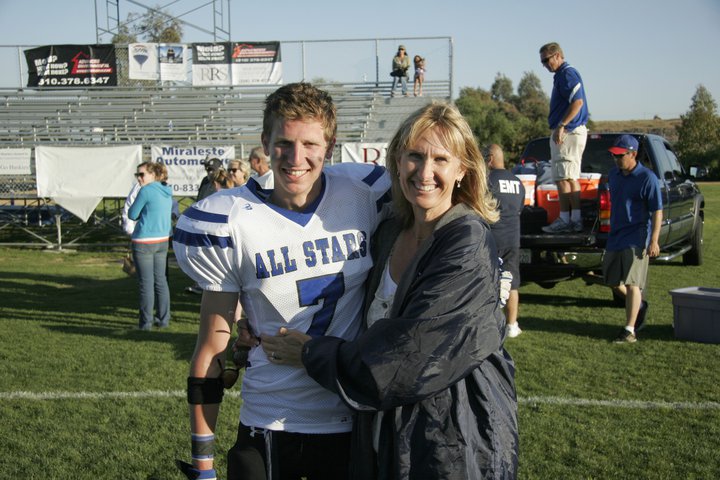 I encourage you to do this coaches!  The moms who have been a part of this really loved it.  I remember one mom telling me after one of them:
"I've sat on the couch watching football for my husband for 20 years and never knew this stuff, he never taught me.  I'm going to like watching the game now."
How cool is that?!
Below is a flyer for the even that one of our moms created.  Below that is the handout I used to help teach them the game.  I even had my wife, Christine, teach them a section of it!
Here is a PDF of my outline from that night, along with other resources I used.
FOOTBALL 101 FOR MOMS
MOM'S NIGHT OUT!!!
Ever wonder why that official throws those yellow flags for weird reasons?
Do you know what your son does on the play 'Base Right Strong'?
Want to learn some basics about football?
COME for an evening of FOOTBALL 101 with our own Coach Fore and his wife, Christine!  Learn what our boys are doing down on the field each weekend!
Afterwards, we'll head off to a local restaurant for DINNER to renew & make new friendships with fellow football moms & talk about the upcoming season.
When:  Thursday, July 26, 2007
Time:  6:30pm
Where:  CVCS Fireside Room
Bring:  Money for the meal
RSVP:  Corinne Melzer (contact info. here)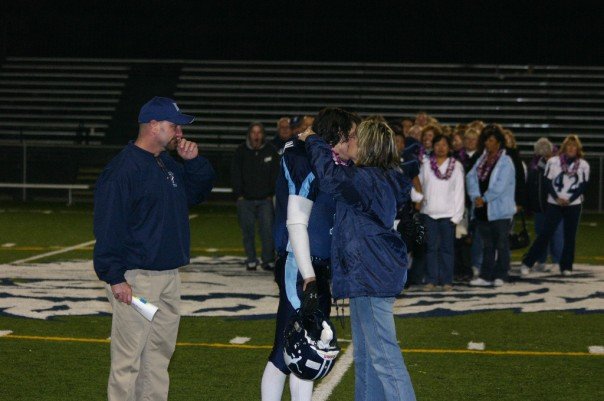 THE HANDOUT I CREATED SPECIFICALLY FOR THIS NIGHT
FOOTBALL 101 FOR MOMS
1. Corinne – welcome and announcements
2. Coach Fore – welcome and announcements
a. Physicals
b. Paperwork due before 8/15
c. Ad sales due 8/1 – $350 billed to account
3. Coach Fore
A. History of football – modern father of football (1) GEORGE HALAS.
B. Modern football – most popular channel for football (2) NFL NETWORK!
C. Equipment
D. Offense, Defense
Offense
Huddle – is there the (3) PLAY  is called by the (4) QUARTERBACK.
25 second clock – expires when (5) THE BALL HASN'T BEEN SNAPPED BY THE OFFENSE.
Running game – the (6) RUNNING BACK is the cornerstone of our offense
Passing game – a forward pass is not legal when (7) LINEMEN GO DOWN FIELD.
Defense
CVCS runs a (8)43 Defense
4. What a field looks like and why it looks like it does
Lines are every (9) 1  yards
The (10) HASH marks represent a portion of the field where the ball is marked.
CHRISTINE -WHAT IS A FIRST DOWN?
Only the (11) OFFENSE can get a first down.
Remember, the offense is the (12) TEAM WITH THE BALL.
You have (13)FOUR attempts to get a first down.
The chains on the sidelines are (14) 10 YARDS LONG.
The offense moves towards their (15) OPPONENTS end zone.
Once you get 10 yards, you get another chance to get 10 yards!
If the offense (16) DOESN'T get 10 yards in the first (17) THREE  plays then they have to make a decision.
5.  CHRIS COACH FORE TALKS ABOUT (18) SPECIAL TEAMS.
CVCS used three types of punts.  They are (19)SHIELD, (20) SPEAR and (21)SPREAD.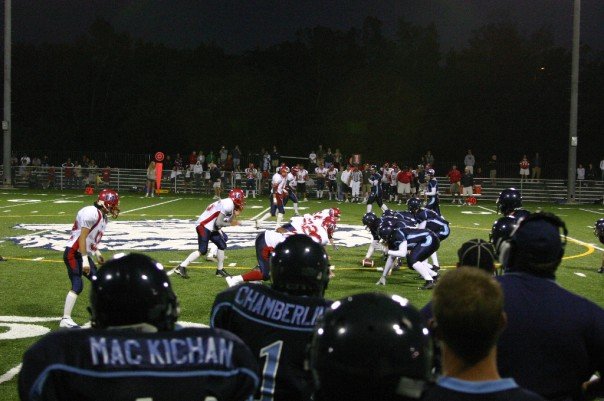 6.  CHRISTINE – CHANGE OF (22) POSSESSION.
If the offense (23)DOESN"T GET A FIRST DOWN after trying and not punting.
After the offense gets a touchdown, or field goal.
If the defense gets a saftey.
7.  COACH FORE
An interception – when a (24) DEFENSIVE PLAYER catches the ball thrown by the offensive team.
A fumble recovery – when a (25)DEFENSIVE PLAYER picks up the ball that an offensive player has dropped.
The offensive team misses a (26)FIELD GOAL.
8.  COACH FORE TALKS ABOUT BASE (27) RIGHT STRONG
9.  CHRISTINE – Scoring
A team scores points by the following plays:
A (28) TOUCHDOWN is worth 6 points. It is scored when a player runs the ball into or catches a pass in his opponent's end zone.
A (29) FIELD GOAL  is worth 3 points, and it is scored by kicking the ball over the crossbar and through the goal posts. A field goal is usually attempted on fourth down .
A (30)  SAFETY    is worth 2 points. A safety is scored by the defense when the offensive player in possession of the ball is forced back into his own end zone and is tackled there.
10.  Special Teams
Kickoff – we use a (31) NUMBERING system
Kick return – called (32)MIDDLE RETURN, SIDELINE RETURN, ALLSTATE TEAM.
Punt return
PAT – either you can (33) KICK the ball or run an offensive (34) PLAY.
11.  Penalties/Officials – see handout
12.  Questions