More Administrators Need to be Like Amazon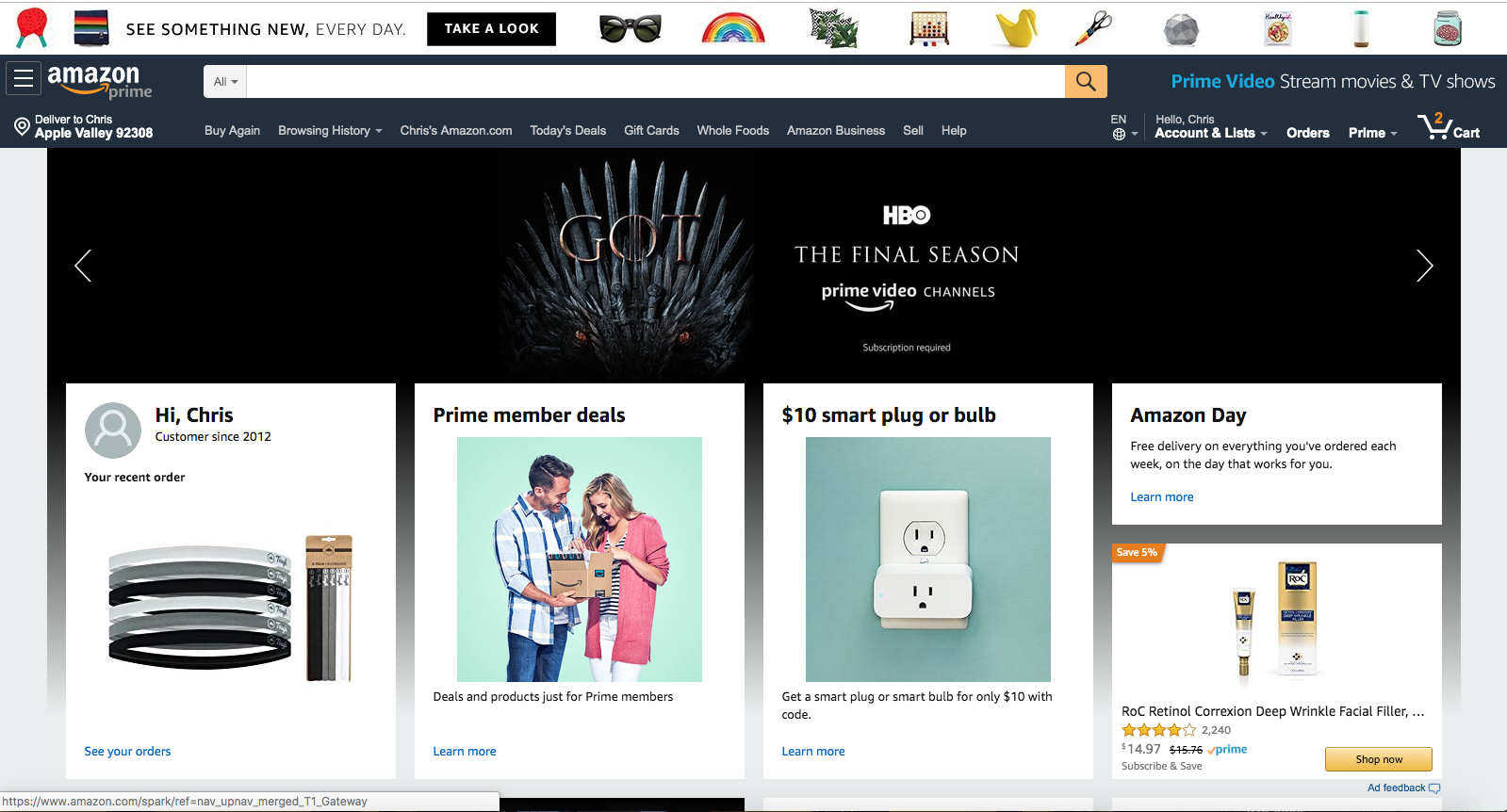 I wanted a water bottle.  I'm not sure why it hit me when I did.  We were on the freeway, driving to California Adventure yesterday (4/28/19) when it came to mind.  I said to my wife, "I need a water bottle, can you find me one?"
What she did next did not shock me.  She got her phone, and opened up Amazon!
And within a minute, she showed me one that she thought I would like.  I told her I like it, but didn't want one that big.  So, she found one just like it, but in the 18 ounce version.
I told her to order it.
We went on about about our day.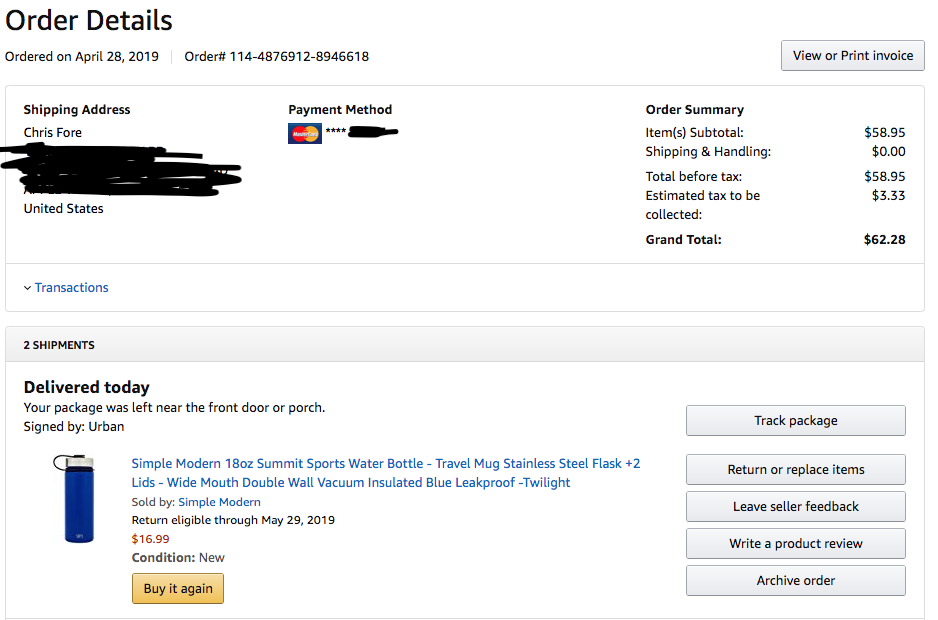 After dinner tonight (4/29/19), she said "Here's your water bottle."  
I'm not sure why, but I'm fascinated with Amazon and how quickly they get you things!  It's FASCINATING to me.
Where did this bottle come from?  How did they find it in that warehouse?  How did they get it to me so quickly?!  I live in a little bit of a desert rural area.  I'm not in a major city or metropolis.  And they got it to me for "free" via Amazon Prime.
So, for just $16.99, I got a GREAT product that I'm very happy with shipped right to my front door!
More Administrators need to be like Amazon!
Amazon always gets back to me, and quickly. 
I love that about Amazon.  In fact, one time I had a complaint, and I was able to input that into a form, and then click to have them call me at a convenient time for ME!  That was so cool.  And they called me during that window, and immediately solved my problem.
I love how fast Amazon takes care of my problems.  I've worked for some Administrators who I had to wait for weeks and sometimes months for an answer to something.  That's just not a good way to take care of your teachers.  YES, some problems take that long. But most do not.
I'm in just my first year on "the dark side."  That is what coaches and athletic directors call Administration.  "Oh, you're joining the darkside!"  Yes I am, and I'm proud of it!  I love my job as an Assistant Principal.
I take a lot of pride in getting back to my teachers, students, coaches, parents, staff, etc. quickly.  I always valued that in Administrators, so I place a high priority in getting back to people quickly.  They might not always like the answer or solution, but that timely communicate to solve a problem is exactly why Amazon is one of the best companies in the world.
More Administrators need to be like Amazon!
Amazon admits when they're wrong.

Just today we received this email from Amazon.  They screwed up.  They admitted it.  They didn't send everything with the order for my daughter's class project.  So, they're sending us a replacement at no additional charge.
That will cost Amazon.  It's the price of doing business I suppose.
My wife told me that every time they mess up an order, if you pick up the phone to call them, they will take care of it immediately. They usually just send out a replacement, free of charge, like with this one. That's been our experience at least.
I've made mistakes this year!  Plenty of them.  I wish that I could do some things over here in this first year as an AP.  But I can't.
All I can do is admit failure, and then try to make it up with the constituents I serve, and work alongside.  Nobody likes to work for an arrogant Administrator.  Or one who forgets what it was like to be a teacher.  Or a coach.
I remember working for an Administrator who had an awful idea one time.  The department I was working in as a teacher at the time all thought it was an awful idea.  The Administrator just didn't ask enough questions.  And then this person came in and started to share what the decision and changes would be like.  The room was grumbling.  Instead of asking for input, the AP forced something into being, had zero buy in, and then tried forcing it to happen all school year.
I don't need to tell you how that went.
More Administrators need to be like Amazon!
Amazon works hard to remain authentic
One of the things that my wife likes the most about shopping at Amazon is how you can read reviews.  Some are even labeled "Verified Purchase" so that you know a real person, not some Russian bot, is writing that review.  A real housewife thinks these things, and good or bad, those reviews stay up!  Amazon doesn't cover up those bad reviews, they leave them there.
Amazon does what they say they are going to do, and they do it.  That authenticity is one thing that keeps bringing us back to the online mogul.  When they say I'm going to get some new pants for work by a certain date, I know they will be here.  When my daughter is working on a science project, and needs foam, and the local stores don't have it, we know for certain that we will get what they promise at a certain time.
That authenticity is very important.
That's the kind of Administrator I want to be: one who is trusted because of authenticity.
Nobody likes working for fake people.
More Administrators need to be like Amazon!
QUICK COMMUNICATION AND SERVICE!
HUMILITY! 
AUTHENTICIY! 
3 reasons why more Administrators need to be like Amazon!
Chris Fore has his Masters degree in Athletic Administration, is a Certified Athletic Administrator and serves as an Adjunct Professor in the M.S. Physical Education –  Sports Management program at Azusa Pacific University. He was recently appointed as the President of the California Coaches Association.  He runs Eight Laces Consulting where he specializes in helping coaches nationwide in their job search process.  Fore was named to the Hudl Top 100 in 2017, and the Top 5 Best High School Football Coaches to follow on Twitter by MaxPreps in 2016.  Follow him!