THE DAY BEFORE THE GAME: HELPFUL HINTS/REMINDERS PART 2
This is Part 2 of a 3 Part Series
We left off with talking about Part 2 of practice Practicing the Walk Out and Spell Out.  Let's move on to the Part 3 of practice the day before the game.
At this point, we've probably been out on the field about 15 minutes or so, plus the pre-practice time of about 10-15 minutes. Hydration is key starting the day before the game, so I want to spend a minute with the kids each Thursday talking about hydration on game day, and make it a point to give them a water break right then, to drive the point home:  HYDRATE!  In fact, a few years ago I started making kids run if I saw them on campus without a water bottle on game day especially!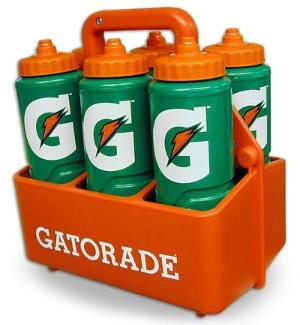 PART 3 – Going Through The Script
I've always been a very detailed oriented coach.  Our practices are scripted out to the minute.  Every coach gets a practice plan with exactly what is going on for every single minute.  The coaching staff sits down and puts together what they need time wise, what team and individual time is needed, etc.  
Our Thursday walk through practice is also a detail-oriented plan.  
I want Thursdays to simulate a game in terms of the Special Teams units coming on and off the field, coaches being on the sidelines, calling our no huddle plays from the sidelines, making substitutions, etc. etc.  Hopefully, we will not encounter something on game night for the first time.  
I read this year somewhere that the Patriots practiced half time during the week of the Super Bowl.  They literally went off the field and in to the locker room for 30 minutes.  We don't get that specific, but we try to simulate a lot of different scenarios.  We do have a half time break during our Thursday practice, but it's only a couple of minutes long.
A good friend of mine and someone I consider a mentor, Perry Krosschell, sent me a great document last year when we were talking about practice philosophy.  Coach Krosschell was the Head Coach at Linfield Christian from 2000-2002, I took over after him.  He did a dynamite job of taking that program from 1-9 to 11-2 in a few short years, and I was fortunate to be on his staff.  He is now the Head Coach at Unity Christian in Orange City, Iowa, and of course, still doing a great job.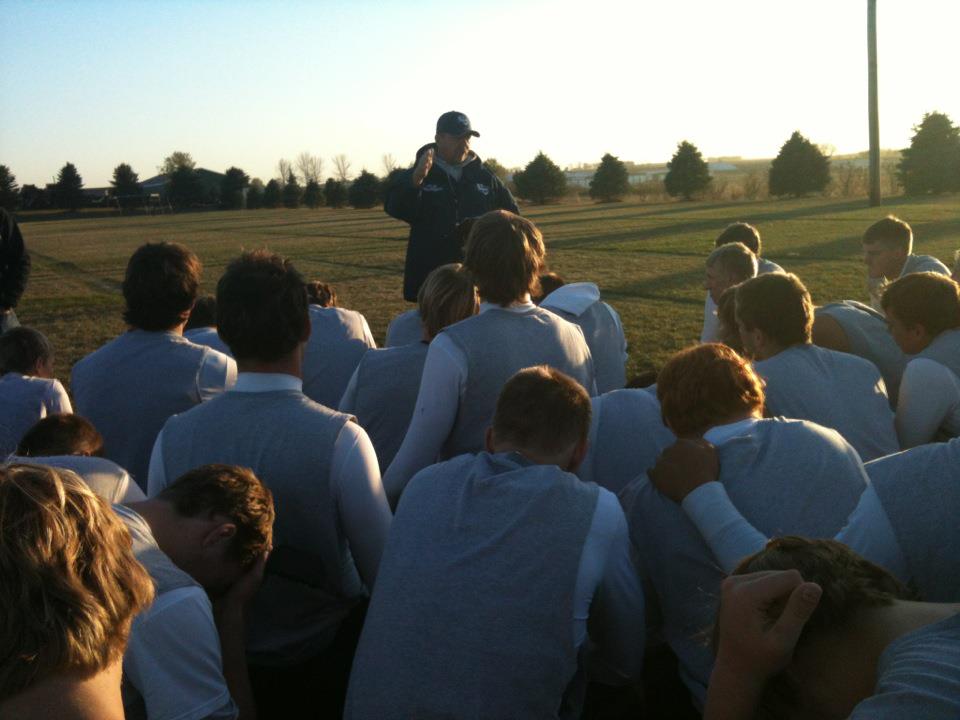 I've always different types of formats like what he sent me last year, but never really loved what I had.  When I saw this last year (below) I fell in love with it, and we used it throughout the course of the season.  
Here is the script we followed every Thursday.  Remember, the coaches and players are all on the sidelines.  We try to simulate the game as much as possible. One coach will act as a referee.  A few injured kids will help spot the ball as we move up and down the field, etc.
-KICK RETURN       
-TEAM OFFENSE: RUN THROUGH FIRST 10 SCRIPTED PLAYS                  
-POINT AFTER TOUCHDOWN KICK
-KICK OFF
-TEAM DEFENSE: VS. SCOUT OFFENSE 10 PLAYS
-TEAM OFFENSE: 8 PLAYS FOLLOWED BY 2 POINT CONVERSION
-KICK OFF
-TEAM DEFENSE: VS. SCOUT OFFENSE 8 PLAYS
-PUNT RETURN FOR A TOUCHDOWN
-PAT FIRE
-KICK OFF ONSIDE RECOVER
-TEAM OFFENSE: 5 PLAYS
-PUNT
-TEAM DEFENSE: VS. SCOUT OFFENSE 5 PLAYS
-PUNT BLOCK FOR SAFETY
-KICK RETURN 
-HURRY UP OFFENSIVE; PRACTICE GETTING INSIDE RED ZONE; PRACTICE SPIKE
-FIELD GOAL
-HALF TIME
-KICK OFF
-TEAM DEFENSE VS SCOUT OFFENSE 2 PLAYS
-PUNT RETURN
-TEAM OFFENSE COMING OUT OF END ZONE
-PUNT OUT OF END ZONE
-GOAL LINE DEFENSE
-FIELD GOAL BLOCK
-TEAM OFFENSE: GO DEEP AFTER BIG DEFENSIVE PLAY
-FIELD GOAL
-KICK OFF
-TEAM DEFENSE: VS HURRY UP SCOUT OFFENSE
-TEAM DEFENSE: VS SWINGING GATE/OTHER GADGETS
-ALLSTATE KICK RETURN TEAM (Our hands team, you are in good hand with Allstate Insurance!)
-TEAM OFFENSE: 2 MINUTE AND HAIL MARY
-PUNT TEAM TO PIN
-TEAM DEFENSE: VICTORY D VS HAIL MAR
-TEAM OFFENSE: VICTORY FORMATION
–FIELD GOALS-LOTS
There you have it!  I'm sure we've missed a few scenarios in there, but you get the jest of it.  My hope is that we have gotten our kids on and off the field in good time, all of our special teams know who they are.  We have talked and walked through many different scenarios.  Our kids and coaching staff should be prepared after this practice.