2011 STATE CHAMPION SCHOOLS FEATURED IN #HOWWEWON BOOK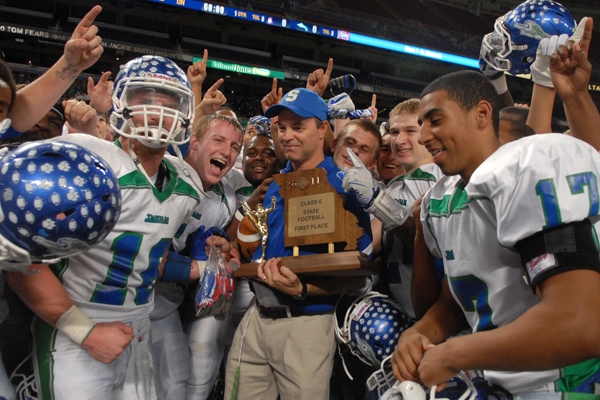 If you aren't a "twitter guy" you might not know why I have the hashtag (#) before HOW WE WON above.  It's what I'm using to promote the book I'm working on about the philosophies of the 2011 State Champion Head Football Coaches. I've titled it How We Won: Inside The Locker Room of State Champion Football Coaches.
To those who listened to me talk about this project on HighSchoolFootballAmerica.com's radio program, welcome!  Thank you for checking it out.  I really appreciate you taking the time to do so.
To date, I've had 107 high schools respond to my query about their 2011 State Championship story.  If you are a 2011 State Champion whom I missed, please send me an email at statechampsbook@gmail.com.
A list of the schools who will be featured in this book are below.  I've really appreciated hearing from these coaches, and reading about their philosophies. This research is simply invaluable!  I've never seen anything like it.  Coaches will now be able to read about what made these teams great.  You will be able to read the philosophies of more than 100 State Champion Head Football Coaches in one place!  I can't wait to have it done for you to read!
You can click on each school to take you to their Maxpreps page!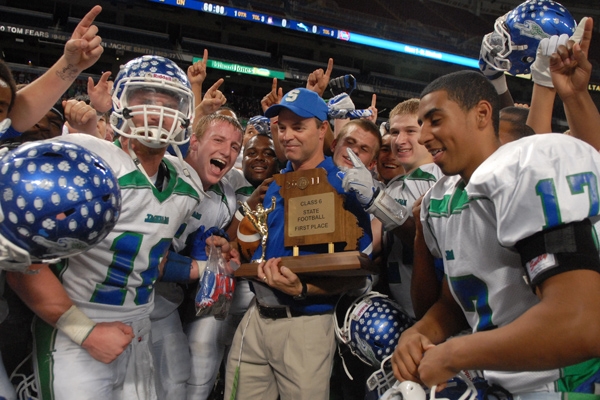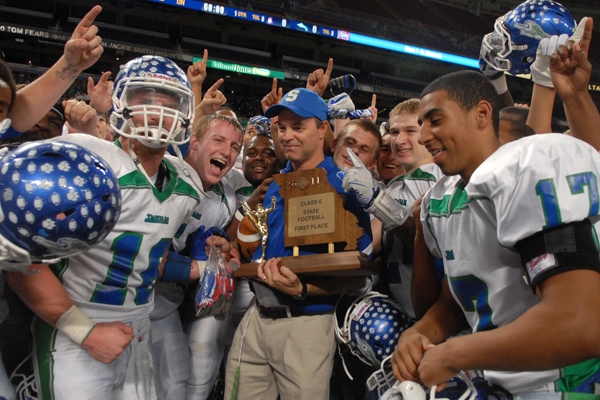 | | |
| --- | --- |
| ALABAMA |   |
| 2A – Elba def. Tanner, 34-14 | Scott Rials |
| 5A – Hartselle def. Vigor (Prichard), 13-3 | Bob Godsey |
| ALASKA |   |
| Large – Service (Anchorage) def. South (Anchorage), 37-23 | Jason Caldarera |
| ARIZONA |   |
| I – Desert Vista (Phoenix) def. Hamilton (Chandler), 45-19 | Dan Hinds |
| IV – Blue Ridge (Lakeside) def. Show Low, 35-14 | Paul Moro |
| CALI |   |
| Bowl I – Santa Margarita (Rancho Santa Margarita) def. Bellarmine (San Jose), 42-37 | Harry Welch |
| Bowl II – Helix (La Mesa) def. Del Oro (Loomis), 35-24 | Troy Starr |
| Bowl IV – Sierra Canyon (Chatsworth) def. Le Grand, 34-13 | Jon Ellinghouse |
| COLORADO |   |
| 2A – Florence def. Bayfield, 34-0 | Mark Buderus |
| 5A – Columbine (Littleton) def. Lakewood, 41-31 | Andy Lowry |
| CONNETICUT |   |
| DELAWARE |   |
| I – Middletown def. Newark, 27-23 | Mark Delperico |
| II – Indian River (Dagsboro) def. Caravel (Bear), 35-13 | Ray Steele |
| WASHINGTON DC |   |
| FLORIDA |   |
| 1A – Jefferson County (Monticello) def. Chipley, 47-13 | Jeremy Brown |
| 2A – North Florida Christian (Tallahassee) def. Admiral Farragut (St. Petersburg), 69-0 | Robert Craft |
| 8A – Plant (Tampa) def. Miramar, 31-20. | Robert Weiner |
| 7A – Manatee (Bradenton) def. First Coast (Jacksonville), 40-0 | Joe Kinnan |
| 6A – Armwood (Seffner) def. Central (Miami), 40-31 | Sean Callahan |
| GEORGIA |   |
| A – Savannah Christian (Savannah) def. Landmark Christian (Fairburn), 20-3 | Donald Chumley |
| AA – Calhoun def. Buford, 27-24 | Hal Lamb |
| AAAAA – Grayson (Loganville) def. Walton (Marietta), 24-0 | Mickey Conn |
| GISA AA – Piedmont Academy (Monticello) def. Burke Academy (Waynesboro) 13-8 | Rhett Farmer |
| GISA AAA – Tattnall Square Academy (Macon) def. Stratford Academy (Macon), 35-12 | Barney Hester |
| HAWAII |   |
| IDAHO |   |
| 2A – Grangeville def. Firth (ID), 36-6 | Matt Elven |
| 1A 8 Man II – Lighthouse Christian (Twin Falls) def. Carey (ID), 34-22 | John Van Vliet |
| ILLINOIS |   |
| ILLINOIS |   |
| 5A – Montini (Lombard) def. Joliet Catholic Academy (Joliet), 70-45 | Chris Andriano |
| 8A – Bolingbrook def. Loyola Academy (Wilmette), 21-17 | John Ivlow |
| INDIANA |   |
| 2A – Bishop Luers (Fort Wayne) def. Mater Dei (Evansville), 41-17 | matt Lindsay |
| 3A – Bishop Chatard (Indianapolis) def. St. Joseph's (South Bend), 21-7 | vince Lorenzano |
| 4A – Cathedral (Indianapolis) def. Washington (South Bend), 42-7 | rick streiff |
| 5A – Carmel def. Penn (Mishawaka), 54-0 | Kevin Wright |
| IOWA |   |
| 4A – Valley (West Des Moines) def. Bettendorf (IA), 17-14 | Gary Swenson |
| KANSAS |   |
| 2-1A – Centralia/Wetmore (Centralia) def. LaCrosse, 20-14 | Larry Glatczak |
| 5A – Hutchinson def. Blue Valley (Stilwell), 33-21 | Randy Dreiling |
| 6A – South (Olathe) def. Heights (Wichita), 41-37 | Jeff Gourley |
| KENTUCKY |   |
| 2A – Holy Cross (Covington) def. Glasgow, 33-14 | bruce kozerski |
| 4A – Highlands (Fort Thomas) def. Franklin-Simpson (Franklin), 42-14 | Dale Mueller |
| 5A – Bowling Green def. Anderson County (Lawrenceburg), 55-3 | Kevin Wallace |
| LOISIANA |   |
| 4A – Neville (Monroe) def. Karr (New Orleans), 27-6 | Mickey Mccarty |
| MAINE |   |
| C – Yarmouth, def. Bucksport (ME), 41-14 | Jim Hartman |
| MARYLAND |   |
| 2A – Middletown def. Douglass (Upper Marlboro), 43-6 | Kevin Lynott |
| MIAA B – Annapolis Area Christian (Severn) def. Boys Latin (Baltimore), 46-13 | Ken Lucas |
| MASSACHUSETTS |   |
| C-2 – Nashoba Regional (Bolton) def. Holy Name Central Catholic (Worcester), 27-0 | Ken Tucker |
| MICHIGAN |   |
| 6 – Ithaca def. Constantine, 42-14 | Terry Hessbrook |
| 7 – Nouvel Catholic Central (Saginaw) def. Pewamo-Westphalia (Pewamo), 56-26 | Mike Boyd |
| 8 – Mendon def. Fowler, 33-0 | John Schwartz |
| 8 Man – Carsonville-Port Sanilac (Carsonville) def. Rapid River (MI), 59-20 | Tim Brabant |
| MINNESOTA |   |
| AA – Caledonia def. Moose Lake/Willow River (Moose Lake), 27-0 | Brent Schroeder |
| AAA – St. Croix Lutheran (West St. Paul) def. Fairmont, 34-32 | Carl Lemke |
| AAAA – Rocori (Cold Spring) def. Bemidji, 17-10 | Mike Rowe |
| MISSISSIPPI |   |
| MISSOURI |   |
| 2 – Lamar def. Lafayette County (Higginsville), 49-19 | Scott Bailey |
| 6 – Blue Springs South (Blue Springs) def. Christian Brothers (St. Louis), 40-37 | Greg Oder |
| 5 – Staley (Kansas City) def. Kirkwood, 35-21 | Fred Bouchard |
| 8 Man – Worth County (Grant City) def. Mound City, 50-20 | C Borey |
| MONTANA |   |
| AA – Capital (Helena) def. Billings West (Billings), 39-14 | Pat Murphy |
| C-6 Man – Denton def. Savage (MT), 72-30 | Scott Sparks |
| NEBRASKA |   |
| NEVADA |   |
| NEW HAMPSHIRE |   |
| II – Bishop Guertin (Nashua) def. Dover (NH), 16-7 | Travis Cote |
| IV – Trinity (Manchester) def. Plymouth (NH), 30-14 | Gary Leonard |
| V – Aquinas (Dover) def. Windham (NH), 49-28 | Eric Cumba |
| NEW JERSEY |   |
| North 2 I – Cedar Grove def. Weequahic (Newark), 34-21 | Ed Sadloch |
| North 2 IV – Piscataway def. Elizabeth, 41-34 | Dan Higgins |
| South I – Glassboro def. Pennsville Memorial (Pennsville), 41-13 | Greg maccarone |
| NEW MEXICO |   |
| NEW YORK |   |
| D – Letchworth (Gainesville) def. Chester, 27-0 | Tim Mcmullen |
| NOTH CAROLINA |   |
| 2A – Tarboro def. Lincolnton, 39-36 | Jeff Craddock |
| 3AA – Northern Guilford (Greensboro) def. Crest (Shelby), 31-7 | Johnny Roscoe |
| NCISAA I – Providence Day (Charlotte) def. Charlotte Country Day (Charlotte) 20-14 | Bruce Hardin |
| NORTH DAKOTA |   |
| AAA – Bismarck def. Century (Bismarck), 21-3 | Mark Gibson |
| OHIO |   |
| II – Trotwood-Madison (Trotwood) def. Avon, 42-28 | Maurice Douglas |
| IV – Norwayne (Creston) def. Kenton, 48-42 | Joe Harbour |
| VI – Marion Local (Maria Stein) def. Buckeye Central (New Washington), 61-21 | Tim Goodwin |
| OKLAHOMA |   |
| 6A – Union (Tulsa) def. Broken Arrow, 23-22 | Kirk Fridrich |
| OREGON |   |
| 2A – Gold Beach def. Scio, 30-0 | Kevin Swift |
| PENNSYLVANIA |   |
| AAAA – Central Dauphin (Harrisburg) def. North Penn (Lansdale), 14-7 | Glen Mcnamee |
| RHODE ISLAND |   |
| I – Bishop Hendricken (Warwick) def. La Salle Academy (Providence), 17-14 | Keith Croft |
| SOUTH CAROLINA |   |
| Class AAA – South Pointe (Rock Hill) def. Bluffton, 42-27 | Strait Herron |
| Class AAAA-Division I – Byrnes (Duncan) def. Gaffney, 31-24 | Chris Miller |
| Class AAAA-Division II – Goose Creek def. Greenwood, 37-21  | Chuck Reedy |
| SCISA A – Colleton Prep Academy (Walterboro) def. Holly Hill Academy (Holy Hill), 29-8 | Neil Minton |
| SCISA AA – Hilton Head Christian Academy (Hilton Head Island) def. Sumter Academy (Dalzell), 35-21 | Tommy Lewis |
| Class AA-Division I – Timberland (St. Stephen) def. Woodruff, 20-3 | Art Craig |
| SCISA AAA – Hammond (Columbia) def. Wilson Hall (Sumter), 13-9 | Erik Kimrey |
| SOUTH DAKOTA |   |
| Class 9AA – Bridgewater/Emery/Ethan (Bridgewater) def. Kimball/White Lake (Kimball), 36-24 | Jeff VanLeur |
| Class 11AA – Roosevelt (Sioux Falls) def. Washington (Sioux Falls), 31-17 | Kim Nelson |
| Class 9B – Waverly/South Shore (Waverly) def. Avon (SD), 58-24 | Billy Kirch |
| Class 9A – Canistota def. Wall (SD), 66-6 | Lenny Schroeder |
| TENNESSEE |   |
| Division II-Class A – St. George's (Collierville) def. University School of Jackson (Jackson), 28-23 | Brent Hill |
| TEXAS |   |
| 1A 6-Man Division 1 – Throckmorton def. Borden (Gail), 48-36 | Michael Reed |
| 1A Division 2 – Tenaha def. Munday, 52-28 | Terry Ward |
| 2A Division 1 – Melissa def. Hempstead, 28-15 | Seth Stinton |
| 2A Division 2 – Refugio def. Cisco, 36-35 | Jason Herring |
| 3A Division 1 – Chapel Hill (Tyler) def. Alvarado, 20-19 | Thomas Sitton |
| 4A Division 1 – Lake Travis (Austin) def. Midway (Waco) 22-7 | Hank Carter |
| 5A Division 1 – Carroll (Southlake) def. Hightower (Missouri City), 36-29 | Hal Wasson |
| 5A Division 2 – Dekaney (Houston) def. Steele (Cibolo), 34-14 | Willie Amendola |
| TAPPS Division I – Nolan Catholic (Fort Worth) def. Kelly Catholic (Beaumont), 27-10 | Joe Prudhomme |
| TAPPS Division II – Midland Christian (Midland) def. Concordia Lutheran (Tomball), 35-23 | Greg Mcclendon |
| TAPPS Division IV – Sacred Heart (Hallettsville) def. St. Paul (Shiner), 21-7 | Pat Henke |
| TCAF Division I – Lucas Christian Academy (Lucas) def. Trinity (Midland), 73-69 | Leroy Willis |
| UTAH |   |
| Class 4A – Logan def. East (Salt Lake City), 18-11 | Mike Favero |
| VERMONT |   |
| 1 – Hartford (White River Junction) def. Middlebury (VT), 42-6 | Michael Stone |
| VIRGINA |   |
| 2 – Gretna def. Goochland, 21-16 | Kevin Saunders |
| 6 – Oscar Smith (Chesapeake) def. Centreville (Clifton), 47-21 | Richard Morgan |
| VISFA 2 – Christchurch School (Christchurch) def. Potomac School (McLean), 48-15 | Ed Homer |
| WASHINGTON |   |
| WEST VIRGINA |   |
| A – Wheeling Central Catholic (Wheeling) def. Williamstown, 35-21 | Mike Young |
| WISCONSIN |   |
| Division 2 – Waunakee (WI) def. Waterford (WI), 45-0 | Pat Rice |
| WYOMING |   |
| 6 Man – Little Snake River (Baggs) def. Dubois, 54-33 | Mike Bates |
| 4A – Sheridan def. East (Cheyenne), 42-14 | Don Julian |