CHARACTER BUILDING – 2013 Survey Results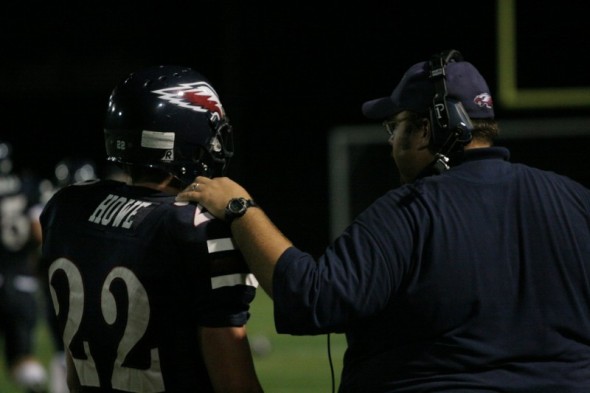 Did your coaching staff make an attempt to coach "off the field" issues like: character, Grade Point Average, becoming a man, etc?
 86% of coaches nationwide who participated in my survey answered YES.
The answers in italics below are directly from this survey.  I did not correct spelling, grammar, etc.  Just kept their responses there. My responses are in CAPITAL letters.  I hope we all learn something from this survey.
(Please know that I'm not being a paid a penny to promote this stuff Coaches!!!  Just putting links up to help you, and point you in the right direction!  Just sharing what others are using.)
1.  Yes our principals are always 1. Academics we keep on our kid's about grades and if they need help after school they are excused from practice we do not allow kid's grades to drop below a C 2. Family 3.Football 4.everything else.  Pat Keehan HFC Gibraltar Schools Fish Creek, WI
GREAT TO HAVE PRINCIPLES LIKE THIS, CAN BE VERY TOUGH TO ENFORCE.  GOOD FOR YOU GUYS!  MONITORITING STUDENT-ATHLETE GPAS JUST MIGHT BE THE MOST COMMON COACHING ERROR THAT COACHES MAKE.  A LOT OF COACHES ONLY CARE WHEN IT IS GOING TO HURT AND EFFECT THEM.
2.  Nowhere near what was needed.  –  I am only an assistant and Head Coach probably wouldn't like some of these responses 
A TYPICAL ANSWER FROM THIS SURVEY.  MOST PROGRAMS AREN'T DOING NEARLY ENOUGH.  ALTHOUGH 86% SAID THEY ARE DOING SOMETHING, MY GUESS IS THAT IT ISN'T "ENOUGH."  MANY COACHES THINK THAT SIMPLY REMINDING KIDS TO BE GOOD CITIZENS AND GET GOOD GRADES IS ENOUGH.
3.  It wasn't proactive and organized; it was very much dependent on teachable moments.  – Anonymous
I REALLY THINK THIS IS THE MOST IMPORTANT KEY IN HAVING A CHARACTER BUILDING PROGRAM AS PART OF YOUR FOOTBALL OR ATHLETIC PROGRAM.  IT NEEDS TO BE PROACTICE AND ORGANIZED IN SOME FORM OR FASHION.  HAVING A DISCUSSION ONCE A WEEK FOR 20 MINUTES, HAVING DIFFERENT COACHES OR THE SAME COACH ALL SEASON TEACH A CHARACTER LESSON FOR EXAMPLE, IS WHAT SOME PROGRAMS DO.  IF IT ISN'T PROACTIVE AND ORGANIZED, YOU PROBABLY AREN'T GETTING AS MUCH CHARACTER DEVELOPMENT IN AS YOU COULD.
4.  During defensive team meetings we would award helmet stickers for the student athletes that would excel in the classroom. I would bring up current events and try to relate them to how we treat people in school and in the community. – Dan Smaha, Varsity Defensive Co-ordinator, Dekalb High School, Dekalb, Illinois
I LOVE THIS IDEA!  HELMET STICKERS FOR CLASSROOM EXCELLENCE.  I'M GOING TO STEAL THIS IDEA FOR MYSELF.  THANKS COACH!
5.  Constantly grade checks year round and in summer school reminded them of our 3 rules: 1 – do not break the law or a school rule 2 – do not drink or smoke 3 – be respectful to all humans, especially women. Mike Parodi Head Coach Hillsdale HS, San Mateo, CA
I REALLY LIKE THESE THREE RULES.  I'VE SEEN SOME COACHES THAT HAVE SOOOOOOOO MANY RULES, POLICIES, PRACTICES IN THEIR FOOTBALL PORTFOLIOS.  IT'S IMPOSSIBLE TO MANAGE THEM ALL.  THESE RULES, AND MORE IMPORTANTLY, ENFORCEMENT OF THEM WILL HELP TO BUILD MEN OF CHARACTER.
6.  Aside from myself, no in fact I benched my best two players for breaking team rules and defying me. Instead of backing up my decision. My younger coaches went to the players and portrayed me as the bad guy. It all worked out those younger coaches are fired.  – Anonymous
COACH, KUDOS TO YOU!  NOT SURE IF YOU ARE THE HEAD COACH, OR A COORDINATOR.  YOU MADE THE RIGHT CHOICE.  DON'T WASTE TWO BREATHS ON THE YOUNGER COACHES WHO LOOKED TO PLAYERS FOR ACCEPTANCE BY THROWING YOU UNDER THE BUS.  I WAS JUST GOING TO SAY THAT TIME WILL TELL ABOUT THEIR FUTURE, AND I JUST READ THEY WERE FIRED.  CLASSIC.
IN 8 YEARS OF BEING A HEAD COACH, I'VE ONLY NOT ALLOWED ONE KID TO PLAY.  HE FAILED TO SHOW UP FOR THE TEAM CHOSEN, TEAM MANDATED 80% OF OUR SUMMER WORKOUTS.  SHOWS UP ON SECOND DAY OF CAMP.  WALKS OUT IN BARE FEET, NO SHIRT ON AND SAYS "COACH, HEARD YOU NEED A (HIS POSITION).  I SAID "NO, WE'RE GOOD, MAYBE NEXT YEAR."  HE WAS A RETURNING STARTER.  HE LAUGHED AND KEPT WALKING TOWARDS THE FIELD.  AN ASSISTANT TOLD HIM HE WASN'T WELCOME THIS YEAR.  OF COURSE, DAD AND HE WERE IN THE ATHELTIC DIRECTOR'S OFFICE 15 MINUTES LATER, AND I WAS CALLED IN FOR A MEETING RIGHT AFTER PRACTICE.  I'M HAPPY TO REPORT THAT THE AD AND PRINCIPAL SUPPORTED MY DECISION.  HE WASN'T ALLOWED TO PLAY.
DURING A WATER BREAK ABOUT 10 MINUTES AFTER THIS KID SHOWED UP, MY FOUR CAPTAINS CAME OVER TO ME.  AT FIRST I WAS THINKING "GREAT, THEY ARE GOING TO BE PISSED AT ME."  IN FACT, I WAS IN MY FIRST YEAR AS A HEAD COACH!!!  27 YEARS OLD!!  THEY SAID "COACH, THAT'S THE GREATEST THING THAT COULD HAVE HAPPENED FOR THIS TEAM!
THAT SINGLE ACT CHANGED THE DYNAMICS OF OUR OFFSEASON PROGRAM FOR YEARS TO COME!  KIDS KNEW THAT OUR RULES MEANT SOMETHING.  AND THAT KID WHO HAD TO WALK AWAY LEARNED A WHOLE LOT ABOUT CHARACTER, BEING A MAN OF RESPONSIBILITY, ETC.  IN FACT, THE NEXT OFFSEASON I THINK HE MISSED 2 OR 3 DAYS, THAT'S IT!  THEN, HE EARNED A DVISION 1 SCHOLARSHIP AND PLAYED IN THE SUGAR BOWL A FEW YEARS AFTER THIS OLD IDIOT COACH DIDN'T LET HIM PLAY HIS JUNIOR YEAR!  IF YOU COACH LONG ENOUGH, YOU'LL HAVE TO DO STUFF LIKE THIS.  TOUGH DECISIONS, BUT NONE PAY HIGHER DIVIDENDS IN TERMS OF TEACHING YOUR TEAM CHARACTER.
7. We develop our own curriculum that we call "Senior Leadership Seminar" We develop it based on the needs of each individual team. – Brad Burchfield, Head Football Coach Bishop Hartley High School Columbus Ohio
I'M GOING TO REACH OUT TO COACH BURCHFIELD TO SEE WHAT THIS SENIOR LEADERSHIP SEMINAR IS ALL ABOUT.  I'M GOING TO ASK HIM TO SHARE SOME OF THOSE IDEAS HERE ON THE BLOG.
READ THIS ARTICLE ABOUT A FEW IDEAS COACH BURCHFIELD USES, GREAT STUFF!  
8.  Study hall daily; community service projects, ex. Santa's workshop at homeless shelter; going to a local elementary school bi-weekly and reading to students. – Mike Hart, Wide Receivers Coach, South County HS, Lorton, VA
THERE ARE SOOOOOOO MANY COMMUNITY SERVICE PROJECTS OUT THERE AND AVAILABLE IN EVERY SINGLE COMMUNITY AROUND.  PARTNERING WITH LOCAL SCHOOLS IS A REALLY GREAT IDEA.  HELPS THEM, HELPS SPREAD WORD OF YOUR OWN PROGRAM.  I'VE HAD MY PLAYERS WEAR THEIR JERSEYS WHILE READING TO LOCAL ELEMENTARY KIDS BEFORE.  IT'S A WIN-WIN-WIN!  TEACHING KIDS TO THINK OUTSIDE OF THEMSELVES BY DOING THIS TYPE OF STUFF IS GREAT, AND DEFINITELY A CHARACTER BUILDER!
9.  We had weekly Leadership Council meetings discussing traits of good leaders and any team issues we could improve. Would HIGHLY recommend! Also, we do weekly grade, tardy, and missed assignment checks. No failing grades! Players became accountable. B average was the standard. – Clint Rider, Head Coach, Hesston High School
I CAN'T STRESS ENOUGH HOW IMPORTANT IT IS TO HAVE A LEADERSHIP COMMITTEE OF SOME KIND.  YOU WILL NOT TEACH ANY MORE CHARACTER THAN MEETING WITH A GROUP OF KIDS YEAR ROUND THROUGH A LEADERSHIP COMMITTEE LIKE THIS.  YOU WILL BE ABLE TO TEACH SO MANY SKILLS DOING SOMETHING LIKE THIS THAT WILL HELP THEM FOREVER.  MY PLAYER COMMITTEE MEETINGS HAVE BEEN THE HIGHLIGHT OF MY WEEKS FOR SO MANY YEARS.
I'VE WRITTEN EXTENSIVELY ABOUT THE PLAYER COMMITTEE FORMAT I USE AS A HEAD FOOTBALL COACH. 
SAMPLE PLAYER COMMITTEE AGENDA
10.  We used the wooden pyramid of success and made them into weekly lessons. – Jeff Steinberg HFC Santiago HS
11.  The national guard program is a great character building program. – Bill Godsil, Head Football Coach, Sturgis Brown High School, Sturgis SD
12.  Social Media education was our focus. – Anonymous
OUTSTANDING!  SOCIAL MEDIA EDUCATION IS KEY THESE DAYS.  ANY COACHES NOT DOING SOME FORM OF SOCIAL MEDIA EDUCATION IS EITHER: PUTTING THEIR HEAD IN THE SAND, OR THEY JUST DON'T CARE.  KIDS SHOW A LACK OF CHARACTER ON SOCIAL MEDIA MORE THAN ANY OTHER PLACE OR FACET OF THEIR LIVES!  A CHARACTER EDUCATION PROGRAM IN 2014 MISSING SOCIAL MEDIA EDUCATION IS LIKE THINKING IT'S RELATIVE TO TEACH OUR KIDS HOW TO DRIVE A WAGON TRAIN!!!  GET WITH THE TIMES COACH!
HERE IS A SOCIAL MEDIA POLICY I'VE USED, FEEL FREE TO STEAL IT!
13.  Character was huge topic all season long. There were a lot of character issues in the past couple of seasons that really hurt the program. – Randy Elenberger, Co-Offensive Coordinator, Video Coordinator, Offensive Line Coach, Minnesota State Community and Technical College, Fergus Falls, MN
NOTHING WILL RUIN YOUR PROGRAM MORE ON YOUR CAMPUS, IN YOUR COMMUNITY, IN YOUR STATE, MAYBE THE NATION THAN POOR CHARACTER CHOICES.  ESPECIALLY IF THEY END UP IN THE MEDIA.  STUEBENVILLE FOOTBALL NOW HAS A WHOLE DIFFERENT RING TO IT THAN IT DID BEFORE THE WHOLE MESS THAT IS GOING ON THERE NOW.
14.  Coaching to Change Lives. – Jeremy Gemig, Offensive Coordinator, Nathan Hale High School, West Allis, WI
15.  Weekly grade checks- John Grayson, Varsity Outside Linebackers, Glenbard South High School, Glen Ellyn, IL
I'VE USED THE POLICY WHERE IF THEY DON'T HAVE THEM ON WEDNESDAY AT PRACTICE, THEY DON'T PLAY FRIDAY NIGHT.  HAVE ONLY HAD TWO KIDS MISS THAT DEADLINE.  1 STARTER, 1 BENCH KID. NEITHER ONE PLAYED THAT FRIDAY NIGHT.  IT HURT US.  ONE OF THOSE KIDS QUIT BECAUSE OF IT.  WE WERE BETTER AS A TEAM WHEN HE WAS GONE.
16.  Check out character and leadership curriculum called SALT. – Anonymous
17.  Use a lot of stuff from Tim Elmore. – John Bronkhorst, Head Football Coach, Dallas Lutheran School
18.  Last year we used Tony Dungy's Dare to be Uncommon. Excellent! – Scott Stidham, head coach, South Gibson County HS. Medina, TN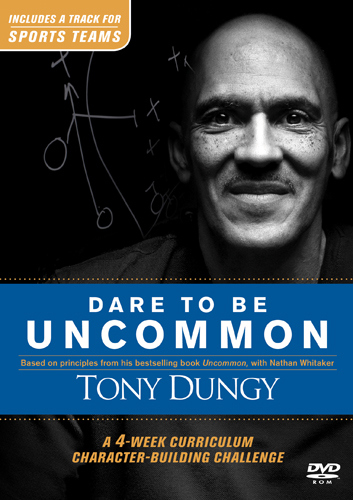 19.  Bruce brown – Anonymous