A New Beginning, A Second Time: Interview With A New Head Coach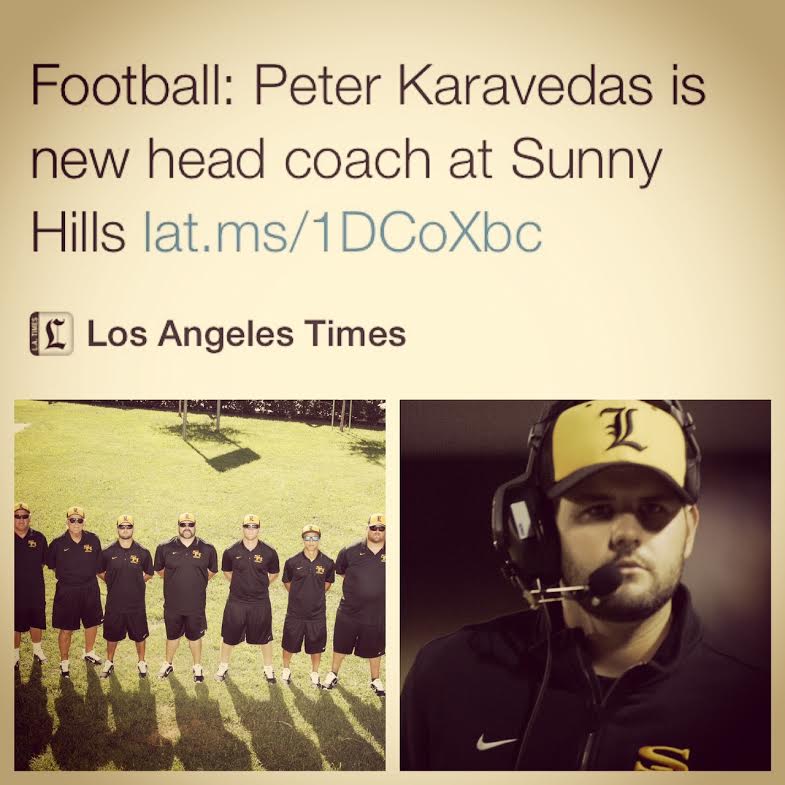 I sat down with a friend of mine, Pete Karavedas, at the Glazier Clinic in Los Angeles during the last weekend in February to catch up with him about his new Head Football job at Sunny Hills HS in Fullerton, CA.  He was named the new man back in December.  He was there for two years as the Defensive Coordinator.  Pete is also an AP History Teacher on campus.
He gives some great insight and advice to assistant coaches aiming for that first head job, and discusses his first 60 days on the job!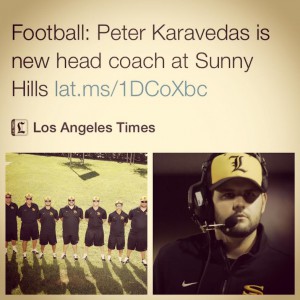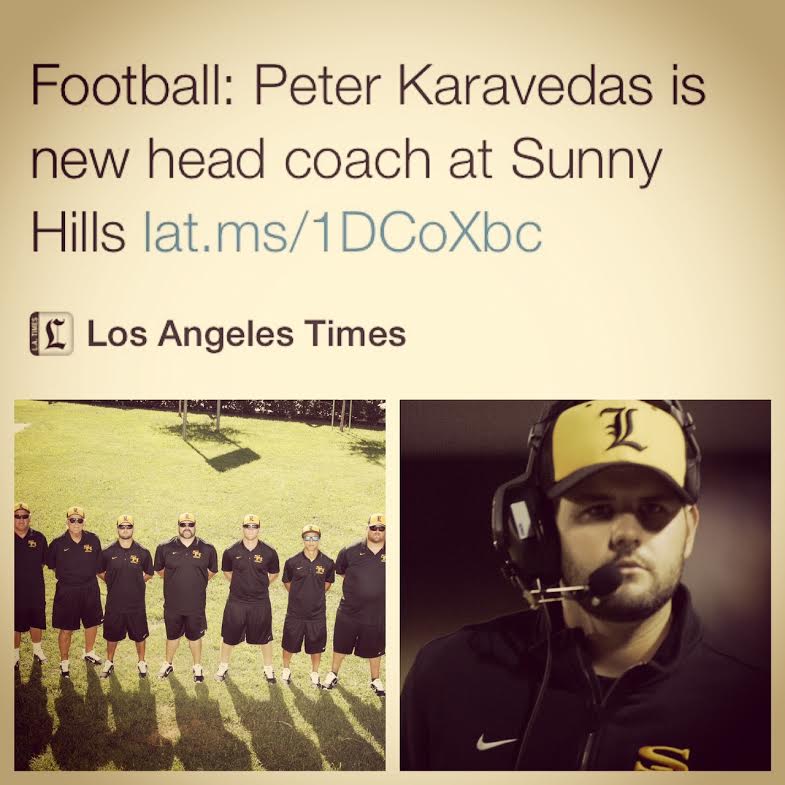 COACH FORE: What advice do you have for coaches out there who want to become a Head Coach one day?
Coach Karavedas: I think you find the best program to get involved with.  Being a part of a successful program as an assistant gave me insight on how things should be ran.  If you win some games as an assistant, as a coordinator, people respect that.  People feel that this guy comes from a program that knows what they are doing.  So even though I was 26 years old when I got my first head job, two years prior, I was a D Coordinator for teams that went to the semis and went to the finals.  People said, "Okay, he's young but he's been around a quality program, so even though he is not a Head Coach, we will take a chance on him."  So whether that was a D. Coordinator or a position coach, if you are around a quality program you will learn kind of what it is supposed to look like.  That was beneficial for me.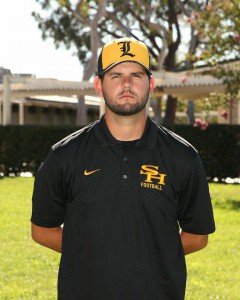 COACH FORE: Do you think it is more important to move up that ladder even if you are changing schools or stay with one quality program?
Coach Karavedas:  It depends on where or not you are a teacher. When you change schools, if it is a teaching job, I would caution against that.  We are not college coaches, our teaching job is our livelihood, not football.  If you are walk-on, it's not a big deal, but changing a teaching job is a huge gig to switch around, so there are factors you have to consider.
Also to consider, when people move around a little too much, that can be a red flag.  I got a resume the other day for somebody and the guy had 10 jobs in I think 11 years.
COACH FORE: You've put together two staffs now.  What two pieces of advice you would have to guys trying to get a job as an Assistant or Coordinator job at the Varsity level?
Coach Karavedas: I got a lot of my resume experience and philosophy from you, the bullet points is the way to go. When I showed you my resume it was a whole paragraph for everywhere I have been!  I am teacher, and when I grade a paper, I rather not to sift through the paragraph, I would rather see the bullet points, so that was number one.
A resume needs to show tangible things that you could look at.  Even a guy who was the offensive coordinator with a school that was 1-9 about two years ago, gave me a really good resume that had tangible things. He showed they had approved even though they went 1-9, he had something to tell me that he had done.
COACH FORE: You saw that he did something with what he had? 
Coach Karavedas: Yes, but beyond a resume, if I get a phone call from somebody I trust and on your behalf, it goes way farther than any resume.  Bottom line is, can somebody I trust vouch for you?  If that's the case you are going to get an interview.
COACH FORE: So they get into the interview room with you – what is one piece of advice you give guys going into interview for a Coordinator or Assistant job at varsity level?
Coach Karavedas: I would say be somebody who wants to be a part of what is going on, not a guy who comes in with his own personal agenda.
Rule number one is look at the impact on kids.  If you are looking to impact kids and that's where your heart is at, we can work with everything else.  If I've got guys on staff that knew football really well, but does not really look into impact kids and they won't work out too well.  I've had guys on staff that maybe they were learning the game a little more intricate, but man they had a heart for kids, I'll take that guy over anybody else.
COACH FORE: What have been the differences between taking over as a Head Coach in a program where you were already a Coordinator, and taking over a brand new program like you did at Maranatha (where he was not on staff)?
Coach Karavedas:  I would say the biggest thing is I know the culture of my school community, my neighborhood community and my league here at Sunny Hills.  When I took over in Maranatha, it was another private Christian school, and coming from Whittier Christian, I thought "This is another private Christian school."  But what I did not understand was that the culture of Pasadena, and the culture of Whittier/La Habra are very different.  From a socioeconomic standpoint, from a demographic standpoint, the cultures were different and so therefore, I fit a little bit differently in both situations.
The advantage I have at Sunny Hills is that I understood the culture and I believe in it because I've been here for two years.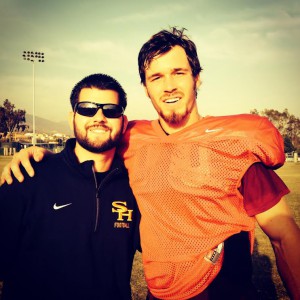 COACH FORE: Two months ago when you took over, what was the very first thing you did as the new head man?
Coach Karavedas: The very first thing was solidify the staff.  Again, I was totally blessed that I was able to retain a lot of our staff that was on.  We have, particularly this year, a great staff.  We built a great staff the last couple of years.  We didn't have a great staff when we got here.  Jon (Caffrey, the former Head Coach and current Athletic Director) released his whole staff at one point three years ago, everyone.
Everybody who I wanted to come back, came back, with no exceptions.  There was one coach I felt that he didn't believe in what we were doing and we decided to part ways.  But other than that, the priority was making sure that these are quality coaches. I can say that we have awesome coaches that love our kids, that believe in our kids and they are all coming back.  The real value in high school coaching, in my opinion, is assistant coaches.
COACH FORE: So you were the D.C. last year, are you going to remain a D.C. or did you find one?
Coach Karavedas: No, I am going to remain the D. Coordinator for now.  We have our D. Line Coach, our Linebacker Coach.  Our D. Line Coaches who had been at Sunny Hills for a long time, played at Sunny Hills and was coaching lower levels and just this last year we got him to come into varsity, and he is doing great for us.  I was able to hire a Defensive Back Coach and move our guy who was kind of pulling double duty  D.B.s and Running backs and make him technically the Offensive Coordinator.
COACH FORE: How long did it take you to get your staff in place?
Coach Karavedas: As far as every single last guy, it took me probably a little less than two months.  To be perfectly honest, I was looking to fill two spots and that was really just finding those right two guys.  Some guys came in and didn't work out, some guys came in and just wasn't the right fit.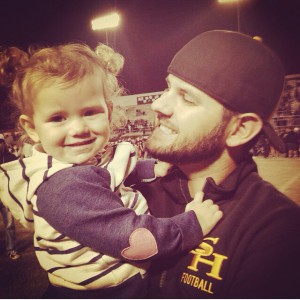 COACH FORE: What was your next priority after filling your staff?
Coach Karavedas: I met with the seniors immediately, talked about them with my expectations and their expectations.  We're on 3-7 my first year and lost six games, but a total of 36 points.  We lost games by: 1, 3, 4, 7, 8, and 13 points.
The following year turned that around a bit, 5-5.  Now, a lot of those kids played as sophomores on varsity, played then as juniors, and now they are seniors. We said as a staff, "If we want to be better, we have to be willing to do more" and I don't say "You", I say "We," as coaches, players, everybody.  We have to be willing to push ourselves farther and so we met with them and talk with them about our expectations for them.
Over Christmas break, continue to solidify the staff, put together a workout plan.  I met with a good friend of mine who the strength coach at Orange Lutheran to talk with him about some ideas to setup our off-season program..
COACH FORE: You get back, you start the off-season as the Head Coach; it is always a tricky transition becoming the Head Coach from an Assistant role.  How has that been for you?
Coach Karavedas: I was the Assistant Head Coach for the last 2 years and the former Head Coach is the Athletic Director, so a lot of the logistics I was doing anyway.  What is great is the kids have responded very well when I got the job. I met with every single senior individually and that took me a couple of weeks to do that and had a one-on-one with each of them.
COACH FORE:  What did you talk about during that time?
Coach Karavedas: We talked about how they feel and their season went.  It was kind of like an almost exit meaning about how did you feel about how your last year went, what you are looking forward to this year, gave them my feelings on where they are at.  It was very positive.  I want everyone to feel really positive in the off-season. And then I wrote things down, things that I picked up from those meetings.
COACH FORE:  What were you looking forward to the most about this coming season?
Coach Karavedas: I think experience brings a lot.  I saw that at Whittier Christian we went 4-6, but we played a lot of Sophomores.  The following year we went some more games when they were Juniors.  The following year we went to the finals when they were Seniors.  The way kids look on a Friday night before they play a football game…was it first rodeo, when they done a little bit and when they were a Senior's experienced, I am looking forward to have a group of experienced kids with the level of confidence as the Sunny Hills football has not seen in a long time.  I don't know if that means when a league game, which we haven't done in 5 years, but that is what I am hoping for and working toward.