From The Penthouse To The Outhouse And Back: Ups And Downs Of Coaching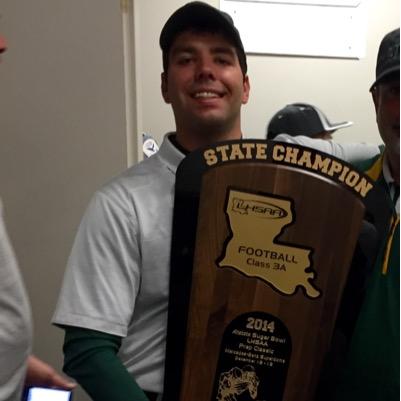 This is a great guest post from Coach Dexter Thurber, the Special Teams Coordinator/Running Backs Coach (my same 2 positions!) at Live Oak High School in Watson, LA. Follow him on twitter here.
December 13th, 2014.
A date I will remember for the rest of my life. Our destiny was fulfilled, the Livonia Wildcats had completed a mission that began with a double overtime loss in this very game a year ago and had just finished dominating the Amite Warriors to be crowned 2014 LHSAA 3A State Champions.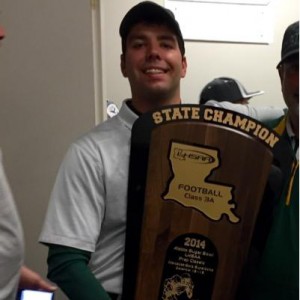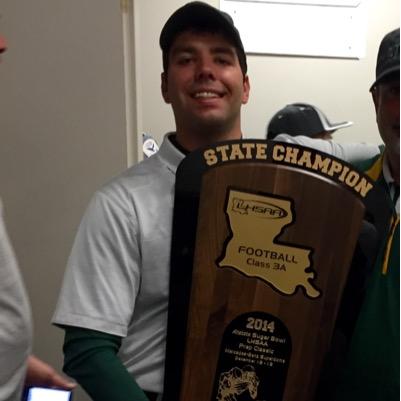 Tonight, March 1ST 2015, I sit here waiting on my new teaching position to open up at Live Oak High School where I will be Special Teams Coordinator and Running Backs coach. Thankfully my wife has an amazing career, which has allowed this move to be possible; word of advice to any young single coaches out there, find a girl that GETS IT. Mine is the daughter of a highly successful coach so she understands our business in ways many others could not which has been so very important during the last few weeks.
Now I know a few of you are sitting here trying to put two and two together, let me shed some light on this. After our runner up finish a year before we lost half of our staff including our Head Coach, Offensive and Defensive Coordinators to other opportunities offering more money, promotions, etc. I had one school inquire about me but it just wasn't a good fit, so despite the uncertainty I stayed put. This season was one of huge excitement and change. I would be lying if I told you I was thrilled with all of the changes but I will admit I did learn a lot and get a chance to see different perspectives, which as you know in this business is always a good thing.
Still, I could tell that win, lose or draw that it would be time for me to move on to other challenges and honestly get closer to home. I was driving fifty minutes to work every morning and depending on traffic in the evening it could stretch out to almost an hour and twenty. This was one thing when I was single but being married now I wanted to see my wife and be available to do stuff besides work and sleep. I love working I mean face it we are all busy in the fall but if I'm not working on football I sure as hell didn't want to be stuck in traffic. Things were great at Livonia, I just was ready for a change and we had completed our mission so I expected there to be some opportunities if I wanted them.
Once the season came to an end and the celebrations stopped, I was about to return from Christmas break and a coaching buddy who happened to be the Head Coach of an extremely good 4A Team in our area had an opening.
My eyes lit up. It was a place I had always been intrigued by.  Amazing facilities, high pay, and athletes stacked to the celling.  I made arrangements to go meet with this coach and immediately wanted the job and let it be known I was 100% in. From a football standpoint I don't regret that one bit. It was a sweet gig, it really was and I expect to see them playing for the LHSAA 4A State Championship in the next few years. This wasn't a rebuild, it was a reload and I was coming in to run the Special Teams. The assistants were great, the kids on the team seemed great but something was terribly wrong. What might you ask? THE CLASSROOM.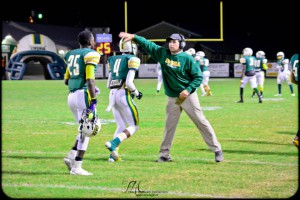 At Livonia I had worked my way up to a PE slot in the gym and really had gained a positive reputation with the students and teachers as someone who was a pretty good teacher and someone who when he was in the classroom had management down to an art. Almost immediately at this new school, things just didn't seem right. My first day I was given a key and turned loose, while on paper that sounds like every coach's dream don't fool your self. It is not. The class I took over at the end of January had not had a teacher since November and had gone though many subs. I had never taught Jr. High before and boy was I in for a rude awakening. Classroom Management that had been a strong point of mine quickly turned into chaos and over the course of my three weeks there it got worse and worse. I came home on day three or four and realized I had made a huge mistake but once again I reminded myself how awesome football was going to be and how much I liked all of the coached so I figured they would get better.
They never did, it got worse. Their discipline structure was different than I was used to and frankly I should have realized before I accepted the job that I was not a Jr. High Teacher.
Let me repeat that….I AM NOT A JR. HIGH TEACHER. If some of you have never done it, don't. It is a different world, which brings me to the main point of this article.
DO NOT LET COACHING BE THE ONLY REASON YOU TAKE A JOB.
It is funny to hear myself say that as I have been an advocate of not dissecting which part of my pay is for coaching and which is teaching, in my view I was a coach and a teacher and it was interchangeable. I still feel that way but after my experiences recently it has become clear that before you make a jump you need to look at everything and dissect it. When it's not football season you will be in that classroom and you need to be able to at the very least feel not only comfortable but go in there everyday with the right mindset. If you aren't in a good environment a job you love will quickly turn into a hell that burns you out.
Three weeks in I reached my breaking point, after discussing things with my head coach about the situation earlier in the week I kept trying to make it work or even just show a small glimmer of things getting better, that never happened. I know my limitations and what I can tolerate and what I can't and after meeting with the Principal we decided that this was just not a good fit, we shook hands and he actually apologized for bringing me over and disrupting things in my life.
For the first time since college I was unemployed and it scared the hell out of me. 
I identify myself as a football coach, a leader of men, and teacher and at this moment of time I was Dexter Thurber: quitter. This did not sit well with me at all because as I said I really was excited for football and felt I let those kids and the coaches down. I have talked some to that Head Coach and he says he understands but still to quit something is not me and it bugs me but at the same time that is in the past now and I have to keep pushing forward.
Around the same time another friend who had just gotten the job at a 5A school in our area that had a brand new campus but had never really been relevant in football called me and wanted me to come on board. He knew my situation and totally understood as he was coming from a similar environment. I went and met with him, his principal and watched a workout. This felt right, the classroom/school environment is a complete 180 and football presents a great challenge but it's a challenge that can be accomplished with community support, resources and dedication which we have by the truckload. The caveat is I have not started working officially yet as I am waiting on a maternity position sometime this month and then a full time for the fall, but I have started doing football work and attending workouts and I am extremely excited about this opportunity.
Now the point of this article is not to scare you into not taking a leap.
In our profession we switch jobs, it's the nature of the business and I encourage all people to explore opportunities that interest them. You need to feel as if you are challenged and you are growing or you end up unhappy and a unhappy coach is not effective or fun to be around.
My advice to you is to be sure you look at the WHOLE situation. Know what you will be teaching, what's expected of you, etc. That way you have the tools to make an informed decision and can help grow your career and achieve your goals with out getting sidetracked.
I hope you guys got something from my personal experiences, this is a crazy profession but I wouldn't switch to something else for anything.  Just remember to always network. Networking has allowed me to escape the depths of hell so to speak.
Remember that head coach you meet in a clinic might work for you one day and the assistant you hire might hire you. Treat everyone with respect and be professional…but most of all have fun because at the end of the day we have the job that millions of men in the United States wish they had.
If I can ever be of assistance to any of you, please do not hesitate to email me DEXTERTHURBER@GMAIL.COM
KEEP PUSHING FORWARD!