CHAMPIONS' LOCKER ROOM: #1 Ranked Team In Florida, St. Thomas Aquinas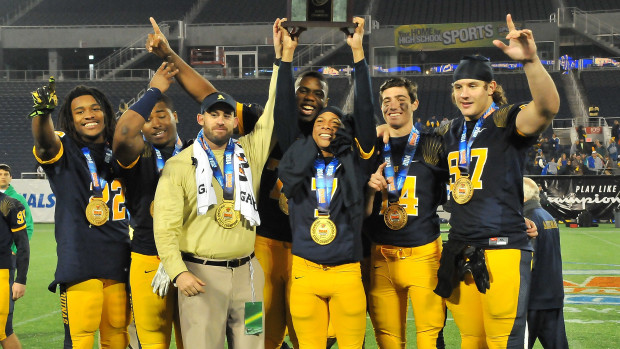 Coach Rocco Casullo and his strong staff of assistants led their team to the #1 ranked spot in Florida, and a Class 7A State Championship in 2014!
MaxPreps National Rankings had them at #8 in the Nation.
They were 14-1 with their sole loss to Don Bosco Prep in New Jersey.  The Raiders shut out 7 opponents, and gave up just 84 points in 16 games!  They had an astounding 16 student-athletes sign NLIs on February 4th.
This was their second 7A State Championship in the last three years, as they won it all in 2012 as well.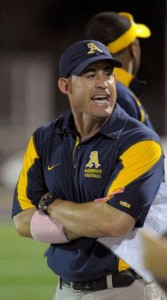 1.   What does your football program do differently from other programs in your league, conference, state that helped you win a  Championship?
At Saint Thomas , it starts w/ off season work outs that run 12 weeks leading up to Spring football. If you want to be playing in December, you better start working hard in February.

2.  What do you consider to be the most important aspect of your championship?
Great assistant coaches that devote many hours all year round planning and preparing.

3.  What is one piece of advice that you would give to a coach wanting to win a championship?
It's a marathon, not a sprint ! Don't make it harder than it is. Surround yourself w/ good coaches, and let them coach. Be stern w/ your players,but also caring. When the players trust you and your staff, they become confident, than they become dangerous on the field.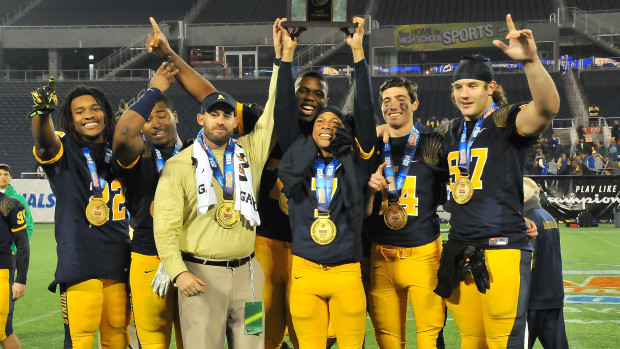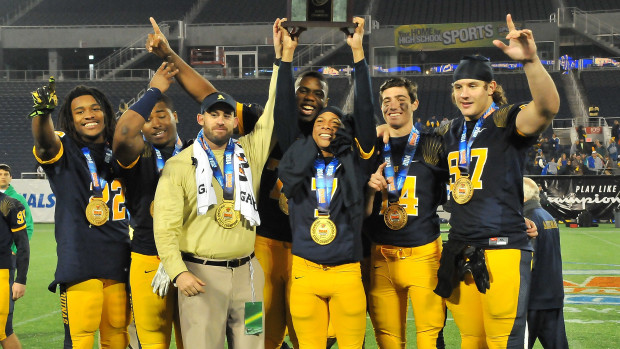 4.  What kind of offense did you run?
Pro/Spread

5.  What kind of defense did you run?
Base 34

6.  Which of the Special Teams was most valuable this year, and why?
Our ST coach Tim Conrad. He is the best I have been around in HS. He really sells to the kids how important STs are and how it is a privilege to be on his units.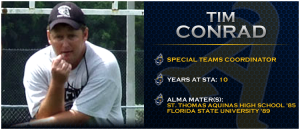 7.  Do you incorporate some type of character development program within your football program? If so, what program do you use?
John Wooden's Pyramid of Success

8.  Do you incorporate some type of leadership development program within your football program? If so, what program do you use?
There are many things that we do w/ our players in regards to team building and leadership development. Our Strength coach Rob Biasotti was excellent in always developing new ideas to motivate the team.

9.  What is the number one obstacle you face in building a Championship caliber football program in your community?
The only obstacle is that you don't want to be the team that did not win a state championship at STA. You want to make the alumni proud !

10. Who do you consider to be your main mentor in this profession and what about that coach do you try to emulate in your program?
I like to read.  I take a little from a lot of people. My dad, Vince Lombardi, Bill Belichech. Chuck Nole, Tony Dungy, John Wooden, Bill Parcells to name a few. I like reading about their styles, and motivational techniques.