CHAMPIONS' LOCKER ROOM: California State Champ, Redlands East Valley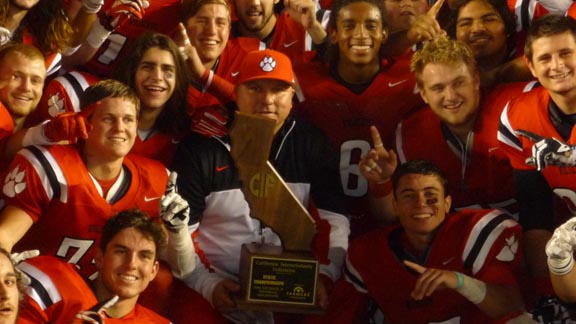 Redlands East Valley High School in Redlands, California was one of California's 2014 State Champions.
California names just 5 State Champions.  R.E.V. won the Division 2 Championship by beating Concord Clayton Valley Charter 34-33.  Their Head Coach is Kurt Bruich.  He took over the program at 1-48 13 years ago, and has done nothing but build a Champion in Redlands.
According to Pete Marshall of the Redlands Daily Facts, Coach Bruich was named the California Coach of the Year by Cal Hi Sports.  Marshall said "Bruich wins the award for the first time and he and his father Dick (who won the award as Fontana's coach in 1989) are the first father-son duo to win the award."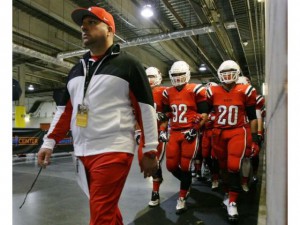 Thank you to Coach Bruich for his time in telling us about a unique program that they have there at R.E.V.  This is his first person account of their 3.0 NAMEPLATE PROGRAM.
Follow Coach Bruich on Twitter.
Background
When I first landed at Redlands East Valley, some 13 years ago, I realized that I definitely had my work cut out for me.  The school was 5 years old and had an overall football record of 1-48.  Every aspect of the program had low self-esteem, including the lack of focus on academics.  Players were satisfied with maintaining a CIF eligible 2.0 GPA.  I knew we needed to change everything about the program and had to establish some kind order to make this a reality.
I started by developing the program's philosophy, which I have not altered much to this day:
We are here for the kids. We must strive every day to make them better people- on and off the field. We must teach our boys how to be winners in life; which will make winning games seem easy.
We must stress the importance of ACADEMICS, ATTITUDE & EFFORT.  These are three absolutes in our program.  We cannot let kids slide in any of these areas.
I am in belief that if every coach, player, parent, etc. is in full understanding of our philosophy, there isn't much room for argument or debate.
If you ask any kid in our program what the number one emphasis is for REV Football, they will quickly spout out "academics."  I remind them daily that we are at school to learn and accomplish and there would not be high school football if there were no school.
We talk about a 2.0 GPA being great for getting athletically eligible, but a 3.0 GPA sets them up to be college eligible.  This is what we strive for; the ability to further our future by having options after high school.  This is also when I decided I needed to implement a reward system to ensure that our philosophy was being matched by our actions.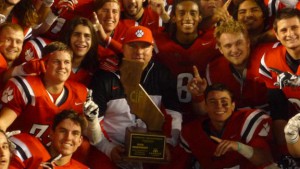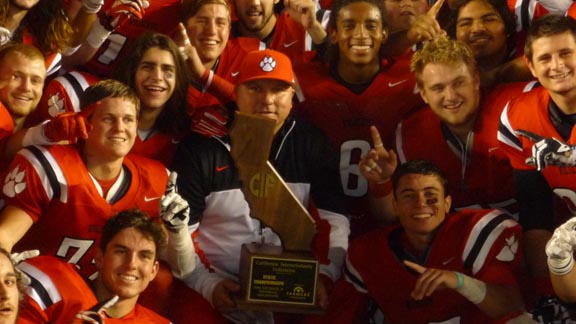 The Rules
We use two different grading periods to reward our 3.0+ student athletes.  The first checkpoint is at the end of the June semester.  If a player has a 3.0 or higher at that time, he will get his last name put on his jersey.  This is my favorite grading checkpoint because it is a player's semester marks, which means it is permanent on his transcripts.  (I have found it is best to stay away from adding or subtracting summer school grades because it can get pretty tricky or technical.)
Then, one of the first things we do when we return for summer workouts is honor those players who will be representing their families on their jerseys.
The next grading period we use to challenge the team is at the culmination of the first quarter.  For REV, this usually occurs around week five of the season.  It works the same as at the June semester- those who earn a 3.0+ GPA or higher will get their last names on their jerseys or maintain having their names on their jerseys.
However, any player who dips below a 3.0 that previously had his name on his jersey will have it removed.  It makes for a great start to the school year and is the one grading period that we gain the most 3.0+ GPA's.
Lower Levels
We have implemented a similar rewards system with our incoming freshmen.  Instead of using nameplates, (this can get expensive) we use the varsity helmet decal to reward the players who earn a 3.0 or higher at the first quarter grading period.  I do not go back and utilize their middle school final semester simply because it is too time consuming to find all of that information.  We also do a ceremony for the guys who make the mark.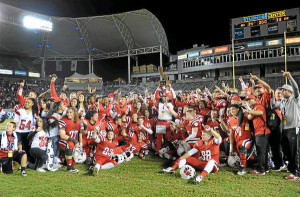 The Rationale
Rewarding for grades in any athletic program can make the difference in whether or not a student-athlete will qualify for the next level.  It should be considered a big deal and should be celebrated!
We are using two of the four grading periods to reward those who maintain a 3.0 or higher GPA.  We emphasize academics within our program.  The underlying hope is that our players will not just compete for grades in those two quarters, but for all four quarters.  We also believe that more you practice anything, including good academic prowess, it will eventually become a habit.
Check out the REV football website.
If you are enjoying this series on CHAMPION'S LOCKER ROOM, then you will surely enjoy Coach Fore's book about BUILDING CHAMPIONSHIP CALIBER FOOTBALL PROGRAMS. It's an in depth study and analysis of 108 football programs in 42 states who won State Championships in 2011.  Take a look at it here!  Just $19