3 Pieces Of Advice For Interviews With A Panel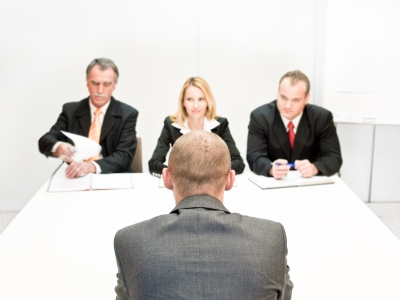 I get a lot of emails this part of the year asking about my advice regarding interviews.  A lot of time it is about the second round of interviews where a coach will be sitting in front of a group of people.  Sometimes that is a panel of admin, sometimes that is a panel of players, sometimes that is a panel of community members, and sometimes that is a panel of a mix of all of these people.
I had an interview day last Spring at a private school here in Southern California where I had the following interviews, all in one day, and in this order:
A.  Admissions Director and Counselor of the school (about 45 minutes)
B.  Athletic Director – 1 on 1 interview (about 75 minutes)
C.  Head of Schools and his assistant (about 45 minutes)
D.  Player Panel – it was a panel of about 30 players; anyone players who wanted to come (about 40 minutes)
E.  Lunch with 3 Varsity Head Coaches from other sports (about 60 minutes)
F.  Faculty Panel of four teachers (about 30 minutes)
G.  Wrap up meeting with the Athletic Director (about 90 minutes)
All in all, I was there about 7 hours.  It was a long day. It was exhausting in some ways!  Just mentally tiring!  Maybe that was part of their tactic.  (In the end, they hired a walk on coach, that means someone not in the building; I had to have an on campus job, and they didn't have the budget for a new position.)
So, you can see that there were a few panels during that interview day.  I've been in front of many different interview panel types.  About 3-4 times over the last 10 years I have been in interviews with a player panel, and most interviews out here in California in the private school world (where I've spent most of my career) there are panels of community members, alumni, admin, etc.
3 PIECES OF ADVICE FOR PANEL INTERVIEWS
1.  My best advice to coaches who are approaching an interview with a panel is: Be Yourself!!!
I think that, and know that, some coaches try to give off a certain persona when they are meeting with a player panel, and then another one when meeting with a parent/booster panel.  In fact, I've heard from an Athletic Director who simply took a candidate right off his list, and didn't finish his round of interviews after watching this coach "be two different guys in front of the kids and parents.  I didn't know who he was."
This is an error that coaches make.  Maybe they want to be a "cool guy" in the interview with the kids, to get them to think he is a "cool guy."  Or maybe he pretends to be a "tough guy" in front of the players; an even tougher guy that he really is.  No matter the case, I really believe that kids see RIGHT THROUGH this!
Kind of a funny story – in that interview at a private school I referred to earlier:  I was in the room to meet with the players before they came in.  The AD opened the room, and let me have a few minutes to myself before meeting with them.  I took off my coat and I took off my tie.  I just thought to myself "no need for a coat and tie when meeting with players."  That's it; I didn't do it to be the "cool guy."  I simply thought "no need for coat and tie."  The players start coming in, and they are all in school dress code, which was a coat and tie!!  FUNNY!  I couldn't go and throw mine on all of a sudden now.  I had not seen any kids that day in my first three meetings, so had no clue what they would be wearing.
Then we had a Q/A session, and one of the kids asks "Why didn't you wear a tie today?"  Awkward!!
But just be yourself.  And that was me being myself right there. I explained it that way to the kid too! I said "you know, I'm not a coat and tie guy, and if I was wearing those things over there (pointed to them), and got the job, it's the only time you would see me in them, unless one of you dies."  Then there was laughter!
I did get feedback from the AD that the players thought I was too relaxed, and not taking their interview seriously. I thought that was very interesting.  Again, I was just being myself.  I choose not to stand behind the podium, I sat around the table with the guys.  That's just who I am.  For some reason, it came off to those kids as if I wasn't taking the thing seriously.  Let's be honest, if they thought I wasn't taking it seriously because I took off my coat and tie, and sat at the table with them, instead of stood behind the podium, then we weren't going to work well anyhow!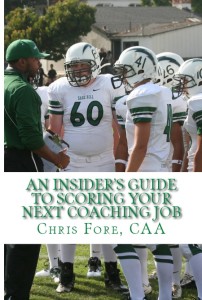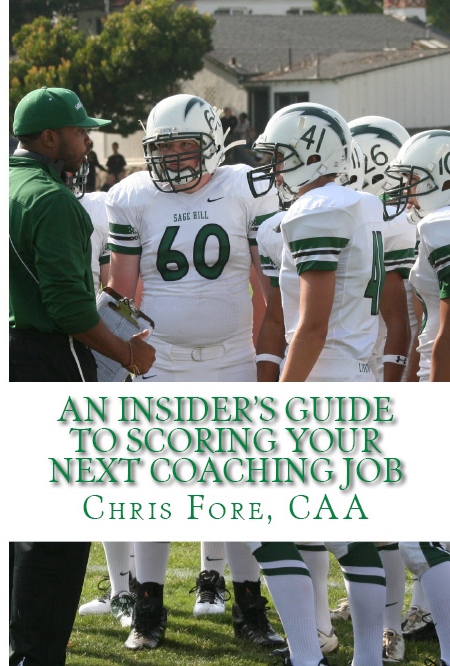 2.  Try to loosen up the room a bit.
These interview panel rooms are usually a bit "tight."  Try to loosen that up.  You're the leader in the room.  You're the focal point of the room. Sometimes there are politics playing in that room between people that you have no clue about, and sometimes that is why it is a bit "tight."  The air is thick!  You have the power to loosen that up.
Try to make them smile.  Smiling loosen things up, smiling helps people to feel comfortable.  I'm not saying that you need to turn in to a stand up comic, and I advise you NOT to.  But try to loosen things up with your answers, how you address them with your answers, or whatever you can do to cut through some of that awkwardness.
For instance, maybe there is a question about discipline.
"Coach Fore, can you tell us about a time that you had to discipline a starter on your team, and what the effect of that punishment was?"
One way to loosen up the room is by saying something like "Oh, now that's a good one.  Simply put, I don't discipline the real good ones.  Yeah, the All Stars, they get away with murder in my program, ya'all want to win right?"
Usually there will be some laughter here, some people cutting loose a little, because they know it isn't your real answer!  Try to get that to happen.  Be loose yourself, that is one way to interview great!  If you're loose, you will be more yourself, thus being able to do a better job as an interviewee.
3.  Address the different needs in the room
Remember, everyone in that room has their OWN agenda!  It's YOUR job to address those agendas.  If you are able to, figure out who is going to be in the room before you get there.  Sometimes schools will give you this information, and sometimes they won't.  Sometimes the secretary will answer your email, tell you who will be in the interview, their names with positions, and sometimes this is a complete mistake.  She will try to recall the email to you but is too late! (That happened to me before; it was very beneficial!)
If you're able to find out who will be in the interview, do some research on them.  One time I knew that a board member who was going to be in my interview had a daughter on the basketball team.  I knew that he was going to be interested in my basketball knowledge with hiring a head basketball coach, qualities of great basketball programs, etc.
Another time I knew that a booster club president had a sophomore quarterback in the program, and that he thought this kid was going to play Division 1 football.  So, I knew that he would want to know about my background with recruiting kids out to the next level.
If you aren't able to know who will be in the room beforehand, then at least try to figure out quickly why each of those people is there!  Try to find out what makes them tick.
Try to address the different groups in the room with the different questions you get.  For instance, if they ask about a fundraising question, you will want to address the following with the different groups:
Administrators – talk about the fact that you'll want to make sure to follow any certain school rules and protocol
Parents – talk about the fact that you will need the parents help, but that you certainly don't want to burn out the parents so your philosophy is . . . . . . .
Players – talk about how the players will get on board because you are going to sell it to them to be on board because they are making their own program better, and that you will have an incentive for the players to be involved
Community member at large – talk about the fact that you appreciate local businesses supporting the student-athletes in the town but again, you don't want to burn them out
Boosters – thank them for being a booster first of all, then talk about how your role as the head coach is to support the booster club, the fact that you'll be at every meeting, and do whatever you can to support their efforts.
So, you see how I've addressed every group in the room.  Do it briefly, and try to be smooth about it.  A good interviewee will do this in a way that they don't even know you are doing it!
Chris Fore is the author of An Insider's Guide To Scoring Your Next Coaching Job.  If you liked this post, you will surely love his book which helps coaches navigate the difficult process of finding the job of their dreams.  Read more about it here.
"A good friend of mine told me you were the best in the business at preparing a presentation packet for Head Coaching Jobs. Please give me a call."   – Coach Reed, Missouri
"Thank you so much for taking the time to share your knowledge with me. We had school cancelled today because of ice, and I've been updating all of my personal information in hopes of landing that first HC job. Your wisdom and insight are truly appreciated."  – Coach Mach, Texas