CHAMPIONS LOCKER ROOM: California 5AA State Champ – Mater Dei Catholic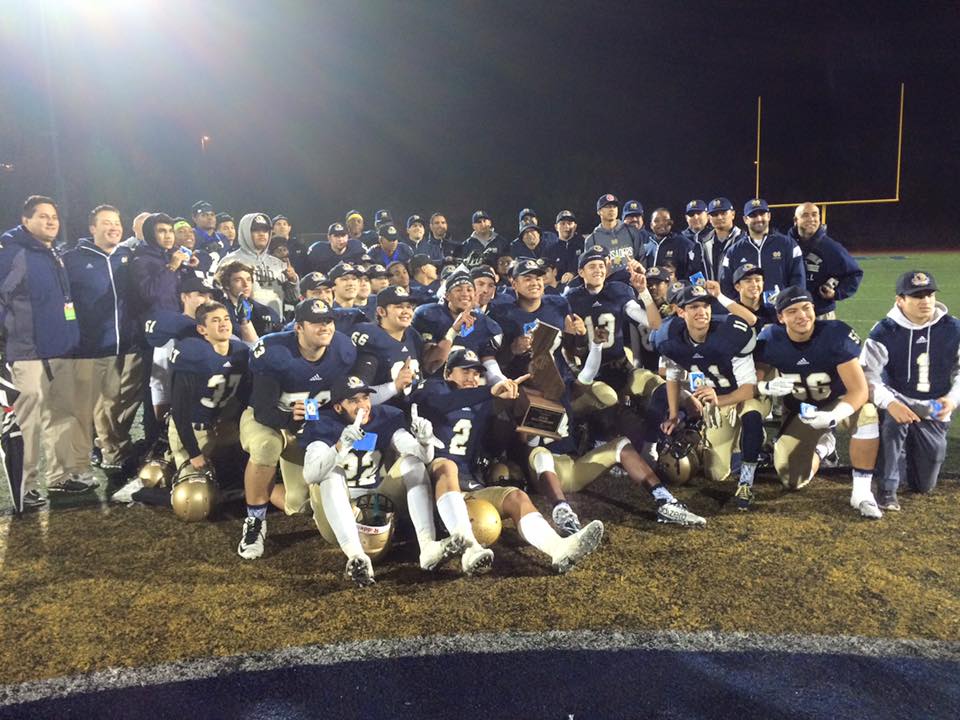 The 2015 CHAMPIONS LOCKER SERIES presents California's Division 5 AA State Champ: Mater Dei Catholic High School from Chula Vista.  You can find them online here.
In 2015, Head Coach John Joyner led the Crusaders to a 14-1 record, and their first State Championship! From the school's website: Mater Dei Catholic High School is located in Chula Vista, CA, in a beautiful newly developed area in San Diego County. Founded in 2007, our school is a private, college-preparatory, coeducational institution that is under the guidance of the San Diego Diocese.
1.  What does your football program do differently from other programs in your league, conference, state that helped you win a State Championship?
This is a tough question to answer from a standpoint of what we do different from other teams. I know what we have done to turn our program into the caliber to compete but without being around other programs its hard to say what is different. I know that our kids compete very hard in the classroom, the weight room and the practice field and I feel that has given us a competitive edge.
2.  What do you consider to be the most important aspect of your state championship?
I think the way the school community rallied around the boys and the excitement it brought to our school community. Football hasn't always been a priority on campus but the administration was great, the faculty got involved and the student body was tremendous with their support of the boys in what turned out to be a very long season.
3.  What is one piece of advice that you would give to a coach wanting to win a state championship?
Have a great coaching staff that you like to be around. I have been lucky enough to win 3 CIF championships in my time coaching and they haven't all been on the healthiest of staffs. I have had losing seasons where I loved the other coaches and winning seasons where it was poison. In my opinion, it is impossible to sustain a great program without having great men involved. A head coach is only as strong as his staff and I am truly lucky to have an incredible group of men to work with.
4.  What kind of offense did you run?
We are a spread zone read style offense. Our passing game is a combination of run and shoot principals but lately have been influenced by Air Raid style.
5.  What kind of defense did you run?
We are a ODD defense. We run the 50. We play mostly cov 2 and 3 but played more man this year then every before mostly due to personnel.
6.  Which of the Special Teams was most valuable this year, and why?
I think the answer to this question should always be punt. My special teams coordinator Jared Izidoro is a rising star in this business and we had a great year with some huge momentum swinging returns etc. However, I have never been around a team that was bad on punt and still a good team. It is a pride thing. And nothing changes momentum like a blocked punt.
7.  Do you incorporate some type of character development program within your football program? If so, what program do you use?
Our school has a chapter of Catholic Athletes for Christ. It is not mandatory but a lot of our ball players participate. Also, being at a Catholic school our students are constantly in faith formation and are required to complete 50 hours of community service a year.
8.  Do you incorporate some type of leadership development program within your football program? If so, what program do you use?
We have a leadership council within the locker room. It is usually made up of upperclassmen and they are in charge of keeping the locker room a safe and healthy environment and reporting to the Head Coach any issues that arise.
9.  What is the number one obstacle you face in building a Championship caliber football program in your community?
We are a small, private Catholic school. Our tuition sometimes can be a hindrance to the families that live in our community. Although the school does a tremendous job trying to make every family comfortable, sometimes we miss on great families for financial reasons.
10.Who do you consider to be your main mentor in this profession and what about that coach do you try to emulate in your program?
I have two and I worked for both men. I worked under Jerry Ralph at St. Augustine and Matt White at Mater Dei. They could not be more opposite in their approach to the game and coaching and both have been hugely successful. It was great for a young coach like myself to learn under both these guys and see two different styles. I owe both of them a lot and still rely on them for advice to this day. Both were men of character and were teachers first, something I try and emulate in my own style.
Thank you Coach Joyner for participating in the CHAMPIONS LOCKER ROOM Series, and congratulations to your team, State Champs!
2015 Champions Locker Room Series
Alabama's 7A State Champ – McGill-Toolen Catholic School
Alabama's 4A State Champ – Leeds High School
Coach Fore is the author of several books and manuals that have helped coaches in building their programs, and the job search process: Building Championship Caliber Football Programs, Outside The Lines Manual For Football Coaches, Outside The Lines Manual for Athletic Directors, the Shield Punt E Clinic, and An Insider's Guide To Scoring Your Next Coaching Job.  You can find each of these items at EightLaces.