CHAMPIONS LOCKER ROOM: Idaho 3A State Champ – Emmett High School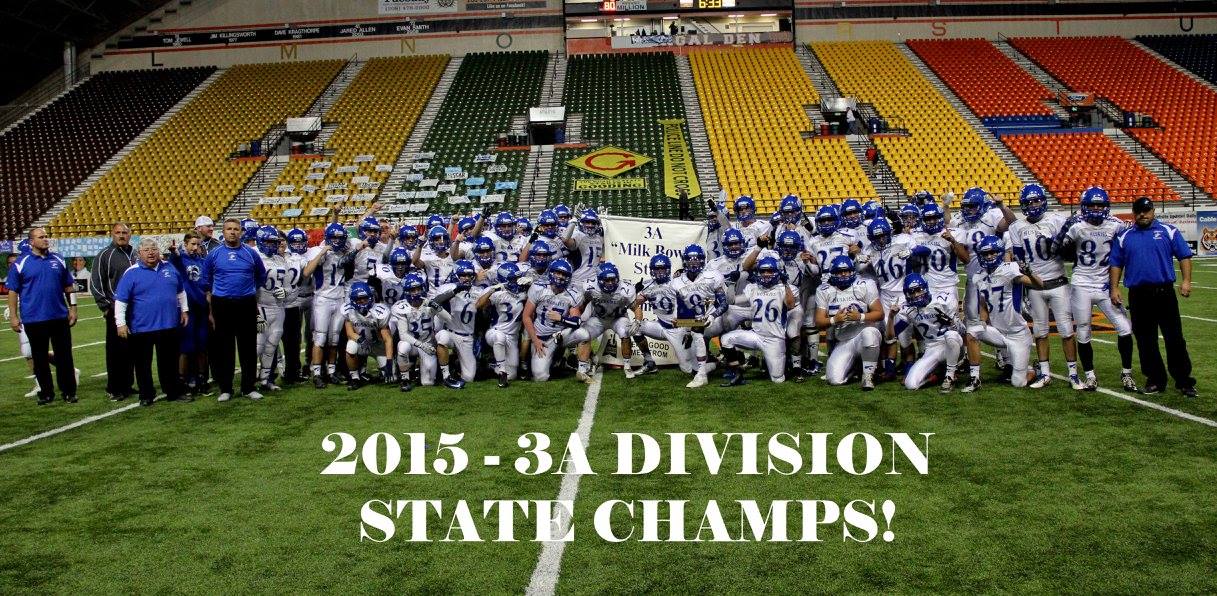 The 2015 CHAMPIONS LOCKER SERIES presents Idaho 3A State Champion Emmett High School.  2015 was their first State Championship in school history!  Congratulations!
Head Coach Michael Schroeder led the program to a perfect 11-0 record, and the number 5 ranking in all of Idaho. He has led them to an incredible 30-10 record since taking over in 2012.  The Huskies were just 10-26 in the four years before Coach Schroeder took over as the Head Coach.
I competed against Mike from 2001-2006 while I was at Linfield in Temecula, and Coach Schroeder was the Head Coach at Hamilton in Anza.  He won a CIF Championship there in 2004.  Our team was 8-0-1 heading in to week 10 vs the Bobcats (our rival) that year.  They were 8-1.   Unfortunately, we got whooped! Mike is a dynamite football coach.  Hamilton has not enjoyed the same success that they had under Coach Schroeder for many, many years.
What does your football program do differently from other programs in your league, conference, state that helped you win a State Championship?
From February to the end of school we try to get our players together for either PRP player run practices in the a.m. before school or after spring sport practice around 6:00 in the p.m. Without a real spring practice time we have had to adopt ways in which to see the field so to speak. We schedule about 8 of these PRP's and we bribe them with milk, juice, donuts or breakfast etc. Whatever it takes to get them to buy in! Coaches are not allowed to coach…so are finished senior players assist in the PRP. Along with our program, if you're coaching or playing…the only reason for standing is that you're listening. Other than that you better be moving. Quantity or repetitions can be over rated. We concentrate on quality reps!
What do you consider to be the most important aspect of your state championship?
Simply, the whole experience from player, parent and fan. Having a police escort for our town to Pocatello Idaho over 200 miles was awesome. Along with the town welcoming, with maybe a thousand people lining the streets when we arrived the next day.
What is one piece of advice that you would give to a coach wanting to win a state championship?
You better achieve or have success in accomplishing your short term goals. Never look ahead!
What kind of offense did you run?
West Coast with a dabble of spread and wing t/misdirection.
What kind of defense did you run?
We are an odd front team. But the two teams that I have had win a title can do more than one thing.
Which of the Special Teams was most valuable this year, and why?
Our Kick and punt return teams were the most prolific. However we practice punt and kick off twice as much as our return teams.
Do you incorporate some type of character development program within your football program? If so, what program do you use?
We have three mottos that are heavily used in our program. 1. Commitment "Commitment is Everything" 2. "Championships are made when the stadium is empty" We emphasize that are off-season and preparation are the reasons to winning! 3. Be A Man!, or Act like a Man!  Creating and making excuses to not being committed is immature and weak. Being honest and admitting to your mistakes and faults is what were looking for in our players.
Do you incorporate some type of leadership development program within your football program? If so, what program do you use? 
We have a Unity Council that is selected by coaches. It is a group of 4-6 players that keeps the pulse of the team in the off-season. Unity council meets with the head coach once a week going over player development and attitudes.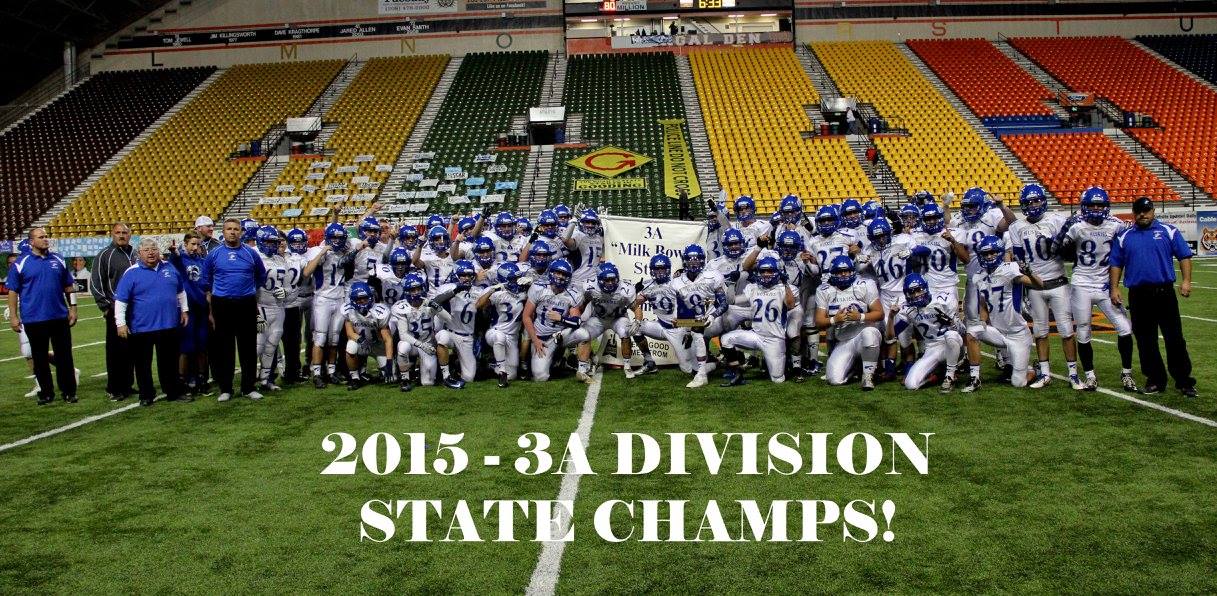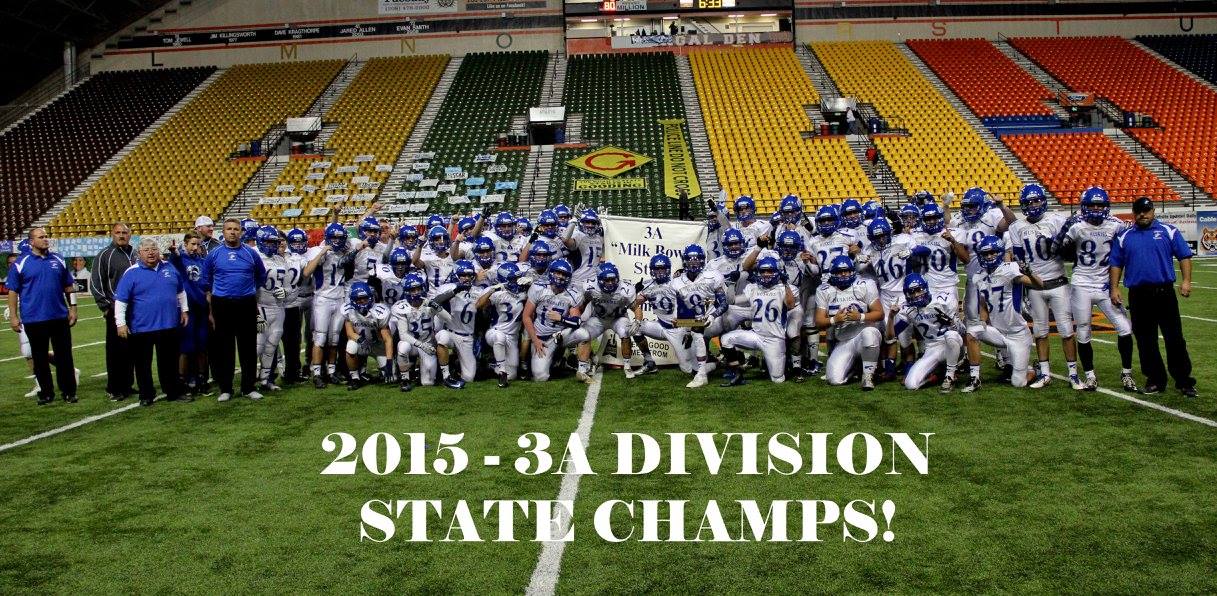 What is the number one obstacle you face in building a Championship caliber football program in your community?
Always selling what we are trying to accomplish. Getting parents and potential kids to commit. Creating a higher expectation for the parent.
Who do you consider to be your main mentor in this profession and what about that coach do you try to emulate in your program?
I look at all my coaches I have played for since I was a little kid through college. And all of the ones that I respect displayed toughness and fairness. They were consistently the same person, a person that never changes their goals and expectations. Coach Bob Stangel, legendary junior college coach at Mt. San Jacinto College. He was definitely a coach that new what he wanted in his players. And in return, you knew what to and when to do it.Consistency!
Thank you Coach Schroeder for participating in the CHAMPIONS LOCKER ROOM Series, and congratulations to your team, State Champs!
2015 Champions Locker Room Series
California 3A State Champ – Rancho Bernardo
Oklahoma 3A State Champ – Heritage Hall
California's Division 5 AA State Champ: Mater Dei Catholic High School
Alabama's 7A State Champ – McGill-Toolen Catholic School
Alabama's 4A State Champ – Leeds High School
Coach Fore is the author of several books and manuals that have helped coaches in building their programs, and the job search process: Building Championship Caliber Football Programs, Outside The Lines Manual For Football Coaches, Outside The Lines Manual for Athletic Directors, the Shield Punt E Clinic, and An Insider's Guide To Scoring Your Next Coaching Job.  You can find each of these items at EightLaces.