One Word Play Questions To Ask Yourself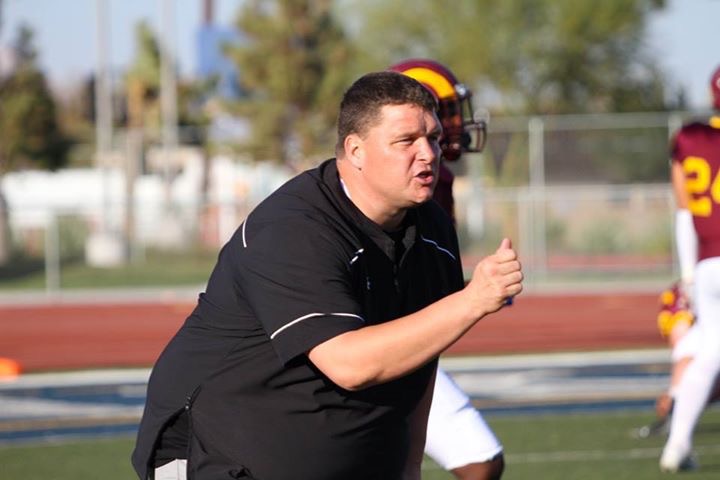 This is Part 2 in a series about One Word Plays by Coach John Teuscher.  You can find Part 1: Spark Your Playoff Push By Adding One Word Plays To Your Offense.  Coach Teuscher is a tremendous offensive mind who has had stints at in the Pac-12, Mountain West and the Big Sky; he has also been a Head Football Coach at the high school level.  Currently, we coach together at Victor Valley Community College (Southern California).  Follow Coach Teuscher on Twitter.
So, you've decided that you love the concept of "One Word Plays," and want to install some in to your offensive playbook.  Here are some questions that you need to ask as you go about doing so.
What play(s) should we pick?
Start small, maybe 2-3 plays. Make sure that you have studied out your best plays that your players know well, this is not the time to get to creative and have something new. Do what your players do well. The point of the one word play is to use the tempo and surprise to take advantage of your opponent, not a new scheme. Once you and your team are more comfortable using one word plays add more. My personnel goal is to have a one word package in everything we do. There really is no limit to that, only what you can teach.
What words should be use?
Anything that will mean something to your players. Maybe it's your school mascot or colors. Maybe you use colleges or NFL teams. I would look for things that you can easily have multiple learning tags, all NFL teams are 3X1, acts of nature is 2×2 etc. In each of those there are several ways that you can add a few one word plays that fit in the same family. That is what we tried to do with our "Texas" package at Timpview. A school from Texas told our payers exactly how to line up, using the different school names is what the players the exact play. Using that system made adding additional plays VERY easy because the players already understood how to align.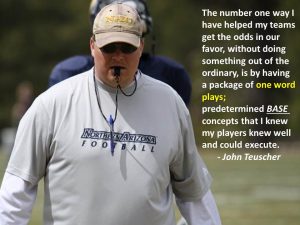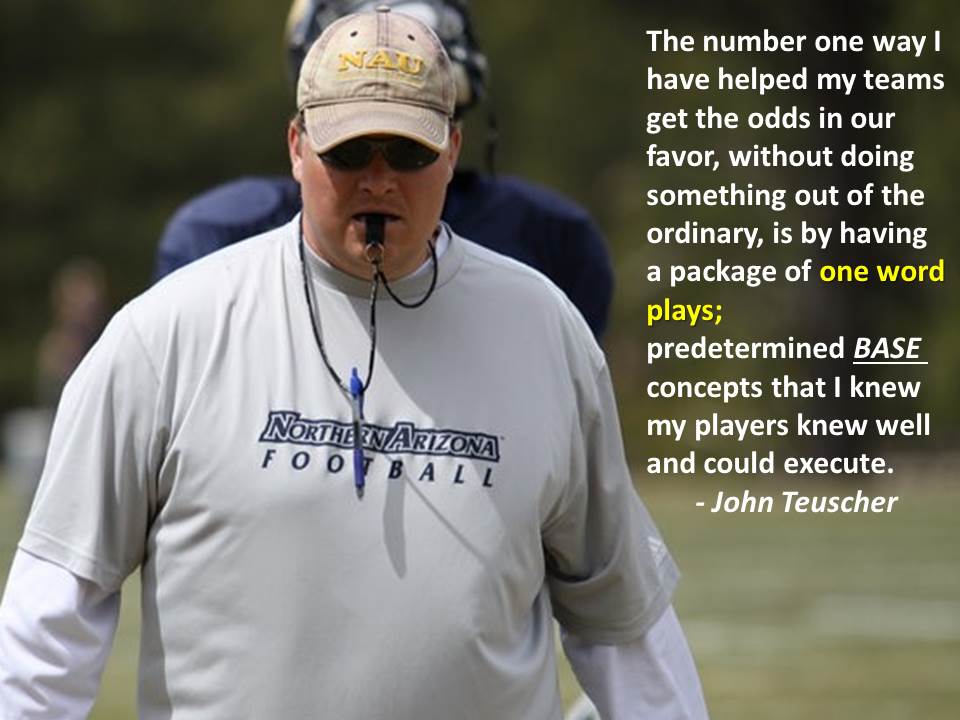 How much detail should we go into?
As much detail as you would have on the play when you call it in your traditional terminology. Those details are what make the play your best play. We had all of our route adjustments and RPO checks built in on every one word play, "Texas" or "Tech" laterally means every aspect of the play. Be prepared to teach. One word plays give you a great opportunity to out prepare the opponent, make sure your players are ready for everything.
How do you practice one word plays?
This will depend a lot on your programs philosophy on using tempo. At Timpview we had a 10 minute period everyday that was devoted to one word plays. We also regularly called them in regular 9 on 7, 7 on 7, and team settings. I do think that practicing them, at least a little bit, daily will help your team maximize their effectiveness.
When do you call a one word play?
Anytime you want to pick up the pace. There are three situations that I really like to change the tempo.
Right after a big play. Continue the momentum and keep the defense on its heels by getting your guys on the ball ready to go again. Often a big play has something to do with a missed defensive assignment or poor alignment, do not give the opponent time to make corrections or the coach to change the call! When you have them reeling keep pushing. There have been many times that as soon as I saw the play was becoming a big hitter I started yelling and signaling a one word play before the play was over. 
Another great time is when entering inside the +5 yard line. This is often an area that is hard to call plays and score in because of personnel groupings and lack of vertical space. Often defensive coordinators are waiting to see if you bring in your big packages before they make a call in this area, hurry up and run a play, I think you'll be surprised how often you get an easy score because the defense isn't line up. Especially if you call a one word play after a big play that gets tackled close to the goal line.
Lastly, and I love doing this, is on the second play of a drive. On the sideline I like to call two plays, the first where I can more easily predict where the second play will be so that the one word play can go even a touch faster. Fly sweep, swing screen, sprint out are great calls to help you predict where the ball will be.  Example: We just received a punt on the left hash, I when I huddle the offense up before they go on the field I'll call fly sweep to the right and tell them to immediately go into Utah. Doing this has been very effective for us and helped us really get some drives going.
Follow Coach Teuscher on Twitter.