Addressing Cameras in the Locker Room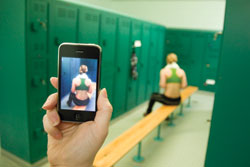 Late last week a video surfaced of a high school football coach here in Southern California hitting a player.  There was quite the discussion on social media about this. Parents jumped up to support the coach, while many coaches nationwide spoke about how wrong this was.  It's 2017: you just can't and should not put your hands on kids, in my opinion. Never is this okay.  In fact, that school is having a successful year by the standards of that school.  It's the first time in 5 years that they have won 5 games or more; meaning that it's the winning-est program all of the kids in that program have experienced.  I think if the program was 1-6, the parents would be up in arms . . . .
No matter the case, that video surfaced because there were players recording it.  Which brings up an interesting discussion about phones in the hands of players.
The Pittsburgh Steelers' Antonio Brown made a lot of news after their divisional playoff win versus the Kansas City Chiefs last year.  But the news wasn't good news.  It was a lot of "noise" and distraction.
If you follow the NFL, you might remember this.  And you might have seen the video.  Brown choose to broadcast from the postgame locker room via Facebook Live, an app that enables users to show a live video feed to whoever follows them on Facebook.
We are in 2017, every person with a smart phone can now be considered a reporter, with a live feed to the entire world.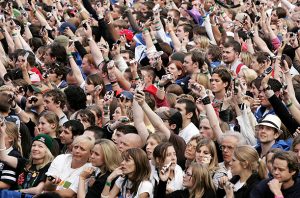 It was an intriguing video because it gave us an insight to how important a "like" and a "view" is to a person, even a person with millions of fans worldwide.  Brown kept giving his teammates an update of how many people were watching.  "25,000 now.  We are up to 30,000," a few minutes later "35,000 watching live."  Here is a multi-millionaire, one of the more popular players in the most popular pro spot today, yet he was excited like a teenager with the amount of people watching him.
What really got Brown in to trouble was the fact that he was rolling live when his Head Coach gave the team the postgame talk.  And in that talk, Mike Tomlin referred to the upcoming opponent, the New England Patriots, with a derogatory name.  He said the Steelers "spotted these a–h—- a day and a half" of preparation," since they had one on Saturday and the Steelers did not play until late on Sunday.
So, the question for high school coaches is "how do you handle a video camera in your locker room?"
Almost every single student-athlete in your locker room carries a camcorder to the world in their pocket.
You better address how they use that phone within the confines of your program, your weight room, your locker room, and your meeting rooms.  Coaches who fail to address this may find themselves at the center of a media firestorm, similar to the Pittsburgh Steelers.  Instead of being able to focus one hundred percent of their attention on the upcoming opponent, there was a major distraction, which was totally avoidable.
I wrote a Social Media Policy for the student-athletes and coaches who I was supervising as an Athletic Director back in 2012.  I have seen a lot of them out there on the internet. Many are very longwinded and not digestible for a 14 year old.  They read like a district policy, foreign to a teenager.  The one I put together has ten simple guidelines.  One of these guidelines is:  Never post pictures from the locker room, practice or game without the permission of the Athletic Director or Head Coach.
This guideline will help to protect you, your coaching staff, and the student-athletes in the room.  In fact, it was interesting to see adults wrapped only in towels in Brown's video as players were returning from or heading to the showers.  A simple slip of a towel would have created even more issues for Brown and his teammates, and that organization.
Sure, the Steelers and the NFL both have guidelines that Brown violated.  So, the guidelines and or Social Media Policy is not going to guarantee that you won't have problems in the future.  Policies do not do that.  But they most definitely start the conversation. And they will help to support discipline in the future, should you need to fall back on your policy.  Like any policy, it is important to communicate regularly what your expectations are.
Coaches, make sure to address this camera in your locker room situation with your teams.  Failure to do so may jeopardize a whole lot for you and your program and your student-athletes in the future.
Chris Fore has his Masters degree in Athletic Administration, is a Certified Athletic Administrator and serves as an Adjunct Professor in the M.S. Physical Education –  Sports Management program at Azusa Pacific University.  He is a speaker with the Glazier Clinics, and a Coaches Choice author.  Coach Fore runs Eight Laces Consulting where he specializes in helping coaches nationwide in their job search process.