4 Offensive Goals That Lead To Winning Games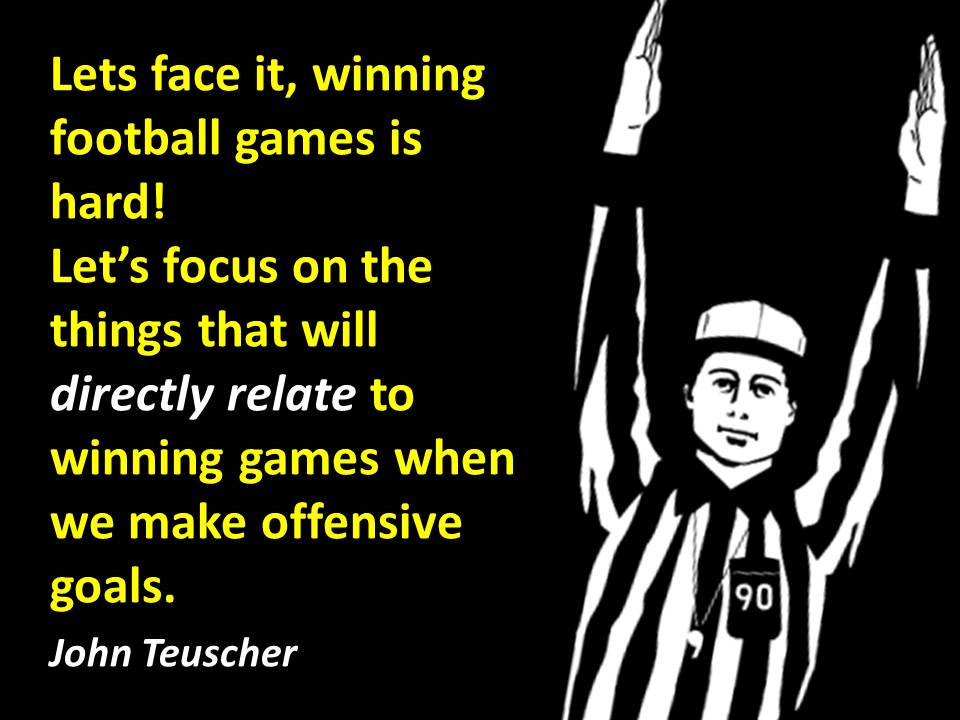 This is another guest post by John Teuscher.  We coach together at Victor Valley College here in Southern California. Coach Teuscher is a tremendous offensive mind who has had stints at in the Pac-12, Mountain West and the Big Sky; he has also been a Head Football Coach at the high school level.  Follow Coach Teuscher on Twitter.
Go read his first two posts when you have a minute.  Part 1: Spark Your Playoff Push By Adding One Word Plays To Your Offense and Part 2: One Word Play Questions.
Everyone loves to set goals and see them reached. It is fun to stand in front of your players and congratulate them on a job well done. Things like averaging 30 points per game or rush for 5.0 yards a carry are common goals that teams strive for each week. In and of themselves those are good goals that can produce quality results for your team, but as an Offensive Coordinator your job is to put your players in a position to win the game, not reach statistical goals. You can rush for 5.0 yards per carry and lose, or not throw for 300 yards and win, I don't think that goals of that nature lead to wins.
Lets face it, winning football games is hard, let's focus on the things that will directly relate to winning the game.
The 12 % Rule
I first came across this statistic when I was a Quality Control Assistant at the University of Utah in 2011. Norm Chow was the Offensive Coordinator and this statistic was by far the primary thing that he talked with the offensive unit about. Noel Mazzone, who has been a major influence on my coaching philosophy, also spends a lot of time focusing on this statistic. The 12% Rule says that if 12% or less of your total offensive plays result in sacks, turnovers, foolish penalty, or dropped passes you have a 92% chance of winning the game.
I'll say that again, 92% chance of winning the game.
Example, if you ran 75 plays in a game you would need 9 or less total plays that were sacks, turnovers, dropped passes, and turnovers. One thing that I really like about this goal is that everyone on your offensive unit can have ownership of almost every area. It's something that you can focus on everyday. You can focus on this goal everyday in every drill. You can chart drops in 7 on 7 or fumbles in team run. Focusing on the four areas of the 12% Rule will produce winning football.
Explosive Plays
At the end of the day the offense's job is to score, creating explosive plays directly leads to scoring points. We define an explosive play as a 12 yard run or a 16 yard pass. When I was at the head coach at Copper Hills High School I read an article about Tom Herman at Houston, now at Texas, and his programs focus on generating explosive plays on offense. I don't remember all the specifics now but I do remember that having a drive with no explosive plays had about a 10% chance of scoring and about 5% of producing a Touchdown.
On the flip side, I remember that a drive that had two explosive plays had an almost 60% chance of producing a Touchdown. Right then and there I decided that any offense I was in charge of would focus on creating explosive plays, and we set our goal of generating 10 explosives per game.
Last season as the Offensive Coordinator at Timpview High School we scored a Touchdown on 71% of the drives we generated two explosive plays on.
On offense scoring wins games, explosive plays generate points, figure out ways to generate explosive plays. Like the 12% Rule this is a team goal that you can chart everyday in every drill. We all know some explosives happen because of play call or because a certain player gets the ball, good keep calling those plays. But there are a fair amount of explosives that happen by players playing hard. Downfield blocking, running hard, linemen getting to the 2nd and 3rd level, great fakes are all ways that a good play can become explosive. Everyone on your offense contributes to explosive plays.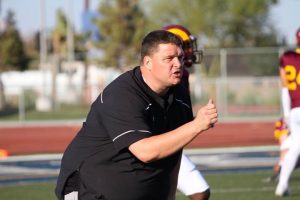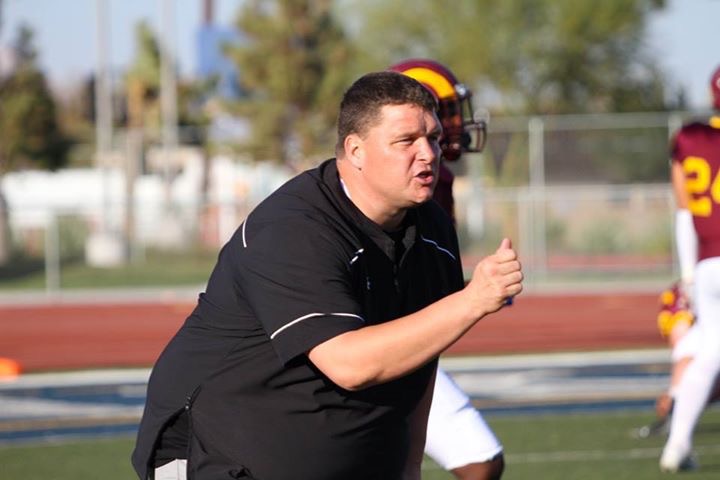 Converting on 3rd Down
This is statistic that every coach talks about, but do you focus on it? Do you focus on it? Do you plan for it? Do you practice it?
In my opinion 3rd down is not just another down to call any old play you feel, it is THE down that you need to be calling plays you know and believe in and your players know are coming in that situation. My goal as an offensive coordinator is to convert 45% of all 3rd I go into each game with 3rd down broken down into 3rd 1-2, 3rd 3-6, 3rd 7-10, and 3rd 11+.
We have 3-4 plays scripted for each area, the players know what plays we are running. We primarily run or base plays out o different looks. Maybe we add a motion or run it out of a different formation. Base plays, different looks. You can practice 3rd down every day, you can focus on it, you can chart it all the time. Setting a 3rd down conversion goal will help you to focus on it and lead to more opportunities to convert and conversions.
Scoring Touchdowns in the Red Zone
Nothing is more important that Touchdowns!
Getting a drive together and getting things right to get to the point that you can score, it needs to be a focus to score. Our goal is a 70% Touchdown rate in the Red Zone. The red zone is the most important area in the field to produce in and perhaps the most difficult to prepare for. Again, are you planning specifically for it? How much do you practice it? Do you have plays that are just for that area? We break the red zone down into four areas, High Red Zone (+35-+25), Mid Red Zone (+24-+15), Low Red Zone (+14-+5), and Goal Line (+4). Again, we go into the game with 3-5 plays in each area that we believe will put us in the best position to be successful. Also, again, you can track this daily in all situations. Scoring Touchdowns in the Red Zone will lead to wins. Period.
I believe that setting goals that lead directly to winning it will help your players understand the importance of focusing on theses areas. Winning games is the job and these goals will point you in the right direction.