The Backstory on Firing A Coaching Legend: Tom Landry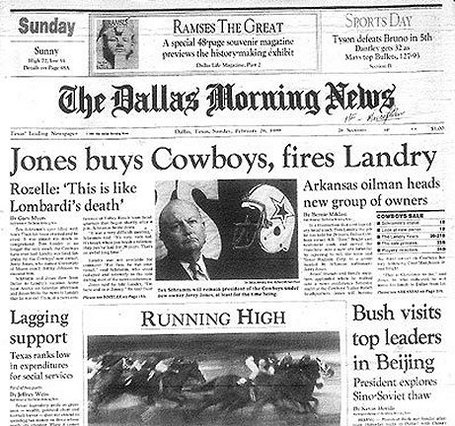 I really love the Peter King Podcast!  It is one of my favorites.  Peter has a great way to tell provocative stories. He has tremendous access to a lot of players, coaches, and football "people."  I've learned a lot about the NFL through Peter over the last however many years he has been writing columns for Sports Illustrated, and now this podcast is even better than his writings in my opinion.
Recently, he had Brad Sham, the voice of the Dallas Cowboys, on the podcast.  He shared some tremendous insight about one of the most famous football coaches of all time, and how he was fired: the legendary Dallas Cowboys' coach Tom Landry.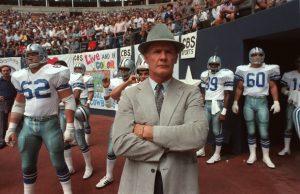 Peter King: "In 1989, at least half of your (radio) listening audience was ANGRY at this oil man (Jerry Jones) for firing Tom Landry, and bringing in this dumb college coach (Jimmy Johnson).  What was that year like? How did you sense the anger and the vitriol?"
Brad Sham: "I sensed the anger and the vitriol because I hosted a call in show every night.  Most people who revile Jerry Jones do it because of the dismissal of Tom Landry.  But I always say let's see how much you know. Because Tex Schramm (General Manager of the Cowboys from 1960-1989) wanted to get rid of Tom Landry!"
King: "Wow, I didn't know that!"
Sham: "I wrote a book in 2003 called Stadium Stories, different things about the Cowboys.  One of the chapters I did was on Tex.  I spent a whole day with Tex and he told me things I didn't know. "
"In 1986, (Coach Tom) Landry says to Schramm, get ready, get the next guy (the next head coach for the Cowboys).  Landry hires the hottest, young assistant coach, Paul Hackett from the San Francisco 49ers.  In typical Schramm/Jerry Jones fashion, he announces the hiring of Paul Hackett on the day of the NBA All Star Game in Dallas, in February.  And the Dallas Morning News and the Dallas Herald have above the fold in the sports section "Cowboys Hire Hackett," and below the fold "NBA All Star Game."
"Landry then decides, without telling anyone, he is not going to quit.  Either 1987 or 1988 in the Spring, Landry had a press conference.  Schramm had Marty Schottenheimer in town, looking at houses.  He thought he was going to hire Marty Schottenheimer to replace Tom Landry, who was going to retire.  Landry comes and has a press conference, and that's when Schramm finds out that Landry is not quitting."
"Landry says 'There has been a lot of speculation about my future, and I just want to tell everyone that I'm staying and I hope to coach in to the 90s.'  That's how Schramm found out.  Landry's last team, it got old, and was 3-13; that's the worse team I've seen, in 39 years with the Cowboys."
"People then say 'I hate Jerry Jones.'  I say 'Why do you hate Jerry Jones? Is it because he fired Tom Landry?   And people always say 'Yes!'"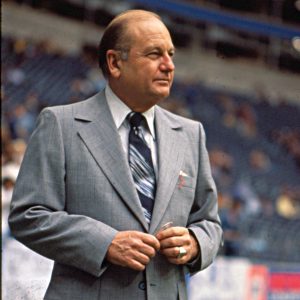 "Okay, so here's the backstory.  Schramm wanted to get rid of him, but he couldn't because the Clint Murchinsons (the original owner of the Cowboys), the original owner's deal was Schramm, Landry, Brandt.  That was the deal, couldn't break them up.  Two people offered more money to Bum Bright, the owner who sold to Jerry Jones. But he turned them down because they were going to keep Tom Landry. But Bum hated Tom Landry.  Jerry gets the team; everybody knows that Jerry brings his own guy.  Now the same people who are calling my radio show in the Fall of 1988, 'he's old, he's senile, the game has passed him buy, you gotta get rid of Landry.'"
"Okay, so here comes Jerry Jones and he gets rid of Landry. Then Cowboy Nation is in an uproar: 'How can you get rid of Landry?!'  Well, that's fans.  He's from Arkansas, he seemed a little too pleased about the whole thing."
"Tom Landry is a guy Tex Schramm wanted to replace. Tom Landry was a guy who, buy his own later admission, was struggling with the sociological challenges of some of the people who were playing pro football in 1987 and 1988.  So, how do you replace Tom Landry?"
Peter King: "There is no right way."
Sham: "Thank you!"
"So, Bum Bright says to Jerry Jones, 'I'll fire him for you.'  And Jerry says 'No, no, I'm going to fly down and tell him face to face.'  Well, people don't want to hear that, because that doesn't make Jerry a villain."
"So, Jerry goes down, flies down to Lakeway where Tom is playing golf. He flies down there with Schramm, who is incredibly uncomfortable about the whole thing, and says 'We are making a change.'"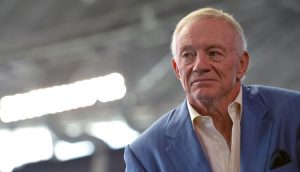 "There is no right way to fire Tom Landry.  Yet it was what everybody wanted done, and what everybody agreed had to happen. They just wanted him to step away gracefully, but he didn't want to."
"The great irony to me is that is what he did with his players.  He intentionally did not have close personal relationships with most of his players while he was playing because he knew there would be a day when he would have to cut them. And all of his players, 85-90%, didn't like him when they played for him. But they looked back after they played for him, and said "Wow."   He cared about them deeply, but felt, this is the way I have to run this business.  Then it happened to him, and he didn't like it."
Chris Fore has his Masters degree in Athletic Administration, is a Certified Athletic Administrator and serves as an Adjunct Professor in the M.S. Physical Education –  Sports Management program at Azusa Pacific University.  He is a speaker with the Glazier Clinics, and a Coaches Choice author.  Coach Fore runs Eight Laces Consulting where he specializes in helping coaches nationwide in their job search process.