Booster Club Secretary Reminds Us What Its All About

Melissa Martin is the Fallbrook Warriors Booster Club Secretary.  I graduated from Fallbrook High School in 1993, after being raised in that tremendous community.  Fallbrook Football meant the world to me while growing up there.  I started my coaching career there in the nineties, coached frosh and then the JV team.  Fallbrook is a unique, one high school town in North San Diego County.  They have had a rich tradition of football, but have struggled the last few years.  Currently, the Warriors are 1-8, after going 1-9 last season.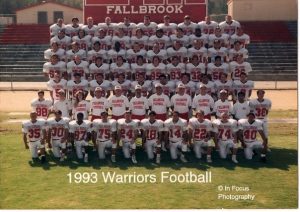 I'm on their email and received the following email this weekend. I wanted to share it with my readers.  It is what high school football is really all about!
What you will read from these seniors doesn't apply just to them.  In fact, I really believe that the sentiments they share are shared by hundreds of thousands of seniors who will soon be wrapping up their senior years.
Email from Fallbrook Football Booster Club Secretary Melissa Martin
As I sit here thinking about the last few months of Fallbrook Football, and going through the Senior Night questionnaires, something has come to light for me. It has been a long road to get to this point and I know that the players & coaches, as well as parents, are frustrated after months, days and hours on the field…they want to win, but is winning the most important thing?
The theme I am seeing from Seniors is not that they will miss winning or that one touchdown or that they are proud of their season record…
Here's what they are saying. Read this and I hope it puts it all into perspective and we all see the light in this as I have. These are not the tangible trophies and wins.
These are the things that will stay with them for a lifetime and guide them in their bright futures as musicians, scholars, athletes, military members and whatever they choose in life.
"My proudest accomplishment was receiving the most improved award for my JV year of football, my first year of football"
"What I will miss most about being a Warrior is walking around campus and seeing all my friends everyday"
"My favorite football memory was when we would crack jokes at practice"
"Having a lot of fun with the boys"
"What I mostly will miss is my brothers"
"I am proud of staying on top of my classes"
"The game, but most importantly the friendship and brotherhood made with my teammates playing football"

"Walking on the football field under the lights
on Friday
nights"
"Being with my football friends because they are family to me"
-"I will miss
Friday
night lights and having my name called on the microphone"
"Playing sports with my brothers"
"Playing a sport every season all four years"
"I had almost a 4.0 in grades"
"Playing football with my teammates"
"Getting to represent our town in a way that not many others can"
"The thing that I will miss most about being a Warrior is all the amazing staff and coaches who made a big impact on my life"