The Story Behind "Target Left Bunch Philly Special"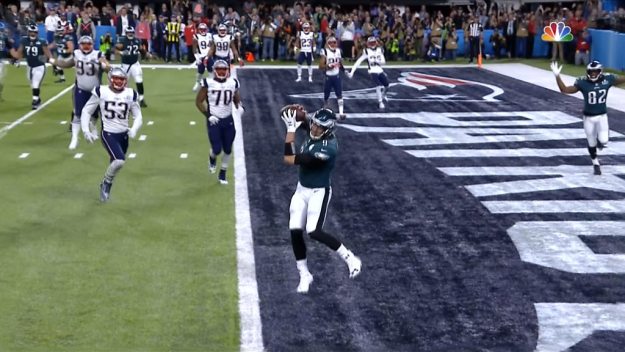 Super Bowl 52.  Minnesota.  New England Patriots vs. Philadelphia Eagles.
The Eagles were up 15-12 in the second quarter when they made a VERY GUTSY call!
Philly had a 4th-and-goal from the 1-yard line.
Coach Doug Pederson who entered the game knowing that he would have to "make some risky calls" went for it.
In came the call: Target Left Bunch Philly Special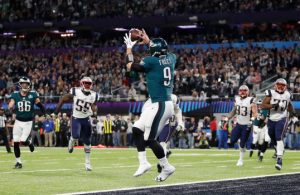 Corey Clement took the direct snap, then hand off to Trey Burton.  Burton threw it to Nick Foles for a touchdown!
With the extra-point, Philadelphia took a 22-12 lead.
I heard this interview with Offensive Coordinator Frank Reich on the Monday Morning Quarterback Podcast with Peter King 
Peter King: I gotta know the origin of "Philly Special" – the first
REICH: We were getting ready for the Vikings' game, watching a lot of film.  And I can't remember the first time we saw it.
One of our offensive assistants, Press Taylor, he has this incredible vault of plays, of trick plays. It's an immense vault.  So, every week we go in to Press' vault.  We were going to play the Vikings, and we saw the Bears run that play against the Vikings.
I remember sitting in Doug's office and we were saying "Can we run this play against the Vikings?"
They had this play run on them a year ago, they'll probably smell it out.  Nah, they won't smell it out.  Yeah, we can run it!  The situation just never came up (in the NFC Championship game vs. the Vikings), and then the game got out of control, and we said "We'll save it."
Peter King: What happened when you guys installed that play? What did the players think?
REICH: They love it.  It's Doug (Head Coach Doug Pederson), it's what Doug does.  The players love him. And let me tell you, we rehearsed that play so many times.  We rehearsed it a bunch of times for the Vikings game.
And then we come in to the Super Bowl, and we are doing walk thrus, and there's a lot of media around.
So, we didn't want to run it in front of a lot of people. So, we did it in the hotel room.
We are doing it in this little ball room.  We did it like three times at the Radisson Hotel.  There was an element of acting you had to get right, the timing of it, just get the flow of it, the shift.  We got in the ballroom, and made it like we were in the Super Bowl, and our players bought in to it, and they did it.
When he (Coach Pederson) called Philly Special, he didn't even blink. He didn't even hesitate. That is Doug epitomized.
Please take a minute to sign up for my newsletter.  I promise not spam you!  I will send out 2-3 newsletters per month, packed with information and a discount for my newsletter subscribers only!