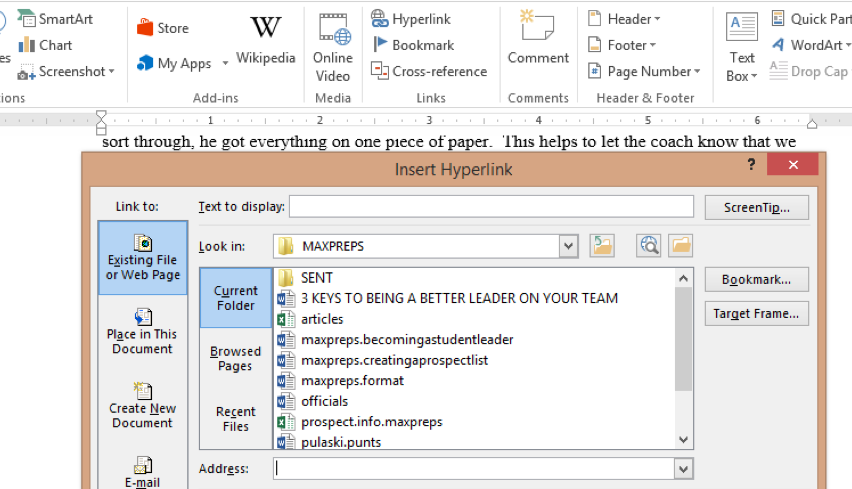 The new thing happening in the college football recruiting world is showcases. Showcases are when a school or two or more get together to showoff their college recruits. This is a good way to get your kids in front of coaches, and a good way for coaches to see multiple schools at one time. It seems to be a win-win for everyone.
Last May our school, Sultana High, was invited by the coaching staff at Norco High for a showcase. It was just the two of our schools. Sultana is in an area of Southern California (about two hours north east of Los Angeles) that simply doesn't draw a whole lot of college coaches. Many coaches find all that they need, and more, in an area called the Inland Empire. So they don't make the 45 minute drive up to the desert, to an area that doesn't traditionally have more than a few kids per year go play Division 1 football. So, it was great to get our kids in front of so many college coaches at one time.
            We put together a document (see it below) to hand out to the coaches that day, and to put up on our website.  We wanted an easy to navigate document, with all of the pertinent information in one place for these coaches.  I met with our Head Coach, and our two Coordinators to develop this list.  Each person gave their input, and then the Head Coach made the final decision on which kids to include and promote to the next level.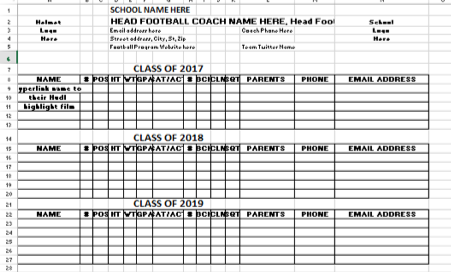 Our Head Coach also used this list in the Spring as college coaches visited campus. Instead of handing over a profile sheet on each kid, or multiple pages of stuff for the coach to sort through, he got everything on one piece of paper. This helps to let the coach know that we are an organized program, and that we want to make their job as easy as possible. These coaches visit a whole lot of schools, in a short amount of time. It's important to keep things organized for these guys if you want them to come back next Spring!
We also emailed this document out to coaches who either couldn't make the showcase, or just ones who we felt would recruit some of these kids. One good reason to email this document out is because I linked their Hudl highlight film right on to the Excel spreadsheet. Obviously, a coach getting a hard copy of this isn't able to click that hyperlink, but those receiving the emails were able to. This is a great feature of Excel.
How To Insert Hudl In To Word and or Excel
 Highlight the kid's name on the Word or Excel spreadsheet.
Then click on Hyperlink, as seen below.

3. Then fill in the website address in the empty box that comes up (see below).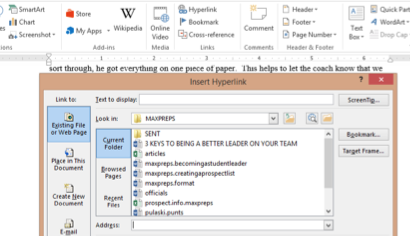 Chris Fore has his Masters degree in Athletic Administration, is a Certified Athletic Administrator and serves as an Adjunct Professor in the M.S. Physical Education – Sports Management program at Azusa Pacific University. He was recently appointed as the President of the California Coaches Association. He runs Eight Laces Consulting where he specializes in helping coaches nationwide in their job search process. Fore was named to the Hudl Top 100 in 2017, and the Top 5 Best High School Football Coaches to follow on Twitter by MaxPreps in 2016. Follow him!