How To Ace A Head Coaching Interview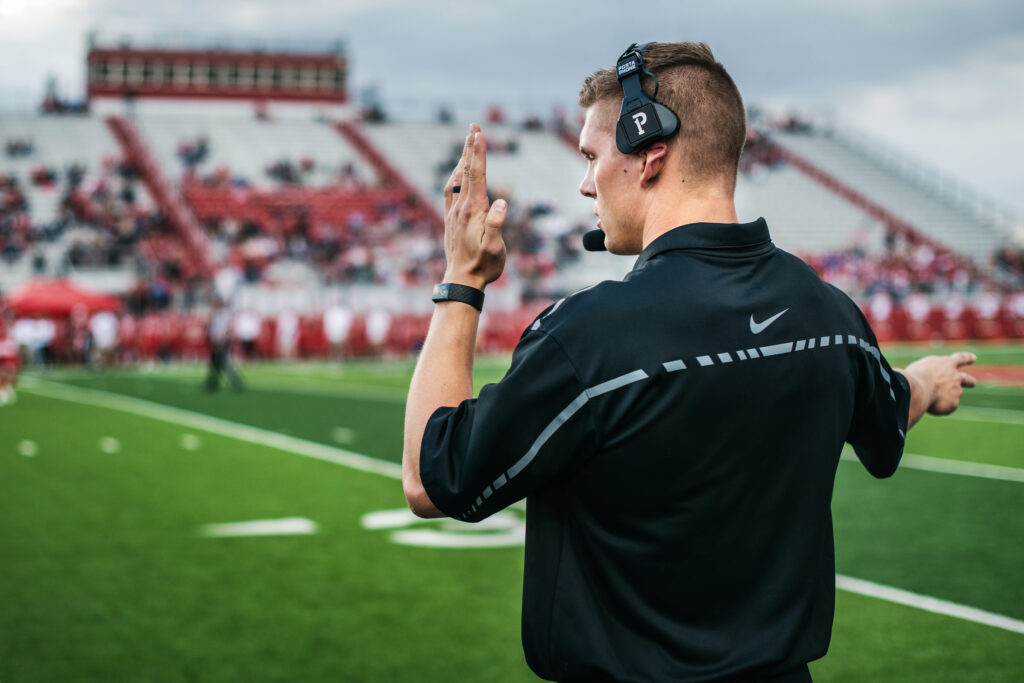 Interviewing for a head coaching position can be a challenge. For one thing, it's not always easy to convey what makes you an effective coach when you're just sitting in a room talking to an athletic director and/or school principal. For another, it's quite competitive! Sports coaching is considered to be one of the top jobs in education today, with projected job growth of over 25% between 2020 and 2030. And while that means there will be a lot of open positions, it also speaks to the demand for those positions.

With all of that said, it still comes down in part to a basic interview. So with that in mind, we want to look at some tips for how to ace the discussion and get that head coaching job.

1.  Study The School

In virtually any interview situation, it is recommended to research the employer in advance –– by visiting the website, browsing related social media, and tapping into any connections you may have. And the same process should apply to an interview with a school. Using the same tactics, you should learn what you can about the school before you ever step foot in an office. Figure out what the school values and what it's best known for; learn what you can about the sports performance in recent years; look into the athletic conference so as to speak to the competition and challenges ahead. It's not the whole ballgame, but arming yourself with this kind of research, and showing this level of interest, will get you off to a great start.


2. Expect Common Questions

The interviewer(s) will ask you all sorts of questions, but you can improve your preparation by preparing for certain common questions you're likely to be asked in one form or another –– such as what accomplishment you're most proud of, or what a notable failure was and how you dealt with it. You might also encounter questions like the following:


What is your greatest coaching achievement?

Can you describe your coaching philosophy?

What is a specific lesson you recall learning from a coach of your own?
These are just a few examples, but it's worth considering them (and others like them) in advance. When you've anticipated certain aspects of the interview, you'll be able to respond with clarity and confidence to convey your vision.


3. Know What Questions To Ask

Just as you should try to anticipate questions, there are also some strategic questions to ask in interviews that will demonstrate that you're a thoughtful and curious candidate. This opportunity typically arises at the end of your interview, once you've completed the main conversation. The following are the types of questions you might consider asking of your potential employer:


What is it that you most enjoy about working here?

How would you define the ideal coach?

What are the most important athletic goals for the school in the next 3 years?




When you ask good questions about the school and role you are interviewing for, it not only shows that you're prepared, but also demonstrates confidence and initiative. While you of course want to convey that you want the position, asking discerning questions conveys that you also want to make sure it's a good fit both ways.

4. Practice Answering Questions

The better you get at answering questions, the greater chance you'll have of landing the position. So in addition to anticipating questions (and planning some of your own), you should actively practice for the conversation. One way to do this is by telling your story out loud to yourself –– seeing how clearly you articulate where you're from, what you're good at, and what you want. Another option is to find a friend or family member (or possibly even a coach or educator you know) and stage mock interviews. It can seem tedious in the moment, but it prepares you for the conversation and eases the pressure when the real thing comes along.


5. Send A Thank You

Finally, after the interview (ideally within 24 hours), send the interviewer a thank you letter or email. This is another way to make yourself stand out and demonstrate professionalism. All the little details can add up, and this final closing touch will mark your name with a touch of class. Keep in mind, the school is not just looking for someone to blow whistles in practice; they're looking for someone they trust their students with, who will represent the school well and impart good values on young athletes.

No matter what you're applying for, a job interview is rarely easy. But with the right preparation, you can set yourself up for success. Try these tips out as you approach your next applications and interviews –– and best of luck, coach!
Chris Fore serves 1,800 students and more than 100 staff as a Principal at a school in Southern California.  He has a Masters degree in Athletic Administration, is a Certified Athletic Administrator and served for three years as the President of the California Coaches Association.  He coached high school football for 17 years, including 8 years as a Head Coach.  He is also a court-certified Expert Witness in athletically based court cases.  Fore is the CEO of Eight Laces Consulting which specializes in helping coaches nationwide in their job search process, and provides dynamite resources for coaches.  Fore has been named to the Hudl Top 100 Coaches, and the Top 5 Best High School Football Coaches to follow on Twitter by MaxPreps.  Follow him!