5 Key Takeaways For Educators From The Uvalde Disaster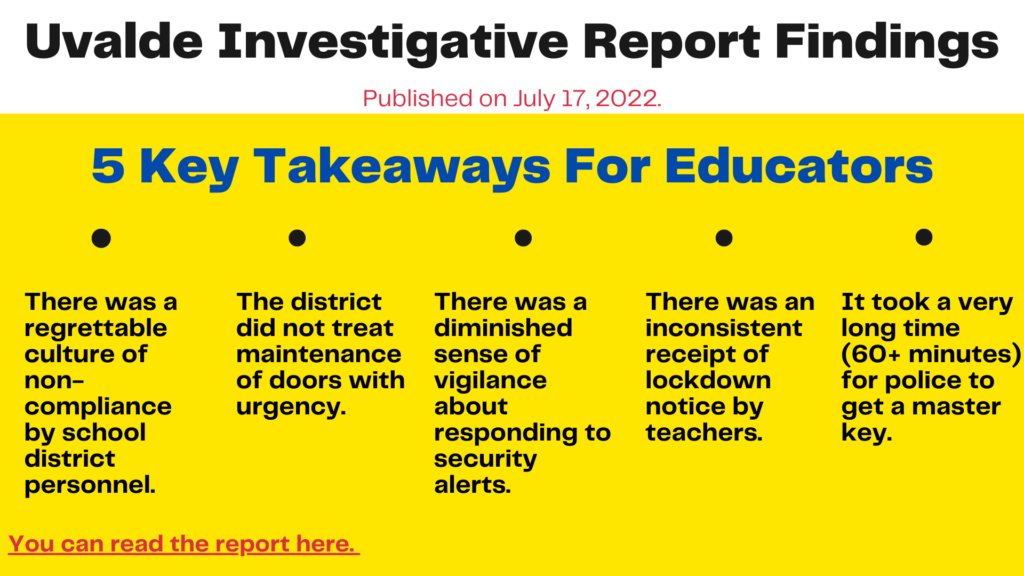 This article is dedicated to the students and staff who were killed at this horrific disaster in Uvalde, Texas.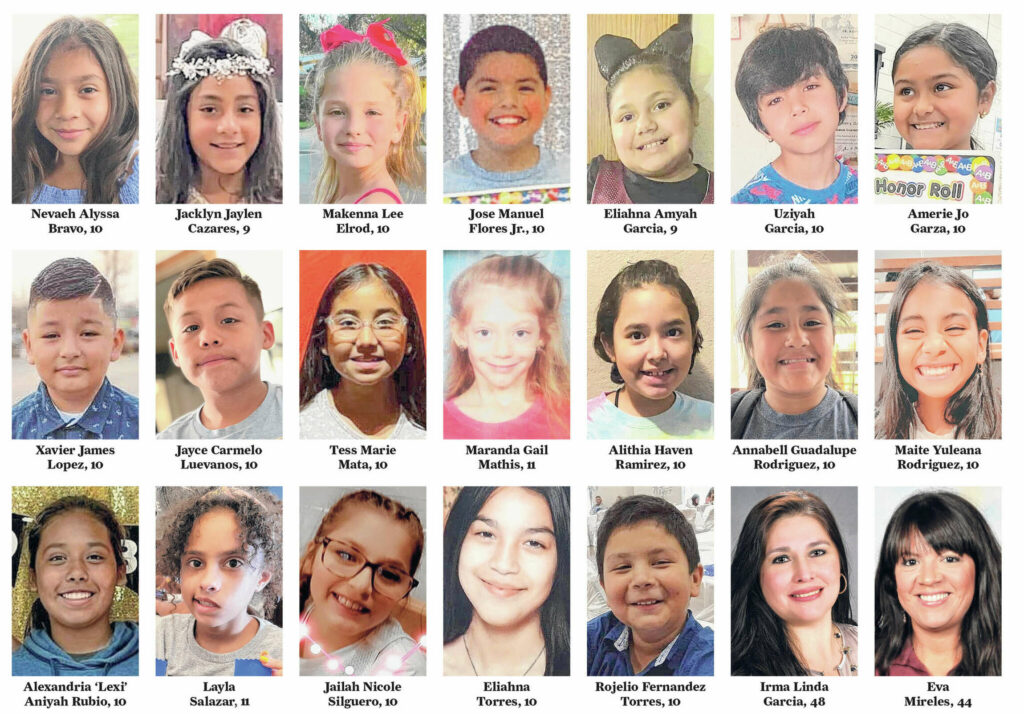 There are certain days in history that you will always remember exactly where you were when you heard the news.  The JFK assassination.  The world altering attacks on the Trade Center in New York.  The loss of a loved one in your family.
For me, May 24, 2022 will always be one of those: The Uvalde school shooting.  
I am a Secondary Principal at a school of 1,800 students in grades 6-12 here in Southern California.  It is my biggest fear: a school shooting. 
It is a horrible world that we live in now where there is a higher likelihood of deaths on school campuses due to a school killer than a fire or natural disaster like an earthquake.  In fact, the National Fire Protection Agency reports that one person per year dies from a fire on a school campus.  The Uvalde community lost 21 lives that horrific day. 
Lawmakers in Texas quickly established an investigative committee to help determine the "hows and whys" that led to the shooting.  This committee worked to help the "conscious of desire of the Uvalde community and the public at large to receive an accurate account of the tragedy at Robb Elementary School, the Committee has worked diligently and with care to issue this interim report of its factual findings."
In other words, we need answers.  We need answers for two reasons: one, because those parents and family members and friends of the dear children and educators who lost their lives want to know how this nightmare happened, and two, so that we can help do everything possible to prevent this type of scenario from happening again.  
And so, being a Principal, I was very inclined to watch the press conference of the findings, and to read the entire report.  My purpose was to understand.  My purpose was to learn. 
What can I understand and learn from this tragedy to help keep my students and staff more safe?  
I took copious notes.  12 pages.  Then boiled those down to "5 Key Takeaways For Educators."  Again, my purpose was narrow: what can I learn to help my campus?  My purpose wasn't to "Monday morning quarterback" the actions of school personnel.  Hindsight is 20/20 as they say.  I do not judge the actions or inactions of school personnel on that day.  That is not the purpose here, I hope that is clear.  I feel awful for the school personnel.  In all reality, that can be any school Principal at any time. 
The committee's findings were published with facts, not a lot of discussion or narrative.  They found faults in the district and school personnel's actions and inactions, and then of course they also found many failures on the side of law enforcement.  (The purpose of this article is not to examine the actions or inactions of the police.) 
 Here are my "5 Key Takeaways For Educators" as taken from breaking down the 82 page report.  
There was a regrettable culture of non compliance by school personnel who frequently propped doors open or deliberately circumvented locks
In fact, on that fateful day, the committee found that nobody had locked three exterior doors to the school as is their protocol and procedure.  There was an early report that the front door to the school was propped open by a rock while a teacher ran to her car to get some things. The investigation found this to be false.  However, I've worked in schools for more than 20 years, and have seen this done many, many times.  Educators just don't think that there is risk at that moment.  We don't really know.
Non compliance helped the killer to both get on campus very easily, and then approach the hallways and classroom with ease.  
How to address this on our campuses: comply with every safety measure in place, even when you think there is no reason for it.  
2. The district did not treat maintenance of doors with urgency. Room 111, one of the two rooms where the shooting occurred, had a faulty lock. The investigation found that a lot of school district personnel knew about this faulty lock, but that nobody had ever placed a work order for repair.  
Further, school personnel suggested circumventing the locks as a solution for convenience of those without a key.  For instance, doors would be left unlocked or propped open all day for substitutes without a key.  
How to address this on our campuses: immediately fix non working doors and locks.  Make this a district priority.  Communicate with staff to immediately address this issue when they find doors and or locks not working.  Hold people accountable to do their jobs in the quick repair of these broken items. 
3. There was a diminished sense of vigilance about responding to security alerts. 
I think this happens all over the Nation.  Sometimes educators feel that we have too many emergency drills, or that they are too disruptive to the school day.  False alarms on campus can wear people down to the point where they do not take them seriously anymore.
Such was the case in Uvalde, a Texas town close to the US/Mexico border.  There were fifty "bailouts" between February and May of 2022.  A "bailout" is when a migrant is being chased by authorities, and they "bailout" from their vehicle and run.  A police chase ensues, and all schools are placed on a lockdown. Because of the frequency of these at Uvalde, staff there lost a sense of vigilance to adhere to safety protocols and security alerts.
How to address this on our campuses: use every chance you can as a drill for what may be an emergency. This is perhaps the most difficult one for educators to address as our brains just don't want to believe that there is a real threat every single time, especially with FIFTY lockdowns over three and a half months of school.
4. There was an inconsistent receipt of lockdown notice by teachers. 
Some teachers never received notice that there was a lockdown. The main system that they used was not able to be accessed by the principal due to a poor wireless connection. They relied on one system, Raptor, for lockdown announcements.  This was tied to the teacher's personal cell phones.  So, if a teacher did not have immediate access to their cell phone because they were teaching, they would not have seen the alert.  Unfortunately, the Principal did not attempt a lock down on the school intercom to let the community know.  
How to address this on our campuses: make sure that your systems in place can work in the event of a power outage or poor Wi-Fi.  Do not rely on one way to notify your community of a lockdown.  Use 3-4 methods if possible: email, loudspeaker announcement, cell phone notification, etc.  I started the use of Remind last year on my campus; it is ONLY used for emergencies.  But it is one more way for me to alert my staff about a lockdown.  Teachers get an instant notification as soon as I hit send.  It is also my method to communicate with them if google or Wi-Fi go down during an emergency, it is the needed redundancy.  
5. It took a very long time for the police to get a master key, more than one hour.
Much has been made in the media about what the police did and didn't do in the hallways of that school for a very long time. I am not addressing that here.  However, there was a real breakdown in the fact that they did not have a key to that classroom for more than an hour.  This is perhaps the easiest thing for school officials to fix.
How to address this on our campuses: Multiple people should have backup master keys.  The Principal, the lead custodian, the front desk secretaries, etc.  Do not leave this in the hands of one person, because that one person may be out sick for the day or worse case scenario, one of the first injured. 
If you're in education, please read the report. Take time to address these issues with your staff.  If there are just 1-2 things that you can improve on your sites from this report, that is a great thing.
Chris Fore is a Secondary Principal in Southern California.  He has his Masters degree in Athletic Administration, is a Certified Athletic Administrator and served as the President of the California Coaches Association for 3 years.  He coached high school football for 17 years, including 8 years as a Head Coach.  He is also a court-certified Expert Witness in athletically based court cases.  Fore is the CEO of Eight Laces Consulting which specializes in helping coaches nationwide in their job search process, and provides dynamite resources for coaches.  Fore has been named to the Hudl Top 100 Coaches, and the Top 5 Best High School Football Coaches to follow on Twitter by MaxPreps.  Follow him!