4 Nuggets Of Advice About Your Resume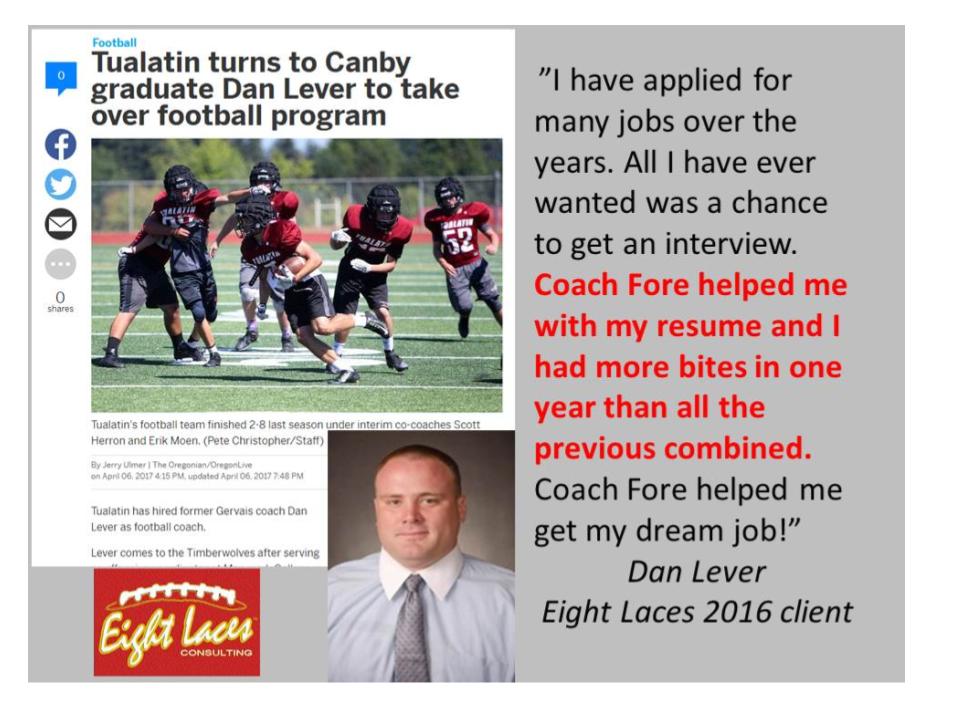 How do you stick out on paper among all those other resumes?  
In 2012, I was trying hard to get to Texas to follow the dream many football coach have: to coach in the "Holy Land of Football."  One school I applied to told me they had close to 250 resumes for their Head Football Coach position!  In 2006 when my wife and I were trying to get out there, one job (Athletic Director/Head Football Coach) I applied to at a private school (Carrollton Christian Academy) had 105 candidates.  I beat out 103 of them, but last to that 104th!  Anyhow, after a decade of helping coaches all over the Nation with their resume development, here is some advice on how to make your resume stand out!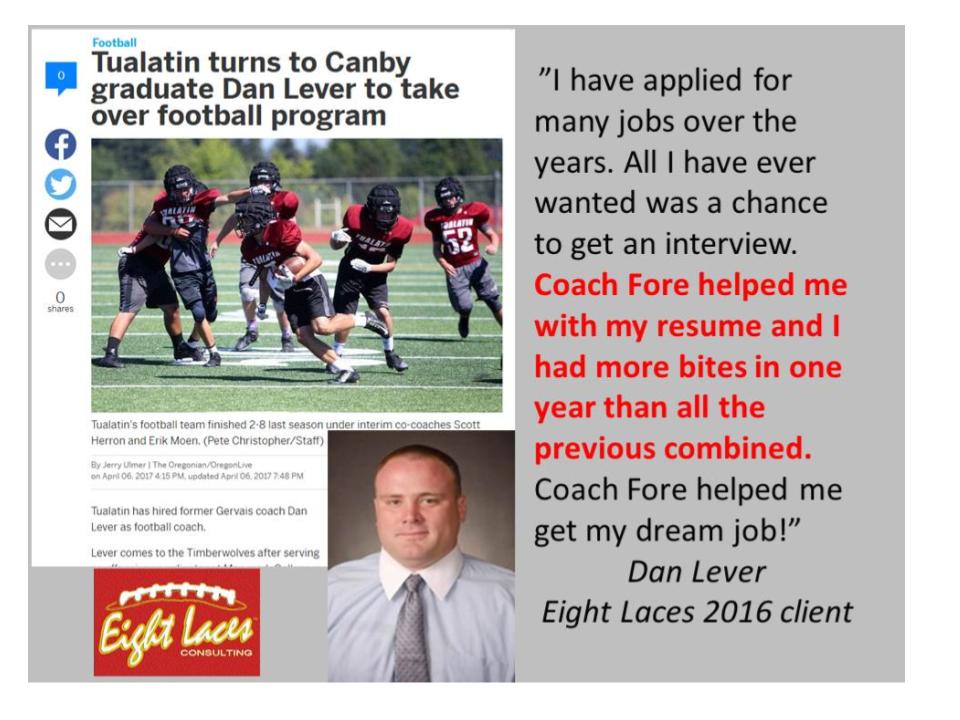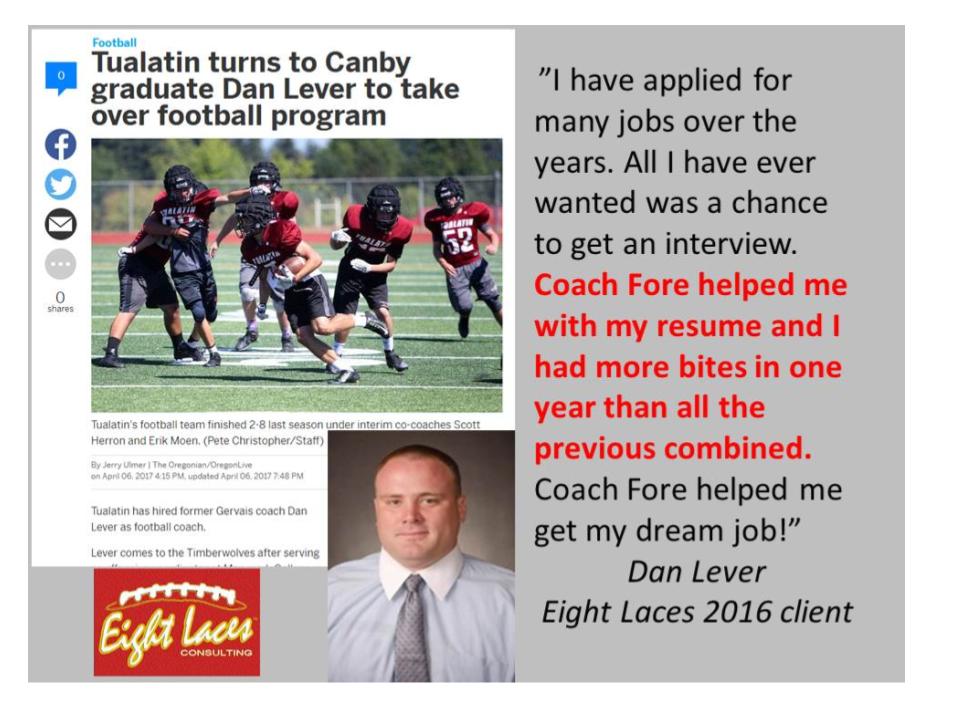 4 Nuggets Of Advice About Your Resume
I've seen thousands of resumes as one of the Nation's only resume consultant for athletics coaches.   I would estimate that I've seen between 600-800 over the course of a decade as an Athletic Director, Assistant Principal of Athletics, and now a Principal for jobs at my schools (and that's on the conservative side).  I say this to tell you that very few people have seen more coaching resumes than I have.  
Number One: Do Your Home Work About The School And The Position
Your resume should reflect what you have done in your career, BUT it should also reflect the job description of the position you are trying to get.  You should have a few different resumes that you can send out to potential employers.  For instance, a football coach who is a teacher should have both a "coaching resume" and a "teaching resume."
To be honest, as an Athletic Director, I want to know about your athletic accomplishments and history.  I want to see details about your athletic background that most principals could care less about.  I want to see the differences you made there as a coach.  Did you improve the program while you were there?  Not just a head coach, but an assistant.  As the Special Teams Coordinator, did the Special Teams improve under your leadership?  Put that on your resume.  But my principal could care less about that; he's going to want to know how the test scores in your classroom improved!
That's why I believe it is important to cater your resume to the school you are applying to.  Know what that school holds near and dear as values, and make sure you highlight that in your first few lines.  I'm not saying that you lie to them, never do that obviously!  But if the job announcement speaks about wanting a "seasoned coach with a passion for the game of football, yet someone who teaches about character first and foremost," then you should reflect that in your resume, right there at the top of the resume.  It could read something like: "Passionate Veteran Coach Who Teaches Character First."
Another piece of advice regarding doing your homework about the position and school.  I had a really horrible year as a football coach one year, 0-10.  It was miserable.  Two weeks after the season, I get this large packet from a coach, with a cover letter addressed to me, the Athletic Director.  The letter was about how he saw that we were 0-10, and that any good AD worth a  darn would surely fire that coach, and change out the leadership.  This guy claimed to be the answer to the problem, and he would surely turn the program around.  "When you fire your coach, your first call should be to me."  Ladies and gentlemen, I was the AD AND Head Football Coach at the time!  It was clear to me that this guys did ZERO homework about our school!
Number Two: Proofread Your Resume
It's amazing how many resumes I've seen that have the WRONG school listed under "objective."  I've seen people write under this objective headline towards the top of the resume: "To secure the Head Soccer Coach position at Glendale High School." 
When I got this as the Athletic Director at Capistrano Valley Christian School, not Glendale High, I threw out the resume.  I'll be honest, I didn't even read it. That person might have been an Olympic soccer coach, I don't know.  But what I do know about that person, they lack attention to detail, and I want a person with attention to detail!  If your resume is littered with grammatical errors, it shows that you are uneducated and lazy.  I'm probably not going to look at it very long.
Make sure that your resume is accurate.  If you mess up the dates that you were at a certain school, or you copy and paste your title from one school to the next, but then what you did at that position doesn't make sense by what you type under that in the body, you aren't going to look very good on paper.  Have a few different people look at your resume, it is always good to have a few different sets of eyes putting your resume under the microscope.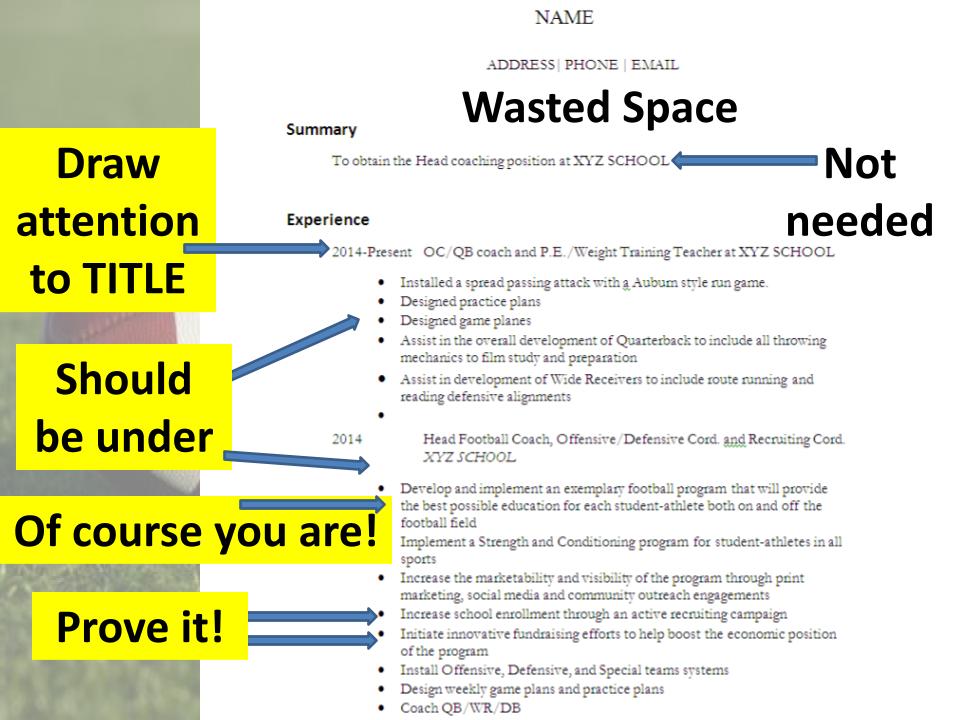 Number Three: Make The Format Easy To Follow
I've received these huge packages from folks who were applying to the job.  (And I'm guilty of sending out my Coaching Portfolio too easy in the process.)  Keep the format that you present yourself to an Athletic Director simple.  Make it easy to follow and understand.  I've seen some resumes with so much information on them, it's just information overload, and my eyes don't even want to read it.  Format your resume in such a way that it's easy to trace your career path, while showing off the highlights to potential readers.
Don't send too much information with your first interest package or email.   I would advise you to send a letter of interest, your resume, two to three letters of reference and perhaps a philosophical statement.  Much more than that is probably too much with your first contact.  I even suggest making two contacts to show that you are interested in the job.  When a person reaches out to me twice, I know it is important to them.  If they keep bugging me though, that will turn me off!  There is a fine balance here you must figure out.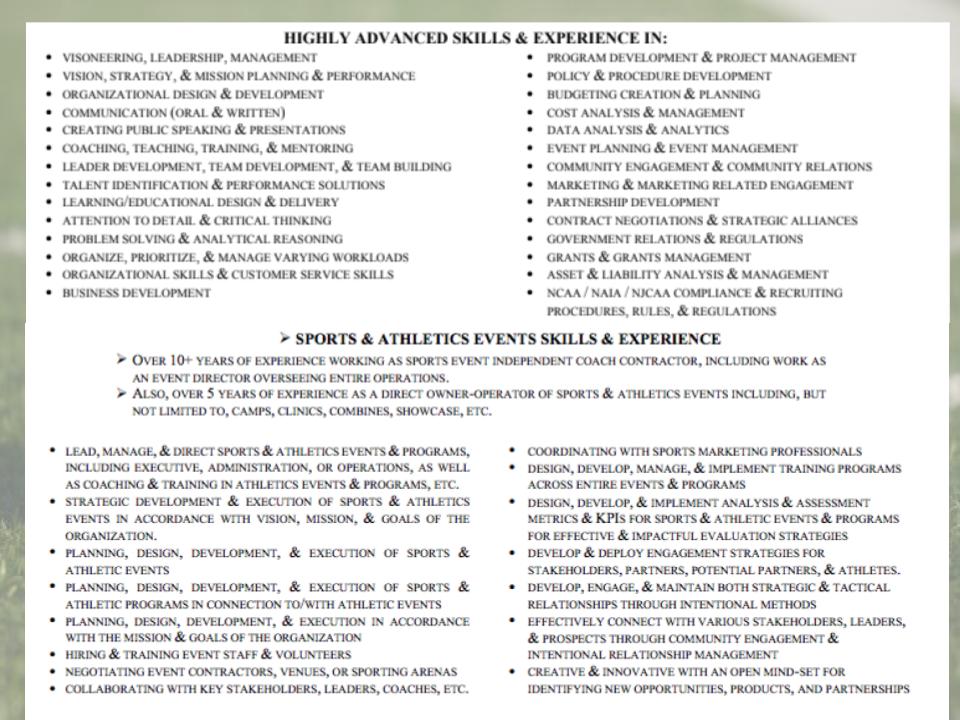 Number Four: Brag About Yourself!
You've got to highlight your accomplishments. I've seen SO many stinking boring resumes.  They just list the facts.  They list titles, and years and job descriptions.  Ho-hum.  You've seen one boring resume, you've seen them all.  Keep your resume simple and easy to follow but you've got to capture the attention of the AD.  You've got to pack that thing with facts and figures that make the AD reading it put it in the YES or MAYBE pile.  I always make three piles of resumes: yes, no and maybe.  Yes I want to interview this person, I might want to interview this person, and no way am I going to interview this person. 
Get your resume in the yes pile by showing me that you're a great coach.  Prove it on paper as best as you can.  Don't tell me that you coached at XYZ School.  Tell me that you coached 3 collegiate linemen in one year, that you helped six kids get scholarships in just two years; tell me what programs you started to help improve the GPA of your team; tell me what the numbers were when you took over, and how you improved those while you were there.  Don't just show me a win-loss record.  Show me what the winning percentage was BEFORE you got there, and what is was WHEN you were there.
You've only got 30 seconds with that resume in front of an Athletic Director, maybe up to a minute.  Brag about yourself early and often!  Make your career jump off that paper by using real stats, facts and figures that make the person reading it say "I need to talk with this guy."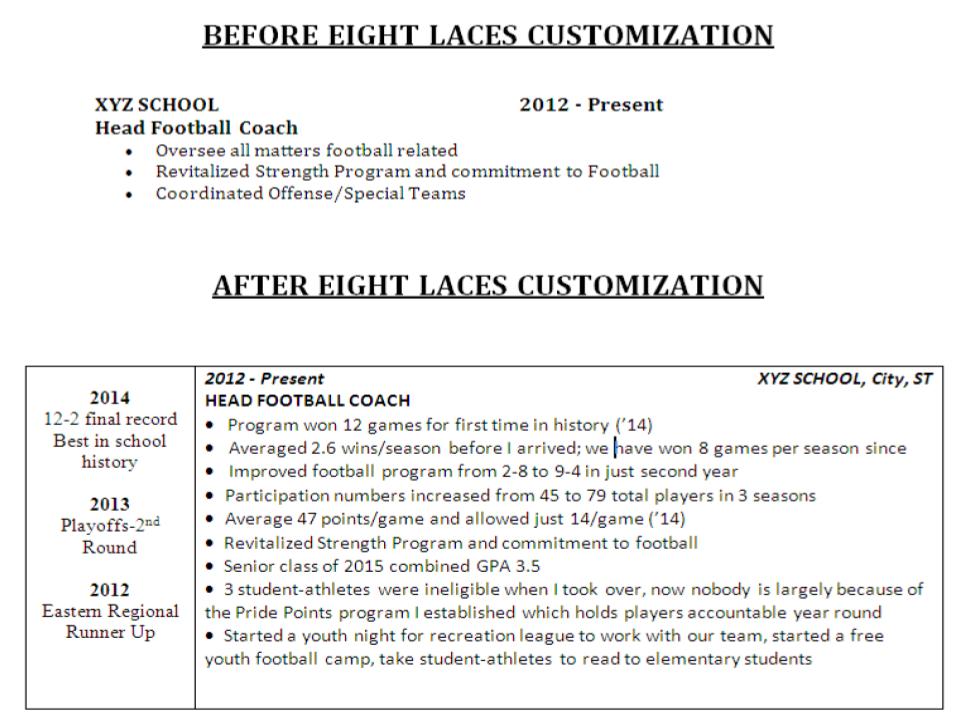 Chris Fore has his Masters in Athletic Administration, is a Certified Athletic Administrator and serves as the President of the California Coaches Association.  He is the Principal of a STEM charter school with 1,750 students in Southern California.  He coached high school football for 16 years (8 as a Head Coach) and JUCO football in his last year (2017), before becoming an Administrator.  Fore served as an Adjunct Professor in the Masters of Physical Education program at Azusa Pacific University for three years.  He is a court-certified Expert Witness in athletically-based court cases, and is the CEO of Eight Laces Consulting.  Eight Laces specializes in helping coaches nationwide in their job search process, and consults schools to fill their vacant positions.  Fore has been named to the Hudl Top 100 Coaches, and the Top 5 Best High School Football Coaches to follow by MaxPreps.  Follow him!